2011 Mountain West Conference Tournament Predictions and Odds
by Robert Ferringo - 3/7/2011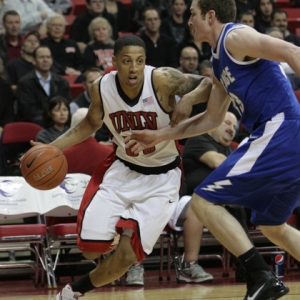 Finally, the Mountain West is getting some love.
For the past five years I have been screaming that this league is the most underrated in all of college basketball. The top tier of this conference is capable of playing at a very high level and there is plenty of talent both at the individual and team levels.
But The Mountain hasn't been overlooked this year. With BYU and San Diego State camped out in the Top 10 for the better part of the last two months this league has gotten unprecedented coverage. Mix in a sex scandal involving some Mormons and you can argue that the Mountain West has been the most analyzed conference west of the Mississippi so far in 2011.
The Mountain West Tournament begins Tuesday, March 8 in Las Vegas. This league already has three teams headed for the NCAA Tournament. But the conference big dogs stand to gain both bragging rights and critical seeding considerations with a strong showing in Vegas.
Here is Doc's Sports Mountain West Conference Tournament predictions with odds from BetUS:
The Favorite: San Diego State (+120)
I know it is odd that the Aztecs, and not the regular season champion BYU Cougars, are the favorite. But there is good reason for that. SDSU has one of the top frontcourts in the country and they should chew up BYU if they get a third crack at them. This Aztecs team has the benefit of knowing that it will be in the NCAA Tournament field regardless of how they finish this tournament and it will be interesting to see if that has any impact on their level of emotion. However, with three seniors (D.J. Gay, Billy White and Malcolm Thomas) leading the way I think they will be focused. This team will simply pound, pound, pound the ball inside and beat opponents into submission. But in the end their lack of depth, especially in the backcourt, leaves them exposed for an upset. That said, only one team in the country has beaten the Aztecs this year: BYU.
The Contender: BYU (+150)
If the Cougars flame out in the Mountain West and NCAA Tournaments you can blame Joseph Smith. Well, him and the utter insanity of the cultish Mormons. Up until last week BYU was a threat for a No. 1 seed in the NCAA Tournament. They boast the best player in the country, Jimmer Fredette, and they have the advantage of having a bunch of mid-20's men playing against teenagers. However, the suspension of Brandon Davies has robbed them of their most athletic player and lone inside threat. They are still a quality foe, by virtue of Fredette's brilliance and their spectacular shooting ability. But without an inside presence they definitely have a ceiling as to what they can accomplish.
The Sleeper: UNLV (+175)
You can never count out the Rebels due to the fact that they are playing on their own turf. But this is another team that can rest easy knowing that it is already in the Field of 68 regardless of how it shows this week. UNLV is one of the most difficult teams in the country to game plan for because they have a unique attack, led by Tre'Von Willis. This team has size at every position and their dribble-drive attack forces opponents to either foul or give up easy shots in the paint. Lon Kruger is one of the best coaches in the nation and his team is always tough on defense. But depth is a major problem and will make it tough for them to win three games in three days. Also, the Rebels were just 0-4 straight up against SDSU and BYU, and they would likely have to face both to win this crown.
The Spoiler: Colorado State (+1000)
I'm going with Colorado State over New Mexico here as the spoiler because I think that if any team were to pull a stunner and topple the top seeds it would be the Rams. They are the one second-tier team that has the power on the interior to matchup with SDSU and UNLV, but also has the potential with its guards to knock off a team like BYU. Andy Ogide, Travis Franklin and Andre McFarland give this team an excellent frontcourt. That trio will hold its own. But how CSU does this week will depend on the shooting of Dorian Green, Jesse Carr and Adam Nigon. The Rams have lost four of five entering the tournament and I still have big questions about coach Tim Miles. But, unlike the top three, this team knows it needs to play its way into the NCAA Tournament and that is a powerful motivator.
The Matchups:
No. 1 BYU vs. No. 8/9
The Cougars get a crack at the winner of the Wyoming-TCU opening game. The Cougars should absolutely maim either team. Wyoming could give the Cougars a modicum of trouble because they just faced BYU last week and played them tough for about 15-20 minutes. But this game should be a bloodbath one way or another.
No. 4 Colorado State vs. No. 5 New Mexico
This should be the best game of the first round and these are two very evenly matched teams. Further, both are playing not just for their Mountain West tournament lives but also for a shot at making the NCAA Tournament. These teams split the season series, each winning on its own court, and they both have similar strength. The both defend and both rely on frontcourt strength as the basis of their offense and defense. New Mexico has two distinct edges. First, this team is much more experienced. Second, the Lobos have the coaching edge. But that said, I think Colorado State is the better all around team and one way or another they'll find a way to advance.
No. 2 San Diego State vs. No. 7 Utah
Don't sleep on the Utes in this game. This is a weak team with a terrible record. But this is also their last foray in the Mountain West, a league that they dominated for the better part of the last 15 years. SDSU wants to pound the ball inside to get points. However, Utah boasts two legit 7-3 centers, Jason Washburn and David Foster, and those twin towers can really slow down the Aztec frontcourt. SDSU swept the season series, including a 32-point maiming in California and Utah lost its last two games by 20 and 13 points. But I think that the Aztecs will be laying too many points. So while I fully expect SDSU to advance you should give the dog a long, hard look here if catching more than 11 or 12 points.
No. 3 UNLV vs. No. 6 Air Force
This is kind of a dangerous game for the Rebels. They will no doubt be looking ahead to a huge clash with San Diego State. But the last thing that any team should want to see in March is a Princeton offense. Air Force is crafty. And this team is much better than its 2-5 record down the stretch indicates. They only lost by seven points on the road against the Rebels in February and if the Falcons get hot from the outside they could make this interesting. Then again, if the Rebels are getting to the basket easily then they could turn the lights out in this one early.
Mountain West Conference Prediction: I think that the winner of the San Diego State-UNLV game is going to win the title. I don't think that BYU has the goods to get this title despite the fact that they are A) going to be highly motivated, B) are playing with a lot of emotion right now, and C) have a very favorable draw. There really aren't ever a ton of upsets on The Mountain so don't look for a Cinderella out West.
Robert Ferringo keeps proving himself to be one of the best college basketball handicappers in the nation. His college basketball picks have earned $100 bettors nearly $7,300 in the last two months. Another strong card is coming on Tuesday and you can get his pick HERE for only $30.
---
Most Recent College Basketball Handicapping