2012-13 Big 12 Basketball Odds and Betting Predictions
by Robert Ferringo - 10/18/2012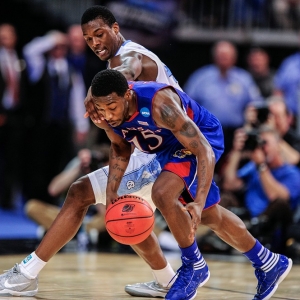 The math doesn't add up in Big 12 basketball.
Let's ignore the fact that there are only 10 teams in the Big 12. And we'll overlook the fact that the conference reshuffling that sucked Missouri and Texas A&M into the SEC cost college basketball 1) one of the best rivalries in the sport (Kansas-Missouri) and 2) one of the most efficient and profitable teams in college basketball betting, Texas A&M.
But the math is still fuzzy in the Big 12 this year.
To begin, just 26 of 50 starters are back in the league this year. That is one of the lowest percentages for a major conference in the nation, and nine of those returning starters are on two teams: Oklahoma (five) and Kansas State (four).
The departed starters in this league weren't just some blue-collar grinders. They were all-Americans, players of the year, NBA Draft picks, and leading scorers for top teams in one of the most competitive and underrated college basketball leagues in the country.
Further, the math doesn't add up for newcomers West Virginia or TCU. The Horned Frogs were one of the weakest teams in the Mountain West Conference and have won 14, 14, 13, 11 and 18 total games, respectively, the last five seasons. Dragged in for football, TCU's "other" program is going to be in for a rude welcome in this league.
West Virginia more than held its own in the best college basketball conference in the nation, the Big East. But the numbers they need to worry about this year are their frequent flier miles. They are going to be logging some serious flight time this season as they yo-yo there way through the Big 12 schedule.
In one nine-day stretch in February the Mountaineers will have to travel to TCU and back (2,000 miles), then to Baylor and back (2,200 miles), host Texas Tech (0 miles) before a trip to Kansas State (1,600 miles round trip).
Here are my 2012-13 Big 12 college basketball predictions to help you with your college basketball picks (with odds to win the league title in parentheses):
The Favorite: Kansas (+175)
The Jayhawks lost their top two scorers, including player of the year Thomas Robinson. They have 11 freshmen on an 18-man roster. They have just one double-digit scorer and zero three-year starters on the team. It doesn't matter. Kansas is the favorite to win the Big 12 this year. Because that's what Kansas does. Jeff Withey gives the Jayhawks a dominating low-post presence. Elijah Johnson is a capable lead guard that will likely be the team's leading scorer. And senior Travis Releford is the glue guy – defender, rebounder, shooter, passer, etc. – that coaches love to have. After that is nothing but question marks, but very highly-touted question marks from an eight-man freshmen class. The two top-rated recruits are Perry Ellis and Andrew White, two wing players. But whether or not they pan out almost doesn't matter. Kansas will be a force once again.
The Challenger: Baylor (+800)
Scott Drew hauled in another Top 5 recruiting class and will have another talented Bears squad. (And judging by the school's self-imposed penalties and probation he didn't do it legally.) While last year's Elite Eight group – Baylor's second E8 team in three years – dominated because of a frontcourt loaded with NBA prospects, this year's team will rely on outstanding guard play to get the job done. Pierre Jackson and Brady Heslip form one of the best backcourts in the country. Heady vet A.J. Walton, a thee-year starter, potential breakout candidates Deuce Bello and Gary Franklin, and freshman L.J. Rose provide other options. But Baylor won't be able to own the paint this year and are really searching for answers near the basket. The top two returning forwards, J'Mison Morgan and Cory Jefferson, combined to average 10 minutes and 3.6 points per game last year. But they do have the nation's No. 1 freshman center, Isaiah Austin. And how he acclimates himself will be the key to how far Baylor can go this year.
The Dark Horse: Kansas State (+500)
Frank Martin took his psychotic sideline act to South Carolina, and the Wildcats brought in beleaguered Bruce Weber to fill his shoes. The jury is very much still out on Weber, who took Bill Self's players to a Final Four in 2005 and who orchestrates some excellent offensive sets. But Weber's teams were generally sloppy and undisciplined in Illinois, and they seemed to perpetually underachieve. K-State has the goods to be a player in the Big 12. They have a proven go-to scorer in Rodney McGruder. They have a sophomore point guard, Angel Rodriguez, who showed flashes as a freshman starter last year. And the Wildcats have enough size and physicality in the post to overwhelm some teams. I think power forward Thomas Gipson will have a breakout season, and towering Jordan Henriquez and Adrian Diaz, both 6-11, can hold down the center spot. This team gets after opponents defensively, and that will keep them in every game. But the ceiling is still a little low for this group unless Weber can coax some offense out of it.
The X-Factors: West Virginia (+800)
The former Big Easters will want to make a statement in their first trip through the new league and have a solid eight-man rotation that will make them a threat for the league crown. However, Bob Huggins could wind up starting three transfers this year, and it is impossible to know how the chemistry will come together on this team. Holdovers Deniz Kilicli and Jabari Hinds give Huggins a post player and point guard, respectively, who know and understand his system. Newbies Juwan Staten (Dayton), Matt Humphrey (B.C.) and Aaric Murray (LaSalle) all performed well at their old schools. But they have to get acclimated to "Huggy Bear's" approach. If things click, then watch out. But until we see this group – which opens with Gonzaga before a trip to the competitive Old Spice Classic – we won't really know what we're dealing with.
Iowa State (+1500)
The Cyclones were a breakout team in the Big 12 last year, finishing tied for third in the conference and advancing to the second round of the NCAA Tournament. Iowa State was one of the best bets in the nation last year. They went 19-10-1 ATS and far exceed the expectations of the bobblehead media. (Although I dubbed the Cyclones as the "ATS Machine" in this league in last year's preview.) For the third year in a row this team is going to rely on a hodgepodge of transfers to lead the way. And this season's stud newcomer is 6-feet-7 forward Will Clyburn, who averaged 17 points per game for Utah two years ago. However, even if he is very good in the Big 12, it is doubtful that he will be as productive as do-everything point forward Royce White was last year. This team will also have a hard time replacing underrated sharpshooter Scott Christopherson. But they do add in Korie Lucious, a former Final Four starter for Michigan State, and Fred Hoiberg's group boasts a host of experienced guards on the roster.
The ATS Machine: Oklahoma (+800)
Lon Kruger knows what he is doing. The guy is a proven winner and excels at getting the most out of his roster. And he's got something to work with this year, with 88 percent of scoring, 81 percent of rebounding and 78 percent of assists back from last year. The Sooners have one of the more experienced teams in the nation with four senior starters and several upperclassmen transfers that actually have a few more years of maturity than their class status belies. The Sooners have a legit go-to guy in Steven Pledger and two versatile forwards in Andrew Fitzgerald and Romero Osby. Those three, along with Cameron Clark, have three years of major starting experience apiece. This is an undervalued, and undersized, team right now. But I think that they have the goods to be an NCAA Tournament team in Year 2 of Kruger's system, and they are a group I will be watching closely throughout the year.
The Disappointment: Texas (+175)
When it comes to coaching, Rick Barnes is one hell of a recruiter. Barnes has another athletic, undisciplined group of players that he will mismanage through a frustrating season. Texas is projected in the Top 25 and is tied with Kansas as the oddsmakers pick to win the league. However, they are coming off a sixth-place finish last year, and if you ignore their excellent 2010-11 campaign the Longhorns are just 33-56-2 against the spread since the start of the 2008 season. Texas lost its best player, underrated J'Covan Brown, and I don't know how the rest of the Longhorns will fare now that Brown isn't there to do everything for them. Hyped sophomore point guard Myck Kabongo is being investigated for potential NCAA violations, and Sheldon McClellan has hoisted up six bad shots while you've read this paragraph. There are zero juniors on the 15-man roster and the two seniors combined to average 0.0 points per game. (That's not a misprint – neither scored last year.) Barnes is a horrible in-game coach, and this is an inconsistent team I will be looking to bet against consistently this season.
The Rest:
Oklahoma State (+1000) – I really could just reproduce last year's writeup on this team, substituting "Marcus Smart" for LeBryan Nash. Oklahoma State has been largely irrelevant under Travis Ford. And even though he bagged a Top-5 recruit (Smart) for the second year in a row (Nash in 2011), this roster is still not a cohesive unit. The Cowboys have some potentially explosive wing players with Smart, Nash, Markel Brown and J.P. Olukemi. But they lost stud point guard Keiton Page, and his freshman Phil Forte will attempt to fill that role. Point guard will be crucial for this team because the wing players need someone to set them up and to keep all the egos happy. Also, for the third year in a row the Cowboys are shockingly unprepared in the frontcourt. It is as if Ford just ignores recruiting players taller than 6-8, and once again OSU will struggle to rebound and defend the pain. It sounds nice to have two potential NBA Draft picks on the roster. But things could get ugly if Nash and Smart don't mesh and if players start looking out for themselves instead of focusing on what's best for the team.
Texas Tech (+3000) – What a dumpster fire this program is right now. If you haven't been following the Billy Gillispie saga this offseason, you have been missing the highest of high comedy in Lubbock. Needless to say, Gillispie resigned in disgrace, six players are gone from last year's 8-23 squad, and a bunch of fringe BCS-level players are filling out the rest of the roster under an interim coach. Forward Jordan Tolbert is a decent player. But that's about it. Beyond that: dumpster fire. This is not going to go well. (But thank God there is still someone worse than them!)
TCU (+1000) – There is "in over your head" and then there is TCU basketball. This team was a pathetic bottom-feeder in the Mountain West. There is absolutely zero chance of them making a dent in the Big 12 this year. They lost three of their four best players and their leading returning scorer averaged 9.9 points per game. New coach Trent Johnson, erstwhile of LSU, will set about rebuilding the roster. But this is going to be an ugly year for the Horned Frogs, and I would put the "over/under" on their conference wins at 1.5. And then I would take under.
Projected Big 12 Standings:
1. Kansas*
2. Kansas State*
3. Baylor*
4. West Virginia*
5. Oklahoma*
6. Texas*
7. Oklahoma State
8. Iowa State
9. Texas Tech
10. TCU
*Projected NCAA Tournament Teams
Robert Ferringo is a writer and a professional sports handicapper for Doc's Sports. He is considered one of the best college basketball handicappers in the country and has earned his $100-per-Unit clients over $40,000 in the last six years with his nonconference handicapping. He has produced three consecutive profitable seasons and four of five winning years overall. You can sign up for his college basketball picks and get more information here.
---
Most Recent College Basketball Handicapping