2012-13 Big East Basketball Odds and Betting Predictions
by Robert Ferringo - 10/25/2012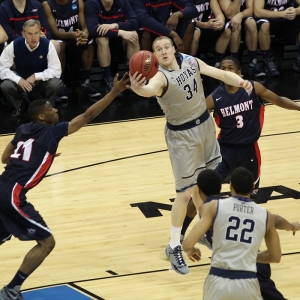 Rest in peace, Big East.
This is the final season of the Big East as we know it. Syracuse, Pittsburgh and Notre Dame are defecting to the ACC. Connecticut is entering the post-Calhoun era amidst a cloud of uncertainty and a postseason ban. And with several bizarre, football-driven realignment plans heading down the pipe it is clear that the years of The Beast being the dominating college basketball conference in the nation are coming to a close.
And that will be a sad day, indeed.
But that's life. And gamblers don't have time for sentimentality. So here are my 2012-13 Big East basketball predictions to help you with your college basketball picks (with the odds to win the Big East in parentheses):
The Favorite: Louisville (+200)
Is Louisville really a National Championship contender? I suppose. That's the rumor, anyway. Although I don't know that I am buying this team as one of the best in college basketball. Yes, the Cardinals made the Final Four last year. But two starters are gone from that team, and March momentum doesn't count for anything THIS year. (Ask Connecticut.) Prior to Louisville's incredible run last year, in which they closed the year covering nine straight spreads, they were pretty mediocre for months. They were just 10-9 after Christmas heading into the postseason. This year they are down their two best shooters, I don't trust overrated Peyton Siva, and they are one frontcourt injury away from being very light around the basket. Rick Pitino is an evil genius. And his teams can hang with anyone. But I don't buy this team as a National Champion, and I don't even think they will win the Big East.
The Challenger: Syracuse (+500)
The Orange were the best team in the country for the majority of last season. But, yet again, a key personnel loss in the post (this time it was psychotic Fab Melo) late in the year sunk this team come tournament time. The Orange will have to move on without the standard bearers from the last three years: Scoop Jardine and Kris Joseph. But plenty of top-end, NBA-caliber talent remains. Michael Carter-Williams is one to keep an eye on and will pair with three-year starter Brandon Triche to give the team an exceptional backcourt. The Orange have size in the post (Baye Keita and Rakeem Christmas) and some shooters (Trevor Cooney and James Southerland). But what they don't have is a go-to guy that can take control of a game and hit The Big Shot. They have depth and an excellent system and will be a Top 15 staple. But I don't think they have the stones for a title run.
The Dark Horse: Notre Dame (+500)
Perhaps no team in the country exceeded my expectations last year like the Irish. And this year, with all five starters back from last year's third-place finisher, Notre Dame might be the most well-rounded team in the Big East. Jack Cooley is the latest in a long line of large, white forwards to control the game for the Irish. Scott Martin is set for what seems like his 12th year in college basketball (we call this the Jess Settles Plan). And the backcourt of Eric Atkins and Jerian Grant is lethal. This team can win games in a variety of ways, and if some of the freshmen emerge then this team could work its way into the Top 10. Part of me is hesitant because in the past teams that have surpassed my expectations usually come back to earth the following season. But there is such a strong blend of talent and experience on this roster that I have a hard time seeing anything but success, and dollar signs, as I scope this crew.
The X-Factor: Pittsburgh (+350)
Disappointing doesn't even begin to describe the Panthers' 2011-12 season. They had their run of 10 straight NCAA Tournament appearances snapped, and one of the most surprisingly consistent college hoops powers was shockingly exposed last year. A lot of that had to do with the injury to point guard Tray Woodall, who is back this season. As his injury-related absence proved last year, he is really the key to this team. But the X-Factor for our Big East X-Factor will be talented transfer Trey Zeigler. He transferred from Central Michigan after his coach/father was canned. He was a big fish in a small pond in the MAC, and it will be interesting how his attitude and skills translate to big-time basketball. Another newcomer, Top-5 recruit Steven Adams, is also a critical component. Pittsburgh has some nice experience and excellent depth at the forward spots. But if the backcourt clicks and if Adams, a center, is as good as advertised then Pitt could be the surprise winner of this league.
The ATS Machine: Marquette (+1200)
This is a bit of a bold call, considering that the Golden Eagles lost two of my favorite players in college basketball in Jae Crowder and Darius Johnson-Odom. But Buzz Williams has a tough, gritty program, and this team has overcome significant personnel losses in recent years. I think the addition of transfer Trent Lockett is underrated, as is the return of big man Chris Otule. They have talent in the backcourt, some nice wings, and if Otule can stay healthy (not likely) they are stout on the interior. This team is perpetually undervalued – a rarity in the Big East – and is 52-37 against the spread the last three years. I think they will continue to be a moneymaker.
The Disappointment: Connecticut (NA)
Jim Calhoun is gone. Three of their best players from last season are gone. Their hopes of any postseason drama, thanks to a poor Academic Progress Rate, are gone. Things are not well in Storrs. And this is not going to be a particularly strong team. People forget that just three years ago this team missed the NCAA Tournament and was one of the biggest busts in the country. The year after they were having another dreadful season before Kemba Walker went bonkers and led them to a title. And then last year they finished a meager ninth in the league and were a non-factor nationally. So things have been trending downward for awhile, championship-run aside. I don't expect the Huskies to bottom-out in new coach Kevin Ollie's first season. But the reality is that, outside of some decent guards, there isn't a lot to like about this team. And when you subtract the motivation of any postseason play (they can't even play in the Big East tourney), this team will likely be a mess all winter.
The Rest:
Georgetown (+650) – I originally had this team as my "Disappointment," but they aren't nearly as bad off as the Huskies. The Hoyas only went seven-deep last year, again, and for the second year in a row they lost their best three players. I know that John Thompson III runs an exceptional system and can essentially plug-and-play guys into his scheme. But once again this team really lacks depth, size in the frontcourt, and top-end talent. Otto Porter has the tools to be special. And I am a fan of glue guy Nate Lubick. But this roster has zero seniors and eight freshmen and sophomores on it. Georgetown far exceeded my expectations last year. But I don't think they can do it again, and this should be a down year for the Hoyas.
Cincinnati (+1000) – The Bearcats shrugged off their thug life performance at Xavier and closed the year playing their best basketball. Cincinnati nearly won the Big East Tournament and returns one of the best backcourts in the league. Sean Kilpatrick, Cashmere Wright and JaQuon Parker provide the firepower, and athletic Justin Jackson will be a defensive menace. The guy to keep an eye on is redshirt freshman Shaquille Thomas, who sat out last year to get his academic house in order. The bench is unproven and a bit undersized. But this team is going to defend and claw for wins. And their veteran guards will keep them in the top tier of this league.
South Florida (+1200) – The Bulls caught fire late last season, going 13-6 from Jan. 13 on, and their season ended just shy of the Sweet 16. Stan Heath will employ the same smothering defense again this year and hope that they can force their opponents to tap out. They lost some good players, especially Augustus Gilchrist. But they also have four guys with starting experience back and they welcome in two very good Sun Belt transfers in Martino Brock and Kore White. Anthony Collins needs a strong sophomore campaign, and the depth must develop so that the top five or six guys aren't worn out come March. They won't be a fun team to bet on or against this year.
Providence (+1500) – The Friars caught a tough break when scoring machine Ricardo Ledo was declared ineligible and fellow freshman Kris Dunn was injured (he will be out until late December). Slick guards Bryce Cotton and Vincent Council are both players. And LaDontae Henton gives PU three guys that averaged 14 or more points last season. A key piece will be athletic forward Sidiki Johnson, an Arizona transfer that will be eligible around Christmas. After that there is virtually nothing to work with. This team will be much better in the second half of the year than in the first. But their ceiling is still pretty low.
St. John's (+1200) – I feel like this is one of the most difficult teams in the league to handicap. Last year it was simple: they were going to stink. But they actually played a lot better than I thought they would. Their two best players are no longer on the roster. But Steve Lavin has been able to rope in another random, but explosive, class of recruits. This group has a lot more experience than last year's. And most of the key players, including stud D'Angelo Harrison, have familiarity in the system. But how quickly Lavin can get this team to gel will determine how much damage they can do.
Seton Hall (+1500 - Field) – This team drives me nuts. I bought in early with the Pirates, projecting a breakout in both 2009 and 2010. But it wasn't until last year that this team finally started to play consistent basketball. Unfortunately, heart-and-soul players Jordan Theodore and Herb Pope have exhausted their eligibility. Three-year starter Fuquan Edwin is the clear-cut go-to guy, and forward Patrik Auda and point guard Aaron Crosby can play a little. But they are expecting way too much from some mediocre transfers. This group is still spinning its wheels.
DePaul (+1500 – Field) – I was looking for a stronger performance from this squad last year and didn't get it, so I am tempering my expectations this season. Brandon Young and Cleveland Melvin form one of the most underrated inside-outside duos in the nation. But this team can't rebound and it can't defend for a minute. And that's a problem when Oliver Purnell's entire system is based on forcing tempo through defense. This team doesn't have enough size and athleticism at the bucket. So expect some more growing pains.
Rutgers (+3000) – Maybe there is something here that is worth liking that I just don't see. But I don't see a particularly good basketball team. Last year's enormous freshman class is now a year older and, theoretically, a year better. Eli Carter looks like a keeper and they have a nice 1-2 combination at the point. They are overly reliant on some scrubby veterans (Wally Judge and Dane Miller are mediocre at best), but they have a decent young core here. I'm taking a wait-and-see approach with these guys.
Villanova (+1500 – Field) – Things have gone downhill really quickly for this program, and they are a disaster. Three years ago they were in the Final Four. Two years ago they were knocking on the door to the Sweet 16. Now they are one of the weakest teams in the Big East. Inconsistent guard play has plagued this team, and I don't think that losing their top two scorers while adding transfer Tony Chennault is the answer. The spiral should continue for this group and Jay Wright's seat could be plenty warm by the end of this season.
Projected Big East Standings:
1. Notre Dame*
2. Pittsburgh*
3. Syracuse*
4. Louisville*
5. Marquette*
6. Cincinnati*
7. Georgetown*
8. South Florida
9. St. John's
10. Connecticut
11. Rutgers
12. DePaul
13. Providence
14. Seton Hall
15. Villanova
*Projected NCAA Tournament Teams
Robert Ferringo is a writer and a professional sports handicapper for Doc's Sports. He is considered one of the best college basketball handicappers in the country and has earned his $100-per-Unit clients nearly $43,000 in the last six years with his nonconference handicapping. He has produced four consecutive profitable seasons and five of six winning years overall. You can sign up for his college basketball picks and get more information here.
---
Most Recent College Basketball Handicapping