College Basketball Handicapping: Bracket Buster Trends and Betting Preview
by Robert Ferringo - 2/16/2012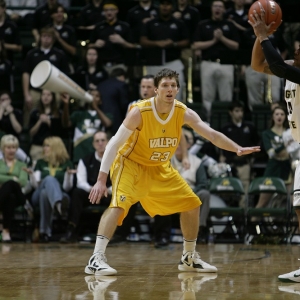 Bracket Buster Saturday is, to me, the perfect microcosm about everything beautiful about college basketball and college basketball betting.
As a fan, this is a chance to see the game in pure form. I mean, what says, "College Basketball Perfection" like Presbyterian vs. Jacksonville State or Western Michigan vs. North Dakota State matchup. And the dozens of manufactured storylines that go into this weekend actually may do more to denigrate and condescend to mid-major teams than they do to actually give them a forum to pimp their wares.
Case in point: there are some people – who likely only started paying attention to basketball the moment Eli Manning's chin went into hibernation – that believe the marquee Bracket Buster game of the weekend, between St. Mary's and Murray State, is some manner of play-in game for the two teams if they don't happen to win their respective conference tournaments. Huh? Isn't that counter to the whole point of this exercise?
As a fan I get to enjoy the fact that there are random games from 11 a.m. to midnight and plenty of awkward announcer moments to fill up an otherwise uneventful winter Saturday. Most casual fans can take it or leave it. But as a college basketball handicapper, Bracket Buster Saturday is a belated Christmas. And the college basketball betting orgy is the perfect foreplay to the Madness that is around the corner.
What makes college basketball a unique and effective investment opportunity for bettors is the advantages that bettors gain over the sportsbooks. First, the overwhelming amount of games dwarfs any other sport. Second, the sheer amount of teams means that it is difficult for the oddsmakers to have a keen grasp on every team beyond what the numbers suggest. Third, since the amount of players on the court is so much smaller than the amount of players in any other sport the overall variables are limited, making a handicapper's job that much easier.
So there are a lot of reasons to love college basketball betting. And Bracket Buster Saturday is a day where the books are left somewhat defenseless to the sharpest of hoops bettors. There are over 100 games on the board for Saturday and many of them are, "Who?" matchups from the Bracket Buster games. There is simply no way that they can post accurate, sharp lines on every one of the games available. So if you've been tracking these teams as closely as I have then you will be able to exploit those several soft lines that will find their way onto the board this weekend.
Of course, I don't expect you to have followed college basketball as closely as I have. So over the last seven years I have analyzed the data of the Bracket Buster games to see if I could establish any useful Bracket Buster betting trends and angles. And because I am a kind soul I am here to share my findings with you.
Last year I came up with 60 total Bracket Buster games. That data, incorporated into the previous five years' info, has given us a baseline of 325 games from which to draw our conclusions. Here are some useful Bracket Buster betting trends that I have found:
- In the six years prior to last season favorites went just 118-147 ATS (44.5 percent) in their Bracket Buster games. However, last year the chalk broke out with a 34-24-1 mark. (One game was a 'pick'.) That 58.1 percent cover rate was the highest in the seven years that I had tracked and a huge jump from the 39.6 percent success rate in 2010.
Overall the favorites are now 152-171 for a 47.1 percent cover rate. The books are working their way back to even. But you still need to be wary of laying points; last year may have been an outlier.
- Traditionally, because favorites have been weak wagers when it comes to Bracket Busters, home teams have been just as bad. In 2009 the hosts went just 22-37 (37.2 percent) and then in 2010 they went 18-30 (37.5 percent). But then last year they finished a solid 32-27-1 ATS (54.2 percent).
In the previous six years the home teams had been just 101-164, which means that if you had blindly bet on the road teams you would have covered the spread in 61.9 percent of your games. Again, that wasn't the case last year as the home chalk dominated.
- Building on the home-court disadvantage, road teams that had an unusually long travel have performed exceptionally well against the number. My version of "unusually long travel" is a bit subjective, but I tried to stick with teams that crossed multiple time zones or travelled at least 1,000 miles. Basically, if it were a flight that I would dread making I counted it as unusually long travel.
Last year's qualifiers were Seattle heading to Northern Illinois, Southern Utah going to Western Illinois and Sacramento State flying to Southeast Missouri State. The team on the fringe was Jacksonville State going up to Eastern Michigan.
Over the previous six years teams that underwent "unusually long travel" have been an amazing 32-13 ATS. That's a stellar 71.1 percent success rate. Teams that have had to travel from east to west have gone 22-10 ATS while schools going west to east have gone 10-3 ATS.
Once again these road warriors posted a strong showing. The three no-doubters combined to go 2-1 ATS and if you counted J-State you would have gone 3-1.
Overall, teams that undergo unusually long travel are 34-14 ATS over the last seven years. This year's list includes Central Michigan at Texas A&M-CC, Campbell at Northwestern State, Hawaii at Montana (although the Warriors are used to crazy travel schedules), and Toledo at Sam Houston State.
- In 2011 the spread only came into play in eight of 60 games that I tracked.
That means that teams that won the game covered the spread 86.6 percent of the time, which is actually way up from the 72.9 percent in 2010 (13 of 48) and 80 percent rate the five years prior to that.
That means that teams that won the game covered the spread 72.9 percent of the time, which is actually down from the 76.2 percent in 2009 (35 of 59) and 81 percent rate the four years prior to that.
That means that over the last five years the straight up winners in the Bracket Buster games are 261-64, a 80.3-percent clip.
Basically, put your money on the team that you think is going to win outright and don't plan on an underdog "keeping it close". In four of five games the points don't come into play. And because underdogs have not only covered the spread but also won outright in over 60 percent of the games that they have covered you should be looking to incorporate some moneyline bets into your underdog wagers.
- Oddly enough, road favorites have been a strong Bracket Buster play. Road faves are a spectacular 29-14 ATS over the last seven years despite a sputtering 10-8 ATS performance over the last two years (7-5 in 2011). Also, visitors that have been posted between a 'pick' and 1.5 have gone 15-8 ATS with eight teams going 4-4 ATS last year.
What those numbers tell me is that any road team that is posted between +1.5 and -12.0 are an automatic play because that subgroup has gone 44-21ATS over the last five years (67.7 percent).
- Not surprisingly, double-digit favorites have struggled in the Bracket Busters, notching a 18-25 overall ATS mark during the last seven years. But just like we saw with favorites and home teams, last year was kind of an odd season, with double-digit favorites going a perfect 3-0 ATs.
But huge chalk is just 11-16 ATS over the last four years and the only seasons of the seven we broke down where DD favorites turned a profit were 2007 (4-2) and last year.
So there you have it, some Bracket Buster Basics. I still think it's very important to focus on the individual matchups in these games, but some of these numbers and the betting strategy that they preclude can't be ignored.
Carpe diem, my friends.And good luck.
Robert Ferringo is the premier college basketball handicapper in the country right now. He has already banked over $11,000 in profit for his clients and dating back to last year his clients have earned nearly $18,000. He has posted five straight winning nights and will have his Bracket Buster Game of the Year this Saturday. You can sign up for his college basketball picks and get more information here.
---
Most Recent College Basketball Handicapping