College Basketball Handicapping: Kentucky Worst ATS Team in Nation
by Robert Ferringo - 1/21/2012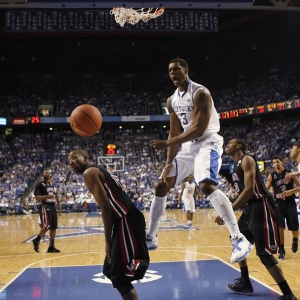 The Kentucky Wildcats are the worst men's basketball team in the country.
Well, that is, they are the worst team in the country if you are trying to turn a profit betting on college basketball.
At 18-1 straight up Kentucky is No. 2 in the country and at 4-to-1 they are presently the odds-on favorites at Bovada to win the National Championship. They are the cream of the SEC crop and they have a roster dotted with future NBA players.
However, they have been the single-worst bet in college basketball through the first two months, going 4-13-1 against the spread so far this season.
It is always difficult to find betting value on teams that perch in the upper echelon of the Top 25. However, Kentucky has been shockingly bad at the window to the point where even top-notch college basketball handicappers are raising an eyebrow at their bank-busting early season performance.
Kentucky's struggles against the books may be beyond the normal range. But there are several very simple, straightforward factors that have conspired against their backers. And an explanation of these factors is really a clinic on many of the basic fundamentals of college basketball handicapping.
First, Kentucky is a public team. That means that even bettors that don't know jack about college basketball have heard of Kentucky basketball. The Wildcats are right up there with the likes of Duke, North Carolina and Kansas, in that every square bettor in the country is willing to throw down cash on these teams simply because they are known to be college basketball powerhouses.
As a result, Kentucky is "taxed" by the books a bit simply for their name. The sportsbooks understand they are going to get a greater volume of bets on these teams from the public so they need to add a couple points to the spread to try to entice professional gamblers to take the other side. An extra couple points on any spread, over the long term, can make a big difference in a team's earning potential.
Second, and in a related avenue, the spread is the ultimate measure of hype in sports. And hype is poison to a college basketball bettor looking to make a profit.
Simply put, Kentucky is overrated. They get talked about in the national media, their players are highly-touted, and their high national ranking creates a persona that this team is head and shoulders above the rest of the country. The reality is that they aren't. And they certainly aren't when you factor in that the books are already shading the lines.
This is a talented team. But it isn't a team without holes. That leads to the third reason for their struggles against the spread this year: they are young.
Kentucky starts three freshmen and a sophomore and their sixth man is another second-year player. Any coach will tell you that young players, particularly freshmen, are going to be wildly inconsistent throughout the season. They haven't faced competition like they do in a major conference. They haven't played in such intense rivalry games at this level before. And they aren't used to playing on the road in such hostile environments. All of those emotional and intangible factors work against a young team like Kentucky, and all of those difficult-to-quantify factors are at the heart of college basketball handicapping.
Case in point: Kentucky has really struggled on the road this year, as inexperienced teams generally do. They are 0-3 ATS in true road games this season. They lost to Indiana outright their first time away from home. They also let a bad Auburn team hang around for about 30 minutes before pulling away, and it took everything Kentucky had to hold off a mediocre Tennessee team in Knoxville.
Finally, Kentucky's style is not conducive to covering a lot of large spreads. I know that they are ranked in the Top 20 in both scoring offense and field goal percentage. But the reality is that, compared to other similarly talented teams, this is a pretty mediocre offensive team and their scoring stats are misleading.
Kentucky has played just the No. 136 schedule in the country this year and their nonconference schedule – even with games against Kansas, North Carolina, Louisville and Indiana on the docket – is rated just No. 191 in the nation. Simply put, Kentucky has played against some of the worst teams in the country.
The Wildcats have been able to physically dominate teams like Marist, Radford, Samford and Chattanooga. But their offense has been much slower and less efficient against the top-tier teams that they have played. In the four aforementioned nonconference games the Wildcats averaged nearly seven points fewer per game than they have averaged on the season.
Also, Kentucky also has only topped their regular season scoring average (79.3 points per game) once in their four SEC games. As they face better competition their scoring issues should continue to surface and that will make it more difficult to get ahead of some of the huge spreads that they will face.
Further, Kentucky is one of the best teams in the nation because they are one of the best defensive teams in the nation. But, and this generally holds true across all sports: teams that lean on their defense or that win with defense aren't great wagers as underdogs. For those teams – those real physical, grinder teams – their best role is as an underdog.
The Wildcats will be a bit better wager through the second half of the year just by virtue of the fact that people are going to start crossing the line and playing against them. Most bettors are dumb. But they aren't that dumb. After getting burned a few times people will eventually catch on that betting against Kentucky is the way to go. The books will soften the lines, especially when they face some of the other top-tier teams in the conference, and that could great some situations where there actually is value on this team.
But until the spreads find that equilibrium between expectation and performance I think that the Wildcats will continue to be the bane of square bettors' existence.
Robert Ferringo is the premier college basketball handicapper in the country right now. He has already banked $10,000 in profit for his college basketball picks clients and dating back to last year his clients have earned $16,000. He has posted three straight winning years and will have another strong card this weekend. You can sign up for his college basketball picks and get more information here.
---
Most Recent College Basketball Handicapping