College Football Power Rankings: Ferringo 15
by Robert Ferringo - 8/27/2013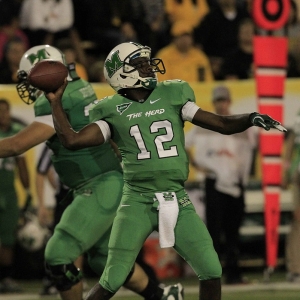 When I was a reporter in New York, a former sports editor of mine used to say that college football was nothing more than "violent figure skating".
His point was that without a playoff, college football was no different than other "sports" that rely on a third party – beyond the two teams on the field – to determine the "champion" based on style points. College football crowns its champions not on pure achievement but on its stylistic and subjective merits. Like figure skating.
A playoff is soon coming to college football. But even then, the obsessive, categorically-flawed ranking systems will still pervade and pervert the sport. Well, the Ferringo 15 College Football Power Rankings is my own twist on the concept.
The Ferringo 15 is my Profit-Power Rankings; a rating of the 15 teams that hold the most value in college football betting at the moment. It is a reflection of past, present, and projected future achievement against the spread in college football betting.
The Ferringo 15 is an unstable arrangement. As teams play and betting markets adjust, so to does the perceived "value" of the teams on the list. Consider the Ferringo 15 a list of stocks whose values will fluctuate based on how they perform and also how the public's expectations for them change.
Last year no college football betting system in the country (except maybe the KING System) was a better bet in the last two months than the Ferringo 15. The F-15 turned a profit in eight of the final nine weeks of the regular season, and the teams on this list went an amazing 75-43-1 against the spread. The top six teams on the Ferringo 15 were a staggering 35-11-1 ATS in the last nine weeks of the season.
Now, my original Ferringo 15 last year was not that lucky. My first 15 combined to go just 70-89 on the season, and I was off on several teams like Illinois and Cal. But those mistakes were quickly corrected. And I think that hitting 63.6 percent over 118 games in this space, and watching my top six teams cover the spread in an astonishing 76.1 percent of their games the last nine weeks of the year, would make up for any early misses.
So we may take a few weeks to get locked in. But once the machinations of another college football betting season really get cranking, you know this weekly column will become a must-read for anyone looking to wager. And with that in mind, here is my Preseason 2012 Ferringo 15 College Football Rankings (all records are ATS against the closing line):
1. Arizona (0-0) – I'm a big fan of the Wildcats this season. I know that USC, defending champ UCLA and Arizona State are getting most of the love in the Pac-12 South this preseason. But Arizona is a team to keep an eye on. Rich Rodriguez has 17 starters back from a surprise 8-5 team last year. Rodriguez is a guy that knows how to coach. He wasn't given enough time in Michigan, but he is a proven winner with a great system. And now that he has Pac-12 speed to utilize, it won't be long before Arizona is a major player in this league. They aren't there yet. But with a trio of three-year starters on the offensive line and incredible running back Ka'Deem Carey, he has plenty to work with this season. The Wildcats start with three cupcakes, and I can see them rolling to 3-0. Then the real value will kick in. Arizona plays four of its first five conference games on the road, including a trip to Southern Cal. But they have byes before two of those road trips (at UW and at USC), and the other two are winnable games (at Colorado, at Cal). Playing on the road will help get us some favorable numbers. And if Rodriguez can harness the talent and experience of this group, they could be a surprise team in the Pac-12.
2. Boston College (0-0) – Perpetually underrated, Boston College football has been one of the Northeast's best programs for the past quarter-century. Two or three down seasons, played amidst coaching changes and upper-management power plays, won't change that. B.C. should've been much better than their 2-10 record last year. But they couldn't overcome a brutal schedule and lame duck coach. This year they have 18 starters back and an energetic new coach. Quarterback Chase Rettig is an underrated four-year starter, and the defense welcomes back 14 of its top 16 tacklers. Add in the top returning rusher and two top receivers, and there is more than enough to work with here. I think that the Eagles will find six wins this season, and they should be a moneymaker from start to finish.
3. Missouri (0-0) – This is another team that I think will bounce back. The Tigers got throttled in their first season in the SEC. However, it had much less to do with how "great" the SEC is and more to do with the fact that Mizzou was headed for a down year regardless of conference. Losing quarterback James Franklin to injury throughout the season didn't help matters, either. Missouri is an afterthought in the SEC East this year. And I don't think they are ready to compete for a conference title or anything. But Gary Pinkel has done a great job at Mizzou; the guy can coach. Franklin is back healthy, and the Tigers offense should be back over 30 points per game. They get Florida, South Carolina and Texas A&M all in Columbia. They are one upset away from being an eight-win team, and Pinkel's team will be a thorn in the side of SEC "powers" this season.
4. Iowa (0-0) – Just like the rest of the top teams on my list, Iowa is a team with excellent tradition, a track record of success, and (with exception of B.C.) a proven coach. Iowa was disgusting to watch on offense last year. Things can only get better on that side of the ball. And you know that Kirk Ferentz will have his team playing tough in the trenches. Iowa has a massive offensive line and an experienced back seven. They also have a schedule that could see them build some serious momentum through the first month of the season. Iowa gets three of the four teams projected ahead of them – Michigan State, Michigan and Northwestern – all to come to Iowa City this year. If the defense (with seven starters back) plays as well as it did last year and if sophomore Jake Rudock can be an upgrade at quarterback, I think Iowa will work its way back to a bowl game and have a winning season at the betting window.
5. Ohio (0-0) – Every year there are one or two teams from the MAC that end up among the best bets in college football. Last year it was Kent State, which went 11-3 ATS. This year I can see it being the Bobcats. This team started the 2012 season going 6-0 and they were actually ranked in the Top 25 at one point. The wheels came off down the stretch as the Bobcats lost four of five games, but they have the core of last year's team back, including three-year starting quarterback Tyler Tettleton, leading rusher Beau Blankenship, leading receiver Donte Foster and leading tackler Keith Moore. They have 13 senior starters, and they get their toughest opponents in conference to come to Athens. We're going to find out a lot about this team on Sunday when they play Louisville. But regardless, that game could be a win for us: if they get blown out their betting value increases, and if they play well and cover that gets us a winner and build some confidence for Frank Solich's crew. Keep an eye on these guys.

6. Washington (0-0) – I am really a big fan of the Pac-12 this year. And Washington is another team that I think could do some serious damage out West. This is Steve Sarkisian's fifth season, and his roster is loaded with talent and experience. He has 18 starters back on a team that has made three straight bowl games. That includes nine three-year starters, with quarterback Keith Price leading the way, and 12 juniors that could be laying the foundation for a potential Pac-12 title next year. Washington could get a boost from returning to refurbished Husky Stadium this season, and they have only four true road games. The schedule is difficult, with marquee nonconference games against Boise State and Illinois and then a brutal opening four games in league play. But don't give up on this team if they get off to a slow start. They should cash plenty of tickets this season.
7. Buffalo (0-0) – If Ohio isn't the breakout ATS machine from the MAC, then I think it could be Buffalo that plays the role of Big Earner. The Bulls were just 4-8 last season. But they were competitive in all but one of their games. This team played tough at Georgia for a half and also went on the road and took Connecticut and Ohio to the wall. Buffalo had three losses by a touchdown or less, and they welcome back nine three-year starters. This is an experienced crew, and the last two years have been the build up to this season. Buffalo opens at Ohio State and at Baylor. But they get four of five at home after that and will be a very live underdog throughout this season.
8. Auburn (0-0) – It is kind of hard to fly under the radar in the SEC because that conference is so overvalued. But the Tigers are definitely a team to watch this season. New coach Gus Malzahn is just one of those guys that, like Art Briles, Kevin Sumlin, Dana Holgorsen, or Tony Franklin, just knows how to get 35 or 40 points out of his offense. Malzahn was the offensive coordinator here for three years and helped recruit just about every player on this Tigers roster. Auburn has 15 starters back and has depth and talent on both sides of the ball. Auburn has only four road games all season (ah, that "tough" SEC scheduling), and the entire slate is dotted with cupcakes. If Auburn takes to Malzahn's systems early they could be one of the surprise teams in the SEC West.
9. Wyoming (0-0) – Expect the unexpected with Dave Christensen's program. The Cowboys went 7-6 with a bowl win in 2009, followed it up by going 3-9, rebounded with an 8-5 campaign, and then tumbled to just 4-8 last year. Following that up-down trend you can see why I'm bullish on this group. Wyoming has an outstanding quarterback in junior three-year starter Brett Smith. And he has plenty to work with, with his three leading rushers and five of his top six receivers back. Wyoming lost three games by a field goal or less last year and dropped another one in overtime. The Cowboys don't have an easy schedule. But that only enhances their value to me. Wyoming will be an afterthought against the top tier of the Mountain West. But they are good enough to compete with Fresno, Boise and Utah State at underdog prices but also good enough to throttle the league's bottom tier. Anything goes in Laramie.
10. Marshall (0-0) – Rakeem Cato was the offensive player of the year in Conference USA while putting up some ridiculous numbers. He has a host of skill players back around him and four of five starters back on a very good offensive line. Marshall just needs to get some improvement out of its horrific defense. But the Thundering Herd allowed an average of just 27.3 points per game in the previous four years before watching the D get shredded for 43 per outing last year. Points are always easy to come by in CUSA. But if these guys improve by a touchdown or so a game they are in a great spot to win the league and cash a lot of tickets along the way.
11. Indiana (0-0) – Some people are predicting a bowl berth for the Hoosiers. They have 19 starters back and their best team in almost 20 years. Also, the schedule has just four road games on it. And if IU can simply avoid any upsets – and maybe spring one of their own – they should be a shoo-in for six or seven wins and the school's second bowl berth since 1993. Indiana lost four tantalizing games by four points or less last season, including tight games with Michigan State (31-27) and Ohio State (52-49) in back-to-back weeks. With virtually the entire team back, this could be the time for them to take the next step.
12. Oklahoma State (0-0) – The Cowboys aren't really off anyone's radar. They are ranked in the Top 15 of both preseason polls and are a dark horse national title contender. But I still think there is a load of value with this team. There seems to be a lot of uncertainty around the three potential starters at quarterback. That uncertainty might be scaring bettors off the Cowboys. Not me. It doesn't really matter who is running Mike Gundy's system; Oklahoma State is going to score a lot of points. The Cowboys have actually gone 26-12-1 ATS over the past three seasons. They have been one of the best bets in the country for most of the past decade. So banking on them to continue that solid work – by just burying helpless opponents – isn't a stretch.
13. Wake Forest (0-0) – I might be reaching a bit with this one, but I think that Jim Grobe has one more trick up his sleeve. The ACC has a lot of parity in its second tier, and Wake can complete with any of those teams. The ACC has always been an underdog bettor's dream, and this year Wake should be a very active puppy. I am a fan of senior three-year starter Tanner Price at quarterback. If he regains his impressive 2011 form he could be a one-man gang and carry this team to a bowl bid. This year's team has 13 senior starters and a rough road schedule. That means we could cash in with the Deacons as sizeable underdogs against teams like Clemson, Miami or Vanderbilt.
14. Anyone Playing Notre Dame (0-0) – I give Notre Dame all the credit in the world for its amazing 2012 season. I was on the bandwagon pretty early, and they played big at all the right times. But just like Duke in college basketball, the Yankees in baseball, or the Cowboys in the NFL, Notre Dame is going to be overrated every year. ND lost the heart of its team when Manti Te'o and his imaginary girlfriend split, and quarterback Everett Golson is on ice this year. The Irish face eight opponents playing with revenge. That's ridiculous. I am a big fan of Brian Kelly. But last year was an anomaly. They were 5-0 in games decided by a TD or less, which won't happen again. So that regression, coupled with their hype (they are in the Top 15 of both preseason polls), makes betting against Notre Dame a winning proposition again this year.
15. South Florida (0-0) – The Bulls have been one of the country's bigger disappointments over the past two seasons. I never understood the infatuation with Skip Holtz, who was fired this offseason. Willie Taggart, who somehow built up Western Kentucky, comes to town to try his hand at molding this athletic, undisciplined roster into something useful. South Florida has gone just 7-16-1 ATS the past two seasons. Being that bad at the window creates value, because eventually the books will overcompensate. Sloppy, overrated quarterback B.J. Daniels is gone, and I think that is going to lead to much better play at that position. South Florida is taking a big step down in class in the new AAC. They also had three close losses last year. And if they can do a better job taking care of the ball they could find their way back to a bowl game.
Honorable Mention: South Carolina, Vanderbilt, Texas, Georgia Tech, UAB, Cincinnati, and UNLV.
Robert Ferringo is a lead writer for Doc's Sports and a member of the Football Writer's Association of American. He has earned over $10,000 in profit for his clients over the last 16 football months. He went 7-2 last week with his NFL preseason selections and this week, for the first time ever, Robert will release selections from his incredible KING College Football Betting System. (Learn more HERE.) We are so confident that you will be amazed by this moneymaking system we are going to give you a free, no-strings-attached $60 credit to use toward a purchase of Robert's football selections. CLICK HERE for $60 absolutely free!
Read more articles by Robert Ferringo
---
Most Recent College Football Power Rankings