2013 Kentucky Derby Predictions
by Trevor Whenham - 5/2/2013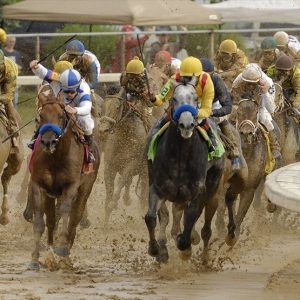 The Kentucky Derby is almost here. The time left before post time can be measured in hours. Finally. All that is left to do is make some 2013 Kentucky Derby predictions. I'm not going to pick a winner — I won't do that until post time is closer and the odds start to shift. What I will do, though, is predict four things that I expect to have a big impact on how the race plays out:

The early fractions will be fast
There aren't a lot of speed horses in the race. Only three are likely to be running at or near the front early — Falling Sky, Verrazano and Goldencents. Of the three, Verrazano is the one most likely to give up the chase and settle for a stalking position. The other two, though, could get crazy. Falling Sky has the most early speed, and his connections know that running on the lead is probably the only chance for success. He'll be determined. Goldencents needs to be up front, and he is tough to control. He'll challenge Falling Sky early and aggressively. You don't need a lot of horses for a speed duel — just two that aren't willing to settle. We won't see a historically fast race, but it will be far from slow. That sets up well for all the horses looking to come from the middle of the pack and beyond.
Oxbow will be much improved
Of all the big longshots in the field, Oxbow strikes me as the most capable of improving significantly and being a big factor in this one. For starters, he has perhaps the best breeding in the field in terms of handling the distance challenge. Sire Awesome Again could run all day, and son Game on Dude has carried on that tradition. Damsire Cee's Tizzy is oozing stamina as well. The distance won't be a factor. His running style works well, too. He's a mid-pack stalker, and he should find room to move early on that he can be happy with. The biggest knock against the horse is that his Arkansas Derby was just lousy — a fifth-place finish at a glacial pace. I'm willing to toss that race out. He got into trouble early and never recovered. Before that he was improving each time out, and he has trained well since the last disaster. Finally, jockey Gary Stevens is riding fairly well since his return from retirement, and he knows very well how to handle the pressures of this race — he has won it three times. I'm not suggesting that Oxbow will win, but I think you'll be happy having him as part of your exotics.
Verrazano won't win
Verrazano wasn't installed as the morning line favorite, but he was viewed as the horse to beat for months — ever since he won an allowance race on Feb. 2 at Gulfstream Park by 16 lengths. It was the most impressive single race of the year, and the myth of Verrazano was born. While I respect the horse and what he has accomplished, I just don't think he's going to win, and I am willing to leave him off the top of my exotics. He only has four career starts. That doesn't necessarily have to be an issue, but he has never seen any real challenge in his races, so he is going to face traffic and adversity like he has never seen. I don't trust him to handle it well. He has been less impressive in each subsequent race, too. There is also the good ole Curse of Apollo to deal with — Apollo in 1882 was the last horse who didn't run as a two year old to win the race, and dozens have fallen short since. Combine that trend with distance questions in his pedigree and the struggles of Todd Pletcher in this race, and there are just too many concerns to believe in the horse.
Joel Rosario is a major factor
Rosario is the jockey aboard Orb in this one. There isn't a jockey on the planet who is hotter or riding with more confidence. At the recently concluded Keeneland meet in Lexington, Kentucky, he had 38 wins in 106 starts — an almost impossible 36 percent win rate. Julien Leparoux was second in the standings with 17 wins. The Churchill Downs meet started just after Keeneland ended. Rosario celebrated that by winning five races on the opening card, including the last four in a row. He's red-hot, and he has a talented horse under him that suits his style well. He's going to be ready. There is an extra level of motivation at work here, too. Rosario and John Velazquez have developed an intense rivalry lately because they keep running into each other. Rosario lost the mount on Orb to Velazquez after his first two wins and only got it back after Velazquez chose Verrazano for this race. Velazquez had ridden 2011 Derby winner Animal Kingdom, but Rosario got the mount for the Dubai World Cup and won the richest race in the world. Despite that, Velazquez has been named as his rider for the next outing. Rosario will take pleasure in beating Velazquez in a duel of the two favorites on the morning line.
Want free Kentucky Derby picks from some of the best horse racing handicappers around? Doc's Sports offers $60 in free Kentucky Derby picks that you can use on any of Doc's Sports horse racing handicappers. This offer comes with our no obligation guarantee, and no credit card is required. This credit can be used for any of the Triple Crown races or for any sport and handicapper at Doc's Sports. Click Here to get your credit now.
Read more articles by Trevor Whenham