2014 ACC Predictions and College Basketball Betting Odds
by Robert Ferringo - 10/29/2014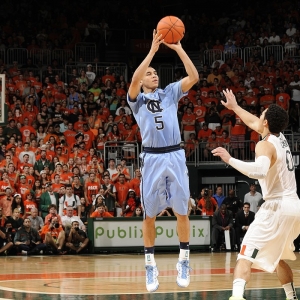 A new season means a new look for the ever-changing Atlantic Coast Conference. Long-time staple Maryland has shuffled off to the Big Ten, and college basketball blue blood Louisville has stepped in to take its place in this bloated 15-team league.
Despite its cumbersome construction, the ACC is becoming to college basketball what the SEC is to college football: the clear-cut No. 1 league in the land. The Tobacco Road Trio has joined forces with the upper crust of the old Big East to form another hoops mega-conference. And the battle for the league title will once again feature a who's who of the sports elite players and coaches.
Here is Doc's Sports 2014-15 ACC Conference college basketball predictions (with odds to win the conference title in parentheses):
The Favorite: Duke (-125)
The Blue Devils are the favorites to win the ACC on reputation only. Duke is the most public team in all of college basketball, and their odds are always direct from Fantasy Land because the books know that bettors are going to pour their money on the Cameron Crazies. But the Blue Devils haven't won a piece of an ACC regular season championship since 2010 and haven't claimed an outright crown since 2006. They lost their two top players (Jabari Parker, Rodney Hood) from last year's squad, and this season will rely on a crop of ballyhooed freshmen to lead the program. The problem with that premise is that unlike programs like North Carolina or Kentucky, which have proven that they can win titles on the backs of first-year players, the Blue Devils haven't been a one-and-done haven. How will freshmen guards Grayson Allen and Tyus Jones mesh with holdovers - and multiple-year starters - Quinn Cook and Rasheed Sulaimon? Can anyone replace Parker and Hood's explosiveness on the wings? And can rookie center Jahill Okafor hold down the paint almost singlehandedly as Duke once again goes into the season with one of the weaker frontcourts of any Top 20 team? Coach K will find a way to make the pieces fit and coax a high seed in the NCAA Tournament. But unless they are welcoming in four Parkers, I think it is bold to suggest this year's group will be better than the one that went 26-9 and got bounced by Mercer in the first round of the NCAA Tournament last year.
The Challenger: North Carolina (+250)
On the court the Tar Heels are supremely talented and a fringe national title contender. But off the court the Heels have issues. An NCAA investigation into academic fraud and improprieties is hovering over this program heading into the 2014-15 season. How that distraction impacts this year's team will be a major subplot for the squad. UNC has its best team in several years, and they are hoping to build on last season's 12-game winning streak. The young Heels flamed out in the most crucial time, though, losing their ACC Tournament opener and failing to advance out of the opening weekend of the NCAA Tournament. Three-year starter Marcus Paige is one of the best point guards in the country and a proven stud. He will be charged with blending in three talented freshmen (Theo Pinson, Joel Berry and Justin Jackson) with three key holdovers (Kennedy Meeks, Brice Johnson and J.P. Tokoto). The Heels lost their best post player, James McAdoo, and they are still lighter on the interior than what we've come to expect at Chapel Hill. But they can match up 1-4 with any team in the country, and they have a slick closer in Paige.
The Dark Horse: Louisville (+250)
The Cardinals are the latest former Big East team to join the ACC party. They won the American Athletic Conference regular season and tournament last year but are clearly stepping up in class. Yeah, I think they can handle it. The Cards are two years removed from a national title, have two Final Fours in the last three years, and boast four Elite Eight appearances in the past seven seasons. Louisville is a powerhouse, and Rick Pitino will be motivated to prove he belongs with the Big Boys this season. Rush Smith and Luke Hancock, the two driving forces behind the 2012-13 title team, have graduated. But the Cardinals have four of five starters back from last year's 31-6 crew. That includes point guard Chris Jones and beastly forward Montrez Harrell. They also add four Top 100 recruits to the bench. But the key to this year's team will be development of Wayne Blackshear, a disappointing senior starter, and promising sophomore scorer Terry Rozier. If either becomes a legit go-to guy and 15-point-per-game scorer then the Cards are in business. This group is big, hungry, and looking to make it three straight conference titles in three years in three different leagues.
The X-Factor: Virginia (+800)
The Cavaliers will attempt to defend their ACC title without the services of their best all-around player, Joe Harris, and their top post performer, Akil Mitchell. The weight of expectation falls on the shoulders of All-ACC guard Malcolm Brogdon and five other key components back from last year's rotation. Brogdon busted out in his sophomore year and will now try to take his game to an even higher level. Fellow returning starters London Perrantes and Mike Tobey will also have to raise their game. And super-subs Justin Anderson and Anthony Gill will be tasked with replacing Harris and Mitchell's production. Virginia is a defensive-oriented unit that boasts one of the top home-court advantages in the ACC. And Tony Bennett has done an excellent job of laying a solid foundation in Charlottesville. But UVA won't be sneaking up on anyone this year. And last season's ACC regular season title was aided by one of the easiest schedules in the league. How will they adjust to being the hunted this season?
The Disappointment: Syracuse (+1000)
The Orange had a bizarre 2013 season. Expectations were relatively low after losing a host of talent from the 2013 Final Four team. But the Orange came firing out of the gate with 25 straight wins to start the year. They were the No. 1 team in the country before taking a complete nosedive down the stretch. They lost six of their last nine games and were unceremoniously bounced by Dayton in an ugly NCAA Tournament game. Syracuse lost its top three players to the NBA Draft, and what remains is not encouraging. SU will be breaking in its fourth different starting point guard in four years, and they have one of the worst three-year starters in the country at the two (Trevor Cooney). Even the Orange's imposing frontcourt will be weaker this year with lone senior Rakeem Christmas tasked with holding down the middle of SU's patented 2-3 zone. Syracuse will have the expectations of a perpetual Top 10 team. But this is their weakest roster in a decade, and this will be one of Jim Boeheim's toughest assignments. The Orange have two harrowing stretches on the schedule - in early December and in late February - and I think they'll be just as streaky and unreliable as they appeared in the second half of last year.
The Rest:
Florida State (+2000) - Leonard Hamilton has a system, and he's working it to perfection. Hamilton's teams are rooted in defensive intensity, and he stocks his roster with long, rangy athletes that can harass opponents into submission. FSU lost two leaders and two of its top scorers from last year. But they have one of the best players in the ACC in Aaron Thomas. He is the linchpin for a team that is deep and athletic. But they need to find some guys that can stroke it from the outside. Three-point shooting is always in short supply in Tallahassee, and this year is no different. This team is massive and will be able to strong arm most of its opponents. But to get to that next level some shooters will have to emerge.
Notre Dame (+1800) - Notre Dame's transition into the ACC was not a smooth one. Their season took a gut-punch when star guard Jerian Grant was suspended after just 12 games. Fortunately for the Irish, Grant is back for his senior season and will pair with fellow three-year starter Pat Conaughton to give the Irish one of the better perimeter attacks in the league. The key for the Irish will be holding up on the interior, where they are woefully thin. It is easy to dismiss Notre Dame after a floundering 15-17 effort last season. But I think they will bounce back and be a solid earner at the window this season.
Pittsburgh (+1500) - Pitt's struggles in their first trip through the ACC had less to do with the talent in the league than it did with the fact that the Panthers had a weak roster. Now for more bad news: they lost their top two scorers, including go-to guy Lamar Patterson. Jamie Dixon is very much a system coach, and his teams will always bring a tough, physical style to the gym. But there still aren't any top-end guys to lean on here. Backcourt mates James Robinson and Cameron Wright will have to lead this team. But they'll be playing without the same caliber frontcourt we've come to expect out of Pittsburgh. I think that a middle-tier finish sounds about right for what looks like a very average team.
Georgia Tech (+2000) - The fact that Brian Gregory is not working out in Atlanta should come as a surprise to no one; he was a terrible hire to replace Paul Hewitt. And a flood of defections this offseason may have been a death knell for Gregory's tenure. Forward Robert Carter's transfer was a crippler. And now multidimensional wing Marcus Georges-Hunt will be left to carry this team. He's the lone bright spot on a bad roster, and the Yellowjackets will be nothing more than fodder for this beefed-up league.
Boston College (+2000) - The Eagles were one of the biggest disappointments in the country last year, and it cost Steve Donahue his job. Jim Christian is coming to save the day after two tours in the MAC with Kent State and Ohio. But Christian was a flop in TCU, and this could be his last chance to prove himself at a major program. It is a rebuilding job, so it will take time. But Christian can at least lean on one of the top point guards in the ACC in Olivier Hanlan. There are some other capable perimeter pieces as well. But B.C. won't be anything but a doormat again this year if they don't bulk up and get tougher on both ends of the floor. I didn't see anything from them last year to suggest that they will, and I don't know that you can toughen up overnight.
N.C. State (+5000) - Had T.J. Warren decided - against all odds - to return for his junior season then the Wolfpack would've started the year in the Top 10 in the country. Warren was one of the best scorers in the nation, and his 25 points per game will be impossible for one man to replace. But stud transfer Trevor Lacey and Top 50 freshman forward Abdul-Malik Abu will do what they can to take a chunk out of that deficit. Lacey is a fearless lefty with two years of eligibility left. He'll team with another SEC castoff, senior Ralston Turner, to give State a very capable backcourt. Four other guys that saw quality minutes, including two more returning starters, will fill out a roster that should finish in the league's top half. This team is bigger, deeper and more athletic than last year's version and could improve on last season's seventh-place finish in the league.
Wake Forest (+5000) - As I predicted in my ACC preview last year, Jeff Bzdelick was run out of town after another feeble effort in Winston-Salem. Surprise hire Danny Manning was brought in to pick up the pieces. But four key contributors from last season have moved on, and what's left behind is mediocre at best. Junior wings Devin Thomas and Codi Miller-McIntyre can both play. But after that is it nothing but question marks. Wake has just one senior on the roster, and he is a transfer from Campbell. Manning did a great job in his two years in Tulsa. But he also had talent to work with. This team will likely take a step back from their modest 17-16 showing last year before hopefully taking a step forward in the future.
Miami (+5000) - Jim Larranaga is one of the best coaches in the country. And last season he proved it again by somehow guiding Miami above .500. No team in the nation lost as much talent from 2012 to 2013 as the Hurricanes. But they were competitive all year long. Miami isn't quite where Larranaga wants them to be heading into this season. But they'll be closer. Big 12 transfers Sheldon McClellan (Texas) and Angel Rodriguez (Kansas State) give him two high-level players to build around. Larranaga also has some young talent that he will most assuredly develop. The problem is that he has just three guys on the entire roster taller that 6-6, and only one of them has played a minute for Miami in the past. They won't be an easy W, but Miami isn't ready to dance with the big boys. Yet.
Clemson (+7500) - The Tigers scrapped and clawed their way to a supremely overachieving season last year. But even that team couldn't make the NCAA Tournament - they were one of the last teams out and worked their way to the NIT semifinals - and this year they'll have to replace star forward K.J. McDaniels. Brad Brownell has four starters back this year, and this team will again try to grit their way into ACC relevance. But they won't be anything more than a nuisance if they can't find someone that can score. None of the returnees averaged more than 10 points per game, and they were last in the league in scoring last year. That's how Brownell's teams play. But I don't know that it will be good enough.
Virginia Tech (+10000) - Buzz Williams really surprised the college basketball world when he fled a consistent Marquette program to take over Virginia Tech. The Hokies are perpetually one of the worst high-major programs in the country. But Williams will try to instill his trademark toughness into this shaky roster. Williams is starting from scratch here. And he really only has three or four players, including promising sophomores Devin Wilson and Ben Emelogu, that would even make the roster at some of the premier ACC schools. It'll be another losing season in Blacksburg. But it will be interesting to see how the players adopt Williams' maniacal approach.
Projected ACC Standings:
1. Louisville
2. North Carolina
3. Duke
4. Virginia
5. North Carolina State
6. Florida State
7. Syracuse
8. Notre Dame
9. Miami
10. Clemson
11. Pittsburgh
12. Wake Forest
13. Virginia Tech
14. Georgia Tech
15. Boston College
Robert Ferringo is a member of the Basketball Writer's Association of America and a professional sports handicapper for Doc's Sports. He is considered one of the best college basketball handicappers in the country and has an unmatched streak ofsix straight winning college basketball seasons. His $100-per-Unit clients banked $10,890 in profit with his sides and totals last year and he has raked in a remarkable $55,300 in the last eightyears with his nonconference picks alone. There is no better moneymaker in the nation and Robert is looking forward to another amazing season. You can sign up for his college basketball picks and get more information here.
Read more articles by Robert Ferringo
---
Most Recent College Basketball Handicapping