2014 Big Ten Predictions and College Basketball Betting Odds
by Robert Ferringo - 10/29/2014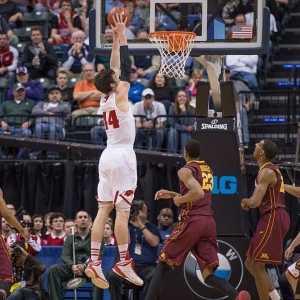 The Big Ten can add as many teams as it likes - it's not getting any better as a basketball conference.
Maryland and Rutgers will be making their maiden voyages in the Big Ten this year, boosting the league's total membership to 14 teams. However, both are expected to be bottom-tier finishers in the conference and will bring about the same amount of cache to the Big Ten as they have in football. (Which is to say: none.)
The Big Ten appears to have merely added a few more rungs to the bottom of the league ladder. But with the exception of Wisconsin, even the programs at the top of the heap looked primed to struggle, nationally, this season. Michigan State, Michigan, Ohio State, Iowa and Indiana all lost a ton of talent from last year's clubs. So much so that it may create a situation where perennial second- and third-tier programs like Nebraska, Minnesota and Illinois can step forward and challenge the Badgers for the crown.
The Big Ten is perpetually overrated as a college basketball conference. This year is no different as several publications have them listed as the No. 1 or No. 2 league in the land. That hype may create some very profitable situations for bettors early in the year as we take advantage of the skewed expectations for some traditional college hoops powers. But it could create havoc when league play resumes as I suspect it will be an out-and-out free-for-all as these teams claw over one another for a chance to finish second to Wisconsin.
Here is Doc's Sports 2014-15 Big Ten Conference college basketball predictions (with Big Ten title odds in parentheses):
The Favorite: Wisconsin (+175)
The Badgers aren't just the solid favorite to win the Big Ten. They are also on the shortlist of favorites to win the National Championship. Wisconsin has nearly every key piece from last year's Final Four team back, and the Badgers are motivated to help Bo Ryan shed that "Best Coach To Never Win A Title" label. Wisconsin lost guard Ben Brust to graduation. But four of their top five starters and six of their top seven scorers return. That includes matchup nightmare Frank Kaminsky, a seven-foot stretch four that can be unstoppable for stretches. A trio of three-year starters - Josh Gasser, Sam Dekker and Traevon Jackson - will man the perimeter. Gasser is a fearless glue guy, and Jackson is a big shot maker. Dekker came into his own last year following a dicey freshman campaign. Sophomore forward Nigel Hayes looks like he's a star in waiting, and several other rotational parts will support the top five. If there is an issue with the Badgers it is their wafer-thin depth. These guys logged a ton of minutes last year - including starting the season with an international trip and ending with a Final Four run - and they will need to be careful about overexertion this season. But Wisconsin's execution is flawless, and their talent unmistakable. I don't think they will be as consistently strong of a wager this year after going 20-13 against the spread last season. But they will still dole out their fair share of beatings and are an excellent squad.
The Challenger: Ohio State (+250)
It is really tough to name Wisconsin's primary challenger. But since the sportsbooks have Ohio State's odds as second-best, I suppose the Buckeyes are it. There's no way the Buckeyes will be as good this year as they were last year. And it is questionable how good last year's team really was. Four-year starter Aaron Craft exhausted his eligibility and took two other double-digit wing scorers with him. Ohio State has a highly-touted freshman class and three experienced players in the post. But no one on the roster averaged more than eight points per game for OSU last year. Shannon Scott will be asked to fill Craft's enormous shoes. But Scott isn't a high-level performer and has nowhere near the leadership ability Craft took with him. Sam Thompson and Amir Williams are three-year starters at power forward and center, respectively, but neither can take over a game. Thad Matta needs one of his freshmen wings, D'angelo Russell or Keita Bates-Diop, to mature quickly. Matta is a brilliant coach. And Ohio State will be a good team. But I'm not sure who the leader of this group will be, and I don't see this as an elite team capable of a significant postseason run.
The Dark Horse: Iowa (+1000)
The Hawkeyes fell off a cliff last February and closed the season with losses in seven of their last eight games. That included an embarrassing loss to Northwestern in the Big Ten Tournament opener and a heartbreaking overtime loss to Tennessee in the NCAA Tournament. They lost their best player in Roy Devyn Marble and two other key frontcourt pieces. But coach Fran McCaffery routinely used a 10-man rotation, and Iowa still has an imposing frontcourt with Aaron White, Adam Woodbury and Gabriel Olaseni. They had a cup of coffee in the Top 10 last year, and if they keep improving, as they have each year under McCaffery, a top-tier league finish seems imminent. However, Iowa played one of the weakest schedules in the country last year (No. 322). And they are once again relying on one of the weakest point guards in the nation, Mike Gesell. Gesell is a three-year starter and seems like a nice player. But he can't defend anyone, ever, at all, and opponents took advantage to comical effect last season. Iowa had a ton of close losses last year (eight of 13 were by five points or less or in overtime). So if they can find a way to get it done in the clutch, they could make a leap.
The X-Factor: Nebraska (+350)
The Cornhuskers came out of nowhere last year to earn the school's first NCAA Tournament berth since 1998. They went 11-3 in Big Ten play down the stretch and certainly raised the level of expectations for the program this year. I like the talent this team brings back. Especially do-it-all forward Terran Petteway, the league's returning leading scorer. Stretch four Walter Pitchford and smooth two-guard Shavon Shields are two more starters that Tim Miles welcomes back. But there's a steep drop-off on the bench, and Nebraska was just No. 274 in scoring last season. It will be crucial that they find some more firepower. The Huskers should produce another strong showing in the league, but I don't know how seriously we should be taking these guys. They lost to every decent nonconference opponent they faced last year and only had a couple quality wins. They are also too reliant on their home-court advantage. I don't know that Nebraska is a real threat to win the Big Ten despite its preseason hype. But there is still an excitement around this team they haven't seen in Lincoln in a long time.
The Disappointment: Michigan (+500)
No one has ever made money consistently betting against a John Beilein-coached team. Last year was a perfect example. The Wolverines were supposed to take a major step back after their national runner-up finish in 2012-13. Instead they went 28-9 and won the Big Ten regular-season crown with a 15-3 mark. However, for the second year in a row Michigan lost its two best players and heads into this season with one of the youngest rosters in the country. The Wolverines only have three upperclassmen (two juniors and one senior) on the entire team, and the senior rides the bench. Beilein's quirky offensive system is plug-and-play. And he has some players with worlds of potential to plug in. But there is absolutely no way that the Wolverines are going to win the Big Ten again this year, and their odds to do so are ridiculous. They may be dangerous by the time the postseason rolls around. But I think there will be a lot of bumps and bruises while they get to that point, and I think the Wolverines will be a money burner this season.
The Rest:
Illinois (+1200) - The Illini lost three starters from last year's club, but I think they have an opportunity to improve overall. John Groce is a wizard and has a tight eight-man rotation that should hold up in league play. The Illini will get a major boost from transfer guards Aaron Cosby (Seton Hall) and Ahmad Starks (Oregon State). They'll join up with returning leading scorer, and former transfer, Rayvonte Rice to give Illinois one of the best backcourts in the league. Freshman forward Leron Black will support senior center Nnanna Egwu in the post. And Illinois' ceiling may be determined by the development of a talented trio of sophomores, two of which (Malcolm Hill and Kendrick Nunn) started last year. If this team can shoot the ball better - they were No. 302 in effective field goal percentage last season and shot just 38.6 percent from the field - then they will be one to keep an eye on.
Minnesota (+1300) - Little Dicky Pitino, the son of Louisville's Hall of Fame coach, had a highly-successful rookie season in Minnesota. The Golden Gophers won 25 games and an NIT championship while posting a 7-2 overall record in March. They lost top scorer Austin Hollins. Yet four of five starters, and their top reserve, all return. Minnesota has one of the best frontcourts in the country when savvy center Elliott Eliason and burly power forward Maurice Walker are on the court together. Two other double-digit scorers return in the backcourt, and Minnesota seems a lot more sure of itself entering this season. The key is going to be finding some production off the bench to take the stress off the starters. If Minnesota can do that, they should find their way into the Big Dance this time around.
Michigan State (+650) - It is bizarre to think of Michigan State as an afterthought in the Big Ten heading into the season. The Spartans have won seven Big Ten titles under Tom Izzo, and he is one guy in the country you never want to underestimate. But Michigan State lost its three best players and four of its top seven guys from last year's team. Oft-injured forward Branden Dawson will try to carry this team. And shaky guards Travis Trice and Denzel Valentine need to finally realize their potential for this team to be a factor. Michigan State got a boost when Cleveland State guard Bryn Forbes (15.6 PPG) received an immediate eligibility waiver. But they are still short the high-end talents we've come to expect out of East Lansing. Michigan State will be solid. But they are nowhere near the dominating force we've seen in recent seasons.
Purdue (+1500) - I am not sure if anyone's star has fallen as quickly as Matt Painter's. Purdue was a Top 10 program from 2008-2011. But they haven't survived the NCAA Tournament's opening weekend since 2010 and have finished below .500 each of the past two years. This year's team isn't going to snap either of those negative streaks. Junior center A.J. Hammons is a future pro. But he is it - and I mean IT - in terms of talent on this team. They lost their starting backcourt from last season, and no one on the roster averaged more than six points per game last year. This is an extremely young team (the lone senior is a former walk-on who rides the pine). But Painter has used up about all of his goodwill in West Lafayette. This team isn't going to be any better than last year's often-embarrassing group, and if anything happens to Hammons it will be light's out on this season.
Indiana (+1500) - Outside of a magical 2012-13 season, things haven't really gone according to plan for Tom Crean. He is just 101-97 in his six years in Bloomington, and this year's roster will once again struggle to stay above .500. Seven players from last year's team are gone, and the lone senior on the 15-man roster is a scrub. The Hoosiers will lean on stud point guard Yogi Ferrell and one of the top recruits in the country, freshman James Blackmon. But that's really it. The rest of the roster is made up of projects and youngsters. That won't be good enough to compete at the upper echelon of this league. Indiana doesn't play a true road game until Dec. 31, so they will have some time to figure things out. But patience is wearing thin among Indiana faithful, and Crean's seat will probably be scorching by the end of this season.
Maryland (+1500) - The Terps are bringing one of their weaker teams into their first season in the Big Ten. Three of their top players left the program this offseason, and the depth on this bench is nil. Veteran Dez Wells (14.9 PPG) is an experienced gunner and will try to lead this team. But he's already proven that he's not a point guard, and I'm afraid his controlling style could stunt the growth of key freshmen guards Melo Trimble and Dion Wiley. Forwards Evan Smotrycz and Jake Layman both averaged 11 points per game last year and can provide some support. But Maryland has no post presence (those two forwards are both 6-8 and relatively soft), and their two best big men transferred. Mark Turgeon is doing his best. But Maryland doesn't look like it is any closer to snapping an NCAA Tournament drought that's reached four years, the school's longest since the early 90s.
Northwestern (+1500) - Coach Chris Collins is saying all the right things. And a lot of people are saying great things about him. But I still don't see Northwestern as anything more than the dumpster fire we came to expect during the Bill Carmody era. Carmody's teams were at least competitive. Last year's Wildcats were routinely blown out by 20 or more points and were completely overmatched. Some growing pains were expected as Collins tried to transition the team away from Carmody's Princeton offense. But I don't know that Northwestern is going to be much better off this year since they lost their best player, underrated Drew Crawford. Six of the top seven guys are back. But these are still the same guys that were in over their heads last season. JerShon Cobb and Tre Demps are decent, as is improving center Alex Olah. But this roster isn't athletic enough or deep enough to do the things that Collins wants to.
Penn State (+4000) - When it comes to basketball, Penn State sure is a great football school. The Nittany Lions have finished at or below .500 in 11 of the past 13 seasons, including three straight. But if they can get absolutely anything out of this year's newcomers then Penn State could find itself a player in one of the smaller March tournaments. D.J. Newbill is the No. 2 returning scorer in the conference at 17.8 points per game. Two other forwards, Brandon Taylor and Ross Travis, are entering their third years as starters. And if Penn State can find someone to run the point and replace outstanding guard Tim Frazier then this team could be deceptively competitive.
Rutgers (+6000) - It's a new league but the same situation for Rutgers: the Scarlet Knights are pathetic. Rutgers went just 5-13 in the AAC last year and were a perennial Big East doormat. They are not better this year, even though they have a decent inside-outside combo in seniors Myles Mack and Kadeem Jack. Head coach Eddie Jordan doesn't have much of a resume. But he's been tasked with turning this pile of bricks into a foundation to compete. Good luck Eddie.
Projected Big Ten Standings:
1. Wisconsin
2. Michigan State
3. Ohio State
4. Illinois
5. Iowa
6. Nebraska
7. Minnesota
8. Michigan
9. Indiana
10. Maryland
11. Penn State
12. Purdue
13. Northwestern
14. Rutgers
Robert Ferringo is a member of the Basketball Writer's Association of America and a professional sports handicapper for Doc's Sports. He is considered one of the best college basketball handicappers in the country and has an unmatched streak of six straight winning college basketball seasons. His $100-per-Unit clients banked $10,890 in profit with his sides and totals last year and he has raked in a remarkable $55,300 in the last eight years with his nonconference picks alone. There is no better moneymaker in the nation and Robert is looking forward to another amazing season. You can sign up for his college basketball picks and get more information here.
Read more articles by Robert Ferringo
---
Most Recent College Basketball Handicapping