2015 ACC Predictions with College Basketball Conference Betting Odds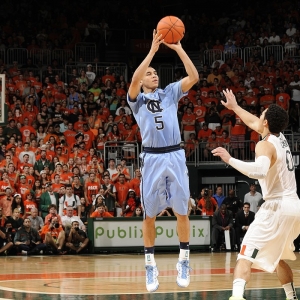 In most conferences in the country there is one clear-cut favorite heading into the season. Kentucky is expected to win the SEC. Villanova and Kansas have stiff odds to win the Big East and Big 12, respectively. Maryland enters as the top team in the Big Ten and Arizona rules the Pac-12.
But the ACC is the one conference where asking three different analysts could yield three different legitimate answers in regards of who the best team in this league is.
North Carolina has the hype (again). Virginia has back-to-back regular season banners. Duke has the National Championship. They all have excellent coaches and a lot of talent remaining. They are all ranked in the Top 7 by Ken Pomeroy, and they each populate the Top 10 in their odds to win the National Championship.
It should be an impressive race. But it isn't the only intriguing story in this super-sized league this winter. Bluebloods Syracuse and Louisville are reeling. Two Florida schools are stalking. And several other former Big East clubs are looking to crash the party on Tobacco Road.
Here are Doc's Sports 2015-16 Atlantic Coast Conference college basketball predictions (with projected odds to win the conference title in parentheses):
The Favorite: North Carolina (+125)
It is put-up or shut-up time for one of the most overrated teams in the country. North Carolina's core group of Marcus Paige, Brice Johnson and Kennedy Meeks have one last chance to prove that they can bring a banner - any banner - back to Chapel Hill after three mostly underachieving seasons. Paige is one of the best guards in the nation. And if swingman Justin Jackson improves in his sophomore year the Heels will have a one-two punch of future pros. But this group of Heels has shown a shocking lack of heart, toughness and common sense over the past several seasons. And I don't think that they have enough depth to hold it together for a grueling 18-game ACC schedule. UNC is a top-end team. They have enough high-end talents where they can play with, and beat, any team in the country. But they need to show some focus and maturity while avoiding costly letdowns - like last year's home loss to Iowa or 13-point road loss to Pitt - if they want to set themselves up for some sort of title run, be it league or national.
The Challenger: Virginia (+500)
The Cavaliers are two-time defending ACC regular-season champions, going 32-4 in league play over the last two years. Tony Bennett's squad is one of the best defensive clubs in the country, and the team's strength is calculated efficiency on both ends of the floor. Virginia has one of the ACC's best backcourts, led by severely underrated guard Malcolm Brogdon. The Cavs have three starters and five of their top seven players back. The key will be replacing all-league player Justin Anderson from last year's team. UVA played a good chunk of the season without Anderson, and they were never really right once he came back late in the year. The Cavs lost three of their last five games, and I don't feel like they carry any motivation into this season. But their vaunted pack-line defense is still a national standard bearer. And as long as the Cavs continue to dictate tempo each time out they will be a team to reckon with.
The Dark Horse: Duke (+150)
It is tough to call the defending National Champions and one of the most public teams in all of sports betting a league dark horse. But Duke lost as much talent as any team this side of Kentucky, Wisconsin or Arizona. Their starting backcourt is gone, as is hero center Jahlil Okafor and his 17 points and nine rebounds per night. The Blue Devils will try to build around frontcourt role players Amile Jefferson and Marshall Plumlee. And the pressure will be on a supremely talented four-man freshman class to deliver the goods. Winning back-to-back national titles is nearly impossible in this day and age. And it is made a lot tougher for a team comprised primarily of first-year players, no matter how good they are. No one is weeping for Duke. They are still loaded, and Coach K is as good as any that have ever walked the sidelines.
The X-Factors: Miami (+800)
The Hurricanes were a sneaky, streaky team last season. They started 8-0 and were 14-5 after absolutely hammering Duke in Cameron Indoor and winning at Syracuse. But lack of depth caught up with them, and the Canes had to settle for a trip to the NIT title game, where they lost in overtime. Miami has four starters and six of their top eight players back from last season. That includes all-league caliber players Angel Rodriguez and Sheldon McClellan, who should be even better in their second year following transfers from the Big 12. Miami bolstered its weakness in the frontcourt with Oklahoma State transfer Kamari Murphy. He should adapt well to Jim Larranaga's post-friendly offense. If junior Davon Reed continues to make strides and a few role players step up, this is going to be a pretty good team. I expect Miami to be dancing in March.
Syracuse (+1500)
The penalties handed down to the Syracuse basketball team - last year's postseason ban, heavy scholarship reductions, and a nine-game suspension for Jim Boeheim - are an absolute joke. But the Orange are trying to move forward despite the NCAA's absurdity and will be a lot smaller and lighter than the last few SU team's we've seen. Syracuse has a lot of experience in the backcourt with fifth-year senior Michael Gbinije and three-year starter Trevor Cooney. They also brought in four Top-100 recruits with a ton of upside. But Syracuse doesn't have a player taller than 6-9 on the roster, and that one guy, DaJuan Coleman, A) hasn't played in nearly two years, B) hasn't been healthy in three years at Syracuse, and C) is a total head case. Syracuse will have to rely on guile and its patented 2-3 zone. But gauging what their ceiling is this year is tricky.
The Disappointments: Louisville (+800)
This was going to be a tough year for the Cardinals even without any off-court distractions. But now with the hooker scandal hovering over Louisville's head they enter the campaign with a circus atmosphere. Four starters and 83 percent of last year's offense are gone, and no key players remain from the title team of just two short years ago. Louisville will rely on a pair of very talented graduate transfers, Damion Lee and Trey Lewis. But both are stepping up in competition from their mid-major schools and have no continuity with the program. Those two are the only seniors on the roster, making this one of Rick Pitino's youngest-ever teams. I think that these guys are going to be a mess. And the fallout of the surrounding scandal is just going to make it worse.
North Carolina State (+800) - I think that the Wolfpack is woefully overrated heading into the year. They have three starters back and added a major talent, WVU transfer Terry Henderson. He will team with Cat Barber to give the Wolfpack a serious backcourt. But the loss of guard Trevor Lacey, who foolishly declared for the NBA Draft (and didn't get selected) can't be overstated. Henderson and Barber are good. But they don't have any help. The other two returning starters averaged just 10 points, combined, per game. There aren't any Top-100 recruits, and I don't see any other top-end talent. State has just one guy on the roster taller than 6-8, and he's nearly 300 pounds. Most rankings systems I've seen have the Wolfpack as a Top 40 or even a Top 35 team. I don't see it at all. Even their odds to win the league are better than FSU, Pitt, Notre Dame and Syracuse, and I think all four of those teams are better than N.C. State.
The Rest:
Florida State (+1200) - Personnel losses took a toll on the Seminoles early last season when star guard Aaron Thomas was declared ineligible. FSU's offense couldn't overcome the loss, and the young Seminoles bumbled to a ninth-place ACC finish. But this year FSU has a nice blend of size, experience and young talent. They should start the season just outside of the Top 25, and the Noles will be a sleeper team in this league. They have all five starters back from last year, and three Top-100 recruits make up one of the best freshmen classes in school history. FSU has plenty of size, with three players 7-1 or taller, and enough athletes to master Leonard Hamilton's physical, defensive-oriented approach. The question for the Seminoles is simple: can they score? FSU couldn't shoot from deep and turned the ball over too much last season. If they can up the offensive efficiency then FSU is going to be a tough team to tangle with come March.
Pittsburgh (+1500) - The Panthers had a massive letdown in their second season in the ACC, and Jamie Dixon failed to win at least 20 games for the first time in 12 seasons on the bench. Pitt was also the single-worst wager in the country last year, going just 8-23 against the spread. They should be much better this year, especially if their three transfers, Sterling Smith, Alonzo Nelson-Ododa, and Rafael Maia, can make the step up to ACC ball and provide the Panthers will quality bench depth. Pitt isn't as big inside as Panthers teams from the past two decades have been. But a trio of three-year starters - James Robinson, Michael Young and Chris Jones - has enough savvy to close games. Also, forward Jamel Artis could be on the verge of a major breakout. Again, the starting five is good enough to get into the NCAA Tournament conversation. But Pitt's season will be defined by how quickly - and how much - the newcomers can contribute.
Notre Dame(+1500) - The Irish had an outstanding season last year, going 32-6 and making it to the Elite Eight. But they can't help thinking about what could've been as they blew a late lead against mighty Kentucky and missed a chance at the Final Four. Gone is superstar guard Jerian Grant as well as faithful sidekick Pat Connaughton. But the Irish have four of their top six players back. Demetrius Jackson and Steve Vasturia team with one of the best centers in college basketball, Zach Auguste, for a solid core. Bonzie Colson needs to make strides in the post to support Auguste. But the key for this team will be the development of freshman guard Rex Pflueger and junior forwards Austin Torres and V.J. Beachem. If one of that trio can become a double-digit scorer then the Irish will be playing meaningful games in March again.
Virginia Tech (+5000) - Coach Buzz Williams is doing what he can to rebuild the program in Blacksburg. But with zero seniors on the roster the Hokies are definitely a year or two away from showing any improvement. They went 11-22 last season and just 2-16 in ACC play. It's tough to say, but it could be even worse this year. They lost their point guard and starting center to transfer, and key swingman Ahmed Hill is injured and out of the year. There are a bunch of transfers coming in and vying for time also, so chemistry could be an issue.
Wake Forest (+5000) - Danny Manning is proving himself as an excellent coach, and he has a roster with some up-and-coming talent. It starts with the inside-out duo of Codi Miller-McIntyre and Devin Thomas. They are both three-year starters, and the pair combined for 26.5 points and 13.6 rebounds per night. Their leadership is invaluable. But the crux of this team is a five-man sophomore class that needs to avoid the dreaded second-year slump this season. Dinos Mitoglou is a fearless stretch-five, and Mitchell Wilbekin is following in his brother's footsteps as a clutch college point guard. Manning also has a trio of freshmen to work with on a team that will again be one of the youngest in the country. Wake nearly won at Virginia last year and lost games to Syracuse and Florida State in overtime. I expect them to pull an upset or two this season, and they could make a leap forward next year.
Clemson (+3000) - Brad Brownell has been a perpetual overachiever during his coaching career. But even I don't see how he can coax a much out of this group. The Tigers only lost two seniors from last year's team. And last year's group overachieved its way to a 16-15 mark thanks in large part to a nonconference schedule rated No. 294 in the land. This team is excellent defensively and tries to grind games down to a few single possessions. But that didn't work too often against the better teams in the league and likely won't again this year. Junior Jaron Blossomgame and sophomore Donte Grantham are two up-and-coming wings. And keep an eye on San Francisco transfer Avry Holmes. This team could be an ATS sleeper, even though they don't have any true home games as Littlejohn Coliseum gets renovated. But they won't be anything more than a nuisance in the ACC overall.
Georgia Tech (+5000) - Coach Brian Gregory would've been fired after last season's 12-19 debacle, but he has a massive buyout in his contract. The school couldn't afford to pay Gregory and afford a quality new coach. The Jackets simply couldn't finish last year. Of their 19 losses, an amazing 11 of them came by either five points or less or in overtime. Six losses were by a single basket. So this team could be mildly underrated. The Jackets were one of the uglier offensive teams in the country, making just 26.7 percent of their 3-pointers (No. 349 in the country) while finishing No. 294 in field goal percentage, No. 319 in free throws, and No. 282 in scoring. It was brutal to watch. Virginia Tech transfer Adam Smith will take care of some of that. But he can't do it by himself. Marcus Georges-Hunt is a decent player. But there isn't enough top talent here, and Tech doesn't do any one thing well enough to be a factor in the ACC.
Boston College (+8000) - A realistic number for B.C.'s odds to win the ACC would probably be closer to about 1,000,000-to-1. This is going to be one of the worst teams in high-major college basketball, and I'd put the "over/under" on the number of league wins that they earn at about 1.5. They only won four games in ACC play last year, and that was with an NBA-caliber point guard in Olivier Hanlan and three other senior starters. Things are going to get really ugly in Chestnut Hill this season.
Projected ACC Standings:
1. North Carolina
2. Virginia
3. Miami
4. Duke
5. Florida State
6. Pittsburgh
7. Syracuse
8. Louisville
9. Notre Dame
10. Wake Forest
11. North Carolina State
12. Virginia Tech
13. Georgia Tech
14. Clemson
15. Boston College
Robert Ferringo is a member of the Basketball Writer's Association of America and a professional sports handicapper for Doc's Sports. He is considered one of the best college basketball handicappers in the country and has an unmatched streak of nine straight winning nonconference seasons and nine straight winning regular seasons. Robert's $100-per-Unit clients have banked $12,130 in profit with his sides and totals the last two years alone and he has raked in a remarkable $60,600 in the last nine years with his nonconference picks (November and December) alone. There is no better moneymaker in the nation and Robert is looking forward to another amazing season. You can sign up for his college basketball picks and get more information here.
Read more articles by Robert Ferringo
---
Most Recent College Basketball Handicapping