2015 ACC Tournament Expert Picks and Betting Odds
by Robert Ferringo - 3/9/2015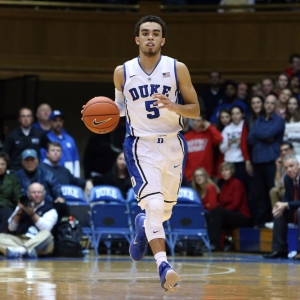 The bloated ACC is just two teams away from staging its own Sweet 16 tournament. Fourteen teams will descend on North Carolina this week to fight for a championship in one of the more convoluted conference tourneys in the nation. They have two rounds of eliminations before they even get to the quarterfinals, and one of the final four seeds could potentially have to win five games to cut down the nets in this one.
The ACC Tournament will take place at the Greensboro Coliseum in Greensboro, North Carolina. The tournament starts on Tuesday afternoon and drags on until Saturday evening. Virginia is the regular-season champion and the defending tournament champ. But they'll be on enemy turf as the Tobacco Road Trio of Duke, North Carolina and North Carolina State try to spring an upset.
Here is Doc's Sports ACC Tournament preview:
The Favorite: Duke (+135)
The Blue Devils are the betting favorite despite finishing the regular season in second place. That's because every square looking to put cash down on this tournament is going to look to Duke first. It also helps that the tournament is down the road in Greensboro, where the Blue Devils have cut down the nets four times in seven tries since 2003. Duke has won five ACC titles in the last 10 years, but they haven't claimed the league crown since 2011. The Blue Devils have won 11 straight games heading into the postseason, and they are coming off an emotional seven-point comeback win over rival North Carolina. Center Jahlil Okafor is on the short list for national player of the year awards, and their three freshmen starters have helped this team dominate from their first time on the floor. However, Duke is not a juggernaut. Although they have just three losses, two of them, at N.C. State and versus Miami, came with the Devils as massive favorites. They also had a bizarre overtime game with lowly Virginia Tech on Feb. 25 and just a three-point comeback win over Florida State on Feb. 9. This team is young and it is beatable.
The Contender: Virginia (+175)
The Cavaliers have won back-to-back ACC regular-season championships, and they are currently ranked in the Top 5. The Cavaliers pulled the regular-season and tournament double last year, winning both, and will attempt a repeat. Virginia has been rolling despite playing the past month without its best player, Justin Anderson. Anderson has had a pair of surgeries in the past month on his wrist and to remove his appendix. He is questionable for this week's action, but I will be surprised if he plays. The Cavaliers are one of the most efficient teams in the country on both ends of the court. They lock teams down on defense and wear them down with a methodical offense. Guard Malcolm Brogdon is one of the best players in the nation, and the Cavs have a six-man core that's done a lot of winning the past two years. They are coming off a two-point loss at Louisville but haven't lost back-to-back games since December of 2013.
The Sleeper: Notre Dame (+350)
If guard play wins in March then the Irish could be a major player this month. Notre Dame is loaded on the perimeter, led by All-American Jerian Grant. Add in senior Pat Connaughton and sophomores Steve Vasturia and Demetrius Jackson and you have a loaded backcourt capable of shooting this team to an ACC title. The problem for the Irish is two-fold. First, they have little to no inside game. Freshman Bonzie Colson has been a revelation lately alongside Zach Auguste. But they only really play two guys taller than 6-5. Second is the fact that Notre Dame doesn't play well on the road and they have built their 26-5 record on the back of the nation's No. 98 ranked schedule (that's not good). The good news is that they have beaten Duke, their potential semifinal opponent. If they happen to gun their way past the Devils then this team will have a lot of confidence in the final.
The Spoiler: North Carolina (+800)
I had a tough time finding a real spoiler in this league. Louisville is the No. 4 seed, and I don't think they can play well enough to win. And all the lower seeds in this league are garbage. North Carolina has been overrated all season long. They have lost to every good team they have played this season, sans a win over Ohio State way back in December and a lucky one-point win over Louisville on Jan. 10. The Heels are just 4-6 in their last 10 games, and they are coming off a demoralizing loss to the Blue Devils. So pretty much everything is stacked against them. But UNC has shown flashes of playing well. The Heels will have a strong local following in the stands, and it is now or never for this "talented" team.
Bubble Team To Watch: Miami (+2000)
In mid-January it was a reach to think of the Hurricanes on the outside of the tournament field. They started 12-4 and had just beaten Duke by 16 points in Cameron Indoor. But the wheels have come off since then. Miami is just 8-7 since then, and their clear leader and go-to guy, point guard Angel Rodriguez, is out for the year with a wrist injury. Miami has won both of its games without Rodriguez, including a clutch road win at Pittsburgh. But they may need two wins in Greensboro to punch a ticket to the NCAA Tournament. Miami absolutely has to beat either Wake Forest or Virginia Tech in its second-round game. That would set them up against Notre Dame, who is perhaps the top four seed most vulnerable to an upset because of their reliance on the 3-point shot. Jim Larranaga is a maestro and has had this team overachieving all year. But two wins and a tournament berth could be too much to ask. Keep an eye on these guys as well as N.C. State, which is clinging to a berth as well.
Early Round Matchup To Watch:
No. 4 Louisville vs. No. 5 North Carolina (2 p.m., Thursday, March 12)
This is a liberal use of the term "early round" because it is three days into the tournament and it depends on UNC winning a game to set it up. But this is still the quarterfinals, so it is early enough. These two teams played a pair of great regular-season games with UNC winning the first one on a game-winning basket in a 72-71 final back in January. Louisville won the rematch in overtime just three weeks later. Louisville had point guard Chris Jones for both of those games, and they have not been as strong without him. But they are coming off a big confidence-building victory over Virginia on Saturday while UNC could be dragging from the Duke game. UNC has the edge on the perimeter. But Louisville actually plays defense, while the Heels look lost on that side of the court. The winner of this game will get another shot at UVA in the semifinals, and if the Cardinals or the Tar Heels get a full head of steam this week, watch out.
ACC Conference Tournament Predictions: This one really is a toss-up. I really like Virginia. But I have a very hard time predicting back-to-back regular-season and tournament titles in a league as deep and talented as the ACC. I don't love Duke as much as the national press. But I'm also not in a hurry to bet against them, either. I think one of those teams is going to get bumped off in the semifinals, depriving us of a rematch of last year's championship game. So I'll take the easy way out: whichever one of those teams is still standing when the title game tips will take the title. And if UVA and Duke do end up squaring off I'll go with the Blue Devils to get the job done in a rare revenge spot.
Want free sports betting picks? Doc's Sports has you covered - get $60 worth of picks free from Robert Ferringo or any of Doc's Sports expert handicappers. Click here for free picks (new clients only).
Read more articles by Robert Ferringo
---
Most Recent College Basketball Handicapping