2015 Big 12 Tournament Expert Picks and Betting Odds
by Robert Ferringo - 3/10/2015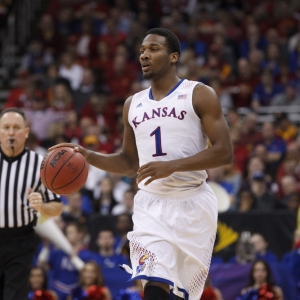 The Big 12 has been by far and away the best conference in the country this year. With eight of its 10 teams potentially going to the NCAA Tournament, the Big 12 is an extremely deep and talented league with Sweet 16-caliber clubs up and down the standings.
Kansas earned its record 11th straight Big 12 regular-season championship and enters the tournament as the No. 1 seed. But they are vulnerable. The Jayhawks went just 5-4 down the stretch and come into the tournament with a host of injury issues. There were four other teams within two games of the Jayhawks, and every one of them is chomping at the bit to get the tournament title.
The Big 12 conference tournament begins Wednesday, March 11 and is being held at the Sprint Center in Kansas City, MO. Because of the abundance of talent on hand this promises to be one of the most competitive and most well-played conference tournaments in the country this week.
Here is Doc's Sports Big 12 Tournament preview:
The Favorite: Kansas (+280)
Despite one of the least experienced teams in the country, Kansas was able to earn the regular-season title in the most competitive conference in the country. They have played the nation's toughest schedule, and Bill Self's group is elite on both ends of the court. Unfortunately, they will likely be without starting center Cliff Alexander (eligibility) and leading scorer, and rebounder Perry Ellis is questionable with a knee injury. Ellis has strained knee ligaments. He may try to play but will definitely be limited. That will put the onus on Kansas' talented and versatile guards. Frank Mason is the unquestioned leader of this group, and Kelly Oubre is a future pro. Kansas may be wounded. But Bill Self is one of the best coaches in the country, and when one All-American goes down he simply plucks the next one off the bench.
The Contender: Oklahoma (+400)
Lon Kruger's team was able to weather a hairy January (they lost four of five games) and finished the season on a 9-2 run. They closed the year with a big win over Kansas, and the Sooners hit Kansas City with a lot of confidence. OU features the conference player of the year, Buddy Hield, and a talented and versatile backcourt that is one of the best perimeter defending groups in the nation. OU's weakness is that they only have two post players, TaShawn Thomas and Ryan Spangler, and they often have to go small. They are in a favorable portion of the bracket, though, with Oklahoma State in the quarters and potentially Iowa State in the semis. Neither of those teams is particularly strong in the post, either. The Sooners have been horrendous in the Big 12 Tournament, however. They have failed to win a single game in three straight years and have won exactly one time in their last six attempts.
The Sleeper: Iowa State (+300)
The Cyclones are the defending Big 12 champions and will bring their high-flying act to Kansas City. Fred Hoiberg's group lives and dies by the 3-point shot, and they play at one of the fastest paces in the country. Defense is usually optional in Cyclones games. And while that style of play generally leads to early flameouts in March, the Cyclones have been very good in March the past two seasons. Iowa State usually plays with four guards and one post player. That post player is usually uber-versatile Georges Niang. When Hoiberg wants to go with a more traditional look he throws in uber-athletic Jameel McKay. The guards are nearly indistinguishable from one another: they are all around 6-4 and they all have quick triggers. The most experienced is senior transfer Bryce Dejean-Jones, and perhaps the most important is point guard Monte Morris. Be wary: Iowa State is still a boom-or-bust team. And although they won this tournament last year there is no way that this year's group is as good.
The Spoiler: Baylor (+550)
I might be a little higher on Baylor than a lot of people. I was selling Baylor stock coming into the season because of the abundance of talent that they lost in the offseason. But the Bears have really become a plug-and-play system team and they played great down the stretch. Teams in the Big 12 generally fall into two camps: all guard play or all post play. Baylor leans toward the latter. They lack a 7-footer for the first time in several seasons. But they rotate four guys that are 6-8 or taller, including the nation's best rebounder in Rico Gathers. They key guys are point guard Kenny Chery and forward Taurean Prince. Chery is their go-to guy and really the ball handler on the roster, and Prince looks like a future pro. They need both to be hot from the outside in order to take the pressure off this team's post attack.
Bubble Team To Watch: Texas (+500)
All eyes are on Texas this week. This team started the season in the Top 10 and many people – myself included – had them as a potential Final Four team. But Rick Barnes, one of the worst coaches in the country, has submarined this talent, and the Longhorns sit on a razor's edge of the NCAA and NIT Tournaments. Texas has dominating size on the interior, led by juniors Cam Ridley and Connor Lammert and aided by freshman Myles Turner. They also boast an excellent point guard, Isaiah Taylor, and three other complimentary backcourt pieces. Add in erratic swingman Jon Holmes and they have the makeup of a good team. The problems are that A) they have no idea how to play with one another and B) Barnes has no idea how to make in-game adjustments or handle the last four minutes of a close game. The Longhorns are huge favorites over Texas Tech, a team they beat twice in the regular season. A win would lead to a contrast in styles game with Iowa State. Texas could win this tournament from the No. 7 seed. But they won't. Because Barnes is an idiot. Instead we'll see if they can get two wins to lock up an NCAA berth.
Early Round Matchup To Watch:
No. 3 Oklahoma (-4) vs. No. 6 Oklahoma State (7 p.m., Thursday, March 12)
The Bedlam Series is one of the biggest and best rivalries in college sports. And it is always fun when these two can spill that rivalry over into the postseason. Oklahoma won both of the regular-season meetings and really controlled both games, winning by 17 at home and by eight in Stillwater. The Cowboys have lost five of their last six games, and haven't looked good. But they have one of the league's best players in Le'Bryan Nash and a pair of guards, Phil Forte and Anthony Hickey, which can get hot in a hurry. Both teams can really get after it defensively, and I expect a high-intensity, lower-scoring game. The Cowboys aren't really equipped to exploit Oklahoma's weakness on the interior. But Oklahoma State's guards are good enough to go toe-to-toe with what the Sooners are packing.
Big 12 Conference Tournament Predictions: I don't think that Kansas is going to win this tournament. Without Ellis at full strength, and Alexander at all, this team is too exposed on the interior. Also, they are relying on a bunch of really young guards. Not only did they lose four of nine down the stretch, but also they probably should've lost at least two other games. A rivalry game with Kansas State in the quarters would be intense. And if they skate past that I think that either Baylor or West Virginia would be able to knock them off in the semifinals. I also think that the winner of the tournament will come from the bottom of the bracket. Whoever comes out of the Texas/Iowa State/Oklahoma/Oklahoma State semifinal will have all the momentum and an edge in talent against Baylor, WVU or Kansas. I'll call for one of the Oklahoma teams to take down Baylor in a low-scoring final.
Want free sports betting picks? Doc's Sports has you covered – get $60 worth of picks free from Robert Ferringo or any of Doc's Sports expert handicappers. Click here for free picks (new clients only).
Read more articles by Robert Ferringo
---
Most Recent College Basketball Handicapping