2015 Big East Predictions with College Basketball Conference Betting Odds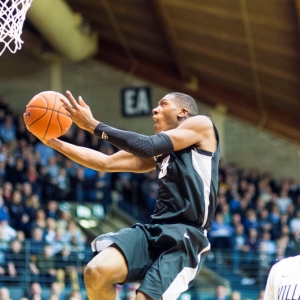 The Big East has experienced as large of a fall from grace as there has ever been in college basketball. Three years ago it was the deepest and most competitive league in the sport. Now it is an afterthought, relegated to a second-tier status unbefitting its storied history.
But here's the thing, the fact that the Big East has fallen off the map has made it a treasure trove for intrepid college basketball bettors. Last season six of its 10 members turned a profit against the spread for the season, the highest percentage of any major league in the country. Also, two-time defending regular season champion Villanova has been the No. 1 ATS team in college hoops the past two seasons, going a remarkable 45-21 against the spread despite its very visible Top 10 status.
Free $60 in Member College Basketball Picks. No Obligation Click Here
The Big East sent six teams to the NCAA Tournament last season and had a bit of a "second honeymoon" late in the year with a resurgence in interest. But Fox Sports, which owns the broadcast rights to this league, has expressed concern about the ratings that these games get. That means that the Big East could fall even further into the shadows. While that's bad for them it is good for bettors, who know that real profit in betting on college basketball is found by digging around in the darker corners of the sport.
This league won't be nearly as good this winter. Only 20 of 50 starters from last season return and only two teams (Villanova and Butler) welcome back three starters from last year. This is clearly a rebuilding year. But that doesn't mean that this league is going to slide off into obscurity just yet. And I know I will be rooting around looking for value here all winter long.
Here is Doc's Sports 2015-16 Big East Conference college basketball predictions (with Robert's projected odds to win the conference title in parentheses):
The Favorite: Villanova (-180)
The Wildcats won 33 of 36 games last year and were a legitimate national title contender. But this year they have to shake off the nagging disappointment of a premature NCAA Tournament exit at the hands of N.C. State. Villanova has absolutely wrecked people the past two seasons, winning its games last year by a gaudy 16.5 points per game. The Wildcats had six guys that averaged 24 or more minutes per game last year and three of them are gone, including leading scorer Darrun Hilliard. Villanova will rely on the savvy of four-year starting point guard Ryan Arcidiacono and three-year post starter Daniel Ochefu. Kris Jenkins and Josh Hart are solid, experienced wing starters as well. But the key to this group may be the emergence of highly touted freshman guard Jalen Brunson, son of former Temple standout Rick Brunson. The Wildcats will be a national player again this season. But if they couldn't make a run at a title with their squads the last two years I don't see them being a legitimate national contender this time around.
The Challenger: Butler (+130)
I'm a big fan of this Butler team and if you're looking for a team to knock Villanova off its perch it's going to be this one. Chris Holtman did a great job in his first year as head coach and his guys played well against one of the best schedules in the country. Nine of Butler's 11 losses came against teams rated in the Top 30 and the other two (Tennessee and Indiana) came against Top 90 squads. This year the Bulldogs need to find that extra gear and beat those top-end teams, though. A trio of three-year starters - Roosevelt Jones, Kellen Dunham and Andrew Chrabascz - leads the Bulldogs. Jones is a unique player and Dunham is one of the best scorers in college basketball. They also added transfer Tyler Lewis to run the point and I think he's going to fit in perfectly with this group. The only weakness for this team is its lack of size. They only have one guy on the roster taller than 6-8 and their two tallest guys are a freshman and a sophomore. Lack of size didn't slow them down much last year. But Butler will still have a low ceiling if they can't find some defensive and rebounding answers in the post.
The Dark Horse: Xavier (+400)
The Musketeers have three starters and six of the top eight players back from a team that made it into the NCAA Tournament's second weekend last year. They gave Arizona a game effort in the Sweet 16 and as I look at the Big East landscape I see no reason why the X-Men can't make another run at The Madness. This team has a lot of firepower and several high-end athletes. They do have to replace their key player from last season, burly center Matt Stainbrook. This year's team should play at an even faster tempo and it will be important for them to harness their athleticism. Last year they could get a bit frantic, especially in the final minutes. Part of that was due to the fact that their go-to guy on the perimeter was a freshman, Trevon Bluiett. Bluiett should be a first team All-Big East performer this year and is a future star. Remy Abell and Myles Davis, two guards that combined for 20 points, excellent free throw shooting, and aggressive defense, flank Bluiett. Like most teams in the Beast, Xavier is inexperienced in the post. But if junior Jalen Reynolds can make the leap he'll team with center James Farr to give the X-Men one of the more athletic frontcourts in the league.
The X-Factor: Georgetown (+1000)
This is the fifth season in a row that Georgetown will start the season outside the AP Top 25. In 2011 and 2012 that didn't much matter, as the Hoyas played their way into the Top 10 during the season. But in 2013 they weren't ranked at any point while scuffling through an 18-win season. And last year they maxed out at No. 21. So the slow bleed of this program is clear based solely on its national rankings. And this year's team doesn't look very good so I see the bleed will continue. Georgetown has one of the two or three best players in the league in D'Vauntes Smith-Rivera. But that's really it. The Hoyas have a couple of Top 100 freshmen and one other starter from last season. But seven of the nine guys listed on scholarship are freshmen and sophomores. That's a serious problem. This will be a very telling season for the Hoyas, who I don't see making the NCAA Tournament. How their young players develop will determine if this program is primed for a turnaround or setting up for the beginning of the end of the JTIII Era.
The Disappointment: Providence (+1200)
Kris Dunn is one of the five best college basketball players in the country - period. He will be a lottery pick next summer and has the potential to be a future NBA All-Star (if he stays healthy). However, Dunn can't do it all himself. And, like Smith-Rivera at Georgetown, I'm afraid he's going to have to. Dunn is a pure point guard that can score. He can take over games. But his mentality isn't to go out and pump up 20 shots and try for 30 points. So he needs his running mates to step their game up. And, honestly, with eight underclassmen filling up the slots around him I don't see that happening. Providence won't be able to recover from the loss of three starters, including outstanding forward LaDontae Henton. And as good as Dunn is I don't think he'll be able to drag this team back to The Big Dance.
The Rest:
Seton Hall (+2000) - Anyone wondering how important chemistry is in college basketball just needs to look at the 2014-15 Pirates. At one point they were 13-3 and had worked their way into the Top 25. But things imploded - quickly. Locker room fighting - like, physical fights - and injuries crushed this team and they finished the season on a 3-12 slide. The rift carried into the offseason and led to the transfer of leading scorer Sterling Gibbs, who clashed with Isaiah Whitehead. Whitehead is a player. There's no doubt about it. But as a sophomore he is now the undisputed leader and everything will run through him. Fellow soph Angel Delgado could develop into a force in the post giving the Pirates a nice inside-out combo. Now Seton Hall still needs a lot of other guys to step up. Nine of their 11 players are freshmen or sophomores so I expect this group to be very streaky.
Creighton (+6000) - Year 1 P.D. (post-Doug) went about as poorly as one would expect for the Bluejays. Creighton won just 14 games - its lowest total in nearly 20 years - and finished just 4-14 in the Big East. And now for the bad news: they lost four starters from last season's overmatched squad. Needless to say, Greg McDermott has some major work to do and right about now I bet he's wishing he had fathered more sons. Nevada transfer Cole Huff and Boston transfer Mo Watson will need to pay immediate dividends, and I think they will. Huff is a player. But the Jays only have two seniors on their roster so this season will simply be laying a foundation for (hopefully) competitive teams down the road.
Marquette (+5000) - Steve Wojciechowski came to Marquette with a lot of energy, a lot of passion, and big shoes to fill following Buzz Williams' departure. Wojo's energy didn't translate to wins or make up for Marquette's weak talent base, mind you. But the Golden Eagles immediately adopted their diminutive coach's tough, gritty style in their play. Marquette lost three starters and won't be much better this season. But they have two several really nice post pieces to build around. Center Luke Fischer was a revelation. And freshman Henry Ellenson is a Top 25 recruit, a rarity in Milwaukee, will pair with Fischer to give the Eagles one of the best frontcourts in the league lacking quality big men. There are no seniors on this team. So there's a lot of room to grow. But the Eagles could struggle to top .500 again this year.
DePaul (+7500) - Oliver Purnell was finally sent packing after five years of pathetic basketball in Chicago. DePaul is not the least bit better now than when Purnell took over and this is still one of the worst high-major programs in the country. The Blue Demons welcome back Dave Leitao for a second tour on the DePaul sidelines and he'll try to make sense of this sloppy roster. Leitao has three double-digit scorers and four guys with starting experience back this season. But this was one of the worst defensive teams in the country and they enter the season without a point guard and with zero post depth behind three-year starter Tommy Hamilton. I'll be stunned if these guys have more than six wins before Jan. 1 and even more surprised if they win more than that once they get into Big East play.
St. John's (+10000) - There are rebuilding jobs and then there is what is going on at St. John's right now. The Red Storm lured school legend Chris Mullin into replacing Steve Lavin as the head coach and Mullin has injected a sense of optimism. But St. John's lost its six best players from a team that only had six guys average more than eight minutes per game. The leading returning scorer averaged all of 1.5 points per game last season and all of the returnees combined to contribute just four points per game last year. I can honestly say I've never seen a returning total that low before. Pitt transfer Durand Johnson will do what he can. But St. John's has one of the worst rosters of any high-major team in the nation and Mullin's rookie season is not going to be pretty at all.
Projected Big East Standings
1. Butler
2. Villanova
3. Xavier
4. Georgetown
5. Providence
6. Seton Hall
7. Marquette
8. DePaul
9. Creighton
10. St. John's
Robert Ferringo is a member of the Basketball Writer's Association of America and a professional sports handicapper for Doc's Sports. He is considered one of the best college basketball handicappers in the country and has an unmatched streak of nine straight winning nonconference seasons and nine straight winning regular seasons. Robert's $100-per-Unit clients have banked $12,130 in profit with his sides and totals the last two years alone and he has raked in a remarkable $60,600 in the last nine years with his nonconference picks (November and December) alone. There is no better moneymaker in the nation and Robert is looking forward to another amazing season. You can sign up for his college basketball picks and get more information here.
Read more articles by Robert Ferringo