NCAA Basketball Experts Talk Kentucky Hoops and Chances for a National Title
by Robert Ferringo - 1/28/2015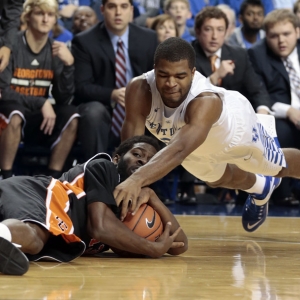 Right now there is no bigger story – and, quite literally, no bigger team – in college basketball than Kentucky. The Wildcats enter Wednesday at 19-0 straight up on the season, and they are 12 games away from completing an unblemished regular season en route to a potential perfect year.
Whether 12 games seem like a lot or a little probably depends on how you feel about Kentucky's quest. But the fact is that the Wildcats have a legitimate opportunity to do what no team since the 1975-76 has done – the perfect year, including a national title – and the story is only going to get more intense the longer they stay unbeaten.
The Wildcats are casting an immense shadow on the college basketball landscape. Not just because what they are going after is historic. But also because they are enormous. Even with the loss of Alex Poythress, the Wildcats boast six players standing 6-foot-8 or taller and a whopping four players 6-10 or larger. The average size of their roster is 6-6, and that has helped Kentucky become the nation's No. 1 defensive team (in terms of opponents' field goal percentage; they are No. 2 in scoring defense) and No. 6 rebounding team (in terms of rebounding margin).
Kentucky is absolutely loaded with top-tier talent and future pro players. They entered the year with nine McDonald's All-Americans and have been playing up to their billing. While the Wildcats are incredibly young – there are no seniors on the roster and they rank No. 346 in the nation in overall experience – they make up for it being supremely talented.
The Wildcats are currently -155 to win the national championship, and Ken Pomeroy has projected them to run the table in the regular season. The Wildcats will likely be a double-digit favorite in each remaining conference game, save two: a trip to Florida on Saturday, Feb. 7 and a game at Georgia on March 3.
Kentucky is dominating and has a chance at an epic season. Will they get there? I don't know. But the more important questions are what can we expect from this team moving forward and how can we make money betting on their games? Glenn Logan from A Sea of Blue, a Kentucky Wildcats blog, took some time to answer some questions about this year's Wildcats late last week. Here is the full interview exchange:
1. When everyone sees Kentucky, the first word that comes to mind is SIZE! These guys are huge. But there have been plenty of big teams before. What have you noticed about how these guys play together and execute that has made them so good?
Logan: It's really the combination of size and skill that makes them so good. Big teams are not unknown, but big teams composed of 5-star high school players and future professional basketball players are surpassingly rare.
What sets this team apart from the rest is the combination of size, length, athleticism and quality depth. There are teams with each of those attributes, even some with more than Kentucky, but Kentucky is the only team that has all of them.
The reason they play so well together is that they have bought in to John Calipari's player's first philosophy, and his promise to them that everyone who deserves to play will play. This is not an ideal situation from Coach Cal's standpoint, but he and his players have decided to take ownership of the problem collectively, and it has worked spectacularly well to date.
2. The Wildcats absolutely dominated Kansas (by 32), Providence (by 20), Texas (by 12), North Carolina (by 14) and UCLA (by 39) in the nonconference portion of the schedule. Those are Top 25-caliber teams and all except UCLA will be going to the NCAA Tournament. Kentucky crushed them. But then the Wildcats played Ole Miss and Texas A&M – two bad teams – and they struggled, needing overtime in both wins. What gives? It can't just be that "conference games are tougher because the teams know and hate each other". What else have you seen in those games? Are the Wildcats a little more vulnerable than people thought?
Logan: The Wildcats came back from the Christmas break with a bit of a memory lapse — not uncommon for such young guys — about the best way to play college basketball. That manifested itself in poor shot selection in both games, but it's not appropriate to link them both together, so let's examine them separately.
The Ole Miss game was a classic case of running into a Hot Team™. You can't do anything about a hot team; you just have to try to survive them. Kentucky made their job harder by struggling to defend on the perimeter — the Wildcats have made guarding the arc a priority this season, because forcing opponents to put the ball on the floor and try to score on the huge front line you noted above is very desirable. They didn't do a good enough job of that, and Ole Miss lit them up. They also got spaced out too much by the Rebels' success from three, and that gave Ole Miss' big people, who've been pretty anemic, room to do some damage. Tie it all up and you have a recipe for an upset, which fortunately didn't happen.
The Texas A&M game was entirely different. In that contest, Kentucky played very poorly offensively because they took too many 3-point shots, and mostly missed them. Kentucky has struggled a lot this year with zone offense, and that has had a side-effect of making a good 3-point look a preferred shot of some of our players, rather than moving the defense, looking to the middle for the 15-footer or working to get a good wing entry for a post-up. When you fall in love with the three, it can be great when you make them all, but it's usually fools' gold. Kentucky was very fortunate to win against the Aggies, and probably deserved to lose. They did a lot of bad things offensively in that game.
Every team in college basketball is vulnerable to a hot team or a bad day, no matter who they are or where they are playing. But Kentucky is not very vulnerable to anyone at home, and on the road, when they stick to their principles as we saw at Alabama; they usually deserve to be heavy favorites. But there are no sure things in college basketball, and that's as true for Kentucky as it is for any other team.
3. You've seen Kentucky teams win the national title (2011-12) and go to the national championship game (2013-14) in the last three years. How does this team stack up? In what ways could it be better than either of those teams (if you think it could) and in what ways is it weaker?
Logan: I think this team is better than either 2012 or 2014. 2012 is very close, and was probably a better offensive team, but 2015 is much better defensively right now, and could be the best defensive team in 15+ years if they keep it up. 2014 was a slightly above-average team that got on a roll just when you want them to — during tournament time.
4. The Wildcats have 10 really good players but they don't have that standout All-American player to be a poster boy for this team. Who are some guys on this team that fans should really pay more attention to when they watch this team? Who do you most enjoy watching – if you had to pick one – and whom have you seen the most improvement from?
Logan: Actually, we do have a standout, and his name is Willie Cauley-Stein (WCS). He's on the Wooden Award watch list and has been all season, and he is considered an All-American by virtually everybody at this point.
I think what you mean is that we don't have a star player, and that's right. In the sense that WCS is an All-American, he is that way mostly for his defensive prowess, and defensive stars are commonly overlooked in favor of offensive players. One of the things that make Kentucky such a dominant team is the fact that every player on the squad can light you up for 20+ points in any give game. Everybody can score, and that's a big reason why you don't see an offensive star on Kentucky's team.
Fans should pay attention to WCS's defense — it really is a rare thing of beauty to see a 7-foot tall big man who can guard a point guard. Also, it's a lot of fun to watch Devin Booker shoot the ball. Young people should just take a video of his shooting stroke and try to copy it, it is among the most graceful and technically sound shooting strokes you'll ever see.
5. I don't think that Kentucky will lose a regular season game this year. I think the SEC, on the whole, is relatively weak, and the Wildcats really only have two or three "losable" games left on the schedule. (Not having to play at Arkansas is huge.) What do you think? Do you expect them to run the table?
Logan: I don't. As we have seen versus Ole Miss, and more recently versus Vanderbilt, hot teams are lurking everywhere. As far as Arkansas is concerned, they are the worst defensive team in the SEC. I don't worry that much about them. Georgia, on the other hand, has a legitimately good basketball team, and LSU has a lot of size and talent. Tennessee, despite their easy schedule and low general regard by pundits, is playing very good basketball. They are our main conference rivals and winning down in Knoxville is a very difficult proposition.
6. From a practical and objective betting perspective the sportsbooks have made the Wildcats the most overrated and overvalued team in college basketball these two previous seasons. They went just 24-38 against the spread (38.7 percent) during that period and were a money burner for the legions that have been backing this team. I know reading gambling markets aren't your bag, but basically do you expect Kentucky to continue to improve and do you believe they'll be able to surpass their enormous expectations and truly become a "dominant" team? Or do you believe that the hype and expectations around this group will remain at a somewhat unrealistic level and is too much for any team to top?
Logan: I really don't know. Kentucky is overvalued because of the embarrassment of NBA riches on the team, and it's perfectly rational that they should have trouble against the often unrealistic 20+ point spreads we've seen. I don't know if they will become truly dominant or not, but they have been dominant at times this season. Whether that becomes more consistent depends mainly upon the development of the offense.
Defensively, Kentucky is going to be good almost every game. They are just too long, talented and athletic for most teams. Unfortunately, they have trouble scoring around the rim despite their size, their perimeter shooting comes and goes, and they lack a go-to scorer who gets you that basket no matter what. Yes, Aaron Harrison is great in crunch time, but he's not really the kind of dominant offensive player, like a Jahlil Okafor or Justin Anderson you can just throw the ball to and say, "Go get me a basket!"
7. The Wildcats are a -155 favorite to win the national championship. I don't recall seeing such an overwhelming favorite at this point in the year over the past 10 years. From an odds and value standpoint it's not a good wager – but that doesn't mean it isn't going to happen! What do you think: will Kentucky win the national title this year? What are the one or two things that could potentially trip them up?
Logan: Kentucky has a good chance to win the NCAA Tournament this year. UK teams tend to show well at the end of the year, and we've seen that twice now in the Calipari era — 2011 and 2014. I fully expect the Wildcats to make the Final Four, and from there, anything is possible.
A hot team is always a threat to derail your season. Wichita St. found that out last year when Kentucky rose up from an 8 seed to upset them. Ditto Wisconsin and Louisville. Hot teams happen, and down games happen. We have seen it many times.
The other thing that could derail Kentucky is taking what looks like an obvious mismatch too lightly. I think we saw some of that against Vanderbilt the other day, and if that game had been on a neutral floor, it could have easily gone south for the Wildcats. But one thing about this Kentucky team — they do not quail in the face of a deficit or a close game at the end. Last year's team was the opposite until the end of the season.
Robert Ferringo is a member of the Basketball Writer's Association of America and a professional sports handicapper for Doc's Sports. He is considered one of the best college basketball handicappers in the country and has earned six straight winning college basketball years. He has averaged $7,500 in college basketball profit for his clients over the last four years – an unparalleled mark in the industry – and he is on pace to top that again this year. You can sign up for his college basketball picks and get more information here.
Read more articles by Robert Ferringo
---
Most Recent College Basketball Handicapping