2015 NCAA Tournament Projections
by Robert Ferringo - 1/28/2015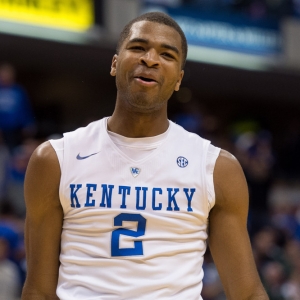 I have been saying for years that ESPN's Joe Lunardi is one of the biggest frauds and shills in all of sports. I'd like to think that I was one of the pioneers of the idea since I first wrote about it back in 2010 at a time when the rest of the country was still fawning over his inflated records at predicting the NCAA Tournament field with so-called "bracketology".
Below I have my first NCAA Tournament projections of the year. Now, trying to predict a 68-team field seven weeks out is an actual challenge. And guess what: I've actually been better than Lunardi at predicting the field from this range the past two years.
Lunardi and I both had NCAA tournament predictions posted on Jan. 29, 2013. I correctly predicted 52 of 68 teams while Joey hit 51 of 68. Last year I did my only NCAA Tournament projections a bit earlier. And if you compare my one shot on Jan. 8 with what Lunardi had up that day I nailed 47 of 68 NCAA Tournament predictions more than two months out. Joey hit just 43 of 68 from that distance.
The fact that I've been better than Lunardi is not the reason I think he's a troll or a clown. Here, in a nutshell, are my basic issues with the hype surrounding him:
1. His "amazing" percentage of predicting the tournament field is an embellishment.
Lunardi touts his record based on predictions he makes on Selection Sunday. Well, at that point at least 65 of the 68 teams in the field are obvious. All the automatic bids are set, and the overwhelming majority of the at-large bids are no-brainers. That means that every season there are usually just six or seven teams fighting for the final three or four slots. So when you look at it that way, Lunardi only has to go 2-for-3 in order to hit 67 of 68 teams in the field. It's really not that impressive.
2. I would bet money that at this point that Lunardi cheats.
The guy is his own cottage industry. And ESPN has a heavy financial investment in Lunardi and "bracketology". Virtually their entire marketing plan in college basketball's conference season revolves around this sweaty little man. So he's gotta keep those numbers up. I don't think there is any doubt that Lunardi has sources on the selection committee that tip him off to things like team seeds and the final at-large bids on that most important day. He's not leaving things to chance.
3. I think that Lunardi actually influences the selection committee.
"How," you ask? Basically, as we come down the stretch of the regular season everyone starts to get hyper-intense about which teams are "on the bubble", which teams are "in" and which teams are "out". Lunardi is then thrust into the spotlight as kind of the judge and jury on these matters. His perspectives - based on whatever reality he lives in - are then discussed, debated, and eventually accepted by all of the bobbleheads in the ESPN Universe. Lunardi's opinion then gets tossed around like it is some sort of cannon or decree, and that is then recycled throughout ESPN's many platforms for hours upon hours upon hours for the last couple weeks heading into the actual selections.
"Well, Joe Lunardi says…."
"Right now Joe Lunardi has Team X on the outside looking in…."
"Joe Lunardi has this team in the tournament, and he has correctly predicted…."
I don't know anyone on the NCAA Tournament Selection Committee. However, I am willing to bet that most of those people don't really start gearing up for the selection process until some time in mid-January each year. And then by late February they are in full-blown selection mode. That results in them watching tons of games and, by default, tons of ESPN programming. And as such they are then continuously subjected to The Gospel of Lunardi, which is spewed and regurgitated back by commentators, analysts, radio bobbleheads and even play-by-play guys. It is a nauseating echo chamber. And I don't think it is a stretch to suggest that a few weeks of that could influence the opinion of committee members.
With that in mind, here are my first 2015 NCAA tournament projections:
American (Projected Teams: 4)
In: None
Bubble: SMU*, Tulsa*, Cincinnati*, Connecticut*, Temple
Skinny: Despite producing the national champion last year, the American is a complete afterthought right now and ranked No. 9 in conference standings. And, while we're on the subject, Connecticut better get its act together or it could miss the dance and not get an opportunity to defend its crown in March. I feel pretty secure about SMU. Cincinnati has a solid resume but they are a team that I think will waver down the stretch. Temple can lean on its big win over Kansas. I almost left off the team that is currently in first place in the conference (Tulsa). They don't have a single good nonconference win. Not only that, but they were blown out by every decent team they played. They've won 10 straight and have home games against SMU, Temple and Cincinnati remaining. They are my last team in the field. But any slip and they will end up like SMU last year.
Atlantic-10 (Projected Teams: 3)
In: VCU*
Bubble: Dayton*, George Washington*, Davidson, Rhode Island
Skinny: George Washington definitely still has work to do, but their win over Wichita State is huge. Wins over VCU and Dayton would seal the deal. Davidson has a home game against VCU on March 5, and that will probably be a must-win game. They are the team to watch down the stretch. Dayton has some serious bust potential, but right now they have the inside track for a bid out of a league that I can't imagine won't scrounge up three. I like Rhode Island. But they haven't done nearly enough to warrant a slot and I don't see them putting together a tournament-worthy resume.
ACC (Projected Teams: 6)
In: Virginia*, North Carolina*, Notre Dame*, Duke*, Louisville*
Bubble: Miami*, N.C. State, Syracuse
Skinny: The locks are obvious. Miami is just another win or two away from being a lock thanks to wins over Florida and Duke as well as victories over fellow bubble mates N.C. State and Syracuse. If the tournament were today the Orange would be in. But their schedule in February is beyond brutal, and I don't see them winning more than three games the rest of the way. N.C. State is interesting. They don't have any good non-league wins and they are just 7-7 in their last 14 games. But I just feel like this team is going to find a way to spring an upset or two. They are one of the last teams I have out of the field - for now. Any slip-up and they are NIT-bound.
Big 12 (Projected Teams: 8)
In: Kansas*, Iowa State*, West Virginia*, Baylor*
Bubble: Kansas State*, Oklahoma*, Texas*, Oklahoma State*
Skinny: Eight of the 10 teams in this conference are in contention for an NCAA Tournament bid. Right now the hype around this league is working in its favor. But these teams may just cannibalize one another. I still think they will get eight. Kansas State and Oklahoma State are both soft at the moment. K-State did absolutely nothing in the nonconference. Also, Oklahoma has dumped four of five games and Texas has dropped four of six. Maybe none of those defeats would qualify as "bad" losses. But the fact remains: these teams need to keep winning if they want to stay in the discussion.
Big East (Projected Teams:5)
In: Georgetown*, Villanova*, Butler*
Bubble: Providence*, Xavier*, Seton Hall, St. John's
Skinny: For all the talk about how deep and how tough the Big 12 is, for my money the Big East is the best league in the country. There are no off nights in this league, and the number of outright underdog winners each week is astounding. Don't forget: this league absolutely dominated the nonconference portion of the schedule, with these teams scoring a ton of marquee victories and winning multiple preseason tournaments. Unfortunately, Seton Hall and St. John's look like two teams left without a chair when the music stops. Both have the talent to go on a run - especially when Isaiah Whitehead gets back for the Pirates. But to this point they haven't done nearly enough to warrant a slot (even though Lunardi currently has both teams in the field in his projections).
Big Ten (Projected Teams: 6)
In: Wisconsin*, Maryland*
Bubble: Indiana*, Ohio State*, Michigan State*, Iowa*
Skinny: Purdue, Nebraska, Illinois and Minnesota all have outside chances of playing their way onto the bubble if they get hot. But on the whole this is definitely a down year for this conference. Wisconsin and Maryland are legit. But this league isn't unpredictable in the way that the Big 12 and Big East are (because there are so many quality teams). The Big Ten is a freak show because these teams are all so inconsistent. And regardless of how many of these teams do find their way into the field, I know I will be looking to bet against this league's representatives once they line up against the best of the rest.
Missouri Valley (Projected Teams: 2)
In: Wichita State*
Bubble: Northern Iowa*
Skinny: This league isn't as weak as it appears. Evansville, Indiana State or even Illinois State could be capable of knocking one of these top dogs off either during the regular season or at Arch Madness. Northern Iowa would be in if they had beaten VCU instead of pulling a double-OT loss. But if they are 24-6 on Selection Sunday they will be tough to leave out of the party.
Mountain West (Projected Teams: 2)
In: San Diego State*
Bubble: Wyoming, Colorado State*
Skinny: This is the worst the Mountain West has been in a decade. This league is absolutely pathetic, and right now it is No. 12 in the conference rankings. Powerhouses like New Mexico and UNLV are in complete rebuilding mode, and Boise State is a perennial underachiever. Wyoming is the softest bid, and right now they are one of the last teams left out of the field.
Pac-12 (Projected Teams: 3)
In: Arizona*, Utah*, Stanford*
Bubble: Oregon State, Oregon, Washington
Skinny: The last couple seasons have seen a Pac-12 resurgence, and last year they got six teams in The Dance. I have a hard time only predicting three for this league, but I'm at a loss for where the other bids will come. Cal and Colorado have both flaked out and been bitten by the injury bug. Oregon doesn't have any meaningful nonconference wins, and I don't think they are for real. Oregon State has a great win over Arizona, but their nonconference resume is pathetic. Washington has excellent wins over San Diego State and Oklahoma. But they have lost five of their last eight, they just kicked their best post player off the team and I see them going in the tank.
SEC (Projected Teams: 6)
In: Kentucky*
Bubble: Georgia*, LSU*, Arkansas*, Texas A&M, Tennessee, Mississippi*, Alabama*
Skinny: This league is still pretty laughable when it comes to college basketball. But the SEC has a chance to step up and steal some bids during a down year from several other real basketball conferences. Right now the difference between the bubble teams is razor thin. (Seriously, try to choose between the resumes of A&M, Tennessee, Ole Miss and Bama.) I honestly have no idea who is going to step forward and seize a bid with their play down the stretch. But I just have a gut feeling that one or two of those four teams will get it going and end up ahead of some teams from the ACC and Big Ten.
WCC (Projected Teams: 2)
In: Gonzaga*
Bubble: St. Mary's, BYU*
Skinny: The parity and mediocre play in the Big Ten, Mountain West, Pac-12 and SEC will help this league. Right now the WCC is rated higher than the A-10, American, Missouri Valley and Mountain West conferences. I know the selection committee has said that they don't consider conference strength. But I think it stands to reason that a league this well-regarded will find a way to get that second team. As of this moment the Cougars are not in. Their only good nonconference win was over Stanford (though they had close calls with Utah and San Diego State) and they are coming off bad losses to St. Mary's and San Diego. However, I still think they have the talent to go on a winning streak, and they are probably the only team capable of stealing a win from Gonzaga.
Automatic Bid Leagues (Projected Teams: 21):
America East - Vermont
Atlantic Sun - North Florida
Big Sky - Eastern Washington
Big South - High Point
Big West - Long Beach State
Colonial - Northeastern
Conference USA - UTEP
Horizon - Valparaiso
Ivy League - Yale
Metro - Iona
Mid-American - Toledo
MEAC - Hampton
Northeast - St. Francis
Ohio Valley - Murray State
Patriot League - American
Southern - Wofford
Southland - Stephen F. Austin
SWAC - Texas Southern
Summit - North Dakota State
Sun Belt - Georgia State
WAC - New Mexico State
*Denotes team projected for the NCAA Tournament.
Robert Ferringo is a member of the Basketball Writer's Association of America and a professional sports handicapper for Doc's Sports. He is considered one of the best college basketball handicappers in the country and has earned six straight winning college basketball years. He has averaged $7,500 in college basketball profit for his clients over the last four years - an unparalleled mark in the industry - and he is on pace to top that again this year. You can sign up for his college basketball picks and get more information here.
Read more articles by Robert Ferringo
---
Most Recent College Basketball Handicapping