2015 Pac-12 Predictions with College Basketball Conference Betting Odds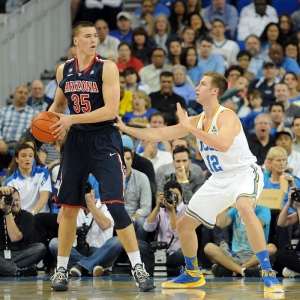 People will continue to sleep on Pac-12 basketball mainly because people are asleep during Pac-12 basketball.
It's no big secret that West Coast basketball gets short shrift in the national college hoops discussion. The late start times prohibit a lot of East Coast fans and gamblers from watching teams in the Pac-12, Mountain West, and the bevy of solid small conferences that play on Pacific Standard Time. The fact that these games are on Fox Sports, and therefore all but ignored by media behemoth ESPN, doesn't help matters. But that doesn't mean that there isn't a lot of great basketball being played on the Left Coast and that there aren't tremendous wagering opportunities in this part of the country.
The Pac-12 vastly exceeded my expectations last year. Several top teams were re-tooling, and the middle-of-the-pack teams in this conference came along much more quickly than expected. That is a credit to the concentrated amount of exceptional coaches doing work in the Pac-12, and this season several programs are ready to build on the foundations that they laid last season.
Arizona, Utah and California will be waging one of the most interesting and competitive regular-season races in all of college hoops. And with three or four of the second-tier teams could have the juice to vault into the NCAA Tournament discussion come February. All in all it looks like we (or at least those of us that aren't in bed by 9 p.m.) will be treated to another outstanding year of late-night hoops.
Here is Doc's Sports 2015-16 Pac-12 Conference college basketball predictions (with Robert's projected odds to win the conference title in parentheses):
The Favorite: Arizona (-140)
Sean Miller has rebuilt the Wildcats into a West Coast juggernaut. This Arizona program is so good that they lost four starters from a team that went 34-4 last season and they still enter 2015 as the prohibitive favorites to capture another conference crown. This year's team won't be as good as last year's group; you can't lose three NBA-caliber athletes and a point guard with four years of starting experience and expect to maintain the pace. But Arizona has three stud freshmen and two key transfers to fill in around some quality role players from last year. Massive center Kaleb Tarczewski is the anchor for this team in the middle. Stretch-four Mark Tollefsen and former all-ACC forward Ryan Anderson will join him in a very solid post. While this team won't be nearly as strong defensively as recent Arizona teams, the addition of Tollefsen and Anderson, along with freshman AlonzoTrier, means that this will be one of the better outside shooting team than Miller's had in the desert. I believe Arizona is not the national title contender that they have been the past two years. But they are kings of this realm until someone proves otherwise.
The Challenger: California (+200)
I was driving the Cal bandwagon last year. This year the wagon is a lot more crowded. Cal has, for my money, the best backcourt in the country with Tyrone Wallace, Jordan Mathews and Jabari Bird combining for over 40 points per game. Bird may be the most talented of the trio, but he suffered through some injuries last year and could break out in his junior campaign. Cal's obvious weakness the past several years has been comically soft post play. But they signed two of the best frontcourt prospects in the country with freshmen Jaylen Brown (ranked No. 3 nationally) and Ivan Rabb (No. 4). If either of the two seven-footers on the roster (Kingsley Okoroh and Kameron Rooks) can give Cal solid minutes as a two-headed center combo then Cal will have the size, post strength and perimeter skill to take down Arizona. Cuonzo Martin teams are known for toughness. And if the Golden Bears can improve on their mediocre defense, they should be a Top 20 staple.
The Dark Horse: Utah (+200)
Utah basketball has experienced a resurgence under coach Larry Krystkowiak. They clawed their way into the Top 10 at one point last season and snapped a five-year tournament drought in the process. Utah lost star guard Delon Wright and big man Dallin Bachynski. But they have four starters and three key bench players back to make another run to the Sweet 16. Seniors Brandon Taylor and Jordan Loveridge are both three-year starters and can pick up the slack from losing Wright. Loveridge can be one of the best players in the league if he can avoid the injuries that nagged at him last season. Also, center Jakob Poeltl burst onto the scene as a freshman and looks like a future NBA pivot. Krystkowiak's teams have been outstanding defensively and impressively efficient on the offensive end. I don't see that changing this year, and they could definitely build on last year's second-place finish.
The X-Factor: Oregon (+650)
The Ducks were major overachievers last season, and I thought Dana Altman did a better job than any coach in the country. He took a ramshackle roster and guided it to 26 wins, a tie for second place in the Pac-12, and an appearance in the Round of 32. Now Altman is in the unfamiliar position of having some cohesion on the roster from one season to the next. Oregon lost scoring machine Joseph Young and shooter Jalil Abdul-Bassit. But they welcome back a lot of interchangeable pieces that showed a streak of fearlessness last year. Dillon Brooks and Elgin Cook combined for 24 points per game, and power forward Jordan Bell is a third returning starter. Altman also signed a pair of touted freshmen, a JUCO player of the year, and a key graduate transfer in Dylan Ennis, a former starter on some dominant Villanova teams. The Ducks have dealt with some injuries this offseason, specifically with Bell and Cook. And the key will be finding some cohesion with a lot of new pieces. But Oregon plays at full throttle, and they can beat anyone, anywhere at any time in this conference.
The Disappointment: Stanford (+1900)
With just one NCAA Tournament appearance in the last seven years, I'm not sure that another nondescript season in Stanford would count as a disappointment. However, the fact that this program used to be a Top 25 stalwart - they were ranked 13 of 14 years from 1994-2008 and No. 1 in the country three times - and now they are a Pac-12 afterthought has to be disappointing. Stanford made the Sweet 16 two seasons ago and has gone 47-26 the past two years. That's respectable. But this is a clear rebuilding season, and the Cardinal lost their three best players and three top scorers from last year. In fact, the 47 departed points per game were nearly double the scoring averages of the next eight players combined. I'm not convinced coach Johnny Dawkins has any idea of what he's doing. But he was able to land three Top 100 recruits. Their development could determine his job status moving forward.
The Rest:
UCLA (+1100) - Steve Alford has endured a lot of roster turnover in his two seasons in Westwood. But he has built a solid foundation and has a team bursting with young talent. His son, guard Bryce Alford, is one of my favorite players in the country and will be even better than last year's 15-5 stat line. UCLA lost its best player in Norman Powell and was hurt by the foolish departure of Kevon Looney. But they scored two hotshot freshmen guards, and sophomore Isaac Hamilton gives the Bruins another future pro in the backcourt. The key to UCLA's season will be the frontcourt. Tony Parker is solid but not outstanding. But after that the roster seems full of bodies, but not players. UCLA isn't there quite yet. But their backcourt talent means that they will be a major player in determining who wins the league title, and I expect to see the Bruins back in the NCAA Tournament after last year's Sweet 16 showing.
Oregon State (+3200) - Wayne Tinkle did an outstanding job with the Beavers last year, taking a severely undermanned and inexperienced roster and producing a season above .500 for just the second time in the last 10 years in Corvallis. Tinkle has five starters back, four of them seniors, and added a surprisingly highly-rated recruiting class. Gary Payton Jr. (yeah, it's The Glove's kid) is the undisputed leader, and Oregon State is making a name for itself as one of the West's most ferocious defensive teams. The Beavers won with grit and hustle last year. And if any of the freshmen can contribute immediately then this team could find itself on the tournament bubble come February.
USC (+5000) - Andy Enfield inherited a mess in L.A. when he took over the USC program. And, as expected, things got worse before they got better, including last year's 3-15 league showing. But now USC is clearly a team on the rise. The Trojans have all five starters back, a sixth player that started 15 games last year, and a pair of blue chip freshmen that will see minutes. USC's guards are better than average. But where this team has really improved is in the post. The two top freshmen are both 6-10, and they'll team up with 6-11 rock Nikola Jovanovic and 6-11 part-time starter Malik Martin. USC only has one senior on the roster. So they are a year away from being a legit tournament threat. But I look for some improvement out of what was one of the worst teams in the league last year.
Arizona State (+2000) - The Herb Sendek Era was mercifully brought to a close this offseason, and Arizona State landed college hoops legend Bobby Hurley to take over the program. Hurley is short on actual coaching experience (he only has two years at Buffalo on his resume), but his family has been producing high school and college wins for the past four decades. Hurley will begin his rebuilding project with four starters back from last year's mediocre squad. Nebraska transfer Savon Goodman is the real deal, and big man Eric Jacobsen is passable in the post. The starting backcourt remains intact, but it will be interesting how Hurley chooses to shake up his rotation with three highly-touted junior college transfers itching for minutes. There are more questions than answers here - for now.
Colorado (+5000) - In a conference of overachievers, last year's Buffs were one of the nation's bigger disappointments. Too many players seemed more worried about their draft status rather than their actual performance. The Buffs got off to a slow start and never really recovered, especially after injuries started to wear down the frontcourt. This year doesn't look much more promising, though. Star guard Askia Booker graduated, and three-year starter Xavier Johnson blew out his Achilles this June and will miss the year. That leaves center Josh Scott as the lone upper-echelon talent on the roster. Tad Boyle runs a tight system, inspired by the Princeton offense. So execution will be the key to Colorado making one of the second-tier tournaments this year.
Washington State (+7000) - I feel pretty confident that Ernie Kent will turn Wazzou into at least a respectable program in this stacked league. But there is still some purging to be done in Kent's second season in Pullman. Do-everything guard DaVonte Lacy has graduated and left a gaping hole. The Cougars have just two starters back this season and will be relying on host of JUCO players to step in and contribute immediately. That's a dangerous strategy. And it isn't likely to improve last year's glaring weakness on the defensive end.
Washington (+6000) - Every season seems like it is going to be Lorenzo Romar's last season at UW. But he continues to stave off a pink slip thanks to his uncanny recruiting ability. Romar landed three Top 100 recruits again in a solid seven-man freshman class. But getting talent hasn't been his issue. Coaching it and keeping it have. Washington looked like a major surprise heading into league play last season. But things absolutely imploded and the Huskies lost five of their best players his offseason to graduation or transfer. That exodus has probably condemned them to the Pac-12 basement again this season.
Projected Pac-12 Standings:
1. Utah
2. Arizona
3. California
4. UCLA
5. Oregon
6. Oregon State
7. USC
8. Stanford
9. Arizona State
11. Washington
12. Washington State
Robert Ferringo is a member of the Basketball Writer's Association of America and a professional sports handicapper for Doc's Sports. He is considered one of the best college basketball handicappers in the country and has an unmatched streak of nine straight winning nonconference seasons and nine straight winning regular seasons. Robert's $100-per-Unit clients have banked $12,130 in profit with his sides and totals the last two years alone and he has raked in a remarkable $60,600 in the last nine years with his nonconference picks (November and December) alone. There is no better moneymaker in the nation and Robert is looking forward to another amazing season. You can sign up for his college basketball picks and get more information here.
Read more articles by Robert Ferringo
---
Most Recent College Basketball Handicapping