2016 ACC Basketball Predictions with Expert Handicapping and Futures Odds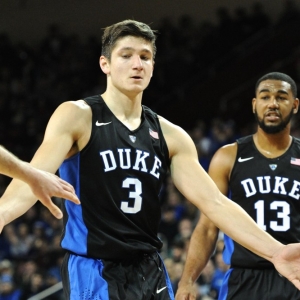 Bloated or loaded? That's the question the 15-team ACC has to ask itself heading into the 2016-17 season. There are very clear tiers in this monster conference. But even so, an unbalanced schedule and a lot of uncertainty is going to make it very difficult to discern who's who and what's what from top to bottom in this league.
Duke enters the season as the favorite to cut down the nets and win the National Championship. Syracuse and North Carolina, both of whom represented the ACC in the Final Four last year, boast a world of talent and will be nipping at the Blue Devils' heels. Virginia and Louisville are both incredibly young. But both have been powerhouses throughout this decade and won't lag too far behind.
The main intrigue in the ACC may be sorting out the second tier. Clemson, Miami, Virginia Tech, Florida State, Notre Dame, Pittsburgh and N.C. State will all be scrapping and clawing their way through the season and attempting to fight their way into the NCAA Tournament field. If you are looking for action and excitement, that group should be on the right and wrong end of a lot of upsets this year. But trying to predict the order that septet will finish in is a fool's errand.
Here are Doc's Sports 2016-17Atlantic Coast Conference college basketball predictions (with projected odds to win the conference title in parentheses):
The Favorite: Duke (+100)
Even if Duke hadn't landed one of the three best recruiting classes in the country, they still would've entered this season as a Top 10 team and likely ACC favorite. But yeah, bagging five blue-chip freshmen certainly makes things a little easier. Grayson Allen, the latest Most Hated Duke Player and preseason favorite for Player of the Year, is back to light people up after averaging 21.6 points per game in his sophomore campaign. Experienced wings Matt Jones and Luke Kennard (who I am a big fan of) flank Allen. Duke also welcomes back starting center Amile Jefferson, who was lost to a foot injury last season. Again, that gives them four double-digit scorers, three of whom have championship experience. Forwards Jayson Tatum and Harry Giles are two of the top 10 freshmen in the nation, and their three other top recruits are ranked in the Top 40. Oh yeah, and there is that Coach K guy working the sideline. There is no weakness here. And as long as everyone stays healthy the Blue Devils will be a force to be reckoned with.
The Challenger: North Carolina (+250)
The Tar Heels were on the losing end of one of the greatest NCAA Championship Games ever last April. Now they have to pick themselves up off the mat and muster a challenge to their most hated rival. But the Heels will have to do so without four-year starting point guard Marcus Paige and first team All-American Brice Johnson. Believe me: no one feels bad for Roy Williams, who has four players with starting experience back, three of their four top guards from last season, three stud freshmen, and a go-to guy in Justin Jackson. UNC's biggest obstacle may be the hangover from last season. But replacing Paige's ball handling and shooting is a close second.
The Dark Horse: Virginia (+800)
Tony Bennett's charges have finished first or second in the ACC each of the past three years. That outstanding stretch of consistency will be put to the test this season as they try to replace four-year starter Malcolm Brogdon and stalwart forward Anthony Gill. Point guard London Perrantes will attempt to pick up the slack. He's always been a better support tool than primary weapon. Key transfer Austin Nichols is eligible and gives UVA a versatile post option. His performance after a year off is key. Bennett has a great recruiting class, with four Top 100 freshmen at his disposal. But it is going to take time for them to develop and to learn Bennett's fabled Pack Line Defense. Virginia is still going to be solid because of Bennett's system. But I expect a significant step back from the caliber of team we've seen the past three years.
The X-Factor: Syracuse (+800)
The Orange hit the jackpot this offseason and have completely retooled and restocked their roster. Instead of being in dire straits trying to replace the entire backcourt from last year's surprise Final Four team, the Orange are giddy and head into this season with perhaps their deepest and most athletic team since the 2013 group that won 30 games. Nebraska transfer Andrew White was the major coup. He and grad transfer John Gillon (Colorado State) should join with top recruit Tyus Battle to handle the perimeter. Stretch four Tyler Lydon, rebounding machine Tyler Roberson and last year's starting center DaJuan Coleman will reprise their roles. Transfer Paschal Chukwu and freshmen Taurean Thompson and Matthew Moyer will be there to offer depth and frontcourt reinforcements. There's a lot of bricks. But no building just yet. However, Jim Boeheim is a Hall of Famer and should find a way to make all that talent and athleticism work.
The Disappointment: Louisville (+300)
Rick Pitino is another one of those guys that all he does is win. Pitino shuffles the deck with his roster every season. And every season he finds a way to field a top-tier team. But transfers Damion Lee and Trey Lewis bailed him out last year, as did center Chinanu Onuaku. All three are gone. Now the Cards enter the season without a proven go-to guy, without an all-league caliber performer, and without much experience. Yet they are in the Top 15 in both preseason polls and are the No. 3 favorite to win the ACC. No thanks. Other teams brought in a lot more talent in their freshmen classes, and Pitino wasn't able to tap the transfer market to upgrade his squad. The Cardinals were banned from postseason play last March and there is still a lot of bad karma swirling around Louisville. I am sure that Pitino will find a way to win 20 games and two or three new heroes will emerge. But I when I look at this roster I don't see a consistent Top 25 team, and I think they could struggle.
The Rest:
Florida State (+1200) - I felt like Florida State was a definite underachiever last season, and they have now missed the NCAA Tournament four straight years. Leonard Hamilton's seat isn't hot, but it is getting warmer. FSU has one of the best backcourts in the league with sophomore Dwayne Bacon and junior Xavier Rathan-Mayes. Hamilton also scored a top JUCO transfer and two Top 100 recruits to bolster the talent level. The key for the Seminoles will be putting the ball in the basket. Bacon and R-M need to average between 30-35 points per game for this group (they averaged 27.6 last year). And Hamilton needs a third option to present itself. If they get that, along with FSU's trademark tough defense, then the Seminoles have the tools to compete in the ACC and maybe claw their way back to The Dance.
Miami (+1500) - Jim Larranaga is enduring a bit of a transitional season down in South Beach. The Hurricanes graduated three fifth-year players that had a lot of success, and now they'll need some supporting guys to take much bigger roles. Explosive sixth man Ja'Quan Newton and Davon Reed will run the show and try to shepherd Top 25 recruit Bruce Brown along on the perimeter. Fifth-year senior Kamari Murphy will try to do the same with freshman Dewan Huell in the paint. There will be growing pains as everyone adjusts to new roles. This isn't a very deep team, either. But Larranaga is one of the top coaches in the sport and will find a way to make it work.
Pittsburgh (+5000) - Kevin Stallings beat the posse out of Vanderbilt and worked his way north to Pittsburgh. He inherits a stagnant program that could use a breath of fresh air. He also inherits a team with six of its top seven scorers back from last season, including solid forwards Jamel Artis and Michael Young. Pittsburgh desperately needs to find some guards, however, and could have a hard time transitioning to Stallings' continuity offense. Stallings will have the benefit of coaching a physically- and mentally-tougher brand of player at Pitt. But there will likely be some growing pains while everyone gets accustomed.
Notre Dame(+2000) - Mike Brey just keeps on keeping on down in South Bend, and Notre Dame continues to be one of the best and most consistent programs in the country. Like everyone else, the Irish lost their two best players. But a trio of three-year starters will ease the transition. Steve Vasturia is a sharpshooter, and V.J. Beachem has the potential to break out as an all-league performer. Bonzie Colson is a solid inside option, and the key for this team will be an emergence of last year's two top freshmen, Rex Pflueger and Matt Ryan. Brey has done a masterful job developing players. So I think its safe to bet on that pair to make a leap while two more well-regarded first-year players press for time. The Irish are a tough out and should work their way back to the NCAA Tournament.
Virginia Tech (+2000) - One thing is absolutely certain when it comes to Buzz Williams' Virginia Tech squad: you are going to get a max effort every game. This team rarely comes out flat, and Williams' maniacal approach always rubs off on this team. Tech is a potential league spoiler and should make an appearance in the Top 25 at some point this year while also snapping an NCAA Tournament drought almost a decade old. Tech has four starters and two key reserves back from last year's squad, giving them a level of continuity that a lot of ACC teams don't have this year. Zach LeDay and Seth Allen are a solid inside-out combo, and Justin Bibbs is the steadying influence. They were a tough 'W' last year, and if everyone continues to improve then the Hokies will be a team on the rise.
Clemson (+4000) - The Tigers are going to be a feisty underdog this year. Brad Brownell is a really solid coach, and his teams always overachieve compared to what their actual talent level is. Last season Clemson was forced to play its home games 30 minutes up the road while Littlejohn Coliseum was renovated. They should get a little boost from their new digs. Jaron Blossomgame is one of the best players in the conference and a force on both ends of the floor. Clemson has a nice veteran lead guard in Avry Holmes, but they need one of two transfers, Marcquise Reed and Shelton Mitchell, to step forward and give some support.
North Carolina State (+4000) - A lot of people are really high on this Wolfpack squad. I am not one of them, and I suggest taking a wait-and-see approach. If Cat Barber and the Martin brothers had returned to school then this team would be competing in the top tier. Instead they have to overcome a serious roster turnover. They do have some guys that can play. WVU transfer Terry Henderson is back from injury. Freshman Dennis Smith Jr. is highly touted. Wing Torin Dorn is a former CUSA POTY. And Maverick Rowan is an explosive shooter. The issue is that none of those four players have ever taken the court together. State doesn't have a ton of size, either, although Abdul Abu and BeeJay Anya give them two good starters. It's all about chemistry with this group. And I think they will have wild swings of good and bad play throughout this season.
Wake Forest (+5000) - There are no quick fixes in Winston-Salem, and as Danny Manning enters his third season the Demon Deacons still appear to be outgunned. Manning's first recruiting class is now juniors and has yet to make its mark. But last year's star frosh, Bryant Crawford, is a potential stud. And if anyone else from this year's class shows the same level of ability then Manning will be in business. This is a young team. But if the pieces come together they could catch some fire and spark some upsets. But they are also likely to dump some games they probably shouldn't. I think the NIT is the absolute ceiling for this group and they probably won't get there.
Georgia Tech (+7500) - Here is how bad things are for Tech: the guy on the cover of their promotional material heading into the season is Tadric Jackson, who averaged all of 4.7 points per game last year as a sophomore. Josh Pastner is another coach that escaped his last gig (Memphis) before he had a chance to be fired. He may be failing upward by going to Atlanta. But the reality is that Tech is horrendous this year, and any rebuilding is going to take several seasons.
Boston College (+10000) - The Eagles went winless (0-18) in ACC play last season. And they might even be worse this year! Boston College used to be a decent program. But right now they are a laughingstock. I like Jerome Robinson. But he's really it. And it still may be a while before the Eagles score that first league win.
Projected ACC Standings:
1. Duke
2. North Carolina
3. Syracuse
4. Virginia
5. Louisville
6. Notre Dame
7. Florida State
8. Miami
9. Virginia Tech
10. Clemson
12. Pittsburgh
11. North Carolina State
13. Wake Forest
14. Georgia Tech
15. Boston College
Robert Ferringo is a member of the Basketball Writer's Association of America and a professional sports handicapper for Doc's Sports. He is considered one of the best college basketball handicappers in the country and has an unmatched streak of 10 straight winning nonconference seasons and 10 straight winning regular seasons. Robert's $100-per-Unit clients have banked $16,800 last year alone and $28,900 over the past three seasons. Robert has raked in a remarkable $68,200 in the last 10 years with his nonconference picks (November and December) alone. There is no better moneymaker in the nation and Robert is looking forward to another amazing season. You can sign up for his college basketball picks and get more information here.
Read more articles by Robert Ferringo
---
Most Recent College Basketball Handicapping