Best College Basketball Teams Against the Spread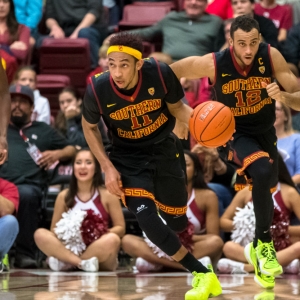 College basketball can be an overwhelming sport to follow, either as a fan or as someone who bets on sports. Most casual fans I know adopt a simple, "I just like March Madness" approach to the game because they don't have the time or inclination to follow the hundreds of teams that make up Division I.
However, the sheer volume of teams, with no less than 240 teams playing in lined conferences, is one of the major advantages that gamblers have when it comes to college basketball betting.
Below are the current Top 10 college basketball teams against the spread. There are several names that anyone that's been betting on college basketball this year will notice. But there are also some surprises, including a No. 1 team that I'd be willing to bet 95 percent of my readers don't know what conference they come from.
Naturally, the moment the general public recognizes a successful team against the spread, the value on that team instantly disappears. It's kind of like the conundrum facing the Alibi Room on the show "Shameless": the minute they were named "The Best $h*#%@# Bar On The South Side" they instantly became uncool and therefore were no longer the best anything. So proceed with caution betting on these top ATS teams down the stretch.
But for now, here is a list of the biggest cash cows in college basketball to this point of the season:
10. USC Trojans (15-7 Against The Spread)
It took a couple of years, but Andy Enfield - the orchestrator of Dunk City at Florida-Gulf Coast - has fashioned the Trojans back into a competitive Pac-12 foe. USC was extremely underrated coming into this season after going 23-41 in Enfield's first two seasons at the helm. But this year's team is absolutely legit. And with a 10-man rotation that lacks a senior, the Trojans should enter next season as a Top 15 squad. USC is currently in second place in the Pac-12 but is still overshadowed a bit by programs that have been more successful more recently (think Oregon, Arizona and Utah). It is true that USC did most of its damage at the window during an 8-2 ATS start to the season. But they are a solid 5-3 ATS in their last eight league games and an exceptional 5-1 ATS in their last six home games.
9. Seton Hall Pirates (16-7 ATS)
The Pirates have been one of the worst bets in college basketball over the last five years and incredible shaky as a favorite. Last season they imploded after a surprising 15-6 start, going just 1-9 in February and March and missing the postseason completely. They had major issues in the locker room, and this was a make-or-break season for coach Kevin Willard. The Pirates have responded. Seton Hall has its own mini-Fab Five, with five sophomore starters leading the way. The ringleader is Isaiah Whitehead, an NBA prospect and the best point guard in the country that absolutely no one talks about. The Pirates have gotten onto the NCAA Tournament bubble and have played the top teams in the Big East - Villanova, Xavier and Butler - tough. But they haven't been able to get over the hump against those top teams. They have four of their final six games on the road and their mental toughness will be tested yet again.
8. Monmouth Hawks (16-7 ATS)
There's no way that you know what conference Monmouth currently plays in. It is the Metro Atlantic, but I can't fault you for not knowing that because this is only their third year in the MAAC. Right now the Hawks are locked in an outstanding battle with preseason favorite Iona for the conference crown. But Monmouth is a team to watch because, honestly, I think they've already done enough to deserve an at-large bid to the NCAA Tournament. The Hawks have true road wins over UCLA and Georgetown as well as neutral-site wins over USC and Notre Dame. That's better than some other bubble teams! Monmouth is absurdly efficient on the offensive end while also rating in the Top 15 in the nation in field goal defense. They've come out of nowhere and are currently on a 16-2 overall run. They have four of their last six games at home and will be a double-digit favorite in all of those games. But the role that this team is on right it might not matter.
7. Central Florida Knights (14-6 ATS)
Here we have the first bad team on our list. Make no mistake: Central Florida is not good. They are 11-11 on the season and likely won't even warrant an invite to one of the scrub tournaments this March. However, their value is that while they are bad they simply aren't as bad as people think. Their primary strength is in their size. They have five players among their eight-man rotation that stand 6-9 or taller, including 7-foot-6 center Tacko Fall. They play slow and they just kind of hang around. Six of their last eight opponents have failed to top 70 points. And when the Knights are routinely catching a boatload of points, that makes them a solid value wager as a dog. UCF lost their top guard, Adonys Henriquez, for the rest of the month. The books should respond by inflating their spreads even more. But it will be interesting to see if UCF can maintain their success at the window without their best perimeter player.
6. St. Joseph's Hawks (16-6 ATS)
Phil Martelli boasts his best Hawks team in years. St. Joe's has already reached the 20-win plateau, and despite a nonconference schedule devoid of quality wins I think that they are clearly an NCAA Tournament-worthy squad. St. Joe's is coming off its best win of the season, an 18-point victory at George Washington, and they are just one game behind Dayton for the Atlantic 10's top spot. DeAndre Bembry is a future pro and leader of this group, which has just two seniors in its eight-man rotation. Their lack of a bench is a weakness. But with a favorable schedule down the stretch - including a crucial game with Dayton in Philadelphia - this is a team that should rack up 24 or 25 wins and secure their spot down the stretch.
5. North Dakota Fighting Hawks (13-5 ATS)
Here we have another bad team that has gotten to this point simply by not being as bad as people realize. The Fighting Hawks are 12-10 overall on the season but have fought their way into the top tier of the Big Sky this season, currently resting in a tie for third place at 7-4 and coming off a stunning home win over Weber State. Part of their success is that the Big Sky is pathetic this year. (Trust me: it's even worse than usual.) The other part is that they are coming off an 8-22 regular season and no one had any expectations for them. This is a team that I see struggling down the stretch, however. They are a bizarre team because they play at one of the faster tempos in the country (No. 66 in tempo and No. 41 in average possession length) yet they are horrible on offense and excellent on defense, displaying the tendencies of more of a grind-it-out scrub team. I can't figure it out. But I think this might be a team to start selling stock on while it is at an all-time high.
4. South Carolina Gamecocks (16-5 ATS)
South Carolina came through with another impressive win on Wednesday by besting LSU at home. The "Other" USC is having the program's best season in 20 years and they are a legit threat to win the SEC. This team is not a fluke, and it is actually still undervalued because it is ridiculous that the Gamecocks are not in the Top 25. USC is 21-3 overall, and their only losses have come on the road against Top 90 opponents. A big key for this team is cohesion. The five starters all played together last year and the core of this team has been together for three seasons. They play excellent defense, have good size, and have just enough talent on the perimeter to remain dangerous. USC has a monster game with Kentucky on Saturday, and they will likely open as a one-point underdog. But a win there and they will be undervalued and overlooked no more.
3. William & Mary Tribe (13-4 ATS)
W&M's current claim to fame is that they are one on a short list of teams from a name conference that have never made the NCAA Tournament. The Tribe has come excruciatingly close, losing in the Colonial championship game the past two seasons. This team is one of the best shooting groups in the country, and they opened the season with a 17-point road win at N.C. State. They are currently No. 2 in the CAA and just a game off the pace. However, I still think they are a long shot to make it to the Big Dance, and they'll be hard-pressed to continue their ATS success. The CAA is loaded - I mean LOADED - this year. There are five teams within two games of the league lead, the top teams are winning on the road against other top teams left and right, and there are legitimately seven teams that I could see winning the conference tournament. Caveat emptor with this hard-luck group.
2. Oakland Grizzlies (15-4 ATS)
Oaktown can definitely get down. The Grizzlies are No. 2 in the country in scoring with an obscene 86.2 points per game average. They can score on anyone, anywhere, at any time. Just ask Michigan State, whom the Grizzlies took to overtime in a 99-93 thriller back on Dec. 22. Oakland also played tough at Virginia and at Georgia and they scored a true road win over Washington. Naturally, Oakland can't stop anyone. And that led to stunning home losses - both as a double-digit favorite - to lightweights Youngstown State and Northern Kentucky. But when Oakland's offense gets rolling they are relentless and unstoppable, and that's helped them cover a lot of big spreads this season. I am wary that trend will continue, though, as the season wears on. Defense becomes critical down the stretch. And with games against the other four top teams in the Horizon League coming up this is a team that could hit the skids.
1. IUPUI-Ft. Wayne Mastadons (17-4 ATS)
I hate the Summit League. Man, I hate the Summit League. The Summit is a conference that I have simply never mastered. So it is not really that sunning to me that the most profitable team in the country hails from a league that most bettors simply gloss over on their way to bigger and better games from major conferences. IP-FW is, like Oakland, a team that leans solely on its offense to rack up wins. They average 79 points per game and are in the Top 10 in the country in overall 3-point shooting (41.5 percent). Right now their top three scorers all shoot at least 46 percent from deep, and two of them, John Konchar (57.6 percent) and Joe Reed (54.0 percent), are among the sharpest marksmen in the nation. However, the Mastadons lost their No. 2 scorer, Mo Evans, to academics eight games ago. They've still been very good at the window, going 5-3 ATS, but they are showing some signs of slowing down. Fortunately for them they play their next three games at home. But no matter what happens, this team has been amazing at the window this year, even if it is preposterous to think that they can keep up an 80 percent ATS clip through the remaining five games.
Honorable Mention: Miami (14-8), VCU (13-5 ATS), Kansas State (13-7), Creighton (15-9), Michigan State (15-9), Iowa (13-7), Florida International (10-5), Akron (12-6 ATS), Wichita State (14-8 ATS), San Jose State (14-7 ATS), Oregon (14-7 ATS), Arkansas-Little Rock (13-6 ATS), St. Mary's (13-6 ATS)
ROBERT FERRINGO has been the top college basketball handicapper in the country over the past decade and his college hoops service is legendary in the industry. Robert has earned over $5,000 in profit already this season and is heading toward his 10th consecutive winning regular season. Robert has banked $31,000 in college hoops profit the last five seasons and $19,300 the past three years. He is on pace to top his remarkable average again and you don't want to be the only one not withdrawing from this personal ATM machine. Click here to get two days of college basketball picks for free - no hassle and no credit card needed.
Read more articles by Robert Ferringo
---
Most Recent College Basketball Handicapping