College Basketball Handicapping: Over- and Underrated Teams for 2016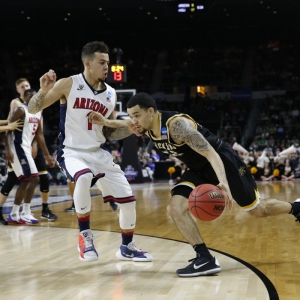 Unlike college football - whose preseason polls actually play a significant roll in determining the National Champion - preseason polls in college basketball are of little consequence. However, as several writers (most notably, Ken Pomeroy) have pointed out, college basketball preseason polls have been fairly strong indicators of who the best teams in the country will be by the time the NCAA Tournament rolls around.
While the initial USA Today Coaches Poll won't be of any consequence in college hoops, it does give basketball bettors their first glimpse into what this year's landscape is expected to look like. Since expectations are the baseline for college basketball spreads, this first poll will give us an idea of who some overrated and underrated teams are heading into the season.
Here are five overrated and four underrated teams in the initial college basketball USA Today Coaches Poll:
OVERRATED
Michigan State (No. 9) - I feel like North Carolina and Virginia are a both overrated right now. But the team that jumped out at me in the Top 10 is Michigan State. Look, I'm willing to give Tom Izzo a lot of benefit of the doubt. But there's a pretty good chance that the Spartans will be out of the Top 25 before Dec. 1. They lost four starters, including All-American Denzel Valentine, and none of the returnees averaged more than nine points per game. Izzo has one of his best-ever recruiting classes. But it is going to take time. And there's no way this is one of the 10 best teams in the nation right now.
Arizona (No. 11) - This is an awfully hopeful ranking considering that there are rumors surrounding Allonzo Trier's eligibility. Trier is a potential superstar. But if the sophomore misses any time - or can't play at all - then Arizona is screwed. The Wildcats lost their three best players from the team that finished just third in the Pac-12 last year. And, like Michigan State, all of their projected talent is in the form of freshmen seeing their first college action.
Connecticut (No. 16) - The Huskies weren't even the favorites to win their own conference. So how are they No. 16 while Cincinnati, the media pick to win the AAC, is just No. 25? I think people forget that Connecticut finished in just sixth place in its conference last year and, a couple March runs aside, Kevin Ollie has been a little shaky on the bench for the Huskies. Connecticut does have some seniors to lean on, including Rodney Purvis and Amida Brimah. But they also graduated three guys that averaged over 12 points per game apiece, and the Huskies are another team relying heavily on instant impact from freshmen.
Maryland (No. 21) - The Terps were one of the most experienced teams in the country heading into last season. They were also one of the most disappointing. Four starters, who combined for nearly 50 points and 20 rebounds per game, are gone. Melo Trimble is back. But he proved that he couldn't carry this team last year when he had a stacked cast. Will things be any different with a significantly worse returning support group? Maybe chemistry on this year's squad will be better. But the Terps sure don't look like a Top 25 team heading into the season.
Texas (No. 22) - Much like the Terps, Texas entered last season with one of the most experienced squads in the country. The Longhorns were just OK as they adjusted to Shaka Smart's new system. Now the safety net is out from underneath Smart has last year's bit-playing freshmen who will now become sophomore go-to guys. I didn't see enough from Tevin Mack, Eric Davis or Kerwin Roach to make me think that they will carry this team into the Top 25.
UNDERRATED
Dayton (No. 30) - There isn't a doubt in my mind that Dayton would beat about half of the teams in the Top 25 if they played them in November. The Flyers welcome back four of five starters from last year's tournament team. Three of those guys were starters on the 2014-15 Sweet 16 team and also saw action on the 2013-14 Elite Eight squad. Dayton also added key transfer Josh Cunningham to bolster the interior and replace departed Dyshawn Pierre. The Flyers finished tied for first in the A-10 last year compared to Rhode Island, who was No. 7 in the league but in the preseason Top 25.
Virginia Tech (No. 36) - Anyone that knows anything about college basketball knew that Buzz Williams would get things going at Virginia Tech. Now in his third year, Williams has the Hokies poised to make their first NCAA Tournament appearance in nearly a decade. Virginia Tech welcomes back seven of their top nine players from last season's 20-win team. They also return Ahmed Hill, the team's starting point guard in 2014-15. The Hokies still have a lot of room to grow - Zach LeDay is the team's only senior starter - but they should find themselves in the Top 25 sooner rather than later.
Ohio State (No. 40) - Currently ranked No. 40, it is fair to say that no one knows what to expect from Ohio State. But here is what I know: Thad Matta is one of the best coaches in the country. And the Buckeyes fielded one of the 10 youngest teams in the nation last year. Yet Matta still scored a win over Kentucky and made the NIT. Their top six scorers are back, and Matta added Top 50 freshman forward Derek Funderburk. The Buckeyes aren't a threat to win any titles this year. But I trust that Matta will be able to coax a strong start - and Top 25 appearance - out of a team that is not rebuilding.
Colorado (No. 43) - I think that Colorado is a Top 25 team right now. Even if they aren't, there is absolutely no doubt in my mind that they are better than the No. 43 ranking they currently possess. That's ridiculous. Yes, they lost their best player, Josh Scott. But Colorado welcomes back Xavier Johnson from a season lost to injury and they will get a full season of Josh Fortune. Transfer Derrick White can be a big scorer off the bench, and there are several intriguing youngsters - Thomas Akyazili and Tory Miller come to mind - that could give this team some added pop. This is a system team, and all the pieces are in place for Tad Boyle's group.
Robert Ferringo is a member of the Basketball Writer's Association of America and a professional sports handicapper for Doc's Sports. He is considered one of the best college basketball handicappers in the country and has an unmatched streak of nine straight winning nonconference seasons and nine straight winning regular seasons. Robert's $100-per-Unit clients have banked $12,130 in profit with his sides and totals the last two years alone and he has raked in a remarkable $60,600 in the last nine years with his nonconference picks (November and December) alone. There is no better moneymaker in the nation and Robert is looking forward to another amazing season. You can sign up for his college basketball picks and get more information here.
Read more articles by Robert Ferringo
---
Most Recent College Basketball Handicapping