NCAA Tournament Projections and Bracketology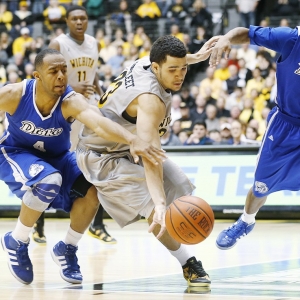 I can tell you right now: this year's Selection Sunday is going to be insane.
Selection Sunday is usually painted as this wild, controversial day on the sports calendar. But the reality is that by that Sunday afternoon the NCAA Tournament field is generally pretty clear. There are always three or four teams battling for the final one or two spots. But beyond that the other 66 positions are pretty cut-and-dry. And at the end of the day we get a tournament field that is relatively problem free.
Not this year. This year, things are going to get crazy.
I've been making NCAA Tournament projections and predictions for over 10 years. And I can say that this is the most muddled I have ever seen the field this late into January. There are teams that I objectively know should be among the 68 teams in the NCAA Tournament (see: UCLA). But those teams don't have the wins or the resume. And then there are teams there I know have no business hoarding the wins that they have (Pittsburgh) that appear ready to skate into The Big Dance.
For me, the current Rorschach tests are Syracuse and Wichita State. The Shockers' best nonconference win was over Utah, and there is a chance that they may not win the Missouri Valley Tournament because this league is deeper than it has been in two or three years. However, it's a joke if anyone thinks there are 30 teams better than Wichita State in college basketball.
Syracuse is another example of the conundrum of the selection committee. They are going to struggle to get to 21 wins and, by my projections, will likely only finish .500 in the ACC regular season. They have some great wins over Connecticut, Texas A&M, Duke and Notre Dame. But they also have a really bad loss (St. John's) along with what will likely be 11 other defeats. What do you do with them?
The easy answer - and you're going to see pundits and bobbleheads doing this a lot in the coming weeks - is to say, "Put them both in the field!" However, it's not that easy. You can't understand the relative strength and weakness of a team's resume unless you've broken down the entire field to determine how many teams are fighting for those last two or three spots.
With that in mind, here are my updated 2015-2016 NCAA Tournament projections:
American Athletic (Projected Teams: 3)
Locks: None
Bubble: Connecticut*, Cincinnati*, Tulsa*, Houston
Skinny: SMU, thanks to the scumbags at the NCAA, is not eligible for postseason play, even though if the tournament started today they would be a No. 2 or No. 3 seed. Connecticut is the second-most talented team from this muddled group, but their resume isn't exactly bursting with quality wins and they keep losing to the best teams in this second-rate conference. They are trending negatively. Tulsa and Cincinnati are two other teams that have pretty lean resumes and both have work left to do, especially the Golden Hurricanes. Houston has really hit the skids after a solid 13-2 start. They aren't in the conversation much at the moment, but they should get to 20 wins and will be on the fringes come Selection Sunday. Right now I have this as a three-bid league, but that is tenuous at best.
Atlantic-10 (Projected Teams: 3)
Locks: Dayton*,
Bubble: Davidson, VCU*, George Washington*, St. Joseph's
Skinny: VCU and Dayton are essentially locks from this league, and both of them will be dancing this year, barring collapse. I think that St. Joseph's is a team that is good enough to make the tournament. But they didn't win any of their big nonconference games and will probably need to get to 25 or 26 victories with a run in the league tournament to be considered over a high-major team. George Washington didn't help its case with bad losses to horrible DePaul and St. Louis teams. But their wins over Virginia, Tennessee and Seton Hall will play big on Selection Sunday.
ACC (Projected Teams: 8)
Locks: Virginia*, Duke*, Louisville*, North Carolina*, Miami*
Bubble: Notre Dame*, Syracuse*, Pittsburgh*, Florida State, Clemson
Skinny: Clemson is the team that no one saw coming. Right now they are 6-3 in league play and have some monster wins (Syracuse, Louisville, Duke and Miami). If they can get to 20 wins they will be tough to exclude. Syracuse, as I mentioned, is one of the most interesting cases in the country and will be a key team in February as they navigate a relentless league schedule. They are hot right now and have some winnable games coming up. But they need every single one of them. Notre Dame has some nice wins and no bad losses, and now that Demetrius Jackson is back I think they'll fill out their card. Pittsburgh is a team with a paper-thin resume. But they will be tough to keep out if they ring up 22 or 23 regular-season wins.
Big 12 (Projected Teams: 6)
Locks: Kansas*, Iowa State*, Oklahoma*, Baylor*, West Virginia*
Bubble: Texas*, Kansas State
Skinny: The Big 12 is one of the densest leagues in the country, in terms of percentage of quality teams. Ken Pomeroy currently has this conference as No. 1 in the country. However, in terms of NCAA Tournament drama they are pretty low on the list. Kansas State is kind of a fringe prospect at best. But the good news for them is that they play Kansas, Oklahoma and Baylor all within in the next 10 days and they have a chance to steal some signature victories and get in the real conversation.
Big East (Projected Teams:4)
Locks: Villanova*, Providence*, Xavier*,
Bubble: Butler, Georgetown, Seton Hall*, Creighton
Skinny: This is really a conference to keep an eye on. Outside of the Big 12 there isn't a more concentrated conference, in terms of percentage of quality teams, anywhere in the country. The Big East will likely only get three or four bids to the NCAA Tournament, but right now there are seven (of 10) teams that I could see making a run and making the field. The three locks are pretty clear. Butler is the team most in need of some quality wins, and Georgetown is going to be an interesting case, but close losses to Maryland, Duke and Villanova might come back to haunt them. Creighton is a long shot at this point. But I gave the fourth bid in this conference to Seton Hall over Butler, which would've seemed bizarre back in November. Butler is better than Seton Hall. But the Pirates clearly have more momentum than the fading Bulldogs, who have been awful while losing six of nine.
Big Ten (Projected Teams: 7)
Locks: Maryland*, Michigan State*, Indiana*, Iowa*, Purdue*
Bubble: Ohio State*, Michigan*, Northwestern, Wisconsin
Skinny: The Big Ten regular-season title is still up for grabs and their tournament should be one of the most entertaining in the nation. But in terms of their bids it is pretty clear. Ohio State is shaky. They need to prove that they can beat the top teams in this league, which they've failed miserably to do so far. But they get Michigan, Michigan State and Iowa all in Columbus in the second half of league play. If they can grab two wins there the Buckeyes should lock up their bid. Michigan's resume is still very light as well. Beating Texas and Maryland has them on the cusp. They just need to avoid the injury bug that's plagued them all season and avoid any meltdowns. Wisconsin is going to be a team to watch. But I think they would've garnered more of a sympathy vote if Bo Ryan were still on the bench coaching out his final year.
Missouri Valley (Projected Teams: 1)
Locks:
Bubble: Wichita State*, Evansville
Skinny: Anyone that knows anything about college basketball knows that Wichita State isn't just a tournament team but a potential Sweet 16 team. However, if you really dig in this team is severely lacking in quality nonconference wins. They beat Utah, and that's it. However, they were dealing with a cluster injury at the time that included their All-American point guard, Fred Van Vleet. Evansville's only prayer of an at-large bid includes beating Wichita State this Sunday, winning out the rest of the regular season, and making the Missouri Valley Tournament finals. They are good enough to do it. But it is also quite a bit of a stretch, especially with a trip to Northern Iowa remaining.
Mountain West (Projected Teams: 3)
Locks: None
Bubble: Boise State*, New Mexico, San Diego State*, UNLV*, Fresno State
Skinny: The Mountain West is the weakest I've seen it in over a dozen years. But this league has built up enough credibility to shake off a down season and still garner some bids. I think that San Diego State and Boise State are both pretty secure. However, UNLV is going to be another interesting case. They don't really have any terrible losses; their late December-early January swoon included three straight losses (two on the road) by a combined total of six points. The Rebels also have wins over Indiana and Oregon to fall back on.
Pac-12 (Projected Teams: 6)
Locks: Oregon*, Arizona*, Utah*,
Bubble: UCLA*, California, USC*, Washington, Colorado*
Skinny: If any league is going to get screwed out of bids it will be the Pac-12. Because the Pac-12 always ends up getting screwed. I think that USC is in. And Colorado has quietly been one of the most solid teams out west all season long. UCLA is running out of time to find consistency. They have wins over Kentucky, Gonzaga, Arizona and UNLV. But they play five of their next seven games on the road, and there are no gimmes in the Pac-12 this year. Washington is another team that has to be taken very seriously. However, they don't have any signature nonconference wins (Texas?) and have yet to beat Arizona, Oregon or Utah. This is a young team, and we'll see how they hold up when things get serious.
SEC (Projected Teams: 5)
Locks: Texas A&M*, Kentucky*, Florida*, South Carolina*
Bubble: LSU*
Skinny: Here we have another league that just seems like it deserves more. But Vanderbilt - a preseason Top 20 team - isn't even on the bubble any more. Nor is Georgia. Those are two teams that I could see making the field and being among the Top 60 teams in the country. But their resumes just don't warrant consideration, and they are both barely over .500 right now. That South Carolina should be considered a lock before February (they are 19-2) is a stunner. There will be a lot of nail biting about LSU. But they showed by almost knocking off Oklahoma last Saturday that they have the talent to make the tournament. Johnny Jones is not a very good coach. But I don't think even he could blow it with this team, and as long as they get to 20 wins the Tigers will be fine.
WCC (Projected Teams: 3)
Locks: Gonzaga*,
Bubble: BYU*, St. Mary's*,
Skinny: I think I'm being optimistic by predicting three teams from the WCC this year. But BYU and St. Mary's both have wins over Gonzaga, and one of them - if not both - will likely make it to the WCC Finals, where they'll have a chance at grabbing their own bid. BYU has played a tougher schedule, but St. Mary's has a cleaner resume with an 18-2 record. If the Gaels get to 26 or 27 wins they will be tough to deny. BYU needs to beat St. Mary's in Provo this Thursday. If they can do that, finish the regular season with 22 wins, and win a couple games in the WCC Tournament they will be one of the last times garnering consideration for one of the play-in games.
Automatic Bid Leagues (Projected Teams: 19):
America East - Stony Brook* or Vermont
Atlantic Sun - North Florida* or Florida-Gulf Coast
Big Sky - Weber State* or Montana
Big South - Coastal Carolina* or High Point or UNC-Asheville
Big West - UC-Irvine* or Hawaii
Colonial -Hofstra* or Any One Of Six Other Teams
Conference USA - UAB* or Marshall
Horizon - Valparaiso* or UW-Milwaukee
Ivy League - Princeton* or Yale
Metro - Monmouth* or Iona
Mid-American - Akron* or Central Michigan
MEAC - Norfolk State* or Hampton
Northeast - Mt. St. Mary's* or Wagner
Ohio Valley - Belmont* or Tennessee Tech
Patriot League - Bucknell* or Navy
Southern - Chattanooga* or East Tennessee State
Southland - Stephen F. Austin* or Texas A&M-Corpus Christi
SWAC -Texas Southern* or Southern
Summit - South Dakota State* or Nebraska Omaha
Sun Belt - Louisiana* or Georgia State
WAC - Missouri-Kansas City* or New Mexico State
*Denotes team projected for the NCAA Tournament.
Robert Ferringo is a member of the Basketball Writer's Association of America and a professional sports handicapper for Doc's Sports. He is considered one of the best college basketball handicappers in the country and has an unmatched streak of 10 straight winning nonconference seasons and nine straight winning regular seasons. Robert's $100-per-Unit clients have banked over $30,100 in profit with his sides and totals the last six years. There is no better moneymaker in the nation and Robert is looking forward to another amazing season. You can sign up for his college basketball picks and get more information here.
Read more articles by Robert Ferringo
---
Most Recent College Basketball Handicapping