2017 AAC College Basketball Predictions with Conference Odds and Betting Picks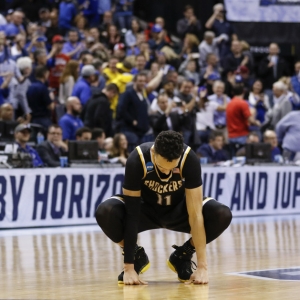 The American Athletic Conference, the afterbirth of the Great Conference Realignment earlier this decade, continues to be a sloppy hodgepodge of college basketball programs. Well-regarded powerhouses like Connecticut and Cincinnati, respected programs like Temple and Memphis, and upstarts like SMU, Tulsa and Houston have been sharing the court with bottom-feeders like Tulane, East Carolina and South Florida since the league's inception in 2013.
Well, it's time to throw another shrimp on the barbie as another dominating mid-major program, Wichita State, joins the fold. The Shockers, who enter the season ranked No. 8 in the USA Today Coaches Poll, ahead of teams like North Carolina, USC and Louisville, ditched the Missouri Valley Conference and enter this season as the favorite in the AAC.
However, I don't expect Wichita State to come in and run roughshod over their new conference. Cincinnati, ranked No. 13 in the preseason poll, is talented and experienced. SMU is the defending champion and owns the top backcourt in the league. And squads like Temple, Houston, Central Florida and Connecticut have enough firepower to keep things interesting.
Here are Doc's Sports 2017-18 American Athletic Conference college basketball predictions (with odds to win the conference title in parentheses):
The Favorite: Wichita State Shockers (+125)
The Shockers are moving on up to the East Side, to a deluxe apartment in the AAC. The Shockers picked a great season to trade up as they welcome back their top 10 players from a group that went 31-5 last season and have one of the best frontcourts in college basketball. However, where others see a Final Four team I see some flaws. First, star point guard Landry Shamet broke his foot during the summer and will miss the first several weeks of the season. If he doesn't come back at full strength the Shockers don't have a Plan B. I'm also not wild about Conor Frankamp at the two, and Wichita State lacks the high-end, NBA-caliber talent that most Final Four teams possess. Finally, the AAC is a significant step up in class from the MVC, and as legit as the Shockers are they aren't going to walk through this league.
The Challenger: Cincinnati Bearcats (+150)
Mick Cronin's Bearcats have finished in the top three in each of the AAC's four seasons in existence. Yet the new blood, Wichita State, is getting the love as the league favorite heading into the season. You think that Cronin might use that for a little motivation for his already-have-a-chip-on-its-shoulder squad? The Bearcats are going to miss starting guards Troy Caupain and Kevin Johnson. But they still have their three top scorers returning, forwards Jacob Evans, Gary Clark and Kyle Washington, as well as the league's Sixth Man of the Year. If some of last year's bench players and high-scoring transfer Cane Broome can handle the backcourt duties then this team will once again find itself in the mix for an AAC crown and potential Sweet 16 bid.
The Dark Horse: SMU Mustangs (+500)
A sensational season met a disappointing end for the Mustangs last year. They had 30 wins, won the regular season and AAC tournament titles, and rode a 16-game winning streak into the NCAA Tournament only to fall 66-65 to USC in the opening round. Tim Jankovic also lost three crucial senior starters, including the league's top player in Semi Ojeleye. SMU still has the league's best point guard, and one of the most underrated players in the country, Shake Milton. And in December they will gain the services of superb guard Jahmal McMurray, a South Florida transfer. Add in some other freshmen, transfers and veteran role players and SMU will have an interesting mix around the AAC's top backcourt. However, they don't have anyone taller than 6-9 and just one guy taller than 6-8 on the roster. Their four-guard lineup is going to be vulnerable against the overwhelming frontcourts of the league's other top contenders.
The X-Factor: Central Florida Golden Knights (+700)
After winning 24 games and playing their way into the NIT Final Four last season, Central Florida should make it to their first NCAA Tournament since 2005. The Knights have one of the most unique players in the country in 7-feet-6 behemoth Tacko Fall. He is literally one of the world's tallest people and averaged 11 points and 10 rebounds in 26 minutes of work last year, shooting 71.5 percent from the field and blocking nearly three shots per game. Savvy senior forward A.J. Davis is a perfect compliment in the post and stud junior guard B.J. Taylor gives UCF a true go-to guy. Three key transfers, Aubrey Dawkins (the coach's son), Rokas Ulyvdas and Terrell Allen give the Knights more depth than they had last season. And if those three acclimate quickly then Central Florida could absolutely wreck the top tier of the AAC and play their way into The Dance.
The Disappointment: Connecticut Huskies (+1000)
In a way, the rash of injuries that decimated the Huskies roster last season was a benefit to coach Kevin Ollie. Last year's squad was not going to be good, as proved by early home losses to Wagner and Northeastern. But Ollie almost - almost - gets a pass for the school's first losing season in 30 years because Terry Larrier, Alterique Gilbert and Mamadou Diarra all went down for the season. Ollie won't get another pass if the Huskies struggle again this year. And the key will be how Larrier and Gilbert respond to their lost seasons and if they can support excellent point guard Jalen Adams. Even that won't be enough, though, as UConn lacks the size, post strength, and NBA prospects we've come to expect.
The Rest:
Houston (+850) - Kelvin Sampson got the Cougars onto the NCAA Tournament bubble but wasn't able to pop them through into The Big Dance. Sampson is hoping that a serious influx of freshmen and JUCO transfers will somehow blast this team back into the league's top tier. Houston will lean on the league's top scorer, Rob Gray, along with four other key contributors from last year's 21-win squad. Gray, who averaged 20.6 points per game, can absolutely fill it up. And Sampson has shooters all over the roster. But, much like SMU, Houston has minimal experience or heft in the post and will likely be forced to play a lot of four-guard lineups. Sampson, who has 24 years of experience, will also have to work some magic to get all the new pieces on the same page. They'll be dangerous, but deficient.
Temple (+1800) - The Owls are definitely a sleeper in the AAC this year. Fran Dunphy has a proven system and always wrings the absolute most out of the talent that he has on hand. Last year's team was worse than their final 16-16 mark let on. But Dunphy still pulled a pair of huge upsets over Florida State and West Virginia and was able to throw a scare into Cincinnati a couple times. This year's squad should be much more well rounded. And the return of point guard Josh Brown should give the group a major boost. The Owls have three double-digit scorers back, including junior guar Shizz Alson and senior forward Obi Enechionyia. Dunphy's best teams are always outstanding defensively. But last year's team was just the second in the last decade to finish outside the Top 100 in defensive efficiency. They need to clamp down on that end if they are going to make a move up the standings.
Tulsa(+2200) - After losing nearly 90 percent of their scoring from the 2015-16 team I thought the Golden Hurricanes actually overachieved last season. They started 12-8 overall and 6-2 in league play before the bottom finally fell out and they skidded to a 3-9 finish. But Frank Haith found a go-to guy in Junior Etou and was able to season this year's core. Haith always works wonders with his guards and has a lot of backcourt options to toy with this season. But the Golden Hurricane are still at a pretty distinct talent deficit compared to the top-tier teams in this league. Tulsa is a tricky, out-of-the-way place for opposing teams to get a win. And I expect an upset or two this year. But a third-tier postseason tournament is likely this group's ceiling.
Memphis (+3000) - Tubby Smith has completely wiped the slate clean in Memphis. The Tigers had six players transfer out of the program after last year. Now they welcome in eight new faces, and they are fielding a team with just 10 scholarship players. There is no doubt that this is the worst roster in the league. But they won't be the worst team because Smith has proven at multiple stops throughout this career that he's an excellent coach. Smith has been a coach at five different spots prior to Memphis. He won fewer games in his second season at three of them. There is no way Memphis will top last year's 19 wins this year, and things will get ugly before they get any better.
East Carolina (+8000) - I'm not sure why East Carolina keeps Jeff Lebo around. He's mustered just two winning seasons in seven years in Greenville (and just four winning seasons in the past 13 years) so you would have to think Lebo would be facing a make-or-break season. The direction of ECU's season could be determined before it begins as they await word on Seth LeDay's eligibility. If LeDay can go then ECU can throw him in the mix with a decent backcourt of Jeremy Sheppard, B.J. Tyson and Kentrell Barkley. But the Pirates are still a horrid shooting team with limited size. They simply don't have enough to compete in this league beyond the occasional mid-tier upset.
South Florida (+10000) - Much like Tubby Smith in Memphis, Brian Gregory is a solid, proven coach that has gutted his roster in the interest of building a program from the ground up. South Florida has nine newcomers replacing eight offseason defectors from one of the worst teams in college basketball. This year's group is primarily transfers from all four corners of the globe, starting with grad transfer Payton Banks from Penn State. Transfers from USC (Malik Martin), Texas Tech (Isaiah Manderson), Fairleigh Dickenson (Stephan Jiggetts) and two starters from last year should mean that this team will get embarrassed less frequently than last year. But these guys still aren't any good and will get embarrassed plenty.
Tulane (+10000) - Mike Dunleavy Jr. is taking a patient approach with his Tulane rebuild. Last year the Green Wave suffered through a 6-25 campaign in Dunleavy's first-ever season as a college coach. But Dunleavy hasn't panicked and is building slowly. This year's roster has just one senior and seven freshmen and sophomores. Dunleavy will again look for his team to push the tempo and hope that they can find any semblance of efficiency on that end. Any improvement here will be measured by the smallest of increments.
Projected American Athletic Conference Standings:
1. Wichita State
2. Cincinnati
3. Central Florida
4. SMU
5. Temple
6. Connecticut
7. Houston
8. Tulsa
9. East Carolina
10. Memphis
11. Tulane
12. South Florida
Robert Ferringo is a member of the Basketball Writer's Association of America and a professional sports handicapper for Doc's Sports. He is considered one of the best college basketball handicappers in the country and has an unrivaled run of10of 11 winning nonconference seasons and 10of 11 winning regular seasons. Robert's $100-per-Unit clients have banked $22,330 in profit with his sides and totals the last four years alone and he has raked in a remarkable $60,200 in the last 11 years with his nonconference picks (November and December) alone. There is no better moneymaker in the nation and Robert is looking forward to another amazing season. You can sign up for his college basketball picks and get more information here .
Read more articles by Robert Ferringo