2017 ACC College Basketball Predictions with Conference Odds and Betting Picks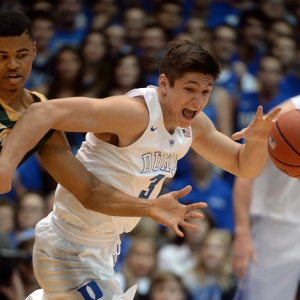 There's a dark cloud hanging over ACC basketball this season. The FBI's investigation into college athletics and illegal bribery has already claimed a Hall of Fame coach and threatens to expand b eyond the two programs, Louisville and Miami, that it has already engulfed. Add in the controversy surrounding the North Carolina program and there is a lot of lingering cynicism around this league as we head into the season.
On the court, things don't look all that much brighter. As usual, the ACC lost a load of talent to graduation and the NBA draft. They've restocked the shelves with a litany of highly-regarded freshmen. But on the whole I can honestly say that only about three teams - Miami, Virginia Tech and Boston College - are discernibly better today than they were one year ago.
That uncertainty should make for a good conference race, though. And while this league isn't exactly a paragon of parity, there is a feeling that this season the top-tier teams are more vulnerable than normal. And that should lead to plenty of upsets and a lot of underdog value betting in this league all season long.
Here are Doc's Sports 2017ACC basketball predictions and ACC basketball rankings (with projected odds to win the conference title in parentheses):
The Favorite: Duke (+125)
In the immortal words of George W. Bush, "If you fool me once, shame on you. Fool me…you can't get fooled again." Heading into last season the Blue Devils were overwhelming favorites to not only win the ACC but to win the national title. Instead they bumbled to a fifth-place finish in the league and bowed out in the second round of the NCAA Tournament. So now this year I have to be skeptical about the hype surrounding their much-ballyhooed freshman class. The Blue Devils will try to do their best Kentucky impersonation this year with a five-man freshman class stocked with futures pros. That group will support real-life Marvel henchman Grayson Allen, an explosive scorer that's always a split second away from flopping, tripping an opponent, or delivering a nut shot. Duke has lost 20 games the past two seasons. That's more in a two-year span than any time since the mid-90's. So, again, until I see something beyond the soft, erratic teams of the past two seasons I will remain a skeptic.
The Challenger: North Carolina (+150)
The season hasn't even begun and the defending national champions are already the biggest victors in college basketball. North Carolina somehow, shockingly, managed to avoid penalties for the sham classes their athletes participated in after a seemingly decade-long NCAA investigation. With the stench of that inquiry off the program, the Heels can go back to just winning titles. They absolutely cannot replace Justin Jackson (although Pitt transfer Cam Johnson will try). And Joel Berry will miss the first month of the season with a broken hand suffered after a video game mishap. But once the Heels get going they will again be a factor in the ACC. This team doesn't have as much raw talent as past UNC teams. But guys like Luke Maye, Kenny Williams and Berry have the confidence and experience that comes from being the champs.
The Dark Horse: Louisville (+250)
So, Louisville is in kind of a mess. Rick Pitino is gone. The program is being investigated. Current recruits are walking sideways away from the program. But lost in all the distractions surrounding this team is the fact that they have the potential to be really, really good. Although the roster is made up primarily of freshman and sophomores, the Cardinals are stocked with length and high-end athleticism. Deng Adel and Anas Mahmoud can dominate the post, and Quentin Snider is a steady hand at the point. They also have four highly-touted freshmen on a team that can go 10-deep. But how will this team respond to the dark cloud that is hovering over the program? And how much will this team lose from not having Pitino on the sideline? This team will be one of the most interesting stories in basketball this year.
The X-Factor: Miami (+400)
Miami is another team that is trying to run from the stench of the FBI's investigation into college athletics. But, like with Louisville, any potential controversy is masking the fact that this is a potentially very good team. Miami has one of the best backcourts in the ACC with Ja'Quan Newton and Bruce Brown. They will be mentoring heralded freshman Lonnie Walker, and that trio should be good for 40-45 points per game. If the Hurricanes can get consistent production from the frontcourt, particularly Dewan Huell and Ebuka Izundu, then they will be a major player in this league title race. If they have a weakness it will be a lack of depth, though, and they lack the team-wide experience that Larranaga's best teams in Coral Gables have had.
The Disappointment: Georgia Tech (+1600)
The Yellowjackets came out of nowhere last year to win 21 games, make the NIT Finals, and score a slew of major upsets (UNC, Notre Dame, FSU, Syracuse). Now they enter this season with a level of expectation and they won't be sneaking up on anyone. With mammoth Ben Lammers Tech will generally always have the best big man on the floor. And with Josh Okogie and Tadric Jackson back the Jackets have their top three scorers returning. However, they went 16-4 at home last year and just 3-10 on the road. They have zero depth. And while they did have some nice wins last season this is also a team that lost by 30 at Syracuse, by 53 at Duke, by 23 at Tennessee and by 32 to TCU in the NIT championship game. Tech will be on everyone's radar this year, and I don't expect them to answer the challenge.
The Rest:
Florida State (+1200) - After Duke, no team in the ACC lost more talent to early entries than the Seminoles. Their top three scorers have moved on, and FSU has just one guy that averaged more than six points per game back in the fold. Leonard Hamilton always does a good job of using his whole roster - the Noles had 10 guys play at least 10 minutes per game last year - and his teams always defend. But unless someone steps up to take control of the ball handling and clutch scoring then these guys will be stuck in the middle of the league and likely miss a return trip to the NCAA Tournament.
Virginia (+800) - After four years of producing Top 5 teams, it is odd to talk about the ACC race without mentioning Virginia. But graduation and transfer has zapped this roster of needed talent and experience. Tony Bennett has done nothing but win in his coaching career, so there's no sense in doubting him, the Pack-Line Defense, or his grind-it-out system. But this team doesn't have a single pro prospect on it, and that means the ceiling for this group is pretty limited. Again, they'll still win plenty of games, and the backcourt of Kyle Guy and Nigel Johnson could be fun. But I wonder how many tickets this team will be cashing throughout the season.
Pittsburgh (+7500) - Kevin Stallings took one season to get the lay of the land in Pittsburgh. It wasn't pretty as the Panthers went just 4-14 in league play and 16-17 overall. Now the rebuilding really begins and things are going to get a hell of a lot worse before they get better. Pitt's roster has seven freshmen and three seniors that combined to average 7.9 points and 4.5 rebounds per game last year. This might be the worst team in the ACC, and they will spend this winter getting run out of many gyms.
Notre Dame (+1000) - For as amazingly overrated as the Notre Dame football team is it is amazing how underrated the Irish basketball team continues to be. They've averaged 27 wins and nine losses the past three years and were an outstanding 19-11 against the spread last season. Matt Farrell and Bonzie Colson are a solid inside-out duo an Mike Brey has some role player ready to step up. They will really miss Steve Vasturia and V.J. Beachem. But Brey's team will just keep churning out W's.
Virginia Tech (+1200) - I am a huge fan of Buzz Williams because you always know you are going to get a max effort from his teams, even if they are overmatched. With five starters back from last year's squad, talent shouldn't be the problem this year. The Hokies embraced a three-point heavy offensive approach and rode it to one of the most efficient offenses in college basketball. But size, rebounding and defense are a problem for this group. They made the NCAA Tournament last season, though, and with so much back anything less would be a massive disappointment.
Clemson (+4000) - The Tigers were one of the more disappointing teams in the ACC last season. That was due in part to some tough luck as seven of their 12 league losses came by four points or less. They lost their two best players, including do-it-all forward Jaron Blossomgame, and Brad Brownell is starting to feel the heat on his seat. Clemson will have a decent starting five. But they don't have the size to compete with the top teams and lack a guy like Blossomgame that can carry the offense. This team will be scrappy and cover some underdog numbers. But they are fodder.
North Carolina State (+7500) - The Wildcats finally got off the Mark Gottfried Roller Coaster and brought in former UNC-Wilmington coach Kevin Keatts to stabilize this floundering program. As such, it will take a year to clear out the roster and install his system, so I wouldn't expect this team to be overly competitive this season.
Wake Forest (+2500) - Danny Manning accomplished one of the main goals he set when he took over the Wake Forest job: get the Demon Deacons back to the NCAA Tournament. Now he's trying for a return trip and without the post presence of John Collins and Dinos Mitoglou it is going to be an uphill climb. Wake has a pair of three-year starters and a go-to guy in Bryant Crawford. But they have an on-again, off-again relationship with defense, and that will need to change if they want to dance again.
Syracuse (+1800) - The Orange have been one of the Top 10 basketball programs in the country for the past decade. But they head into the season with the worst roster they've had in more than 30 years. Graduation and the NBA draft stole four starters, budding star Taurean Thompson decided to transfer, and popular assistant Mike Hopkins left to take the Washington job. What is left is an underdeveloped mess. The Orange were screwed out of an NCAA Tournament bid last year. They won't have to worry about it this year.
Boston College (+6000) - Jim Christian has gone 29-67 in his three years at Boston College. It is absolutely time to start seeing some progress. And the Eagles should show some. Jerome Robinson and Ky Bowman make an outstanding backcourt, and transfer Deontae Hawkins can definitely help out. This team should be more competitive than it has been, but they are still a long way from contention.
Projected ACC Standings:
1. Duke
2. North Carolina
3. Louisville
4. Miami
5. Notre Dame
6. Virginia
7. Virginia Tech
8. Florida State
9. Wake Forest
10. Georgia Tech
12. Clemson
11. Boston College
13. Syracuse
14. North Carolina State
15. Pittsburgh
Robert Ferringo is a member of the Basketball Writer's Association of America and a professional sports handicapper for Doc's Sports. He is considered one of the best college basketball handicappers in the country and has an unrivaled run of 10 of 11 winning nonconference seasons and 10 of 11 winning regular seasons. Robert's $100-per-Unit clients have banked $22,330 in profit with his sides and totals the last four years alone and he has raked in a remarkable $60,200 in the last 11 years with his nonconference picks (November and December) alone. There is no better moneymaker in the nation and Robert is looking forward to another amazing season. You can sign up for his college basketball picks and get more information here.
Read more articles by Robert Ferringo
---
Most Recent College Basketball Handicapping