2017 Atlantic 10 College Basketball Predictions with Conference Odds and Betting Picks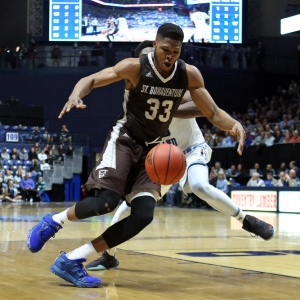 Over the past five years the Atlantic 10 Conference has surpassed the Mountain West as the best mid-major basketball league in the country. The Atlantic 10 has sent at least three teams to the NCAA Tournament for 10 straight years, including back-to-back seasons with five teams in The Big Dance in 2013 and 2014. And while the A-10 will be hard-pressed to match their now expected three bids this season, there are still a lot of excellent players and coaches toiling in this oft-overlooked conference.
Perhaps the best thing about betting on Atlantic 10 basketball is the variety. There are 14 teams in this league, making it one of the largest in the country. And among those 14 programs are a lot of well-known schools with rich histories and defined playing styles.
Free $60 in Member MLB Picks No Obligation Click Here
There is the up-tempo, pressing style of VCU and the fast-paced attack of UMass. The rugged, grinding style of St. Joseph's, Dayton and George Washington. Not to mention the Princeton offense of Richmond and the European style of Davidson.
Add it all together and you get one of the more unique leagues in the nation. And with last year's top three teams - Dayton, VCU and Rhode Island - each suffering a slew of key personnel losses, this should make the A-10 a free-for-all this winter. The league has had a different regular-season champion each of the past four years. I feel extremely confident that they will make it 5-for-5 with a new champ this season as well.
Here are Doc's Sports 2017-18 Atlantic-10 Conference basketball predictions and Atlantic 10 basketball preseason rankings (with odds to win the conference title in parentheses):
The Favorite: Rhode Island Rams (+105)
Rhode Island didn't just make the NCAA Tournament last year, they won a game (Creighton) and threw a pretty healthy scare into eventual Final Four participant Oregon. The Rams have five of their top seven players back from that team and should have their sights set a little higher. Health will continue to be an X-factor for a team that's dealt with a lot of injuries the past three seasons. And Rhode Island has to find some answers in the post. The two guys they lost were their only two forwards, and the Rams do not have any experience - and not a lot of talent - to throw in down low.
The Challenger: VCU Rams (+175)
The Rams seem to be the start button for the coaching carousel each year. And despite being one of the most successful mid-major programs in the country, VCU is on its fifth coach in 13 seasons this year as Mike Rhoades, erstwhile of Rice, takes over. Rhoades will continue the pressing, trapping, "Havoc" style that the Rams are known for. But he's going to be doing it without the overwhelming majority of last year's production. VCU lost six of its top nine guys, including its two best players in JeQuan Lewis and Mo Alie-Cox. Throw in a new coaching staff, and there is a lot more uncertainty than we are used to dealing with at a program that has made seven straight NCAA Tournaments. Tread lightly.
The Dark Horse: St. Joseph's Hawks (+450)
Phil Martelli does not stay down for long. He's had just five losing seasons, including last year, in his 22 seasons at the helm in Philadelphia. He came back to win 20 or more games three times after the previous four losing seasons, twice taking his team to the second round of the NCAA Tournament. This year looks like he'll make it four of five. A rash of injuries contributed to last year's 11-20 debacle. But now Martelli welcomes back four players that averaged 13 or more points last year. They have bodies in the post to support a potentially killer backcourt, and if everyone stays healthy this team could absolutely win the A-10.
The X-Factor: St. Bonaventure Bonnies (+400)
Jaylen Adams (20.6 points per game) and Matt Mobley (18.5) make up a dynamic backcourt duo that is the envy of just about every mid-major team in the country. The pair of seniors helped lead St. Bonaventure to back-to-back 20-win seasons for the first time in 40 years and now have the Bonnies thinking about The Big Dance. The key will be the development of big men Josh Ayeni, Amadi Ikpeze and Ndene Gueye. If that trio can replace the 20 points and 11 rebounds they lost from the post to graduation, and if oft-injured Courtney Stockard can give them something, then this team will be a real threat to earn its way back to the NCAA Tournament.
The Disappointment: Dayton Flyers (+800)
The Flyers didn't deserve to end the season the way that they did, losing their final three games - the conference finale, first game of the A-10 tournament, and first game of the NCAA Tournament - and bowing out unceremoniously. Last year's team was excellent. But new head coach Anthony Grant is set to take over a pretty bare cupboard and one of the youngest teams in the country. Grant is also going to be shifting Dayton's style of play from a methodical, half-court attack to his preferred full-court pressure approach. I don't expect the transition to go all that smoothly. Grant is a good coach that had a lot of success at VCU. He will get back there. But Dayton lost too much talent and experience to make such a sea change without plenty of bumps and bruises.
The Rest:
Davidson (+850) - The Wildcats lost one of the best scorers and highest-usage players in the country in Jack Gibbs. Davidson barely finished above .500 with Gibbs last year, so I'm a little skeptical about their ceiling without him. Bob McKillop does have four starters back and the Wildcats still have uber-efficient Peyton Aldridge, so they do have some things working in their favor. But if the Wildcats don't improve defensively then it could be another disappointing season.
St. Louis (+1800) - Travis Ford was a dud at Oklahoma State. But he found solid ground in St. Louis. And after an ugly transitional campaign he should be ready to show some improvement in Year 2. He'd better, because the Billikens were one of the most painful teams in the country to watch last year, finishing No. 348 in the country in scoring. Help is on the way in the form of six key high-major transfers that will provide a significant talent infusion. If Jermaine Bishop can come back healthy and Davell Roby can improve then I suspect the Bills could end up as a team no one wants to face down the stretch.
Richmond(+2200) - You can't really overstate the losses of seniors T.J. Cline and ShawnDre Jones for this team. The pair averaged over 35 points and nearly 10 assists per game in Chris Mooney's Princeton offense and they took just about every big shot that presented itself the past two seasons. Mooney isn't exactly starting from scratch. De'Monte Buckingham and Khwan Fore show the makings of an excellent backcourt. But Richmond will take a step back this season in the hopes of being a factor in 2018-19.
LaSalle (+3000) - The Explorers scratched the surface of their potential last year with a 5-1 start in league play and a huge upset on the road against Rhode Island. But, as usual, John Giannini squandered his talent and LaSalle flopped to a 4-10 finish. Giannini once again has some nice pieces, especially Syracuse transfer B.J. Johnson, who busted out for 17.6 points per game last year. But I'm certain he will screw it up and LaSalle will once again likely be nothing more than fodder for the real programs in this league.
George Mason (+4000) - Dave Paulsen has spent his first two years in Fairfax trying to repair the damage that former coach Paul Hewitt did to the program. Paulsen nearly doubled his win total from Year 1 to Year 2 with Hewitt's guys. But now Paulsen is stocking the cupboard with his own recruits and starts the season with a roster that includes zero seniors and 10 freshmen and sophomores. Diminutive point guard Otis Livingston is worth watching. But unless Paulsen hits on a lot of these recruits not much else will be for the Patriots this season.
George Washington (+5000) - It's been a rough couple years for the Colonels program, which had quietly reasserted itself among the A-10's top tier. But last year's interim coach, Maurice Joseph, was hired on full time and will attempt to keep the ship afloat without stud forward Tyler Cavanaugh. GW does have a future pro (likely overseas) to build around in Yuta Watanabe. But Watanabe is the only starter back from last year's middling bunch and, much like George Mason, Joseph finds himself with an underclassmen dominated roster (nine freshmen and sophomores). Joseph's second year won't go as well as his first.
Fordham (+10000) - Jeff Neubauer, formerly of Eastern Kentucky, is a good coach with a proven system. But it is going to take some time to resurrect this moribund program. Neubauer lost three of his four best players from last year's team and has a choppy roster that lacks size, depth, talent and experience. Other than that, everything is fine for this A-10 bottom feeder.
Duquesne (+10000) - The Dukes somehow scored a major coup with the offseason hiring of ex-Akron coach Keith Dambrot. Dambrot averaged 23.5 wins per season in 13 years at Akron and is known for fielding deep, well-balanced teams. He doesn't have anything to work with, and I'm sure he will spend this season just clearing the decks and installing his system. But Dambrot is a program-builder, and I suspect he will get the Dukes pointed in the right direction sooner rather than later.
Massachusetts (+6000) - UMass is one of the most recognizable brands in the Atlantic 10, and this league really needs this program to be good. Enter Matt McCall. The former Florida assistant under Billy Donovan and Chattanooga head coach is, at 35, one of the younger coaches in college basketball. And he will lead an improvement from the undisciplined Derek Kellogg regime. McCall has a nice inside-out duo with Luwane Pipkins and Rashaan Holloway. But there really isn't anything else to get excited about with this group. Not yet.
Projected Atlantic 10 Conference Standings:
1. Rhode Island
2. St. Joseph's
3. St. Bonaventure
4. VCU
5. Davidson
6. St. Louis
7. Richmond
8. LaSalle
9. Dayton
10. George Washington
11. George Mason
12. Massachusetts
13. Fordham
14. Duquesne
Robert Ferringo is a member of the Basketball Writer's Association of America and a professional sports handicapper for Doc's Sports. He is considered one of the best college basketball handicappers in the country and has an unrivaled run of10of 11 winning nonconference seasons and 10of 11 winning regular seasons. Robert's $100-per-Unit clients have banked $22,330 in profit with his sides and totals the last four years alone and he has raked in a remarkable $60,200 in the last 11 years with his nonconference picks (November and December) alone. There is no better moneymaker in the nation and Robert is looking forward to another amazing season. You can sign up for his college basketball picks and get more information here .
Read more articles by Robert Ferringo