2017 Big 12 College Basketball Predictions with Conference Odds and Betting Picks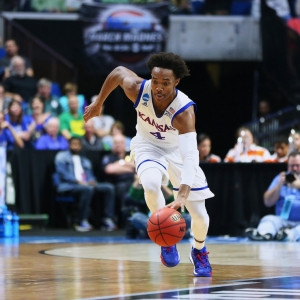 Gravity. The sun rising in the east. Kansas winning the Big 12 Championship.
It is nice that in a chaotic world there is still some semblance of certainty. And Kansas provides that by continually dominating one of the best conferences in college basketball. This isn't Kentucky owning the feeble SEC or Gonzaga crushing the comical WCC. Kansas is playing in a leag ue that routinely sends at least half of its members to the NCAA Tournament, and the Jayhawks often leave little doubt as to who is the dominating force in Midwest hoops.
Will THIS be the year that someone knocks Kansas off its perch? It's doubtful. And I know I'm not betting on it. The Big 12 won't be as strong this year as last, when six of 10 squads made The Big Dance and a seventh rolled through the NIT.
There are definitely contenders in the Big 12 this season. West Virginia is always rough and ready. And Baylor, Texas and TCU are all stocked with athleticism and experience. But then again there are always contenders and they always get tossed to the side by the Jayhawks. I really don't see this Kansas team as any more vulnerable than any of the past versions. And the Jayhawks are an overwhelming favorite to win their 14th straight regular-season conference title.
Here are Doc's Sports 2017 Big 12 Conference basketball predictions and Big 12 basketball rankings (with odds to win the conference title in parentheses):
The Favorite: Kansas (-300)
What's left to say? The Jayhawks went 31-5 last season, lost the national player of the year as well as a Top 5 pick, and could end up being even better. Because why not? All Bill Self does is reload this powerhouse every…single…year. And he's done so again. Three-year starter Devonte Graham is the new go-to guy. And he'll be supported by slick transfer Malik Newman, who is outstanding. Erratic wing Svi Mykhailiuk is an x-factor for this team. But my expectations are low; I've seen enough to know he's pretty much a mess. The key may be McDonald's All-American Billy Preston, a 6-foot-10 center that could be a one-and-done player. Freshmen posts haven't exactly thrived at Kansas. But he's one of a very limited number of big men on the Jayhawks, and that lack of size could be a weakness for this group.
The Challenger: West Virginia (+250)
This team will play some of the ugliest basketball games you'll ever see - the image of their 51-50 slog with Kansas State in the Big 12 Tournament is seared into my brain - but they are hard as iron and one of the toughest outs in the country. Bob Huggins has a great system predicated on constant full-court pressure. The key is point guard Jevon Carter, a tenacious defender and capable scorer. Daxter Miles and Esa Ahmad join him as three-year starters, and that's really it in terms of experience or proven production. Huggins will have ready replacements for the grinders he's lost to graduation. And any injury could submarine this group. But as long as Huggy and Carter are running the show then they are Kansas' fiercest challenger.
The Dark Horse: Baylor (+500)
Scott Drew has built one of the most stable and consistent programs in the Big 12. They've been ranked at some point in 10 straight seasons, peaking with the school's first No. 1 ranking last year, and they're starting this season at No. 24. Drew's persistent 2-3 zone and his team's commitment to pounding the offensive glass have been keys to their success. But the Bears haven't lacked talent, either. And this year veterans Manu Lecomte and Jo Lual-Acuil will be tasked with shepherding this team. As usual, Drew will rely on a cast of role players to step forward and keep this team competitive. Depth is an issue. But length, athleticism and a proven track record are still strengths.
The X-Factor: Texas (+600)
Shaka Smart has had a shaky couple of seasons in Austin. He underachieved with mismatched personnel his first year. Last year's struggle was predictable, but the off-court issues that infected the team were a surprise. Smart is going to start feeling the pressure if Year 3 isn't a marked improvement. Fortunately he has three decent guards (Andrew Jones, Eric Davis, and Kerwin Roach) and a five-man recruiting class featuring the No. 2 rated freshman in the country (Mohamed Bamba). If Texas wants to contend then Smart will have to tap into some of the high-end athleticism he has on his bench. If he can harness the talent on this roster the Longhorns should have a big bounce-back year. If not, things could go off the rails quickly.
The Disappointment: Iowa State (+800)
Now we get to see what Steve Prohm is really all about. Prohm has reaped the benefits of Fred Hoiberg's talent the past two seasons. But five of Iowa State's six best players have moved on, and Prohm is left to completely restock the shelves. He's brought in several transfers, a scheme that's been successful for Iowa State in recent years. But way too much talent and experience has walked out the door for me to expect the Cyclones to maintain their level of success. Transfers can be hit or miss, especially when they are moving up in class like ISU's three grad transfers are. And there is no one from within the program that can pass the culture on. This year's team will continue to play Iowa State's run-and-gun style. But they won't do so nearly as effectively.
The Rest:
TCU (+850) - It was only a matter of time before Jamie Dixon got things cooking in Fort Worth. The guy can flat-out coach. And he stepped into a great situation with a veteran TCU squad on the up-and-up. Now we will see if Dixon and the Horned Frogs can build on last year's NIT title and secure the school's first NCAA Tournament appearance since 1996. I absolutely think they will thanks to the return of all five starters and their best bench player. Point guard Alex Robinson and center Vladimir Brodzianksky lead the way. And grad transfer Ahmed Hamdy could be a valuable addition in the post. But if this team wants to take the next step - and keep cashing tickets - they need to reduce their turnovers and get better at the free throw line.
Oklahoma State (+3000) - I actually feel bad for the Cowboys for the way that Brad Underwood played them. Underwood took over in Stillwater, completely retooled the program, and then split to take the Illinois job after just one tantalizing season. Rather than overhaul the program again, OSU promoted one of Underwood's assistants in order to keep the fast-paced, full-court blitz style going. The biggest problem for new coach Mike Boynton won't be filling Underwood's shoes. It will be the Cowboys' lack of talent and experience. Jeff Carroll will do what he can. But there are only three or four guys on this team that we know can play, and their high-octane system needs twice as many able bodies to be effective.
Oklahoma (+1500) - Lon Kruger won't stay down long. Kruger suffered through a rebuilding season last year. But he used that time to polish some gems. He now has four starters, two key bench players, one of the top freshmen in the country and a JUCO All-American at his disposal. I expect the bounce back to be swift and pronounced as long as everyone stays healthy and keeps improving.
Texas Tech (+2500) - Texas Tech turned competitive last year. Now they are looking to take the next step and make it back to the NCAA Tournament. Chris Beard has four three-year starters on the roster, including leading scorer Keenan Evans and high-flying forward Zach Smith. The Red Raiders also add transfer Tommy Hamilton, a former three-year starter at DePaul. If Hamilton can match the impact that departed Anthony Livingston provided, and if any of the newcomers can contribute right away, then the Red Raiders are potent enough to play their way into the NCAA Tournament conversation.
Kansas State (+4000) - Bruce Weber managed to save his job - for now - with a 21-win season and a completely undeserved NCAA Tournament appearance (thanks to the nation's No. 305 nonconference schedule). Now he'll try to stave off the pitchforks again with a Wildcats team that is decidedly more guard-oriented than his past iterations. K-State doesn't have a senior. And they don't have any NBA prospects. So this season could be a step back before a potential step forward next season.
Projected Big 12 Standings
1. Kansas
2. West Virginia
3. Baylor
4. TCU
5. Texas
6. Oklahoma
7. Texas Tech
8. Kansas State
9. Iowa State
10. Oklahoma State
Robert Ferringo is a member of the Basketball Writer's Association of America and a professional sports handicapper for Doc's Sports. He is considered one of the best college basketball handicappers in the country and has an unrivaled run of 10 of 11 winning nonconference seasons and 10 of 11 winning regular seasons. Robert's $100-per-Unit clients have banked $22,330 in profit with his sides and totals the last four years alone and he has raked in a remarkable $60,200 in the last 11 years with his nonconference picks (November and December) alone. There is no better moneymaker in the nation and Robert is looking forward to another amazing season. You can sign up for his college basketball picks and get more information here.
Read more articles by Robert Ferringo