2017 Big East College Basketball Predictions with Conference Odds and Betting Picks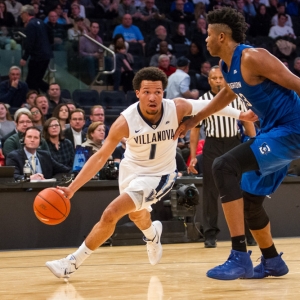 In terms of college basketball handicapping, the Big East Conference is one of the most difficult in the sport to make picks and predictions for. And the reason is simple: these teams are all really, really good.
Much like the Big 12, the smaller size of the Big East (10 teams) compared to leagues like the ACC (15), Big Ten (14) and SEC (14) means that there are fewer "tiers", less bottom feeders and easy wins, and thus more parity throughout the league.
Last year, for instance, the Big East had an amazing seven of their 10 teams make it to the NCAA Tournament, including No. 1 seed Villanova. In the league standings four teams tied for third place. That's notable, but not exceptional. But what is exceptional is that the team that finished behind that group, in seventh place, advanced to the Elite Eight in the NCAA Tournament.
The Big East is stacked again this year and has three teams - Villanova, Xavier and Seton Hall - with Final Four potential. The league should once again send at least half of its members to the NCAA Tournament and will once again be one of the most challenging corners of the college basketball world
Here are Doc's Sports 2016-17 Big East Conference college basketball predictions (with odds to win the conference title in parentheses):
The Favorite: Villanova (-150)
The Wildcats are just 19 months removed from their most recent national championship and have been either a No. 1 or No. 2 seed in the NCAA Tournament for four straight seasons. Can Jay Wright keep it going? Nova will have to replace All-American Josh Hart and do-everything forward Kris Jenkins. But Wright still has stellar point guard Jalen Brunson and several role players (Mikal Bridges, Donte DiVincenzo) ready to step up. However, this team lacks the depth and athleticism that recent Villanova teams have harbored. And there isn't a senior on the roster so they are lacking in experience. Villanova will definitely struggle at the window this season. They won't be nearly as dominant and the books will have jacked up the spreads on a team that's gone an outstanding 86-54 (61 percent) against the spread over the past four years. But they are still the clear favorites to win their fifth title until someone else shows they have the moxie to knock them off the throne.
The Challenger: Xavier (+200)
Don't mess with the X. At first glace Xavier's seventh-place finish in the Big East last year looks like a disappointment. But considering the talent they lost, the injuries they suffered, and the talent in the conference it was actually an excellent year. Now Xavier is ready to make a move to unseat Villanova. Senior guards Trevon Bluiett and J.P. Macura are as good as it gets. And they are backed by a burly frontcourt that does all the dirty work. Xavier made it to the Elite Eight last year. And they could get back there if top freshmen Paul Scruggs and Naji Marshall can make an immediate impact.
The Dark Horse: Seton Hall (+250)
After a nine-year drought, Seton Hall has made it to back-to-back NCAA tournaments, losing in the first round each year. But now the Pirates, with three four-year starters in Angel Delgado, Desi Rodriguez and Khadeen Carrington, are primed for a much deeper run. One of the best rebounding teams in college basketball, the Pirates can beat teams on both ends of the floor. And the key will be sophomore Myles Powell, a highly-rated recruit that played well as a freshman. If Powell can find the next level - and he has all the tools - then Seton Hall could be playing deep into the second weekend of the tournament.
The X-Factor: Providence (+500)
For two straight years I have predicted a down season for the Friars. And for two straight years I have been dead wrong. So I'm done swimming against the tide. The fact that this team isn't in the preseason Top 25 tells me that they are still woefully underrated. They brought back their top eight scorers from last year's tourney squad and added a pair of Top 100 freshmen. The Friars have a load of experience and the size and versatility to match up with any team in the country. They will once again be a tough out.
The Disappointment: Marquette (+1200)
Steve Wojciechowski had a bit of a breakthrough season last year, guiding the Golden Eagles back to the NCAA Tournament for the first time in four years. But a lot of the veteran firepower and depth from that team has moved on. Marquette still has five solid players back from their nine-man rotation. But the bench is depleted and they have to replace three double-digit scorers. I like Wojo. But he hasn't shown me much in terms of his in-game strategizing. He'll have to step his game up to coax something out of this undermanned group, and I don't know that it will happen in this loaded conference.
The Rest:
Butler (+800) - Once Chris Holtman bolted for Ohio State, that ensured that Butler would have its fourth head coach in five years. LaVall Jordan's 11-24 career mark doesn't inspire much confidence. And he's taking over a roster that lost four of its best players. So I am more than a little skeptical of the bulldogs this year. Kelan Martin gives them a high-volume scorer. And I think Kamar Baldwin has the potential to be special. But that's really it. The rest of the team is basically freshmen and sophomores that are as unproven as Jordan himself.
Creighton (+1000) - Greg McDermott is one of the best coaches in college basketball. So even though he lost studs like Maurice Watson, Justin Patton and Cole Huff, I still expect McDermott to field a team that is in the mix for the league title. Marcus Foster is a big-time scorer, and veterans Toby Hegner and Khyri Thomas are perfect compliments. Kaleb Joseph could be Creighton's next high-impact transfer, and McDermott brought in three big-time recruits. There is a nice blend of youth, experience and talent on this squad, and they should be back in the Top 25 before too long.
St. John's (+1800) - Given absolutely nothing to work with when he took over, Chris Mullin has done an outstanding job turning this Red Storm program around. For the first time in a long time this team enters the season brimming with optimism. And that's due in no small part to their incredible backcourt duo of sophomores Shamorie Ponds and Marcus LoVett. They combined for 33 points and seven rebounds last year. Add in swingman Bashir Ahmed (13.4 and 5.5) and transfer Marvin Clark (Michigan State), and the Red Storm are in business. This is going to be an exciting, and dangerous, team to watch and bet on all year.
DePaul (+8000) - Dave Leitao has posted nine wins in each of his first two seasons in his second tour with the Blue Demons. Now it's time to see some progress. With four starters and a key grad transfer, Marin Maric, back in Chicago, the Blue Demons at least have a foundation to build on. But maybe the best news for Leitao is that he'll only be relying on three seniors. These guys are still headed for the Big East basement. But I think they will be a decent ATS underdog this year as the team improves, slightly.
Georgetown (+4000) - Patrick Ewing's return to the Hoyas as a head coach will bring with it a lot of goodwill. And he'll need all of it because this team is going to be horrendous. Their best perimeter scorer could end up being a transfer - from South Dakota. Ewing has 15 years of NBA assistant coaching experience, so he isn't a newbie. But this is his first college job, and he has a long, long way to go to restore this program to its former glory.
Projected Big East Standings
1. Villanova
2. Xavier
3. Seton Hall
4. Providence
5. Creighton
6. St. John's
7. Butler
8. Marquette
9. DePaul
10. Georgetown
Robert Ferringo is a member of the Basketball Writer's Association of America and a professional sports handicapper for Doc's Sports. He is considered one of the best college basketball handicappers in the country and has an unrivaled run of 10 of 11 winning nonconference seasons and 10 of 11 winning regular seasons. Robert's $100-per-Unit clients have banked $22,330 in profit with his sides and totals the last four years alone and he has raked in a remarkable $60,200 in the last 11 years with his nonconference picks (November and December) alone. There is no better moneymaker in the nation and Robert is looking forward to another amazing season. You can sign up for his college basketball picks and get more information here.
Read more articles by Robert Ferringo