2017 Big Ten College Basketball Predictions with Conference Odds and Betting Picks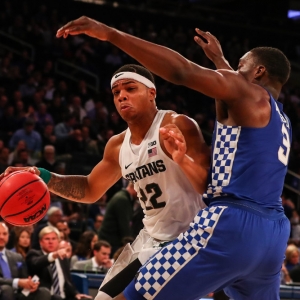 I'm not going to beat around the bush: the Big Ten is going to be awful this year.
Big Ten basketball is usually one of the most popular arenas for college basketball bettors to ply their trades each season. The combination of well-known programs, nationally-televised games, and ample line value has made this conference, after the ACC, one of the most wagered on l eagues in the country each winter.
But I'm going to repeat my warning: Big Ten basketball is going to be pretty gross this year, and it could be a potential minefield for gamblers all season long.
Free $60 in Member MLB Picks No Obligation Click Here
Graduation, coaching changes, and an overall talent depression at major programs means that the Big Ten is going to be one of the worst of the Big Six conferences this season. Michigan State and Purdue will enter the year as true Final Four contenders. But beyond two or three other decent squads the league is set to suffer through a transitional period as new staffs and a host of new recruits look to rebuild one of the toughest leagues in the business.
Here are Doc's Sports 2017Big Ten basketball predictions and Big Ten basketball rankings (with Robert's projected odds to win the conference title in parentheses):
The Favorite: Michigan State (+125)
Miles Bridges is an absolute beast. His decision to forgo the NBA draft completely altered the landscape of both the Big Ten and the national titleraces. Bridges is a one-man gang that happens to be supported by a solid roster of crack Tom Izzo recruits. Bridges, a double-double machine that reminds me of a bigger, left-handed Paul Pierce, can't do it all by himself. So MSU's ceiling will be determined by how much help he gets from Nick Ward, Josh Langford and Tum Tum Nairn. Gavin Schilling, in my opinion, is the second-most important player on this roster. And if Tom Izzo can juggle these pieces appropriately, and if Bridges can get some support, then he could have his next Final Four squad.
The Challenger: Purdue (+150)
Caleb Swanigan took his 19 points and 13 rebounds per game to the NBA. But he left behind a deep, talented, experienced Boilermaker team that is going to be one of the toughest outs in the Big Ten. Purdue won the Big Ten regular-season title last season and welcomes back three starters and six of its top seven players. Isaac Haas is an underrated center and one the best post players in the nation. And guys like Vince Edwards, Dakota Mathias, Ryan Cline and P.J. Thompson have built careers supporting him from the perimeter. This team has the size, shooting and experience to own the Big Ten. And if Michigan State can't fulfill the hype then this is the group that is going to plant its flag.
The Dark Horse: Minnesota (+250)
I know: I can't believe it either. Two years ago the Golden Gophers were an afterthought. Now they are one of the best teams in the Big Ten. Dick Pitino, the son of a disgraced legend, has actually done an impressive job of building a solid top-to-bottom roster. It starts in the backcourt with ringleader Nate Mason, a three-year starter, and athletic Dupree McBrayer. But the key to this team is dominating center duo of Reggie Lynch and Bakary Konate. They combine for five blocked shots per game and anchor a defense that was No. 16 in the nation in field goal percentage allowed. The Gophers have all five starters and seven of their top eight players back from last season. They are absolutely for real and should be taken very seriously.
The X-Factor: Northwestern (+450)
What do you do when you are the first squad in school history to make the NCAA Tournament and you bring back all five starters? You do it all again, naturally. The Wildcats aren't a charity case or a novelty anymore; these guys are legit. Bryant McIntosh is a four-year starter, and both Vic Law and Scottie Lindsay are potential pros (in Europe). Isiah Brown was one of the best freshmen in the Big Ten last year - and yes, that includes the Michigan State trio. Add in a solid, if unspectacular, post trio of Derek Pardon, Aaron Falzon and Gavin Skelly, and Northwestern has all the makings of a team set for a deep March run.
The Disappointment: Wisconsin (+500)
Several years ago I made a pact: never bet against a Bo Ryan team. But guess what: this isn't a Bo Ryan team. Not any more. Ryan has been gone for two years. And now Greg Gard finally has to work without Ryan's recruits. The Badgers still have overrated Ethan Happ to lean on. And I think D'mitrik Trice has a load of potential. But Wisconsin has bid farewell to a load of talent and experience. And until I see how Gard handles a rebuilding year, I will be skeptical of this group.
The Rest:
Indiana (+1200) - The Hoosiers made a daring offseason move to fire beleaguered Tom Crean and hire Archie Miller, with the hope that the former Dayton leader can return Indiana to its former glory. He may. But not this year. IU lost a plethora of talent. And it will take their hodgepodge roster at least a season to adapt to Miller's grinding defensive style. The Hoosiers will be tough to peg this season. But I don't think they will be very good. And things will get uglier in Bloomington before they get better.
Ohio State (+3000) - Former Butler coach Chris Holtman assumes the position with an Ohio State program that got stuck in neutral over the past two seasons. Holtman doesn't inherit much talent or experience, so this should serve as a rebuilding season.
Illinois(+5000) - Last year Brad Underwood's Oklahoma State squad was one of my biggest betting moneymakers. His full-court, full-throttle style fit perfectly with OSU's talent, and Underwood led the Cowboys to the NCAA Tournament. Can he do the same with the Illini? No. Absolutely not this year. Illinois lost five of the top six guys from a bad team. So Underwood will spend this season clearing the decks and installing his system. It should make for some ugly nights in Champagne. But that won't be anything new for an Illinois program that hasn't gone dancing in five years.
Iowa (+2500) - Last year Peter Jok was the best player in college basketball that no one ever heard of. The man was an animal, carrying one of the youngest rosters in the country onto the NCAA Tournament bubble. This year we'll see how much his disciples learned. Iowa started three freshman and a sophomore last season, with a sophomore and another freshman off the bench. They're all back. Now this season becomes a referendum on both Fran McCaffery's recruiting acumen and his system. Spoiler alert: I like ol' Fran.
Michigan (+2500) - Last year proved yet again that you can never count out a John Beilein-coached team. That said, I am immediately going to count out Michigan this year. The Wolverines, honestly, stink. Last year they overachieved thanks to a shockingly effective year from Derrick Walton and the late growth of D.J. Wilson. This year's team is built around overrated Moritz Wagner, Duncan Robinson and transfer Jaaron Simmons. Sorry if that doesn't get me excited. Michigan went 16-16 just two years ago. And I think that team was better than this one, so bet accordingly.
Maryland (+2500) - The Terps were the biggest overachievers in the country last season. Now I expect them to pay the piper. Thanks to Melo Trimble's heroics, Maryland started last season 20-2 and found themselves in the Top 10. They were never one of the best 10 teams in the country, though, and were exposed during a 4-7 finish, including one-and-done appearances in the Big Ten and NCAA Tournaments. I love Kevin Huerter, a do-it-all 6-7 wing. But the Terps are underwhelming in the backcourt and post around him. This team has a young core. And next season they could be set to make a move. But this winter the Terps won't be anything more than an impediment.
Nebraska (+10000) - Wait, wait, wait: what happened to all the love for Tim Miles? I have never been a big fan of Coach Miles' work. But after one fluke 2014 NCAA Tournament bid the locals (and the general college basketball betting public) all jumped on the Miles bandwagon. The Huskers have sucked in the three years since. And they are going to suck again this year. Miles' only hope is that a pair of transfers, Isaac Copeland (Georgetown) and James Palmer (Miami) step in and have a drastic impact. And they have the physical talent to do so. If that happens, Nebraska might not finish last in the Big Ten. If it doesn't, then once again Miles is going to be the smiling clown driving the ice cream van over the cliff.
Penn State (+8000) - Pat Champers has consistently fielded tough, scrappy, overachieving squads in the third tier of the Big Ten. But this season he may have his best roster yet. The Nittany Lions have five starters back with just one senior on the roster, so they have plenty of upside and room to grow. This is a team that I expect to come shooting out of the gates. Depth and effort won't be their issues. Shooting will be. If the Nittany Lions improve last year's shaky offense then they can make some leaps in the standings. If not, Chambers might not be around much longer.
Rutgers (+20000) - At first glance, Rutgers' 15-18 season was a serious improvement from the seven wins they posted in 2015-16. However, the Scarlet Knights played one of the worst schedules in the nation last year. So bringing back four starters from a team that went 3-15 in Big Ten play gets less impressive the more you look. These guys stink until they prove that they don't. And we've been waiting for them to prove that for about 30 years.
Projected Big Ten Standings:
1. Michigan State
2. Purdue
3. Minnesota
4. Northwestern
5. Iowa
6. Michigan
7. Maryland
8. Wisconsin
9. Penn State
10. Indiana
11. Ohio State
12. Illinois
13. Nebraska
14. Rutgers
Robert Ferringo is a member of the Basketball Writer's Association of America and a professional sports handicapper for Doc's Sports. He is considered one of the best college basketball handicappers in the country and has an unrivaled run of 10 of 11 winning nonconference seasons and 10 of 11 winning regular seasons. Robert's $100-per-Unit clients have banked $22,330 in profit with his sides and totals the last four years alone and he has raked in a remarkable $60,200 in the last 11 years with his nonconference picks (November and December) alone. There is no better moneymaker in the nation and Robert is looking forward to another amazing season. You can sign up for his college basketball picks and get more information here.
Read more articles by Robert Ferringo