2017 NCAA Tournament Field Projections and Predictions for March Madness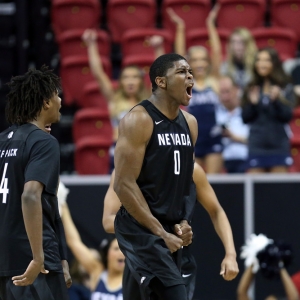 Welcome to college basketball.
Selection Sunday is March 12, and the NCAA Tournament begins with the play-in games set for Tuesday, March 14, in Dayton. The first round begins on Thursday, March 16, and the Final Four will take place on April 1 in Phoenix.
I know that "bubble speculation" is one of the most hyped up, annoying, and integral parts of the NCAA Tournament season. Speculating about who will make the field is a cottage industry (and the genesis of articles like this one). However, by my count the bubble field is pretty shallow right now.
Below I've listed the teams that are already in the field as well as those that reside on the proverbial "bubble". By my count the NCAA Tournament field already has 49 slots guaranteed. That includes the 22 conferences that are one-bid leagues - like the Big Sky and MAC - as well as the 27 teams that are locks for the field (teams like Kansas and Kentucky).
Below I have 25 teams listed as what I consider pure "bubble" teams. These are the squads that will be battling for the remaining 19 slots. I'm pretty generous with my "bubble" determination. And by my research only six of the teams that I have listed on this page are going to be left out of the tournament.
Nevada (Mountain West), Middle Tennessee (CUSA) and Wichita State (MVC) are all the clear front-runners from their respective conferences. And I expect each of their leagues to receive only one bid. However, if all three finish strong (losing no more than one regular-season game and advancing to their league tournament championship game) they are three more teams that would be added to the bubble field.
Further, there is another group of eight teams from major conferences - Wake Forest, Clemson, Oklahoma State, Ohio State, Georgetown, Michigan State, Colorado, and Auburn - that have an infinitesimal chance at making the NCAA Tournament. Any of these teams would essentially have to win either all or all but one of their remaining games and make a run in their conference tournament. The odds of any of these seven teams making the field are no more than five percent, but I suppose all seven are still mathematically alive. So there you go.
Here are myfull 2016-2017 NCAA tournament projections, version 2.0:
* = Projected tournament team
# = Primary teams competing for finalsix at-large bids
American Athletic (Projected Teams: 2)
Locks: Cincinnati*, SMU*
Bubble: Houston, Memphis
Skinny: Houston and Memphis are each going to find themselves among the last few teams sweating out Selection Sunday. They both have the same problem: it's not that they aren't good enough to make the field but that they don't have enough opportunities to prove it in the final month of the year. Both teams get a crack at Cincinnati and SMU, and these teams have their second meeting on Feb. 26 at Memphis. If the Tigers win that game then it would give them a season sweep. Add in a road win at either Cincinnati or SMU, along with a deep conference tournament run, and Memphis could play their way in. Houston would likely need to sweep all three of those marquee games to earn a bid.
Atlantic-10 (Projected Teams: 3)
Locks: Dayton*
Bubble: VCU*, Rhode Island*
Skinny: VCU has enough respect and name recognition, on top of the 24 regular-season wins they are likely to get, to garner inclusion. They need to avoid going in the tank down the stretch, though, and way-to-close, last-second wins over St. Bonaventure (overtime) and George Washington (amazingly lucky) are a bad sign. Rhode Island is the more interesting case. They have what may be a must-win game at home on Friday against Dayton. They also have home games against VCU and Davidson. If they win all three, and avoid more than one slip-up on the road, their metrics will likely be good enough to find the field. If they go 5-2 down the stretch (which I project) then they may need at least two wins in the A-10 Tournament. The Rams will likely be stressing Selection Sunday regardless.
ACC (Projected Teams: 9)
Locks: Virginia*, Duke*, Notre Dame*, Louisville*, North Carolina*, Florida State*
Bubble : Miami*, Virginia Tech*, Syracuse*, Georgia Tech, Clemson
Skinny: These teams are going to cannibalize each other down the stretch. However, the advantage that this league has is that it has become a statistical echo chamber. Each team on the bubble has ample opportunities for good wins, even if they are just against fellow bubble teams. And even the losses aren't hurting their RPI numbers because they are coming against highly-rated opponents. Miami, Virginia Tech, Georgia Tech and Syracuse all did exactly squat in the nonconference. But they have marquee wins over Top 10 opponents in league play, and their November-December failures are being glossed over by their recent efforts. It's not fair to the little guys. But that's capitalism.
Big 12 (Projected Teams: 7)
Locks: Kansas*, Baylor*, West Virginia*
Bubble : TCU*, Texas Tech*, Iowa State*, Kansas State*
Skinny: Iowa State and Kansas State are both a little wobbly. And if Iowa State hadn't negotiated that thrilling comeback win at Kansas they would be on the outside of the bubble looking in. However, much like the ACC, the teams in the Big 12 are cannibalizing one another without much consequence. As long as ISU and KSU simply avoid a collapse (they both need to go at least 3-4 down the stretch) they should be OK. The more interesting cases belong to TCU and Texas Tech. Both teams played comically easy nonconference schedules. (Texas Tech's nonconference strength of schedule is dead last in the country at No. 351.) But both of them have a chance to pad their resumes with some marquee wins over the next three weeks. Much like Houston and Memphis, TCU and Texas Tech will likely be holding their collective breath when the play-in game participants are announced.
Big East (Projected Teams: 6)
Locks: Villanova*, Butler*, Creighton*, Xavier*,
Bubble : Seton Hall*, Marquette*
Skinny: Seton Hall secured back-to-back overtime wins over Georgetown and Providence to slow a 1-5 slide that has dampened their prospects. But wins over Cal and South Carolina in the nonconference should carry some weight. The Pirates have home games against Creighton, Villanova and Xavier and need to get at least one of those games to shore up their bid. Marquette already has wins over Seton Hall, Creighton and Villanova. So they simply need to secure three more regular-season victories and one win in their conference tournament to feel pretty good about their chances. Lack of a quality nonconference wins could come back to bite the Golden Eagles, and they could end up in that Memphis-Texas Tech-Utah-Rhode Island mix.
Big Ten (Projected Teams: 7)
Locks: Wisconsin*, Purdue*, Maryland*,
Bubble: Northwestern*, Minnesota*, Indiana*, Michigan*
Skinny: It is shocking to me that Michigan is, by my projections, in the field right now. This team has been trash the majority of the season. But that is how weak the end of the bubble field is this year. Nonconference wins over Marquette and SMU could be their trump cards, and the Wolverines would be one of the last teams in the field - just like last year - if they do make it. Michigan has home games against Wisconsin and Purdue coming up, and I think they need to win at least one of those. Indiana's wins over Kansas and North Carolina will be impossible to ignore as long as they can get themselves to .500 in league play. They are 5-6 with seven to play. And barring something tragic, Northwestern is going to make the field for the first time in program history. I, for one, couldn't be happier.
Missouri Valley (Projected Teams: 1)
Locks: None
Bubble: Wichita State*, Illinois State
Skinny: Wichita State has made the NCAA Tournament five straight seasons, and the Missouri Valley has finagled two bids (one automatic, one at-large) three times in the last five years. So it is odd to think that they could be left out of the field if they don't win the conference tournament. However, they don't have any good nonconference wins and the MVC is not particularly strong this season. Illinois State is in a similar boat in that they are definitely good enough to be in the Field of 68. But they probably won't have the resume. The top two seeds in the MVC Tournament get double-byes into the semifinals. That could work against both Wichita State and ISU, who each could use as many wins as they can get to pad their total and get up near 30 Ws. However, I think one of these teams will lose out to one of the major conference teams from the ACC or Big Ten.
Pac-12 (Projected Teams: 5)
Locks: Arizona*, Oregon*, UCLA*,
Bubble: California*, Utah, USC*
Skinny: USC is essentially a lock at this point thanks to wins over SMU and UCLA. They also just got Bennie Boatwright back in the fold, so this team is actually improving. It will be interesting to see how they handle three straight against Oregon, UCLA and Arizona between Feb. 11 and Feb. 23. Cal is going to pass the 20-win threshold. And even though they really haven't beaten anyone this year (their two best wins were against fellow bubblers USC and Utah) I think they will do just enough to hang out under the radar and slide in unnoticed. I think Utah is a tournament-caliber team. But their nonconference slate was a joke (No. 325) and they didn't score any significant league wins. They are also essentially out of chances for a major upset; a trip to Oregon on Feb. 16 in their last game against one of the Big Three in the Pac-12. They will likely be a top seed in the NIT.
SEC (Projected Teams: 4)
Locks: Kentucky*, Florida*, South Carolina*,
Bubble : Tennessee*
Skinny: The SEC is a "major conference" in basketball in name only. They have collected just three bids in three of the past four years (and four of the past eight years). They've earned just 18 total bids the last five years, which is three fewer than the Atlantic 10's 21 bids. Basically, the SEC sucks. So it might be a stretch to think the SEC can grab a fourth bid. But Tennessee has a lot of momentum right now after a 5-1 run that included wins over Kentucky and Kansas State. Unlike a lot of bubble teams, Tennessee has played an amazing schedule (No. 3 in the country) and a Top 20 nonconference slate. If they finish their last seven games 4-3, getting them to 18-13, and then win one SEC tournament game there is no way you can leave this team out in favor of a lot of other bubble teams that simply haven't played or beaten anyone this year. Arkansas and Auburn are severe long shots barring a run of upsets.
WCC (Projected Teams: 2)
Locks: Gonzaga*, St. Mary's*,
Bubble : None
Skinny: St. Mary's won't be a tournament snub again this year. Well, probably not. God I hope not. They are 21-2 right now. They finished the regular season 25-4 last year, won two games in the league tournament, and at 27-5 were a shocking snub on Selection Sunday. If they don't make the NCAA Tournament this year they it would be ridiculous.
Automatic Bid Leagues (Projected Teams: 22):
America East -Vermont*
Atlantic Sun - Florida-Gulf Coast*
Big Sky - Weber State*
Big South - UNC-Asheville* or Winthrop
Big West - UC-Irvine*
Colonial - UNC-Wilmington* or Charleston
Conference USA - Middle Tennessee State*
Horizon -Valparaiso*
Ivy League - Princeton*
Metro - Monmouth*
Mid-American - Akron*
MEAC - N.C. Central*
Mountain West - Nevada* or Boise State
Northeast - Wagner*
Ohio Valley - Belmont*
Patriot League - Bucknell* or Lehigh
Southern -East Tennessee State*
Southland - Sam Houston State*
SWAC - Texas Southern*
Summit - Fort Wayne* or North Dakota State
Sun Belt - UT-Arlington* or Georgia Southern
WAC -New Mexico State* or Cal St. Bakersfield
*Denotes team projected for the NCAA Tournament.
Robert Ferringo is a member of the Basketball Writer's Association of America and a professional sports handicapper for Doc's Sports. He is considered one of the best college basketball handicappers in the country and has a streak of 10 straight winning regular seasons. Robert's $100-per-Unit clients banked $16,900 in profit last year alone and there is no better moneymaker in the nation. You can sign up for his college basketball picks and get more information here .
Read more articles by Robert Ferringo