NFL Survivor Pool Picks and Advice: Week 12
by Matt Severance - 11/22/2017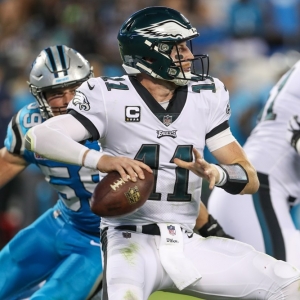 Major League Baseball trumpets its parity, and it should because just about anyone can win a World Series these days. The Astros and Cubs, the past two champions, were each wretched just a few years ago. The small-market Royals won it all in 2015. The NBA doesn't bother with claims of parity - it's star-driven league and only the teams with the most stars win titles.
The NFL tries to tell its fans that anyone can win a Super Bowl, but we know that's not true. You have to have quarterback like a Tom Brady, Peyton Manning, Aaron Rodgers, Ben Roethlisberger, Drew Brees or Russell Wilson, etc. Eli Manning, Joe Flacco, Brad Johnson and Trent Dilfer are exceptions to the rule.
Free $60 in Member MLB Picks No Obligation Click Here
Yet look at the standings entering Week 12, and an argument could be made that there are at least four Super Bowl contenders in each conference: New England, Pittsburgh, Jacksonville, Kansas City, Philadelphia, Minnesota, New Orleans, Carolina, Atlanta and the L.A. Rams.
Unfortunately, that knowledge likely does you no good at this point in your Survivor Pool competition.
I'd imagine all these teams have been used by now - Atlanta was what killed me earlier, although the Falcons are starting to round into form. Maybe you have held out on the Jaguars, Panthers, Rams or Saints considering all had losing records last year, but by Week 12 I doubt it. Now that it's Thanksgiving week, the playoff stretch run really begins. It's all about motivation going forward. (Yes, the Browns do have some - avoid 0-16.)
Last week, I thought the Chiefs would be duly motivated coming out of their bye week at the putrid New York Giants. In picking Kansas City as my top choice, my reasoning was: "I might say this is a trap game for the Chiefs, but Andy Reid is a magician coming out of his bye week (16-2 record dating to Eagles days) and the Giants have absolutely quit on Coach Ben McAdoo." Of course, the Chiefs lost in overtime. It has been that type of season with huge underdogs winning outright.
The bye weeks are over in the NFL, and enjoy your turkey-induced naps in between the three games on Thanksgiving. Sadly, I'll be working. Someday, I need to get a job in a company that isn't open on holidays. Tough to do when your background is entirely sports. Here are the picks, with the chosen team listed first.
First Down
Philadelphia vs. Chicago: I didn't believe in the Eagles earlier this season so I haven't recommended them for the top spot yet. The only way I see a Philly loss here is if team is in a bit of a trap game off a big win in Dallas last Sunday night and a trip to Seattle next week. Here's hoping Eagles-Bears is a future NFC title tilt between No. 2 overall picks in Carson Wentz and Mitchell Trubisky. It just won't be soon on the Chicago end.
Second Down
Kansas City vs. Buffalo: I still can't explain how the Chiefs lost at the Giants, honestly. They have dropped four of five overall with Alex Smith and Kareem Hunt coming back to earth. I actually picked up Bills rookie QB Nathan Peterman in my fantasy dynasty league last week. Then he went out and threw five picks. So, it's back to Tyrod Taylor for the sinking Bills.
Atlanta vs. Tampa Bay: Yep, this does feel like somewhat of a letdown game after the Falcons' big win in Seattle on Monday night. If the Bucs were getting Jameis Winston back Sunday, I might be truly worried. But he remains out.
New England vs. Miami: Jay Cutler will start if he is cleared from the NFL's concussion protocol. At -17, the Pats are the biggest favorites of the year. I wouldn't recommend giving all those points, but Miami hasn't won at Foxboro since 2008 and won't here.
Pittsburgh vs. Green Bay: Super Bowl preview? Maybe before Aaron Rodgers broke his collarbone in Week 6. Now we may never see him face off against Ben Roethlisberger again. The Packers goofed by not improving on Brett Hundley as Rodgers' backup.
Third Down
Tennessee at Indianapolis: The Colts are off their bye, but Tennessee is off a pseudo-bye after losing big in Pittsburgh last Thursday. The Titans beat Indy 36-22 in Week 6.
Detroit vs. Minnesota (pre-Thanksgiving dinner): The Lions have won four straight on Turkey Day, including on the last play of the game vs. these Vikings in 2016. The NFC North race is very much alive with a Lions win here but over if the Vikings continue rolling.
Dallas vs. LA Chargers (post-Thanksgiving nap No. 1): If it feels weird seeing the Chargers on Thanksgiving, that's because they haven't played on the holiday since before the year I was born. The Cowboys better get Pro Bowl left tackle Tyron Smith back Thursday or I don't like this pick much.
Washington vs. NY Giants (post-tryptophan snack &nap No. 2): Not sure I've seen in years a team gag away a sure win like the Redskins did last week in New Orleans. I'd have Washington higher on this list if I didn't think the team would be mega-flat off that.
Carolina at NY Jets: A good team coming off its bye to play a bad New York team at MetLife Stadium. Hmm, that didn't go well in Week 11.
Seattle at San Francisco: The Seahawks defense looked very vulnerable Monday night in the loss to Atlanta without Richard Sherman and Kam Chancellor. The Niners are off their bye and presumably will give Jimmy Garoppolo his first start here; if they stick with rookie C.J. Beathard that simply makes no sense.
Oakland vs. Denver: Two hugely disappointing clubs. I can't explain why that's the case for the Raiders, but it's all about quarterback play in Denver. The Broncos are giving second-year Paxton Lynch his first start of the year in this one.
L.A. Rams vs. New Orleans: Never would have projected this matchup as the game of the day in Week 12 way back when. So good it was flexed from 1 p.m. ET to 4:25. The Saints' eight-game winning streak ends.
Jacksonville at Arizona: If I'm the Jaguars, I think I can win a Super Bowl with Colin Kaepernick but not Blake Bortles. So why not sign Kap?
Baltimore vs. Houston (Monday): Meh Monday night game between Joe Flacco and Tom Savage.
Cincinnati vs. Cleveland: At least the state of Ohio has a good MLS "futbol" team in Columbus? Although the Crew might be moving soon to Austin, Texas. Sad I know that fact.
Doc's Sports has free picks to give away, and they want you to have them. These are the same picks that members pay for, but you can have $60 worth absolutely free. No obligation. You don't even need a credit card to sign up. Just click here to get started . Also, get three handicappers for the price of one when you sign up for a full-season football package! Click Here for details . Get free NFL betting picks weekly on Doc's Sports free football picks page .