NFL Survivor Pools Strategy Advice and Predictions: Week 1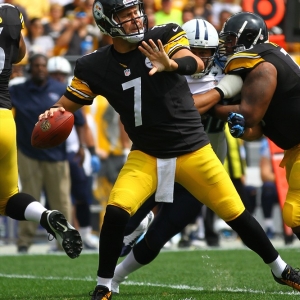 The best way to add some fun, challenge, and chance for profit to a football season is through betting on sides and totals - pure and straightforward. A close second, though, is through survivor pools. These pools, which require you to pick just one team that is going to win each week, are deceptively difficult, strategically compelling, and are a much more of a real world application, for my tastes anyway, than fantasy football. Our goal this week, and every week for the next few months, is to break down the games to find the best and most compelling survivor pools plays and to help you avoid the plays that don't make a lot of sense.
Free $60 in Member NFL Picks No Obligation Click Here
Before we get into the games, let's talk about what makes a successful approach to survivor pools in my eyes. There are three basic rules to stick to:
1. Always pick the best spot. Too often people try to save the elite teams for later weeks. That's just stupid. Your goal is simply to survive until the next week (it's right there in the name). You can't worry about next week or next month. You have to only worry about this week and what gives you the best possible chance of success now.
2. Don't be contrary. A lot of people try to get too cute, figuring that if they pick a different game than most people then they have a chance to separate from the pack. If you have to make a questionable play to do that, though, then it just isn't worth it. If your best play happens to be different than everyone else then that's fine. Generally, though, it's much better to be right with the pack than wrong alone.
3. Underdogs are for idiots. When I'm betting sides I love underdogs - against the spread and especially on the moneyline. Using the odds is useful as a guide for survivor pools, though, and the situations where picking an underdog as your survivor pool pick actually makes sense are very limited. Picking an underdog on the moneyline means you are rewarded for the extra risk you are taking. In a survivor pool that's just not the case.
And now, on with the best games of the opening week:
Pittsburgh at Cleveland: The Steelers are the biggest favorite on the board this week and clearly the best pick. They are a strong team poised for another very good season - and likely another division title. Cleveland is improving, but very slowly, and they are throwing a rookie QB out in this one. The Steelers are going to win the game, and there really is no reason to overthink this one.
New England vs. Kansas City: New England is the second-biggest favorite, and they are a team that can be picked at pretty much any team. I feel uneasy about this one, though - at least compared to the Pittsburgh game. New England is the better team, but they are facing some changes at receiver - some by choice and some by circumstance. Kansas City is also a solid team coming off a 12-win season just last year. New England will probably win -- especially since they are at home. It would be a much bigger shock if Cleveland won than if Kansas City did, though. That makes this decision easy.
Atlanta at Chicago: The Falcons are favored by a touchdown, and the Bears aren't very good at football, so I get why a lot of people would like the Falcons here, and I don't have a massive problem with it. I personally don't trust the mental state of the Falcons at all, though, after the debacle of the Super Bowl, and the loss of Kyle Shanahan and epic downgrade at offensive coordinator to Steve Sarkisian is a major concern. I want to see what the Falcons are right now before I trust them with my survivor pool life - especially with the Steelers on the table.
Houston vs. Jacksonville: If you don't want to play the Steelers for some reason then you could easily convince me that Houston is the next best play. Just for starters, Houston is the much better team. They are deeper on both sides of the ball, and they have a defense that is going to make a meal of the disgraceful Jacksonville QB position. Beyond that, though, Houston will be riding a tremendous amount of emotion into this game after Hurricane Harvey. We don't entirely know where this game will be played, and we don't know who the starting QB will be, but I don't care. Both options are decent enough under center, and wherever they play they will be playing for their deeply damaged city and playing with the support and good wishes of everyone in the country outside of Jacksonville. That's a potent force to have on the side of a team that would be in good shape regardless.
Doc's Sports has been successfully handicapping the NFL for years - more than four decades in the business - and wants to give new clients a chance to try our service for free. Click here for the hassle-free sign up and get $60 in free NFL picks today . Also, get three handicappers for the price of one when you sign up for a full-season football package! Click Here for details . Get free NFL betting picks weekly on Doc's Sports free football picks page .
Read more articles by Trevor Whenham