2018 Big Ten Basketball Tournament Odds and Expert Predictions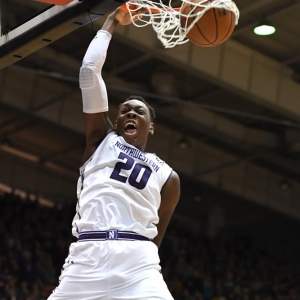 The Big Ten has been a bit of an afterthought in college basketball this year. Michigan State fulfilled their preseason expectations by winning the regular-season title with powerhouse Purdue nipping at their tails. But beyond that the story of the league has been one of disappointment.
Traditional powers Indiana and Wisconsin and preseason Top 20 teams Northwestern and Minnesota have all struggled mightily and, barring a miracle run to the league title, will miss the NCAA Tournament. That would leave the Big Ten with just four secure bids for the Big Dance and two bubble teams, Penn State and Nebraska, trying to fight their way in. That's a ignominious position for one of the nation's top leagues.
Furthering the league's embarrassment is the row over their league tournament. The Big Ten Tournament opens on Tuesday, Feb. 28 and will conclude on Sunday, March 4. The games will be held at Madison Square Garden in New York City, home to absolutely no one in the Big Ten. The league agreed to move their league tournament up a week just to secure the venue. But now teams could be sitting around for up to two weeks before they play in the NCAA Tournament.
Big Ten commissioner Jim Delany already admitted that moving up the tournament was a mistake and that the league won't do it again.
Here is Doc's Sports 2018 Big Ten Conference preview and predictions, with my own projected odds:
The Favorite: Michigan State (+110)
Michigan State won its first title since 2012, its first outright title since 2009, and its 14th conference title overall. The young Spartans - their top five players are four sophomores and a freshman - shook off the distraction of a host of scandals this year. From mishandling sexual abuse allegations to potential NCAA violations, the Spartans have had a pall cast over their season since December. But led by two potential NBA Top 10 picks, Miles Bridges and Jaren Jackson, the Spartans have more talent than anyone in the league - by a lot. The Spartans also have a host of solid role players, from gritty Gavin Schilling to point guard Tum Tum Nairn to power post Nick Ward, and several guys capable of taking and making big shots. Izzo always does his best work in March, and these guys are focused on racking up more titles.
The Contender: Purdue (+200)
A three-game losing streak in mid-February, which included back-to-back losses to Ohio State and Michigan State by a combined four points, helped the Boilermakers slide to the No. 3 seed by virtue of a tiebreaker with Ohio State. But Purdue ran roughshod through college hoops most of this season, posting a 19-game winning streak en route to a 23-2 start to the year. With four senior starters, this is one of the most experienced teams in the sport. And with dual centers Isaac Haas (7-foot-2) and Matt Haarms (7-3), they are also one of the largest. If the Boilermakers are hitting from the outside they are nearly unbeatable. And their potential semifinal matchup with Ohio State could be one of the best of the tournament.
The Dark Horse: Ohio State (+350)
For all the disappointing teams in the league this year there has been one massive surprise. The Buckeyes floundered to a 17-15 season last year, including a 7-11 mark in league play and a first-round tournament loss to Rutgers. Thad Matta quit, and the program was in shambles. But Chris Holtmann, formerly of Butler, turned things around quickly. The healthy return of Keita Bates-Diop, who in my opinion should be the Big Ten POTY, provided a massive lift. And this team has played solid, consistent team basketball all season long. The Buckeyes demolished Michigan State (80-64) in the only meeting and pulled off a stunning road win at Purdue in their only game against the Boilermakers. This team is still underrated coming to New York. But they would have to beat one (or two) revenge-minded opponents to cut down the nets.
The Spoiler: Northwestern (+2500)
Outside of Minnesota, which dealt with injury and off-court issues all year, no team in the Big Ten was a bigger dud than Northwestern this year. The Wildcats returned six of their top seven players from the school's first-ever NCAA Tournament team - only to bumble their way to a 15-16 overall record and a 6-12 mark in league play. Now the Wildcats have only one chance to return to The Big Dance: win the league title. They've lost five straight games coming into the tournament. But they could spoil Penn State's shot at an at-large bid in the first round before a game against Ohio State, a team they lost to by only six in the regular season. Will this team make any noise this week? Or will they roll over and die?
Bubble Team To Watch: Nebraska (+1500)
Nebraska has quietly been one of the best bets in college basketball this year. The Cornhuskers have gone 22-7 against the spread, and they are an outstanding 11-1 ATS in their last 12 games overall. But Nebraska has no nonconference resume to speak of, and they didn't beat any of the top three teams in the Big Ten this year. Nebraska gets a double-bye as the No. 4 seed, and that could work against them; a win over the Illinois-Iowa victor could've padded their resume to 23-9. So now the Cornhuskers absolutely have to beat likely opponent Michigan in the quarterfinals and then may have to take down Michigan State in the semifinals to have a shot at the NCAA Tournament. We will see if the momentum of their 8-1 finish carries into NYC.
Early Round Matchups To Watch:
No. 8 Maryland (-4) vs. No. 9 Wisconsin (Noon, Thursday, March 1)
These have been two of the toughest, hardest-fighting teams in the Big Ten this year. The problem for both has simply been that they stink. Maryland has one of my favorite college players, Kevin Huerter, and Wisconsin has overhyped "star" Ethan Happ. But that's really it for both teams. Both rosters have been beset by injuries and ailments. And the two star players are both surrounded by freshmen and sophomores that have logged their first meaningful action this year. This one is worth watching if for no other reason than getting a feel for how these teams are going to look next year, when both will be competitive again.
No. 8 Penn State (-4.5) vs. No. 10 Northwestern (6:30 p.m., Thursday, March 1)
Penn State is another bubble team to keep an eye on this week. However, the Nittany Lions have been dealt a critical blow with forward Mike Watkins' injury. Watkins is by far the team's best post presence and interior scorer. And without him they have dumped three straight. Northwestern has been a disaster all season. But the two teams split their regular-season meetings and were with Watkins healthy. Also, Northwestern has some seniors - particularly Bryant McIntosh and Scottie Lindsey - that will fight tooth and nail not to have their careers end. This game should be an absolute battle between two desperate squads. And isn't that what March is all about?
Big Ten Conference Tournament Predictions: This has been a top-heavy league all season long. So I will be really surprised if anyone outside of the top five seeds ends up in either the quarterfinals or the semifinals. That's not necessarily a bad thing, though, as Michigan-Michigan State and Ohio State-Purdue matchups could give us four outstanding hours of hoops Saturday night. Michigan State and Purdue are the two best teams in the conference. And I see them on a collision course for the title game on Sunday. The No. 1 seed has won the championship about half of the time over this decade. And either the No. 1 or the No. 2 seed has cut down the nets 15 times in 19 years of this tournament. I will go with the Spartans to hold off the Boilermakers in a classic title game. I correctly predicted Michigan State's last title in 2016. So I'll give Michigan State the regular season-tournament double here.
Robert Ferringo is a member of the Basketball Writer's Association of America and a professional sports handicapper for Doc's Sports. He is considered one of the best college basketball handicappers in the country and has posted 10 of 11 winning seasons. He is looking for a monster March run and will have an 8-Unit Conference Tournament Game of the Year next week. You can sign up for his college basketball picks and get more information here .
Read more articles by Robert Ferringo