2018 SEC Basketball Tournament Odds and Expert Predictions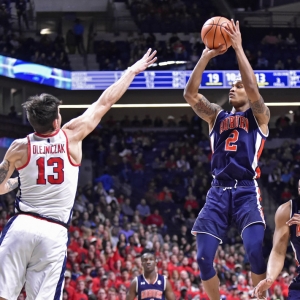 Everything you need to know about SEC basketball this year can be gleaned from the preseason media poll. The regular season co-champions, Auburn and Tennessee, were picked to finish ninth and 13th back in October.
It was that kind of year.
Instead of a Kentucky vs. The Field storyline, the SEC heads to the unfamiliar territory of St. Louis for its conference championship with as many as 10 teams jockeying for a postseason berth and as many as six teams harboring real hopes to win the league title. The league has experienced a resurgence. And an influx of top-tier coaching and player talent two years ago is finally reaping national rewards; the eight possible NCAA Tournament bids the SEC is projected to receive would match the combined total of the last two years.
Also, for the first time in a decade Kentucky enters the SEC Tournament as an afterthought. The Wildcats are the three-time defending SEC champions. They have made it to the finals of this event seven of the last eight years. And their five titles this decade are more than the rest the league combined. But at 21-10 (10-8 in SEC play) and as the No. 4 seed the Wildcats aren't one of the favorites. In fact, it would have to be considered a pretty sizeable upset if they were to cut down the nets.
The SEC Tournament will take place at the Scottrade Center in St. Louis, Mo. It starts on Wednesday, March 7, and will conclude Sunday afternoon. Here is Doc's Sports 2018 SEC Tournament preview and predictions:
The Favorite: Auburn (+360)
The Tigers blew a chance to win the outright regular-season title by stumbling to losses in three of their last five games. But Auburn has been a wrecking crew for most of the season, at one point winning 19 of 20 games from November to February. Amazingly, they've done this without two of their best players (Austin Wiley and Dan Purifoy) ever touching the court, with the duo getting suspended by the NCAA prior to the season. Auburn's late-season skid coincided with another personnel loss as forward Anfernee McLemore was injured and done for the year. Auburn has one of the best backcourts in the country with Bryce Brown, Jared Harper and Mustapha Heron getting it done. But they have next to nothing on the interior. They have only one guy taller than 6-6 and no one on the roster taller than 6-8.
The Contender: Tennessee (+410)
Rick Barnes has done masterful work with the Volunteers this year. After dropping two straight to start league play, the Vols haven't lost two games in a row since. Tennessee has won 23 games despite playing the sixth-toughest schedule in the country, and they enter the tournament on a four-game winning streak. Like Auburn, this is still a very young team (only one senior on the roster) and not a team with a lot of size. But forward Grant Williams plays bigger than his 6-7 frame, and this team utilizes suffocating defense to generate offensive opportunities.
The Sleeper: Florida (+450)
The Gators live and die by the 3-point shot. When this team is hitting from the outside they can beat anyone, as wins over Gonzaga, Cincinnati, Auburn and Kentucky attest to. Jalen Hudson and KeVaugh Allen are both capable of getting hot and carrying the offense. Point guard Chris Chiozza is a clutch performer. And senior transfer Egor Koulechov is a matchup nightmare. Florida is on a three-game winning streak, and they are clicking. But they will have to be on fire from deep this week to compensate from their lack of interior defense and rebounding.
The Spoiler: Missouri (+1100)
The Tigers are one of the biggest X-Factors in the entire country this week. First, they are a bubble team trying to play their way into the NCAA Tournament. Second, they will have a home-court advantage playing so close to campus, dragging these SEC teams into their home state. Third, we may see the return of Michael Porter Jr., one of the best freshmen and top players in the country (allegedly). He's been out with an injury and has yet to suit up despite being medically cleared over a week ago. Even without Porter this team fought its way to a three-way tie for fourth place. They've won seven of their last 10 games, and Porter's return could give them an emotional spark if not a spark on the court. If he comes back and contributes then this team has a favorable path to the championship game.
Bubble Team To Watch: Texas A&M (+1000)
I got suckered into Texas A&M early this season, seduced by their NBA-caliber front line. Unfortunately, their backcourt never materialized, as injuries and inexperience led to erratic backcourt play and erratic play from the team in general. The Aggies have gotten it together, somewhat, down the stretch, winning seven of their last 10 games. But three of those wins were by two points or less, and I don't trust this team further than I can bowl it. It's time to see if they were really any good or not.
Early-Round Matchup To Watch:
No. 4 Kentucky (-2.5) vs. No. 5 Missouri (3:30 p.m., Thursday, March 9)
I don't want to overlook the fact that Missouri could have a very difficult second round game against Georgia. But if the Tigers survive that one then they will take a shot at the three-time defending champion Wildcats. Kentucky has talent. But it is young talent. And they aren't a very good team at all because they have negative on-court chemistry. Kentucky hasn't had a single junior or senior take the court this year. The two teams split their regular-season meetings, with UK scoring a blowout win over the Tigers in Rupp Arena on Feb. 24. Missouri could have the edge if Porter returns. And they will have an advantage of already having a game under their belt before this key afternoon tilt.
2017 SEC Conference Tournament Predictions: Either Kentucky or Florida has won the SEC Championship in 11 of the past 15 years. One of those two teams has played in the title game in 13 of the 15 seasons. So it is tough to make any prediction that doesn't involve one of those two squads. I think an Arkansas-Florida quarterfinal could be one of the best games in the tournament. And I think that Florida would beat Tennessee to advance to the finals whereas Arkansas would come up short against the Vols. That's all fairly prescribed. And I think that most of the drama and upsets will come from the top of the bracket. If Porter comes back then I think that Missouri can win this tournament. Auburn will not. But if there's no Porter then I think the winner of the Tennessee-Arkansas-Florida semifinal will cut down the nets.
Robert Ferringo is a member of the Basketball Writer's Association of America and a professional sports handicapper for Doc's Sports. He is considered one of the best college basketball handicappers in the country and has posted 10 of 11 winning seasons. He is looking for a monster March run and will have an 8-Unit Conference Tournament Game of the Year next week. You can sign up for his college basketball picks and get more information here .
Read more articles by Robert Ferringo