2011 College Basketball: Michigan Predictions and Wolverines Futures Odds
by Trevor Whenham - 10/31/2011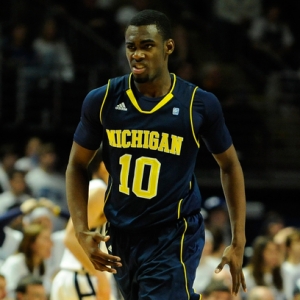 This story has to feel very familiar to Michigan fans. Three years ago John Beilein and his squad capped a solid year with a nice win in the first round of the tournament and a near loss to a strong team in the second round. That boosted expectations significantly heading into the next season, but that year was a total disaster.
They bounced back nicely from that mess, though, and last year they again put together a nice season capped with a first-round win and a near-knockoff of Duke.
Now they enter this season ranked in the Top 20 with some big expectations on their collective shoulders. They need to handle the pressure much better than they did last time around.
While expectations are high in Ann Arbor, they aren't nearly as high as they would be if Darius Morris had stayed in school. The point guard was one of the biggest breakout stars in the country last season.
Instead of returning to school to play himself into the first round of the NBA Draft next year he took his chances last year, and is now waiting for his chance to try to make the Lakers as a second-round pick.
Replacing Morris is by far the most difficult task this team faces this year. The departure puts mountains of pressure on true freshman point guard Trey Burke, a high school teammate of Jared Sullinger and the only natural point guard on the roster. He's wildly talented, and early impressions have been very strong. However, his ability to seize the position and shine will have a major impact on the season the team has.
2011-12 Michigan Wolverines Basketball Outlook
Morris is gone and that hurts, but it would be a mistake to think that there is a shortage of talent left behind.
The most obvious player to point to is Tim Hardaway Jr. He took major steps forward last year as a freshman, and is on virtually every national list of breakout stars this year. During Big Ten play last year he led the team in points per game, and it was clear that a lot of improvement was still possible.
Players making a big jump forward in their second year needs to be a theme for this team.
Redshirt sophomore Jordan Morgan saw a lot of playing time last year, and was efficient but unspectacular. He'll need to be better. Shooting big man Evan Smotrycz has always been able to shoot, but he has gotten bigger this year, and needs to be able to move closer to the basket than the three-point line when need be. Jon Horford was recruited as a big man, but he was too scrawny to be relevant last year. He has piled on the pounds his year, though, and now has the body to be a factor.
The key to this season will be getting off to a better start in conference play than they did last year when they started just 1-6. They managed to climb out of that hole, but that was lucky and they can't rely on that happening again.
Senior Zack Novak is the kind of player that Michigan fans love and opposing fans hate. He doesn't have the most talent in the world, but he never quits, and there is nothing he won't do to win.
His season will be a good indicator of how the team s doing. If his minutes decline then the depth on the team is coming through and the squad is in good shape. The bigger his role has to be this year, though, the less likely that this will be a great year for the Wolverines.
Michigan Wolverines College Basketball Additions/Losses
The team had no seniors last year, so the only departure of note was Darius Morris. That's a huge hole, but at least they don't have to adjust to many changes at once.
Burke was the big addition. He's only rated as a three-star player, but he was recruited more heavily than that and he is a pure ball mover.
Another true freshman, Carlton Brundidge, joins Burke in the back court. He's a stocky scorer who doesn't like to play outside.
It's a small but solid recruiting class, though not nearly as good as the next two classes will be.
2011-12 Michigan Basketball Schedule
The nonconference schedule is fairly soft, though an early tournament game against Memphis will be a very good measuring stick of the progress the team has made.
They should be set up with a nice record heading into conference play, but they won't have impressed too many people with the list of teams they beat.
Conference play will be as challenging as it always is in the tough Big Ten, though the addition of Nebraska is nice because they aren't a really tough opponent.
The big game here will be Jan.17 when they host Michigan State. After a long period of futility Michigan beat the Spartans twice last year. Another win here would be a very good indicator that this team is on their way.
2011-12 Michigan Wolverines Predictions
I really like this team. John Beilein has as close to his prototypical team as he has ever had at Michigan, and the players he has have clearly bought into his philosophy. The team is young and deep, and Hardaway is going to be a star.
They are going to be a tough team to play against — especially if they can continue to improve their shooting as they did last year. There is a risk with young players that they won't be able to reach their potential, and relying on a freshman point guard is always scary. However, this is a reasonably low-risk team.
This is a team on the path to the tournament for the third time in four years, and should be seeded higher than they have been in the past — something like a No. 6 seems reasonable. If they realize their potential they can hit the Sweet 16.
At 35/1 for National Championship futures odds on Bodog it could be advantageous to plop down a few bucks on the Wolverines.
Strike Point Sports is ready for another great college basketball handicapping season in 2011-12. His college basketball picks clients have enjoyed four of five winning seasons and $100 bettors are up more than $20,000 during that stretch. He is expecting his best season yet in 2011-12!
---
Most Recent College Basketball Handicapping