2011 College Basketball : North Carolina Predictions and Futures Odds
by Trevor Whenham - 10/27/2011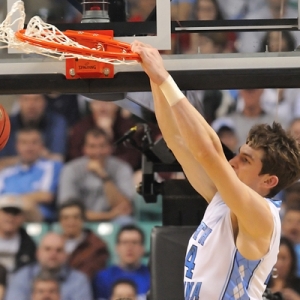 Two years ago this team didn't even make the NCAA Tournament — a humiliating fate for a defending National Champion. It only made sense, though, given how bare the cupboards were.
Those cupboards are overflowing with talent again, though, and the team will look to win twice as many tournament games as they did last year when they reached the Elite 8. As the No. 1 team in the country and the solid favorite to win it all they are in a position Roy Williams knows well — they are the team with the massive target on their backs.
This very promising season could easily have been over before it started. Last spring star players Harrison Barnes, Tyler Zeller, and John Henson all sat down at Zeller's house to talk about their future. After that meeting they shocked the basketball world by announcing that they would all return for another season in Chapel Hill.
Barnes in particular was a surprise — the frosh was a prototypical one-and-done talent who would likely have been a Top 3 pick in the NBA Draft last year.
Returning to school doesn't always have a happy ending, but chances are good that things will work out reasonably well for these three. After all, it worked out pretty well for Tyler Hansbrough and company in 2009 when they made the same decision.
2011 North Carolina Basketball Outlook
The expectations for this team are very high, and there is no surprise at all why that is — they are really, really good.
Their backcourt would be the envy of most teams in the country and it plays only a supporting role on this squad.
Kendall Marshall only became a starter in February last year after Larry Drew II quit the team, but the freshman led the ACC in assists and should be poised for a big step forward as a full time starter this year. Dexter Strickland is a defensive stud and selfless veteran. Reggie Bullock and P.J. Hairston can put opponents on their heels with their speed and ball moving skills.
On paper at least this is easily one of the Top 5 backcourts in the country. There is some risk that they won't reach their potential, but even if they stay at the level they were at last year they would be good enough to do some real damage.
It's the frontcourt that deservedly gets the attention on this squad.
Harrison Barnes has all the tools to be Player of the Year, and after a slow start to his freshman season he emerged as a beast down the stretch. He's the real deal. John Henson was the ACC Defensive Player of the Year, and he is as good defensively as any player in the country. Tyler Zeller is a seven footer, but a rare one who doesn't look ridiculous when he runs. If that's not enough they also added James Michael McAdoo, one of the Top 5-ated freshmen in the country, to the rotation.
It's an embarrassment of riches up front, and together they form the most complete and frightening frontcourt in the country. Simply put, if this unit can stay healthy and maintain the chemistry they showed in the tail end of last season then it's hard to imagine who can stop them consistently.
So there it is — they return all five starters, and two of those starters are ridiculously talented sophomores with the potential to be much better than last year. Oh yeah, some guy named Roy Williams is their coach as well. This is a legitimate favorite.
2011 North Carolina Additions/Losses
The Tar Heels are returning all five starters, so there obviously aren't too many losses to worry about.
In terms of additions the biggest gain is clearly McAdoo. The 6-foot-9 forward was named the USA Basketball Male Athlete of the Year in 2009, so he clearly has game. Only three other Tar Heels have won that same award — Sean May, Sam Perkins, and Michael Jordan. That's not bad company.
McAdoo has the luxury of developing slowly because the frontcourt will be just fine without him. Center Desmond Hubert is long and athletic, but he needs to add bulk to be a full-time contributor. Like McAdoo, he won't have to do too much this year with Zeller and Henson in front of him. He's a stronger defensive presence than many high schoolers, though, so he'll play a role.
Hairston will push Bullock for shooting guard reserve time. He can score like crazy and is very fast, so he'll be a good change of pace. Not to sound like a broken record, but he'll be able to develop in a relatively low-pressure environment. Finally, Stilman White joins the team as a backup point guard. He's tiny, but should be able to avoid mistakes on the rare occasions that Marshall isn't on the court. He'll only be with the team for one year before leaving on his Mormon mission.
2011-12 North Carolina Basketball Schedule
The Tar Heels have never been a team to avoid a challenge in nonconference play, and this year is no exception. They start their season with a good measuring stick against Michigan State. Nonconference highlights include Wisconsin, Kentucky, and Texas to go along with the typical collection of cupcakes that any team plays.
ACC play shouldn't provide too many big hurdles for the squad with the obvious exceptions of the two games against Duke — at home on Feb. 8, and on the road on March 13 in the final game of the year.
The Duke and Kentucky games will be must-watch TV, and will be a very good indicator of what to expect at the tournament. It's not the easiest possible schedule, but is one that they should be able to survive with no more than two or three losses at worst.
2011-12 North Carolina Predictions
Anything short of a No. 1 seed and a Final Four appearance would be a major disappointment for this team. Really, anything short of a championship game appearance would be less than is expected for a near-unanimous No. 1 team.
I'm always nervous about preseason No. 1 teams, and think it is ridiculous that any squad would be 3/1 to win the championship like this team is at Bodog.
Still, the difference between this squad and the others in the country is significant, and more than many preseason No. 1s they control their own destiny.
It won't be an easy path, and I expect one loss from among their three toughest regular season games, but the Tar Heels will cut down the nets in early April.
Strike Point Sports is ready for another great college basketball handicapping season in 2011-12. His college basketball picks clients have enjoyed four of five winning seasons and $100 bettors are up more than $20,000 during that stretch. He is expecting his best season yet in 2011-12!
---
Most Recent College Basketball Handicapping