NFL Divisional Round Playoffs Betting Advice: Moneyline Underdogs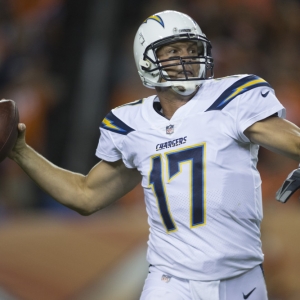 Last week's NFL Wild Card Round was very, very rough on favorites. All four home teams were favored, and three of the four of them lost. The only winning home team, the Cowboys, gave up a back-door cover as the game ended. So, favorites were 1-3 straight up and 0-4 ATS. Yuck. And this week the favorites are again the four home teams. The spreads are a little bigger, though - the lowest spread this week is four points, and three of the four games last week had smaller spreads. With so many small spreads last week, there were wins by underdogs but there weren't really upsets. This week we would have something closer to an upset if any road teams win. Our job here, then, is to rank the four games in terms of the likelihood of an upset, from most to least likely.
Indianapolis Colts (+5) at Kansas City Chiefs: The Colts had an impressively-dominant win over the Texans last week. There is a bit of an asterisk there - the Texans had a stunningly soft schedule, so their record made them look better than they were. But the Colts still get a ton of credit for the win. One thing stands out above all - the Texans had the third-ranked run defense in the league, and the Colts ran for 200 yards, which is almost 2.5 times more than teams had been averaging against Houston. It allowed them to set the tone and control the game. Now they are up against a Chiefs' team that ranked 27th against the run. The more they run the ball, the longer the ball stays out of Patrick Mahomes' hands, and the less likely the ball turns into a crazy shootout. It's a formula they will certainly try to exploit. But even if they can't manage that, they are still better positioned than a lot of teams to run with the Chiefs - Andrew Luck had the second most touchdown passes this year behind Mahomes. The Chiefs should be favored, but an upset would be far from shocking.
L.A. Chargers (+4) at New England Patriots: I very nearly put this game first. In fact, I probably would have except it would have meant that the games would have just been in order of ascending spreads, and that is boring. And I would have been more tempted to put this game first anyway if the Chargers had had a more impressive fourth quarter in Baltimore. After totally dominating the Ravens in every way for three quarters, they tried their hardest to lose the game in the fourth. They let up when top playoff teams go for the throat. And they couldn't go for the throat down the stretch, either, when they had a chance to grab the division win. But they have still won 13 games so far, so they are obviously dangerous. And if you look beyond the leadership and experience of Tom Brady and Bill Belichick, there are not a whole lot of reasons to love the Patriots right now. There are plenty of holes. A Chargers win would only barely be notable, and it certainly wouldn't shake the foundations of things.
Dallas Cowboys (+7) at L.A. Rams: I was not particularly impressed with the win over Seattle by the Cowboys - the Seahawks refused to let Russell Wilson do anything useful, and they still lost by only two points. And I have not been a believer in the Cowboys overall for a long time. The defense is solid, and they can run the ball, but at quarterback they have issues. I just don't like this team. But the problem here is that the Rams are not in a good place right now. The defense is tentative. The offense has lost their spark. They have issues, and too many of them seem to be in their head. Those often don't go away in a hurry. L.A. is dramatically more talented, and dramatically better coached, but not in a great place, and it's hard to know if a week off was what they needed to fix it. L.A. should win, and should win handily, but not if they let their worst side come to the forefront.
Philadelphia Eagles (+8) at New Orleans: I'm really tired of the Nick Foles hype. He threw two horrible interceptions and only won against Chicago due to a gift. And while the defense allowed only one touchdown and three field goals, they allowed Mitch Trubisky to throw for 303 yards. Philadelphia does not particularly deserve to be here. And New Orleans, though not as dominant as the Super Bowl favorite is some years, is dramatically better and at home. The Saints' strengths are well positioned for a win here, and I would be truly shocked if there is an upset here.
Read more articles by Trevor Whenham
Get all of this Weeks NFL picks
Get all of this Weeks Guaranteed Expert NFL Picks