2019 Expert AFC South NFL Betting Picks with Analysis and Predictions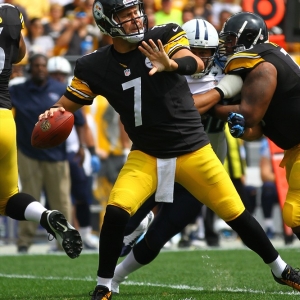 The AFC South was a battle right to the end last year. It produced two playoff teams, and a third squad was right in the race until the end. It was a surprisingly fun division to watch. And it should be fun again this year, though perhaps less surprisingly so. The division might not have the best top-end teams in the AFC, but they exemplify the competitive parity that is the league right now. As we spend the week this week looking at the highlights and lowlights of the offseason and the expectations those have brought for teams, it is time now to check in on the AFC South. (Odds are from BetOnline)
Biggest lock: There really is not a lock in the whole group, no matter how hard I looked for one. This is, like last year, a very wide-open division that could go any way. And all four teams could just as easily finish last - though Indianapolis would be more surprising than the rest. All of the teams did some things that really helped in the offseason. And all probably have an area or two that they wish had gone better for them. To see how tight it is, you just need to look at the season win totals. All four teams are clustered between eight wins - Jacksonville - and 9.5 for Indianapolis. The other two teams are at 8.5. That little range suggests that each team is in range to win the division if things break their way - and that's sure how it feels from where I am sitting.
Most likely to disappoint: Houston. They get this nod by virtue of having won the division last year. I don't have a ton of faith in their chances of doing so again. They took some missteps this offseason. When it was very clear in the first round of the draft that they were looking for a tackle, they allowed Philadelphia to jump one spot ahead of them to take Andre Dillard, who they were very likely targeting. Instead, they got Tytus Howard, who is talented but is a project. It was a misstep, as was letting two key defensive players leave - Tyrann Mathieu and Kareem Jackson - without replacing them particularly effectively. I still don't trust their coaching after all these years, and they did little to get better in the short term.
Best betting value: Tennessee "over" 8.5 on the season win total at +120. Of all the prices you could choose, this is the one I like best, though all four teams could at least theoretically be playable on the over. Tennessee won nine games last year without feeling like they were overachieving, and on balance they are better than they were.
Biggest mystery: Nick Foles has been very good in his career as a strong backup who can step in and play hero. He has been far less good in his limited time as a starter. Will this be different? He doesn't have big shoes to fill - my in-laws' dog could step in as a replacement-level guy for Blake Bortles. But the Jaguars paid a big price to get Foles and to sign him, so they need more than a replacement-level guy. They are banking on big things from him. And we won't know if he can be a leader instead of the guy who takes over for the leader until we see him try.
Most improved: Tennessee. The Titans had a strong free agency, with Rodger Saffold a great addition on the line, and a couple other moves we touch on a little later. And in taking Jeffery Simmons 19th overall after an ACL injury, they got potentially massive value on a guy who could have top two or three talent in this draft. They will have to show some patience, but this team has made the right moves to compete without fundamentally changing the things about them that work - or that should work better than they did last year.
Underrated new player: Tennessee added two guys to this roster from Miami who really feel like they were excellent pieces for what this team is trying to do. Adding a 37-year-old pass rusher to a three-year deal is rarely something to get excited about, but Cameron Wake is a freak. And after a decade in Miami, he has shown he still has plenty left in the tank. The combination of his veteran presence and his pass rushing skills are a very nice addition. And adding Ryan Tannehill is a nice move, too. He showed in Miami he's not a guy you want to rely on as an everyday starter. But Marcus Mariota isn't the most durable guy in the league, so this is a nice insurance policy.
Overrated new player: For the reasons we discussed, and because the division largely had a strong offseason - at least in terms of additions - it has to be Foles. The Jags seemed to get into a bidding war with themselves when it came to getting and paying him, and teams rarely win those situations. Foles is an upgrade, but is he an $88 million upgrade?
Key coach storyline: I think that bringing back Doug Marrone for a third full year as head coach was the right move, but he isn't going to get another year if he doesn't improve significantly on the five-win debacle of last year. That is not how this team wanted to follow up a playoff performance. They need to be better, or Marrone's seat will get very hot in a hurry.
Read more articles by Trevor Whenham
Get all of this Weeks Free NFL picks
Get all of this Weeks Expert NFL Picks