Free Picks
»
NFL Picks
» Week 7 NFL Picks: Best 6-Point Teaser Bets from Handicapper Doug Upstone
Week 7 NFL Picks: Best 6-Point Teaser Bets from Handicapper Doug Upstone
by Doug Upstone - 10/16/2019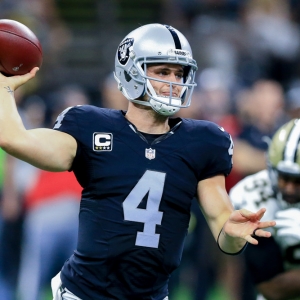 Ended up with a split overall on teasers and just one winner, as Dallas was a mental a physical no-show and could not have predicted Jameis Winston would toss five picks for Tampa Bay, which also did me in. Still, a none too shabby 18-6 record on teasers so far this season, and my goal is always to be as close as possible to 80 percent, which brings home the cash. We'll line them up again and seek to end up in a more profitable position this week.
For those new to this space, I'm the newest member of the sports handicapping team at Doc's Sports, and it will take a while for many of you learn what I am about and my sports betting style. With that in mind for prior readers, I'm going to leave the key points of how, in my opinion, is the best way to bet teasers against the NFL odds. This is a condensed version of the most pertinent information for your usage for NFL picks.
Further below are my Week 7 predictions for NFL .
Doug Upstone's NFL Teasers Method - Betting NFL teasers is not about taking off points in games you like, rather creating value going against key numbers in pro football . Those key numbers I am talking about are 3, 6, 7, 10, 13 and 14. This is the real secret to beating the oddsmakers NFL odds for teasers.
The other key component is betting wisely. By limiting your teasers to two-, three- or four-team groupings, that enhances your chances of winning. With most four-team teasers paying out about $240 on $100 bet, when you go to a five-teamer that jumps to +365 and keeps rising as you add more games.
Along with that, so does your chances of not winning. How often have you bet teasers and parlays of six or more and only had one wrong? My guess is too often. Long shots do come in, but more often than not the money won only pays for all previous losses.
Oakland at Green Bay - Oct. 20 - Packers Taken From -5.5 to +0.5 over Raiders
Green Bay opened as -7.5 or -7 point home favorites over Oakland and has slid to -5.5. The biggest reason for this is the Packers have a short week off their Monday night victory over Detroit, while Oakland comes in off bye week, making rest the biggest factor. In addition, Green Bay might be 5-1, but they are only 9th in the NFL in point differential in spite of their 4-2 ATS mark. The Raiders, as we have witnessed, are much improved in Jon Gruden's second season and make far fewer mistakes along with having more talent. With the adjusted number, we are just asking Aaron Rodgers to win the game like last week. Doing research, I find favorites of -7.5, lowered to -5.5, are on a 13-0 teaser win streak.
Doug's Doc's NFL Picks: Packers +0.5
San Francisco at Washington - Oct. 20 - 49ers Taken From -10 to -4 over Redskins
If you happen the see San Francisco the past two games against Cleveland and the Los Angeles Rams, there is only one conclusion to come to, they are damn impressive. The 49ers defense is close to if not equal to Chicago's, and their defensive front with all those No. 1 draft choices are making opposing quarterback think about calling the Corona hotline and having a couple cold ones with Tony Romo. Washington just secured their first win of the season against Miami, and they didn't even cover the spread, which tells you about them. Being able to crawl under the key numbers of 6 and 7 is a big help, and it seems very likely San Fran can handle this short number.
Doug's Doc's NFL Picks: 49ers -4
New Orleans at Chicago - Oct. 20 - Saints Taken From +3 to +9 over Bears
Earlier, talked about a favorable situation where the public was supporting Oakland. However, those betting football don't have the same vibe about the Chicago Bears playing New Orleans. The well-rested Bears opened at -3 and have stayed there as the Saints have won and covered four in a row with backup Teddy Bridgewater under center. This becomes the focal point of this contest, Bridgewater vs. Chase Daniel. There is a reason why Daniel has never won a starting job; he's not good enough and proved that in the upset loss to Oakland. The way Sean Payton's Saints defense is playing, there is every reason to think they can contain Chicago and for this teaser, we skip by those key numbers of 6 and 7 again. Here is the closer: The last 40 times the line was +3 to -3 and a winning team like the Bears was under the total by 42 or more points total in their last five games, they lost by 4.2 PPG in next outing.
Doug's Doc's NFL Picks: Saints +9
New England at N.Y. Jets - Oct. 21 - Patriots Taken From -9.5 to -3.5 over Jets
It does not take much to get New Yorkers fired up about their football teams. The Jets upset Dallas for their first 'W' of 2019, and they are ready to anoint Sam "Mono" Darnold into their Ring of Honor. However, at least it adds early interest to what appeared like another Monday Night Football dud. New England and Tom Brady have seen all the hotshot newcomers and for the most part have laid them out. The Patriots defense has thoroughly stifled every offense this season, holding them to eight PPG. The Jets managed to reach 14 points, but that was courtesy of a fourth-quarter Pick Six by their defense. Dropping underneath the aforementioned important digits, we find the Pats are 54-6 against a teaser line after allowing 17 points or less in three straight games.
Doug's Doc's NFL Picks: Patriots -3.5
Doug Upstone is the newest handicapper at Doc's Sports and he brings years of experience with him. Doug has 21 documented No. 1 titles and finished in the Top Ten 80 other times in a distinguished career. Doug as a professional handicapper/writer, has written for various well-known sports betting websites and several of the football newsletters you have read before.
$$ Doug is 16-9, 64% for 2019 in the NFL, up $2,680 in profit! - New Customers, use $60 Free Money to get my Hot Picks for a week or a month.
$$ Doug, the last four weeks in football is 25-15, up $4,300!
$$ Doug has 7-unit Winner coming in College Football (10/19) and 6-unit NFL Winner (10/20)!
$$ Doug is also rocking baseball, on a 12-4 move!
$$ Doug's on a 66-43 NFL run and is 2016 Monitored Champion
$$ Doug has 21 No.1 monitored titles and 80 Top 10 finishes!
Check out Doug's Winning Plays! Click Here
Get all of this Weeks Free NFL picks
Get all of this Weeks Expert NFL Picks