NFL Power Rankings Week 6
by Robert Ferringo - 10/15/2009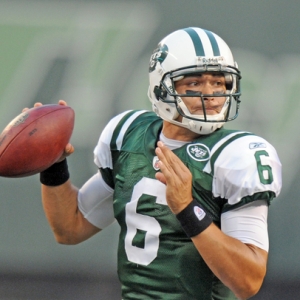 Here is a look at my Doc's Sports NFL Power Rankings:
1. Minnesota Vikings (5-0) - Brett Favre is 5-0 for the first time in his career. The main reason is that the Vikings have generated 12 turnovers so far this year. This team has only outgained its opponents, which haven't been that strong, by an average of 12 yards per game. But those turnovers are making the difference. The Vikings are just 5-11 ATS after a win and are just 1-4 ATS against above .500 teams.
2. New Orleans Saints (4-0) - Speaking of turnovers, Darren Sharper has intercepted five passes through four games and has two touchdowns. He has doubled the TD output of Terrell Owens this year. Even with an extra week to prep the Saints are a little banged up. But they might get DT Kendrick Clancy back, which would be a big piece to have. The home team and the favorite in this series is 5-1 ATS, even though they haven't met since 2006. The Saints are 16-5 ATS as a favorite recently and they are on a sweet 9-1-1 ATS rush.
3. New York Giants (5-0) - Giants are 37-17-2 ATS in their last 55 games overall and an incredible 37-18-3 ATS in their last 58 road games. You have to have some stones to be betting against this team this week. The Giants are 16-5-1 ATS as an underdog and 15-5-1 ATS as a road dog. I mean, all of those numbers are just amazing, especially for a New York team. So even though they haven't played anyone in a month this team is beyond legit. My concern for them is that a competent quarterback will test their secondary for the first time in a month. And the last time they did (against Dallas) they got hit for 31 points.
4. Indianapolis Colts (5-0) - Physical. The Colts looked physical against the Titans last week and they absolutely laid it on a team that was playing for its season. Quite simply, Peyton Manning can't be stopped right now so there is just no spread that I don't see them covering.
5. Baltimore Ravens (3-2) - A lot of the metrics that I use in the preseason to determine which teams are going to fall back and which teams are going to leap forward suggested that the Ravens were due for a regression this year. They lost two games in the final seconds - they are about four plays from being 5-0 - so I'm not jumping off the bandwagon. But I'm saying that another tough beat or two and this stuff could snowball. The Ravens are 5-1 ATS as an underdog, 14-5 ATS overall, and 8-3 ATS in their last 11 road games.
6. Pittsburgh Steelers (3-2) - Looks like it's Pittsburgh's turn to beat up on another one of the pathetic teams in the NFL. They are 8-2-1 ATS in their last 11 games against the Browns and 4-1 ATS at home against Cleveland. The Steelers are just 3-10 ATS as a double-digit favorite and if you throw out a 41-0 beating on Christmas Eve in 2005 (Merry Christmas) the Steelers have beaten the Browns by an average of 14.1 points in their last nine meetings. However, this team has not looked sharp - at all - in their last four games.
7. Philadelphia Eagles (4-1) - Philadelphia needs to clean up their sloppy play immediately. This team is taking too many penalties. And since they are already a game-and-a-half against the Giants their margin for error is already slim. I would say that they can't make those mistakes against the Raiders and get away with it, but they can. They definitely can. The Eagles are 9-3 ATS in their last 12 games and 13-5 ATS in their last 18 road games.
8. New England Patriots (3-2) - Make up your mind: are you a good team, or aren't you? Last week Tom Brady had absolutely zero chance to complete a pass that was more than about seven yards down the field. I mean, one of the most accurate passers I've ever seen wasn't even close on any of those downfield tosses and that right there is why they lost. That's right: Tom Brady cost the Patriots the game last week. I think their bye week comes at a good time.
9. Chicago Bears (3-1) - This team is as under-the-radar as any in football right now. And we're going to find out a lot about them this week in Atlanta. This is a huge revenge spot for the Bears since they lost last year's game due to Lovie Smith's just pathetic, ill-conceived, ridiculous squib kickoff with about 17 seconds to play. The Bears always play well against Atlanta (4-1 ATS in L5) but they are just 1-5 ATS as an underdog and 0-5 ATS as a road dog. Chicago has also been outgained in each of their last three games, all wins.
10. Atlanta Falcons (3-1) - The question is: are the Falcons better this year than they were last year and/or are the Bears better this year than they were last year? Atlanta beat Chicago last season and the margin was razor thin. But if you think Atlanta is better this season and that Chicago is either about the same or maybe a little weaker (mainly due to injuries and personnel losses) then why wouldn't they do it again? Falcons are 8-3 ATS at home but just 1-4 ATS after scoring more than 30 points in a game.
11. New York Jets (3-2) - Didn't take long for Rex Ryan and Mark Sanchez to go from the toast of the town to toast. Welcome to New York, guys. And this week's game might look a little too easy for them. The Jets will be without Jericho Cotchery this week and three other key players (Brad Smith, Damien Woody, Shaun Ellis) haven't practiced this week. This team is just 3-7 ATS in its last 10 games overall and just 1-6 ATS as a favorite.
12. Green Bay Packers (2-2) - They have turned the ball over just three times (and twice in their last game) so far this year while taking the ball away 10 times. But because of dropped passes, penalties and sacks this team is just 2-2 ATS. They are also just 3-12-1 ATS as a double-digit home favorite in Lambeau. That doesn't include their straight-up loss to Cincinnati earlier this year as a 9.5-point favorite. However, they have covered the spread in their last four games following a bye week and the favorite is 4-1 ATS in their series with the Lions.
13. Cincinnati Bengals (4-1) - The Bengals have been a very dicey bet as a favorite (see: overtime victory but non-cover against Cleveland two weeks ago). They are just 1-5 ATS in their last six games laying points. They are also just 5-11 ATS in their last 16 conference games and 9-3-1 on the 'under' in their home games.
14. San Francisco 49ers (3-2) - I mentioned last week that San Francisco's schedule had been favorable so far this season and that it was going to catch up to them. It has. Now it's going to be interesting to see how Mike Singletary's IN-YOUR-(BLEEPING)-FACE methods work if this team starts floundering. Everyone is a genius when things are going well. But how will they respond to adversity.
15. Denver Broncos (5-0) - Denver only managed 13 turnovers on defense all of last year and this year they have already managed 11 turnovers. This team has gone 'under' and has covered the spread in all five games. Just last year the Titans covered the spread in seven straight to open the year. St. Louis six in 99, Philadelphia five in 2004, New England eight in 2007 and five in 2004, six Minnesota 2000, Indy had five in 2003 and 2004, five Chicago 1999. Think the Broncos remember Week 17? Denver is 5-10 ATS as a road dog on Monday Night Football.
16. San Diego Chargers (2-2) - The Chargers are 22-9-2 ATS in divisional games and re 11-5 ATS as a favorite. They have also owned the Broncos lately, going 5-0-1 ATS in the last six meetings and 3-1-1 ATS in the last five meetings. San Diego is 10-5 ATS at home on MNF and they are 6-3 ATS as a favorite. This is a must-win spot and they had two weeks to prep against a team in an obvious letdown spot. But why do I still have a sinking feeling this is going to be another vintage Norv Turner clunker?
17. Dallas Cowboys (3-2) - Not really sure where to start with this team. And enough has been written about them as it is so I'm not going to bother. This is a mediocre, overrated team with a lack of playmakers, no sense of cohesiveness (and T.O. is gone so they can't blame it on him any more), and a terrible coach. Bet on them at your own risk.
18. Arizona Cardinals (2-2) - I was a bit surprised to see that Arizona was catching three points at Seattle this week. The Cards have won and covered in four of five in this series and swept the Seahawks last year. In their trip to Seattle last November they were up 26-7 heading into the fourth quarter. Arizona is 7-2 ATS in its last nine games although they are just 2-2 this week.
19. Jacksonville Jaguars (2-3) - Way to not show up at all last week in what was one of their biggest games of the season. The Jaguars are just 2-8 ATS at home and just 1-9 ATS as a favorite. So should they really be laying out this many points to any team? Mo-Jo Drew went off on a 15-minute tirade critical of just about every aspect of the team's offense. The Jags play St. Louis, Tampa Bay and Kansas City in the next three weeks. This is it for Jack Del Rio.
20. Tennessee Titans (0-5) - I don't even know what to say about this team. I will say this: this is why you don't put too much stock in the preseason. This team looked great in August. But a couple tough, close losses and some injuries and now things have clearly snowballed for this team. And while Vince Young isn't the answer, desperate times call for desperate measures. The underdog has covered four straight between Tennessee and New England.
21. Seattle Seahawks (2-3) - I mean, if this team can protect its quarterback (and if that quarterback is Matt Hasselbeck) then there is absolutely no reason why this team can't put up a lot of points each week. And as I detailed in my Ferringo Report, if you take away two 80-yard runs by Frank Gore (which were on blown assignments) then this becomes, statistically, one of the better defenses in the NFC. Seattle has a much-needed bye week after this crucial game with Arizona. A win or loss here makes that two weeks completely different one way or another.
22. Houston Texans (2-3) - Schaub had a "career day" passing last week. But A) it came against one of the three or four worst secondaries in the NFL, B) he threw a pick six that ended up being the game-winning score, and he missed a wide-open receiver in the end zone that would have tied the game. Good numbers don't necessarily make a good quarterback. The Texans are 5-1 ATS as an underdog and are catching the Bengals in a bit of a letdown spot. It's kind of now or never for Everyone's Sleeper.
23. Miami Dolphins (2-3) - I was excited to see Chad Henne perform when Chad Pennington went down and, don't look now, but Pennington could end up losing his job - yet again - to a guy with a stronger arm. Matt Roth is ready to come back after the bye week and I think he'll be a key addition. Also, having the week off after a big MNF win over a conference rival is a huge scheduling advantage. This week there is no letdown to be avoided. However, New Orleans comes to town on the other side and then this team plays four of five on the road. So don't enjoy that win over the Jets too much.
24. Washington Redskins (2-3) - In one of the stranger scheduling quirks - not as if it was planned, but still - the Redskins will play their sixth straight winless team this week. If you start at a game against 0-0 New York in the opening week the 'Skins have played a winless team in each of the first five weeks of the year. And Washington, itself, still has a losing record. What does that tell you about what will happen when they start playing good teams? Washington is now 7-17-2 ATS against a team with a losing record. They are also just 1-7 ATS at home and they are a stellar 20-7-1 on the 'under' in their last 28 games.
25. Buffalo Bills (1-4) - Buffalo is 4-1 ATS in the last five meetings with the Jets, 4-1 ATS in their last five trips to New York, the road team is 5-1 ATS in the last six meetings, and the coup de grace is that the underdog is 19-7 ATS in the Jets-Bills series. As helpless as Buffalo is they could be a live dog this weekend. That is, if they can get out of their own way.
26. Carolina Panthers (1-3) - I don't see how that win over Washington last week could be much of a momentum builder for the Panthers. They didn't play well at all, fell down two touchdowns at home, off a bye, against one of the worst teams in the conference, and needed a fluke special teams pick to get that 'W'. This team hasn't turned anything around: they are still pretty bad. But they are 11-5 ATS in their last 16 games against the Bucs and the favorite is 4-1 ATS. Of course, that is if you trust Jake Delhomme laying points on the road these days.
28. Tampa Bay Bucs (0-5) - Last year I thought that the Bucs offensive line was a strength. What happened? This team has some decent pieces. But this all goes back to their decision to fire their offensive coordinator about two minutes before the season started. The teams that pulled that off - Tampa, K.C. and Buffalo - have combined to go 1-14 straight up. I will say that I'm excited to see Josh Johnson again. Kid has some moxie. Tampa Bay has allowed eight passing TD's of 30 yards or more.
28. Cleveland Browns (1-4) - Hey, a win! The Browns own the dubious distinction of winning one of the worst games I have ever watched. They are now just 4-10 ATS overall. Also, the Brownies are a dreadful 0-5 ATS as a double-digit underdog and they are 1-10-1 ATS on grass. Also, I have heard a ton of talk about Cleveland already looking to draft another quarterback next April. WHY? Don't teams realize that signing a veteran and drafting positions with less of a bust ratio is the best way to turn a team around? I swear, is being a moron were illegal…
29. Detroit Lions (1-3) - The big injury on this team this week is not Matt Stafford, it's Calvin Johnson. Cal hasn't been practicing and his loss would be a big hit to the Lions attack. I said that the Lions would be better with Daunte Culpepper and I thought that they were last week. Matt Stafford won't (or at least definitely shouldn't) play this week. He is the team's "future" and he has a knee injury. He should be sitting until he's 100 percent unless new coach Jim Schwartz is as big of a moron as his fellow first-year head coaches. The Lions are just 10-19 ATS in their last 29 games but they are 14-3 ATS as a double-digit underdog. This team is also 20-6 against the total in its last 26 road games.
30. Oakland Raiders (1-4) - Solid quote from Peter King about JaMarcus Russell: "He is powerfully ill-equipped to be a starting NFL quarterback". That says it all. There is really no way to tell how good or bad this team really is as long as they have, essentially, a fourth-grader under center. I can't believe that this league is so bad that they aren't even the worst team in it.
31. Kansas City Chiefs (0-4) - Wow. That's all I can say about the Chiefs defense. Those guys just don't tackle anyone. The front seven can be decent at times, but their secondary just cannot tackle anyone. Dallas did absolutely everything that they could to give that game to the Chiefs - and they still lost. Kansas City covered its first spread, in the preseason or the regular season, last week against Dallas. The Chiefs are just 9-19-1 against the total as a road dog.
32. St. Louis Rams (0-4) - St. Louis has scored 34 points in five games. Marc Bulger is starting this weekend, but I don't think it matters. Not behind that offensive line and not with the pathetic wideouts that this employs. The Rams are 23-50-1 ATS after a loss so they don't exactly bounce back strong. They are also just 8-22 ATS as an underdog between +3.5 and +10.0. This team has lost 15 straight games by an average of 17.5 points per game.
Robert Ferringo is a professional handicapper and you can purchase a full season's package of his football selections for just $25 per week! Click here for details.