2103-14 American Athletic Conference Basketball Predictions and Futures Odds
by Robert Ferringo - 10/11/2013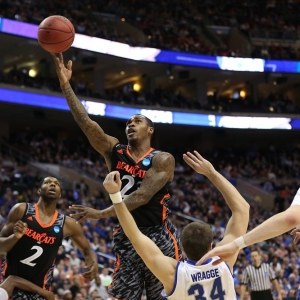 College basketball's first mega-conference, the Big East, had been a dominant force on the national hoops scene over the last several seasons. But due to maneuvers motivated by college football revenue, this offseason the Big East splintered into what seems like 100 different pieces.
One of which is the new American Athletic Conference. With remnants from the Big East, Conference USA and the Atlantic 10, the AAC is college basketball's newest – and more awkward – conference. But what the league lacks in long-standing rivalries and brand recognition they make up for by having some of the top programs in the country under one roof.
Here is Doc's Sports 2013-14 American Athletic Conference basketball predictions (with odds to win the conference title in parentheses):
The Favorite: Louisville (+125)
The defending National Champions get to step down in class this year, leaving the brutal Big East for a cushy spot near the top of the AAC. Rick Pitino lost two critical components of Louisville's back-to-back Final Four teams when point guard Peyton Siva and center Gorgui Deng moved on. However, there is still a solid core of players remaining and several talented newcomers ready to join the fight. Leading scorer Russ Smith is back in the fold and will team up with highly-touted junior college transfer Chris Jones in the backcourt. Forwards Wayne Blackshear and Chane Behanan – whom I really like – have the potential to break out. And Luke Hancock is the straw that stirs the drink and one of college basketball's top X-factor players. This is still a top-tier team that will begin the season in the Top 5. They may not be as dominating as they have been during the regular season, and they may be more susceptible to an upset. But the Cardinals are a hoops haven, and this will be another successful year.
The Challenger: Memphis (+150)
Despite some gaudy win-loss numbers, Memphis has been perpetually overrated during the Josh Pastner era. Pastner is 106-34 with the Tigers, but most of those wins have come thanks to overmatched nonconference foes and Memphis' spot in pathetic Conference USA. But the Tigers are just 55-70 against the spread during that stretch, and their hype has surpassed their performance. That said, this year's version would be the best of Pastner's tenure. I don't care about Memphis' highly-touted freshman class, which includes five Top-100 recruits. In my opinion, most freshmen stink their first year and are overhyped. But I like the Tigers because their backcourt is the best in the country. Missouri transfer Michael Dixon has been ruled eligible and is one of the best two-guards in the country. Team him with uber-athletic Joe Jackson, and this Tigers backcourt should average 35 points this year. But it doesn't stop there, as guards Chris Crawford and Geron Johnson were also double-digit scorers. Memphis lost frontcourt enforcer Tarik Black to Kansas and forward Adonis Thomas to the pros. But if they can find some capable bodies to throw near the basket, this team has the backcourt to make a serious run in The Big Dance.
The Dark Horse: Connecticut (+350)
Seven-foot-one center Enosch Wolf was just kind of an awkward afterthought for this team last year. But his decision to leave school and play professionally in Germany could be the difference between the Huskies going to the Final Four or struggling to make it out of the opening weekend. The Huskies have one of the two or three best backcourts in the country. Shabazz Napier is an absolute assassin and one of the most underrated players in college basketball. The senior played side-by-side with Kemba Walker on Connecticut's title team and is capable of a similar one-man-gang assault. But he won't have to do that because Ryan Boatright (15.4) is an able running mate, and the Huskies have two potential breakout stars in sophomore guard Omar Calhoun (11.1 points per game) and junior forward DeAndre Daniels (12.1 ppg). That quartet is nearly unguardable on the perimeter. But the issue is in the post. Tyler Olander is a scrapper. But he is only 6-9 and not super athletic. And beyond Olander there really aren't even many options to toss in the paint for the Huskies. This team needs a space eater to defend, rebound, and set some screens. If one develops then this is one of the best teams in the country. If not, they have a ceiling in terms of how far they can advance come March.
The X-Factor: SMU (+1000)
The Larry Brown hiring at SMU has made for a strange marriage. But it has been a successful move for the Mustangs for no other reason than it has put SMU basketball back on the map. Brown has the most interesting roster in this league. He has all five starters back from a mediocre 15-17 team. Three of those starters averaged 12 or more points per game, including sweet wings Jalen Jones and Ryan Manuel. Brown has a senior point guard in Nick Russell (14.0 ppg) and a talented backup in Illinois State sophomore transfer Nic Moore. Brown also bagged Top-50 freshman Keith Frazier and one of the top JUCO players in the country (Yanick Moreira). Brown has a team with some talent, experience, and cohesion. These guys can compete. But how good can they really be? Is this an NCAA Tournament team? Are they still two or three recruiting classes away from being a factor? I'm not sure, but this team is definitely one I'll be watching closely.
The ATS Machine: Central Florida (+1500)
The Golden Knights didn't make any noise nationally, but this was a quality team in Conference USA and a solid moneymaker for me through the heart of the 2012 season. Once several transfers became eligible at the end of the first semester, UCF took off, using an 8-4 ATS run in the middle of the season to pad some stacks. This team has no depth. But they have four of five starters and six of the top seven players from last year's 20-win team back. Central Florida won't be nationally relevant this year, either. But they are just good enough to be competitive against the top teams in the AAC and they are just good enough to overpower lower-tier mid-major teams in the nonconference portion of the schedule. It always takes transfers a year to adjust. And now that the Knights have a year of experience with one another, they should be a pretty tough out.
The Disappointment: Temple (+2000)
Khalif Wyatt was one of the most underrated players in college basketball last year. He averaged over 20 points per game and was a one-man wrecking crew for the Owls. He is gone, and it is impossible to replace everything he brought to the table for Temple. The Owls also lost two other key players that chipped in another 20 points per game, so around 60 percent of their offense walked out the door. Temple has been one of the best mid-major programs in the country over the past several years, snagging six straight NCAA Tournament berths. But now they are stepping up in class with their worst team in nearly a decade. Temple has boasted exceptional guards and athletic wings throughout their recent run. But this year's team has neither. Temple has just one senior (who averaged just 2.9 points), and they will be relying on primarily freshmen and sophomores. This is a rebuilding season, and I expect it to go slowly.
The Rest:
Cincinnati (+1000) – Mick Cronin has put the Bearcats back on the college basketball map with back-to-back NCAA Tournament appearances. But he will have his hands full with a full rebuild this season. Four-year starting point guard Cashmere Wright has exhausted his eligibility. The Bearcats don't have a clear replacement, but whoever it is will be forced to get the ball to Sean Kilpatrick early and often. Kilpatrick is one of the best scorers the school has had in the last 10 years and will be forced to carry the offensive load again. Beyond that the Bearcats will try to scrape up wins with toughness and defense. But unless a second and third option emerges, it could be an ugly season for Cincinnati.
Houston (+2000) – The Cougars were all set to bust out and be a player in their new conference. But then leading scorer Joseph Young – angry over his father's demotion within the Houston athletic department – decided to transfer to Oregon. Young's 18 points per game can't be replaced. Houston has a dynamic swingman in Daniel House, and forward TaShawn Thomas (16.9 ppg, 9.8 rebounds per game) is one of the most productive players in the country. If Baylor transfer L.J. Rose can produce immediately and if guard Jherrod Stiggers can step his game up then Houston could compete for another 20-win season. But any chance of making a run in the league or toward the NCAA Tournament went out the door with Young.
Rutgers (+5000) – New coach Eddie Jordan is trying to pick up the mess left behind by the Dave Rice Scandal. Rice's affinity for dodgeball led to his ouster, and a bad Rutgers team lost what little talent it had after Rice was shown the door. What remains is a team that will try to thump and claw its way to .500. They have a nice guard in Myles Mack and some decent experience at forward. But this is still a bad basketball team that is years away from being a factor in this watered-down conference.
South Florida (+7500) – The Bulls used their quirky style – that is almost a version of the four corners offense – to steal an NCAA Tournament bid in 2012. But they fell on their face last year in what was supposed to be an encore season. If the Bulls try to recreate the 2012 magic and rely on a system of gritty defense, low-scoring games, and stall offense, they will probably barely top last year's 12-19 mark. Anthony Collins can get the job done if he is unshackled. But unless some shooters and scorers emerge then the Bulls might be as punchless as they finished up last season.
Projected American Athletic Conference Standings:
1. Louisville*
2. Memphis*
3. Connecticut*
4. Cincinnati
5. SMU
6. Central Florida
7. Temple
8. South Florida
9. Houston
10. Rutgers
*Projected NCAA Tournament Team
Robert Ferringo is a member of the Basketball Writer's Association of America and a professional sports handicapper for Doc's Sports. He is considered one of the best college basketball handicappers in the country and has earned five straight winning college basketball years. His $100-per-Unit clients nearly $49,000 in the last seven seasons with his nonconference picks and he is looking forward to his biggest season ever. You can sign up for his college basketball picks and get more information here.
Read more articles by Robert Ferringo
---
Most Recent College Basketball Handicapping