2013 Big East Basketball Predictions and Futures Betting Odds
by Robert Ferringo - 10/10/2013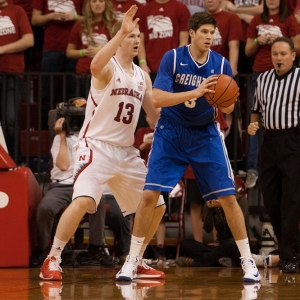 You can't kill The Beast.
The Big East has been the dominant college basketball league in the country over the last five to 10 years. But when several of its flagship members, including Syracuse, Connecticut and Louisville, abandoned the Big East to chase football money in other leagues, that was supposed to be the beginning of the end for the conference.
However, the Big East adapted to the football-centric landscape of college athletics. The league poached three of the best mid-major programs in the country to fill the void and has created a hoops haven for schools whose main athletic focus is college basketball. The result is one of the deepest hoops conferences in the country. And this year it is not unrealistic to think that the Big East could become the first league to send all 10 of its teams to the postseason.
The Big East is no longer the standard bearer for college basketball. But led by the so-called "Catholic 7" schools, venerable programs that include Georgetown, Villanova, Marquette and Providence, The Beast is still fighting. And with secured membership and a television contract, this conference has positioned itself to be a mainstay for the foreseeable future.
Here are my 2013-14 Big East Basketball Predictions to help you with your college basketball picks (with odds to win the each team's division in parentheses):

The Favorites: Creighton (+250)
The Bluejays are stepping up in weight class, leaving the comfortable confines of the Missouri Valley to take a slot in the Big East. Creighton has four starters back from last year's 28-win Round of 32 team. They are lead by First Team All-American forward Doug McDermott, one of the best players in the country and a 23.3-point per game scorer. McDermott is one of the most efficient players in college basketball and will likely crack the 3,000-point mark this year. But he can't do it alone. Three seniors – Grant Gibbs, Jahens Manigat and Ethan Wragge – with a load of experience surround McDermott. This team executes as well as any in the nation and is 80-30 over the past three years. They can be over reliant on the three-point shot, though, and it will be interesting how they fare going week-in and week-out against teams that may be bigger, stronger and more athletic than what they saw in The Valley. I will be surprised if Creighton wins the Big East, but not surprised if they are playing in the second weekend of the NCAA Tournament next March.
Georgetown (+250) – If I've learned anything over the years of covering the Big East it is that you should never count out John Thompson and the Hoyas. Last year was supposed to be a rebuilding season for Georgetown. All they did was go 25-7 and earn a No. 2 seed in the NCAA Tournament. (Granted, they were blown out by Florida-Gulf Coast. But still.) Do-everything forward Otto Porter has gone pro. But the Hoyas have four starters back, including potential breakout player Markel Starks. Adding to the intrigue for this team is the addition of UCLA transfer Josh Smith, who will join the team in the second semester. Smith was always overweight and out of shape at UCLA. But he undeniably has talent and could go a long way in replacing Porter's departed 16 points and seven rebounds per night. This is a system team. And John Thompson III's rugged defense and Princeton-themed offense should ben enough to offset any talent deficiencies this team has.
The Challenger: Marquette (+250)
The Golden Eagles are perpetually one of the most underrated programs in college basketball. The best indicator is the fact that they have posted three of four winning seasons against the spread and have covered 56 percent of their last 120 lines. The Golden Eagles have won 70 percent of their games over the past five years and have accepted eight straight invitations to the Big Dance. Coach Buzz Williams always fields one of the most aggressive, physical, and mentally-tough teams in the nation. This year will be no exception. The powerful frontcourt of Davante Gardner, Jamil Wilson and Chris Otule will set the tone for this team. But if they are going to topple Creighton, they will need some guards to step up and replace last year's starting backcourt. Todd Mayo is the key for this team and will start at the two spot. But the thing to watch with this team is whom they entrust to run the point, with unproven junior Derrick Wilson trying to fend off freshman Duane Wilson. Regardless, this team will fight, defend and claw for wins, and there is never a time when they don't come to play.
The Dark Horse: Villanova (+500)
Last December coach Jay Wright was squarely on the hot seat. But a strong finish to the regular season helped the Wildcats to 20 wins and a No. 9 seed in the NCAA Tournament. That was crucial after two straight lackluster seasons (18-38 ATS) and a serious talent drain. Villanova lost just one key contributor, Mo Yarou, from last year's squad. They have a point guard, Ryan Arcidiacono, whom a lot of analysts like. But I think he is too sloppy with the ball and a wild card on this team. But if Arcidiacono settles down and improves on his 12 points per game then the Wildcats will be a more stable wager. That will also leave their fate in the hands of potential breakout candidates Darrun Hillard (11.4 ppg) and JayVaughn Pinkston (13.3), who were solid as sophomores. This is still an incredibly young team with just one senior contributor on the roster. But they have some of the most explosive wing play in the league and a lot of potential.
The X-Factor: St. John's (+1000)
We've been hearing about Steve Lavin's talent stockpile in Queens for a couple years now. It's time to put up or shut up for Lavin's bunch. They have two potential NBA players in D'Angelo Harrison (17.8 ppg) and JaKarr Sampson (14.9), a veteran point guard Phil Greene (10.1 ppg) and several big, athletic bodies to work the paint. Add in some promising newcomers, and you have the ingredients of an NCAA Tournament team. But the question isn't the raw talent with this group, which returns 92 percent of its scoring and 88 percent of its rebounding. The questions are all about their mental focus. Harrison was suspended last year, and at times this team was a sloppy mess. Also, playing time could be an issue for guys, and that could derail this bunch. Lavin has some work to do with this group. But they have the most raw talent in the league and should be a surprise team on the national level.
The ATS Machine: Seton Hall (+2500)
After a 21-win renaissance in 2011, the Pirates fell on hard times last year while tumbling to a 15-18 mark. Injuries crippled this roster, and they lost underrated point guard Aaron Cosby to a transfer this summer. But Seton Hall was bad enough last year and returns enough talent this season where they should be skating below the radar. This is coach Kevin Willard's third season, and I expect some things to click with this bunch. They have a legit go-to guy in senior Fuquan Edwin. Power players Gene Teague and Patrick Auda are both seniors and should lend stability to the post next to versatile Brandon Mobley. Veteran Brian Oliver and Texas transfer Sterling Gibbs give Seton Hall a pair of solid guards as well. These guys can play a bit. And if Gibbs can replace Cosby then I see a very competitive season from this crew.
The Disappointment: Butler (+1500)
Brad Stevens bailed on the Bulldogs to take the head coaching spot for the Boston Celtics. Stevens was a brilliant in-game tactician and will be missed. However, he is not the first Butler head coach to leave, as Thad Matta and Todd Lickliter were also forced to hand over the torch. Butler just keeps winning. But they are in their third conference in three seasons, hopping from the Horizon to the Atlantic 10 to the Big East. Now we will see how they stack up with high major teams every night, and I think it is going to be tough sledding. Butler didn't just lose its coach, it also lost its best/only shooter (Rotnei Clarke), athletic Roosevelt Jones, and low-post rock Andrew Smith. That is a ton to replace, and I don't expect the Bulldogs to be up to task. This team is terrible shooting from the outside. And their physical, grinding defensive style shouldn't bother the bigger, stronger teams in this league. I think Butler will be a disappointment from start to finish this year.
The Rest:
Xavier (+800) – The Musketeers are coming off one of their worst seasons in over a decade. But it is easy to forget that Xavier has been one of the best programs in the country since the turn of the century, as proven by their 11 NCAA Tournament appearances in the last 13 seasons. Last year was a rebuilding season. But Chris Mack has a very young and very talented squad this season, and the Musketeers will fight to return to The Dance. Sophomore combo guard Semaj Christon looks like the real deal after averaging 15.2 points in his rookie season. He is a leader on a team with just one scholarship senior. Xavier is a bit undersized and is banking on quality play from Western Michigan transfer Matt Stainbrook, who is taking a huge step up in class going from the MAC, skipping the A-10, and banging in the Big East.
Providence (+2000) – I was driving the bandwagon on this Friars team last year, pounding them with picks and wagers from December on. My foresight was rewarded with plenty of winners, and now it will be interesting to see how the value holds with this group. Providence welcomes back three players that averaged at least 13 points per game last season, including stud guard Bryce Cotton (19.7 ppg). They also retained promising point guard Kris Dunn, and new coach Ed Cooley has his deepest team in three seasons. The Friars still need to be better defensively, and they need to avoid the injuries and off-court issues that have sabotaged their talent in recent seasons. If they do that then this team has a realistic shot of getting back to the NCAA Tournament for the first time in a decade.
DePaul (+5000) – This is the end for the Cleveland and Brandon Show. Cleveland Melvin and Brandon Young are finally seniors. Forward Melvin (16.6 ppg) and guard Young (16.7 ppg) are one of the highest-scoring duos in the country, and both are four-year starters. But coach Oliver Purnell has not ben able to surround them with anything close to a talented supporting cast. The Blue Demons slunk to 11-21 overall and 2-16 in the Big East last year. The roster isn't any better this year as DePaul lacks the defense, toughness and physicality to blossom in Purnell's up-tempo, pressing style. DePaul can't stop anyone. And they don't have the guns to outscore anyone. But they do have four starters back, including their pair of motivated seniors, and I won't be surprised if this team battles its way to .500 and fights its way into one of the third-tier postseason tournaments. This is also a key season for Purnell, who can feel his seat getting hot.
Projected Big East Standings:
1. Georgetown*
2. Marquette*
3. St. John's*
4. Creighton*
5. Villanova*
6. Seton Hall
7. Butler
8. Providence
9. Xavier
10. DePaul
*Projected NCAA Tournament Teams
Robert Ferringo is a member of the Basketball Writer's Association of America and a professional sports handicapper for Doc's Sports. He is considered one of the best college basketball handicappers in the country and has earned five straight winning college basketball years. His $100-per-Unit clients nearly $49,000 in the last seven seasons with his nonconference picks and he is looking forward to his biggest season ever. You can sign up for his college basketball picks and get more information here.
Read more articles by Robert Ferringo
---
Most Recent College Basketball Handicapping