2013 SEC Football Predictions and Futures Odds
by Robert Ferringo - 8/21/2013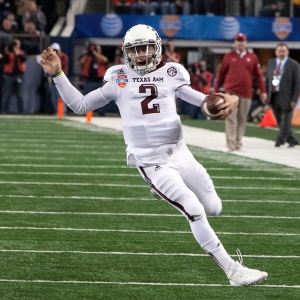 I wrote a 1,500-word article about why the SEC is a complete and total fraud, so I'm not going to totally repeat myself here. But I will give you the Cliff's Notes.
Basically, the SEC is a shell game. They have ranged from "pretty average" to "terrible" in the nonconference portion of the schedule the past two years, and that is a decent indicator of how they stack up with the rest of the country. Also, the SEC is the nation's best conference only if you are willing to ignore A) the eight teams at the bottom of the 14-team league and B) the fact that middling Big 12 teams have managed to fare pretty well in their first seasons in the league.
What does this mean to college football bettors? It means that the league is completely overvalued in the market, and you would be wise to stay ahead of the crowd and adjust your SEC betting accordingly.
Here is a look at my 2013 SEC football predictions. Because of the uncertainty surrounding Johnny Manziel, most books aren't currently taking any futures bets on winning the conference. However, I have listed the odds to win the conference courtesy of Bovada, retro to what they were before Manziel got busted:
The Favorite: Alabama (-125)
My favorite thing about the Crimson Tide is their style of play. At a time when the rest of the football world is turning to the read-option, the spread, and whatever other trendy high-scoring offense is floating around, Alabama has gone to the complete other end of the spectrum. The Crimson Tide smash people in the face. They run the ball, and then they run the ball some more, and when they get in trouble they run the ball even more. It's a tried-and-true approach, and Alabama is among the best teams in the country because they are the biggest, strongest, most athletic team around. After fluking their way to their three national titles thanks to Colt McCoy's injury and their ridiculous inclusion in the 2011 title game, Alabama finally won a legit title last year. (Thanks, in part, to Mark Richt and Aaron Murray melting down in the last 20 seconds of the SEC Championship.) Can Alabama's luck continue another year? Probably. Their only two real "tests" come in the first two games. They play Virginia Tech in Atlanta, but the Hokies are only average. Then Alabama has two weeks to prepare for a trip to Texas A&M, where the Aggies should be without their starting quarterback. After that, Alabama plays seven of 10 at home, and the only decent team on the schedule is LSU. (Naturally they have a bye before that game too. God forbid they have to play the Tigers without benefit of two weeks of practice.) In a lot of ways Alabama is as big of a fraud as the SEC and the Tide's schedule is a joke. There really isn't anything stopping this team from running the table and winning another title.
The Challenger: LSU (+650)
The only thing between Alabama and another undefeated season is a man who doesn't understand what timeouts are for and his noodle-armed quarterback. Les Miles has another team stacked with athletes, and Zach Mettenberger leads an offense with one of the best running games in the nation. LSU was another SEC team that just kind of la-di-da'd its way to a 10-3 record last year. They barely beat Auburn, South Carolina and Texas A&M while barely losing to Florida, Alabama and Clemson. Ho-hum. And this year LSU's schedule sets up for a similar result. They have a game at Georgia on Sept. 28 that could move the meter. And they get revenge games against Florida and A&M down in Baton Rouge. But other than that, it is a trip to Alabama on Nov. 9 that will define LSU's season. Their quarterback isn't good enough to win there, and the defense isn't good enough to stop the Tide. But since Alabama doesn't play any other top SEC teams, it is on LSU to try to stem the Tide.
The Dark Horse: South Carolina (+500)
The Gamecocks are the only other team that can stand up and take a punch from Alabama. This team is as physical as it gets and will feature the nation's best defensive player, Jadeveon Clowney. However, Clowney is just one man. And he is one of just five defensive starters back for the Gamecocks. USC lost all three linebackers and will be starting freshmen and sophomores there. That group needs to mature quickly. USC will also need to keep quarterback Connor Shaw healthy. Despite his slight build, coach Steve Spurrier insists on running the barely-200-pound quarterback a dozen times a game into the teeth of SEC defenses. If Shaw stays healthy, he can be an adept pocket passer. South Carolina's skill players are young but potentially explosive. If USC wins at Georgia on Sept. 7, they will be in the driver's seat to win the SEC East.
The X-Factor: Texas A&M (+650)
I have absolutely no idea why scumbag/brat Johnny Manziel hasn't been kicked out of college football yet. The defending Heisman Trophy winner "allegedly" showed as much respect for the NCAA rulebook as fellow scumbag/brats Alex Rodriguez and Ryan Braun showed to the MLB rulebook. Yet the "investigation" into Manziel's shady dealings continues, and the quarterback remains eligible. The USC Trojans and Ohio State Buckeyes had their programs throttled by the NCAA for similar pay-for-play scandals, but it appears the fact that so many people want to watch Manziel play is enough to make the NCAA drag its feet. Regardless, the most valuable Aggie is head coach Kevin Sumlin. He is an excellent coach, and apparently all it took to get A&M out of Big 12 mediocrity was a switch to the SEC. If Manziel plays a full season – which you have to think is highly unlikely – then A&M could muck things up for Alabama or LSU. If Manziel finally gets his comeuppance, that will make the Aggies a potential 'W' for some of the lower- and middle-tier SEC teams trying to reach a bowl game. Regardless, I see this team regressing and succumbing to the negative karma.
The Disappointment: Florida (+800)
The Gators had a resurgence last year in Will Muschamp's second season. However, their play on the field wasn't always as sparkling as their 11-2 record would have you believe. This team nearly lost to Missouri and Lafayette at home, and they slogged through three quarters against Jacksonville State. Florida's offense is mediocre, and they have six starters back on that side of the ball. Just four starters return from one of the nation's top defenses as Muschamp tries to replace seven of his top 14 tacklers, including several NFL Draft picks. Florida has to travel to LSU and South Carolina this year, and they face Georgia on a neutral field. Add in a home game against Florida State to close the season, and UF has twice as many "losable" games as either Alabama or A&M. Failure is relative in the SEC. But I think that three or four losses and a third-place finish in the East would qualify as a disappointing season for UF.
The Rest:
Georgia (+400) – The Bulldogs were less than 15 yards from the national title game last year. (I still have no idea why Richt didn't use his final timeout against Alabama.) They will be hard-pressed to duplicate last year's effort thanks to games at Clemson and home tilts versus South Carolina and LSU in the first month of the season. Georgia will have one of the best offenses in the country, with nine starters back from the group that managed 37.8 points per game last year. But Georgia lost eight defensive starters and will be raw on Todd Grantham's side of the ball. Having to face three top-tier teams so early in the season won't help the learning curve. Georgia has been a bit of a paper tiger the last few seasons. Richt is just 4-12 straight up in his last 16 regular season games against ranked opponents, and two of those wins came against "little brother" Georgia Tech. With the potential to play five games against ranked foes in 2013, I will call for them to come up short of last season's near-miss.
Tennessee (+2500) – Apparently Butch Jones saw this moribund Tennessee program as a step up from Cincinnati and jumped ship. This will be his first year with the Vols, and he is taking over a team that has gone just 28-34 SU and ATS the last five seasons (10-14 SU and 8-16 ATS the L2Y). Tennessee has to replace a load of skill position talent, including its quarterback and top four receivers. But they do get eight defensive starters back in the fold, including six three-year starters. The bad news there is that the defense gave up 35.7 points per game last season, so UT has a lot of ground to make up. This team will be lucky to get to six wins and a bowl game in Jones' rookie campaign.
Missouri (+5000) – I am looking for a big bounce-back year from Mizzou after the Tigers fell flat their first time through the SEC. Gary Pinkel averaged 9.6 wins per season from 2007-2011 but won only half that last season. Pinkel has eight starters back on offense this year and should get better offensive line play. The key will be third-year starting quarterback James Franklin. Franklin is more of a runner than a thrower, and he seems 100 percent after an injury-ravaged season. Mizzou has to play Georgia, Florida and South Carolina in three straight weeks. But they get the last two of those games at home and have situational advantages in both (Florida off LSU; South Carolina playing third straight road game and fourth in five weeks). I expect Missouri to make some noise in the SEC, and I have them penciled in for eight regular season wins.
Kentucky (+10000) – The Wildcats are still cannon fodder for the rest of the league. They have a new coach in Mark Stoops and 14 starters back on both sides of the ball. But Kentucky has to play Louisville, Florida, at South Carolina and Alabama all before we hit mid-October. The Wildcats are usually competitive – prior to last season's two-win debacle they hadn't won less than five games since 2005 – and could be primed for a bounce-back season. But I think that a bowl bid is a stretch, and they will have a good season if they can improve on last year's ugly 3-8 ATS record.
Vanderbilt (+10000) – Head coach James Franklin has very quietly done a great job building up this once-feeble program. The Commodores won nine games last year, and Vandy has been the best bet in the league over the last two seasons at 18-8 ATS. Vanderbilt has seven starters back on each side of the ball and eight three-year starters in the fold. They will be relying on Wyoming transfer Austyn Carter-Samuels to take over at quarterback. This is a massive step up in class for AC-S. But the Commodores play only five road games this year, and one of those is at UMass. This team is tough and physical, and they don't back down from the SEC's big boys. But they are also just 2-7 ATS in their last nine games against ranked conference opponents, so they still have a long way to go.
Mississippi State (+5000) – Dan Mullen has done an excellent job of restoring some credibility to an MSU program that had been a joke under Sylvester Croom. Mullen has earned three straight winning seasons in Starkville and won two of three bowl games. But this looks like a bit of a rebuilding year despite returning seven offensive starters and a three-year starter at quarterback. Mississippi State feasted on terrible teams last year but was non-competitive against the SEC's best. This season they have road games at Auburn, South Carolina and Texas A&M as well as home games against LSU and Alabama. They won't win any of those games. It also means they would have to sweep the rest of the schedule, which includes a tricky opener against Oklahoma State in Houston and a test versus improving rival Ole Miss to close the year. I think this will be a step back for Mullen's charges.
Mississippi (+5000) – The Rebels are a big "buzz" team right now, and there is a lot of reason for optimism. Hugh Freeze led Ole Miss to a surprising seven wins in 2012, including a bowl blowout, and he welcomes back 19 starters (10 on defense). The Rebels have nine three-year starters and are reaping the benefits of a dynamite junior class. That includes quarterback Bo Wallace, who is in his third year at the helm. Ole Miss took advantage of off-the-rail seasons by Arkansas and Auburn last year to get to six wins. But they were blown out in most of their biggest games, losing to Texas, Alabama and Georgia by an average of 24 points. This year's schedule is brutal – and odd. They play four of their first five games on the road, including a crucial opener at Vandy. But then Ole Miss will play six straight home games before finishing up at Mississippi State. They went 10-3 ATS last year, so the books will be all over this group. And if they lose the opener a 1-6 start is very possible. I would tread lightly with this team; the hype may be premature.
Auburn (+7500) – Gene Chizik is just three years removed from a national title and just one year removed from his job as Auburn football coach. The Tigers canned Chizik after an ugly 2012 season. Auburn went just 3-9 and had several embarrassing performances against the SEC's top tier. But there is optimism for this season. Auburn has had just one other losing season in the past 15 years, so they don't stay on the mat long. And new head coach Gus Malzahn – the offensive coordinator on that National Championship team in 2010 – will have plenty to work with. Malzahn absorbs 15 returning starters and an athletic junior class that he personally helped recruit. New quarterback Nick Marshall will be charged with leading Malzahn's high-scoring offense. And if Auburn can find a defense (they have given up 28 points per game in three of four seasons), they could be a team that does some damage in the West.
2013 SEC Football Predictions: Predicted Order of Finish
SEC East
1. South Carolina
2. Florida
3. Georgia
4. Missouri
5. Vanderbilt
6. Tennessee
7. Kentucky
SEC West
1. Alabama
2. LSU
3. Auburn
4. Texas A&M
5. Mississippi
6. Arkansas
7. Mississippi State
Robert Ferringo's Big 12 Conference Preview – CLICK HERE
Robert Ferringo's ACC Conference Preview – CLICK HERE
Robert Ferringo is a lead writer for Doc's Sport and he has earned over $9,000 in football profit for his clients over the last 15 football months. He went 5-1 last week with his NFL preseason selections and will have an 8-Unit and a 5-Unit NFL futures bet released this week. Also, for the first time ever, Robert will release selections from his incredible KING College Football Betting System. (Learn more HERE.) We are so confident that you will be amazed by this moneymaking system we are going to give you a free, no-strings-attached $60 credit to use toward a purchase of Robert's football selections. CLICK HERE for $60 absolutely free!
Read more articles by Robert Ferringo