2014 Big 12 Tournament Picks and College Basketball Predictions
by Robert Ferringo - 3/10/2014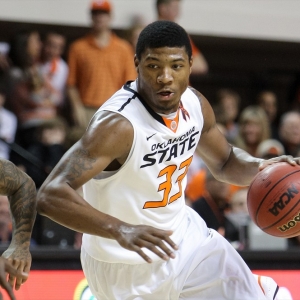 As many as eight of the 10 teams in the Big 12 Conference could find themselves in the NCAA Tournament next weekend. As such, this week's Big 12 Tournament could be considered a preview of next week's Big Dance rather than just a settling ground for a few regional scores.
The Big 12 has been considered the best league in the country this year. It's depth and talent can match up with any league in the nation.
The Big 12 conference tournament begins Wednesday, March 12, and is being held at the Sprint Center in Kansas City, MO.
Here is Doc's Sports Big 12 Tournament picks and predictions:
The Favorite: Kansas
The Jayhawks won an astonishing 10th straight regular-season Big 12 title this year and continue to be one of the elite programs in the country. Despite losing all five starters, the Jayhawks reloaded and then unloaded on the rest of the league and will go for their fourth conference tournament title in five years. Freshmen sensations Andrew Wiggins, Joel Embiid and Wayne Selden form the core of this uber-talented group. Embiid has battled injuries late in the season but should be at full strength. And Kansas will need him to be after dumping two of its final three games. Kansas has been the best team in the best conference in the country this season. They have a great big target on their back, and the Jayhawks will face inflated spreads from the oddsmakers. But none of that has stopped Bill Self's charges before.
The Contender: Oklahoma
Surprise! The Sooners came out of nowhere to earn the No. 2 seed this season thanks to another brilliant season on the bench from Lon Kruger. Kruger is one of the best and most underrated coaches in the country and has done an excellent job with a roster featuring just two seniors. The strength of this Sooners team is in its versatility. They have a host of guards and wings capable of playing and guarding multiple positions. They are one of the most efficient offenses in the nation and average over 82 points per game. However, they lack a natural rim protector and are a poor rebounding team on the defensive end. Baylor could exploit that in the quarterfinals, even though the Sooners swept the Bears in the regular season. However, one thing Oklahoma excels at is closing game out from the free throw line (No. 19 in the country).
The Sleeper: Iowa State
Here lies the most dangerous team in the field - both for bettors and the sportsbooks. Iowa State is a quick-trigger, high-scoring crew capable of sweeping through Missouri and cutting down the nets. But Iowa State is not nearly as capable outside of its own gym. They have lost six of their last eight road games, and their only wins were in triple-overtime at Oklahoma State and at TCU. Iowa State has two All-American players in Melvin Ejim and DeAndre Kane. They play fast and loose, and they are capable of getting hot and cutting down the nets this weekend. But because they are so reliant on 3-point shooting, and because the Cyclones have proven vulnerable outside of Ames, they have a high boom-or-bust ratio.
The Spoiler: Oklahoma State
I actually almost went with West Virginia here since I think the Mountaineers have a decent path to the final. But I'll stick with the woefully underseeded Cowboys. A midseason tailspin, exacerbated by Marcus Smart's three-game suspension thanks to his fan fun, sunk the Cowboys near the bottom of the standings. But they closed the year winning four of five, including a key win over Kansas, and right now the Cowboys have as much confidence as anyone in the league. Smart and Markel Brown give Oklahoma State the best backcourt in the conference. And that gives them a chance. But the same weakness that has sabotaged them for most of this year - zero post presence - will limit the overall damage that they can do. But it should be a wild game if the Cowboys get another crack at Kansas.
The Matchups (with projected college basketball odds):
No. 8 Oklahoma State (-8.5) vs. No. 9 Texas Tech (7 p.m., Wednesday, March 12)
The Red Raiders won't be a pushover in this opener. Tech beat the Cowboys 65-61 in Lubbock on Feb. 8 and got rocked by 22 in the rematch on Feb. 22. Tubby Smith's Red Raiders are active and athletic and feature some decent forwards in Jaye Crockett and Jordan Tolbert. The Cowboys will counter with savvy guard play. Tech wants to press and push the tempo. But that plays right into Oklahoma State's strength in the backcourt. A big X-Factor in this game will be Cowboys guard Phil Forte. He's one of the best shooters in the country and has been stroking it. If he is hitting from the outside then OSU will advance easily.
No. 7 Baylor (-11) vs. No. 10 TCU (8:30 p.m., Wednesday, March 12)
TCU is one of the worst teams in the country. They don't stand a chance. The Horned Frogs became the first team in Big 12 history to lose every single league game. And they were noncompetitive in most of them. That includes a 26-point beating and a 33-point maiming at the hands of Baylor. It probably won't be that bad on Wednesday, because Baylor can flake with the best of them. But the Bears are too big, too strong, and guards Kenny Cherry and Brady Heslip are playing too well for Baylor not to advance.
No. 4 Iowa State (-1) vs. No. 5 Kansas State (12:30 p.m., Thursday, March 13)
Iowa State and Kansas State are set for a rubber match in Thursday's first quarterfinal. This is awful early in the morning (11:30 a.m. local time) for things to get this intense. The Cyclones will want to rev the engine and turn this game into a shootout. But Kansas State is the polar opposite. They are a rugged, physical team that gets it done on the defensive end first. The Wildcats are in the Top 55 in points allowed and field goal defense. They have to grind for points. And the team that is able to establish tempo in this game is going to advance.
No. 3 Texas (-2.5) vs. No. 6 West Virginia (9:30 p.m., Thursday, March 13)
Texas has been a huge surprise in the Big 12 this year, and they are trying to lock up an NCAA Tournament berth. The Longhorns used a seven-game winning streak in the middle of the season to build their resume, and despite being one of the 10 youngest teams in the country they play with impressive composure. However, eight of their top nine players are freshmen or sophomores, and that lack of experience will handicap them in the postseason. West Virginia isn't much more seasoned. And neither team enters the league tournament on much of a late-season run. But WVU knocked off Kansas on Saturday and got key wing Terry Henderson back from injury. So Texas needs to be on upset alert in this nightcap.
Big 12 Tournament Picks: I know it is boring, but I really think that this tournament is Kansas' to lose. If they do, they will have to earn it as Oklahoma State and Iowa State could each knock off the Jayhawks. However, if they survive those pesky foes then there is no way they will lose in the finals. This is not one of Bill Self's best teams. But Kansas is still more diverse than any of the other one-note teams in the tournament, and I expect them to earn their seventh championship in nine years.
Robert Ferringo keeps proving himself to be one of the best college basketball handicappers in the nation. Robert has posted 11 of 16 winning college hoops weeks and 17 of 20 winning college hoops months. He has banked nearly $10,000 in profit with his side plays this year and almost $17,000 in profit since Nov. 11, 2012. Robert is a profit machine and you can take advantage of our free, no-strings-attached $60 credit to use toward a purchase of Robert's college basketball selections. CLICK HERE for $60 absolutely free!
Read more articles by Robert Ferringo
---
Most Recent College Basketball Handicapping