College Basketball Betting: Saturday Odds and Analysis
by Robert Ferringo - 1/31/2014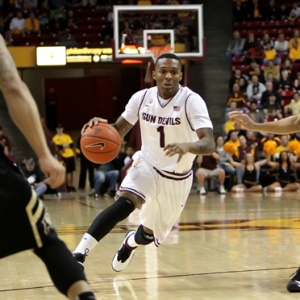 One of the biggest games of the entire college basketball season will take center stage at 6:30 p.m. on Saturday when Duke heads to Upstate New York to take on Syracuse in a battle of between ACC powerhouses. For weeks this game has been on the mind of college basketball fans across the country and it will feature the largest on-campus crowd in college hoops history.
However, while the Syracuse-Duke game will certainly be one of the biggest and best games of the season it is not the only important game on the schedule.
Below is a look at five games that aren't in the same stratosphere as the SU-Duke game in terms of hype and national exposure. But these five games are each critical in their own way, involving teams either battling for conference championships or fighting to earn their way into the NCAA Tournament discussion.
(The spreads are my own projections. However, you can find current college basketball odds here.)
Toledo (+2) at Ohio (1 p.m.)
Who's ready for some MAC-tion? These are two of the top teams in the MAC and an in-state rivalry to-boot. Toledo is a high-scoring (83.2 points per game), high-flying team on the fringe of the Top 25. They are dominating the feeble MAC West and have played four of their last five games at home prior to this weekend's swing to Miami, OH and then Ohio on Saturday.
Ohio is in a battle with Akron for superiority in the MAC East. The Bobcats lost a ton of talent from last year's squad but still has one of the best, and most underrated, home court advantages of any mid-major team in the country. They have also dominated this series, going 6-1 straight up against Toledo in the past five seasons.
Toledo has already won at Akron – another East team with a killer home court edge. They will find themselves in the rare underdog role and will have to defend better than they have been if they want to steal one here.
Memphis (+3) at SMU (2 p.m.)
This game does feature a Top 25 team, but this matchup is still pretty much under the radar, where SMU has been toiling all season long. Larry Brown has one of the most underrated teams in the country and this is a shot for a marquee win against a former Conference USA rival.
The Mustangs are coming off a shocking loss at South Florida this week. That snapped a five-game winning streak and SMU has been one of the best bets in the country this season. They are 8-2 against the spread in their last 10 games and 7-1 ATS in the last eight. Brown has a deep and well-rounded team. But to beat the Tigers they are going to have to prove that one or two Mustangs can play like stars and the entire team will have to function at a high level.
Memphis has only lost to Connecticut (a team SMU beat) and Cincinnati over the past month. They have won and covered three straight against D-I opponents and the Tigers have beaten SMU in eight of the last 10 meetings dating back to 2007.
Arizona State (+3) at Stanford (4 p.m.)
This is a desperation game for two teams that are going to be on the NCAA Tournament bubble. They also have two coaches working to keep their jobs and two players, Arizona State's Jahii Carson and Stanford's Dwight Powell, that are future NBA players not a lot of people talk about.
Arizona State scored a huge overtime win at Cal on Wednesday and has now won three straight since getting bombed by Arizona on Jan. 16. Carson is one of the best point guards in the country but he needs more help from the other veterans on the roster.
Stanford is similarly enigmatic. But they have dominated this series, going 6-1 straight up and ATS in the last seven meetings with the Sun Devils. They nearly dealt Arizona its first loss of the season on Wednesday, falling 60-57, and Stanford is 5-1 ATS in its last six games. They also have revenge for a loss to ASU in the Pac-12 tournament last year.
Boise State (+4) at UNLV (8 p.m.)
This is another game that just reeks of desperation. Both schools have been underachieving. Both teams are 5-3 in league play. And both teams really, really need this 'W'.
The Rebels have been streaky all season. They opened the year 3-4, then won seven straight, and have since gone 4-3. That inconsistency should be expected from a roster that is really just a mishmash of transfers and dead-enders. That said, the Rebels are 12-4 ATS in their last 16 games and have been undervalued by the locals.
Boise State has spent the season suffering from a big-time NCAA tournament hangover. They have a deep and experienced roster. But Boise hasn't been shooting the ball as well this season and they have been a mess defensively. Boise is showing some signs of life, with four wins in their last five outings, and they could use a big momentum win heading into a season-defining stretch that includes games with San Diego State, Utah State and New Mexico.
St. Mary's (+5.5) at BYU (11 p.m.)
Neither of these teams will likely earn an at-large bid to the NCAA Tournament. So they only way that they can earn a slot is to play their way in by wining the WCC tournament.
The top two teams in the regular season get a bye to the semifinals of the conference tournament, giving them a huge advantage. St. Mary's can go up two-and-a-half games over BYU with a win here and grab a firm hold of that No. 2 slot with a win. BYU can pick up a game on the Gaels with a return game on Feb. 15.
St. Mary's is a perfect 4-0 straight up against BYU since the Cougars joined the WCC. The Gaels are 5-1 SU and ATS in the last six meetings dating back to 2005. This is just St. Mary's second road game in over three weeks – they were bombed at San Diego on Thursday – but they have won their last two trips into Provo.
Robert Ferringo is a lead writer for Doc's Sport and one of the top college handicappers in the country. Robert has posted 8 of 11 winning college hoops weeks and 16 of 19 winning college hoops months. He has banked nearly $6,000 in profit with his side plays this year and nearly $13,000 in profit since Nov. 11, 2012. Take advantage of our free, no-strings-attached $60 credit to use toward a purchase of Robert's college basketball selections. CLICK HERE for $60 absolutely free!
Read more articles by Robert Ferringo