2014 Missouri Valley Tournament Basketball Picks with Odds and MVC Predictions Doc's Sports
by Robert Ferringo - 3/4/2014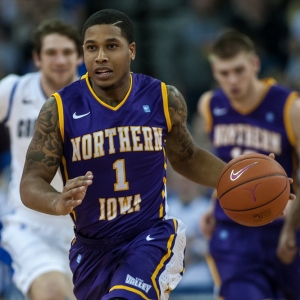 It's time to dance.
The Missouri Valley Conference Tournament begins this Thursday and marks the beginning of one of the most frenetic and enjoyable times on the sports calendar. Arch Madness will take place from March 6 to March 9 at the Scottrade Center in St. Louis, with the winner earning the league's automatic bid to the NCAA Tournament.
The Horizon and Atlantic Sun conferences began their respective postseason tournament on Tuesday, so The Valley's league championship is not the first of the postseason. However, the Missouri Valley is the first of the recognizable or "name" conferences to decide their league's bid. That is immediately followed by the major conference tournaments next week, Selection Sunday, and within two weeks we'll be betting on the NCAA Tournament.
Let The Madness begin.
The big storyline going into this year's Arch Madness is obviously Wichita State's attempt at an undefeated season. The Shockers are ranked No. 2 in the country and finished the regular season with a pristine 31-0 record. They devastated The Valley this season, the league's first without former powerhouse Creighton.
Creighton, which has won the MVC the past two years, is now a member of the Big East.
Wichita State is such an overwhelming favorite that most online sportsbooks either are not offering odds on the team to win the tournament this weekend or they are offering either/or odds on who will win it. So if your book is taking bets on either you can wager on Wichita State at -400 to cut down the nets in St. Louis or you can bet on The Field at +320.
Here is Doc's Sports Missouri Valley Tournament preview (with odds courtesy of Sportsbook.ag):
The Favorite: Wichita State (-400)
I gave a more detailed analysis of why I think Wichita State is for real and a true national title contender last week. I'm certainly not backing off now. Some people may wonder about how the Shockers will handle the "pressure" of going undefeated. But I look at it another way: being undefeated gives these guys something to play for. Wichita State has played only three games since Christmas that were decided by less than 10 points, and their average margin of victory in league play was a whopping 15.6 points per game. Playing for an unblemished record and a No. 1 seed in the NCAA Tournament will ensure that this group of talented veterans comes to St. Louis focused and determined. I think that actually decreases the odds of an upset, counter to the narrative I'm sure the bobblehead media will be parroting this weekend.
The Contender: Indiana State (+320)
This is the only team that has a prayer of beating Wichita State. But there's a decent chance they may not even survive to the finals. I don't trust at all. The Sycamores finished the regular season with three straight losses, and they aren't exactly a team I believe in on the road. But they do have Jake Odum, the senior point guard that led Indiana State to the 2011 MVC title, and he is one of three starting seniors that won't go quietly. If this team gets hot from the outside they are one of the few with the talent in the same stratosphere as Wichita State.
The Sleeper: Northern Iowa (+320)
The Panthers are always a force to be reckoned with in St. Louis. They have won three league titles in the past decade, second only to the departed Creighton. But this NIU team isn't nearly as strong, or as deep, as the 2009 and 2010 versions that cut down the nets. Northern Iowa beat VCU this year and took Iowa State to overtime on a neutral site. So they have shown an ability to reach a high level. They also enter the tournament winners of five of six games. But they may have to go through Indiana State in the semifinals, and it would be the second time in a week they have squared off, and the Sycamores would be looking for revenge.
The Spoiler: Missouri State (+320)
The Bears are the only Valley team to put Wichita State on the ropes this year. They led the Shockers by 18 points in the second half back on Jan. 11. But Wichita State came all the way back and won by three points in overtime. Missouri State has been a very mediocre team since, going just 7-7 straight up. They have a deep bench and are one of the league's top shooting teams. But they will have a tough test in their opener against Illinois State. The teams split the season series, with the Bears win coming in overtime back on Jan. 2.
The Matchups:
No. 8 Drake vs. No. 9 Evansville (7 p.m., Thursday, March 3)
Not much to say here. These are just two terrible basketball teams suiting up for this opening game. Naturally, they split the season series. Drake won the first meeting by 28 back on Jan. 1. But they lost the return game by 13 on Feb. 25. Drake is a chuck-and-duck 3-point shooting team. And senior guard Richard Carter is one of the best players on the floor. Evansville is one of the youngest teams in the country (No. 349), and its top eight players are all freshmen or sophomores. D.J. Balentine is one of the top scorers in the conference, but he is also the beneficiary of an offensive system that keys on one designated guard. (Colt Ryan played that role the last few years.) I like the experience of Drake here.
No. 7 Bradley vs. No. 10 Loyola-Chicago (9:30 p.m., Thursday, March 3)
This is Loyola's first pass through the Arch. They defected from the Horizon League, and their rookie season in The Valley was predictably awful. This team couldn't compete in the Horizon, and this is a major step up in class. They are efficient offensively and have a very good young player in Milton Doyle. But Bradley swept the season series, and Geno Ford's defensive-oriented club will be favored to advance. However, it's not like Bradley is anything to write home about. They have lost five of their last six games and are just 7-17 since the start of December. Again: we're really dealing with two bad basketball teams here. That's kind of a running theme in this rebuilding league.
No. 4 Missouri State vs. No. 5 Illinois State (2:30 p.m., Friday, March 4)
Dan Muller's Illinois State team had a much better season than I expected. They are one of the least experienced teams in the country (No. 345) and had to replace a load of talent from last year's underachieving crew. But they have held their own, staying above .500 overall and being competitive throughout league play. Naturally, these two teams split their season series, and there isn't a strong edge one way or another. I think that betting on this game may be for degenerates only.
No. 3 Northern Iowa vs. No. 6 Southern Illinois (9:30 p.m., Friday, March 4)
Southern Illinois coach Barry Hinson looked like a potential midseason firing early in the season, especially after his epic rant following a loss to Murray State. This team is a potential sleeper in the bottom of the bracket, and they found a groove late in the year. The Salukis have gone 7-3 in their last 10 games and lost by only three at Indiana State and by "just" 11 at Wichita. Senior Desmar Jackson is an explosive scorer that is capable of carrying this group to a win or two. However, Northern Iowa beat Southern Illinois 73-54 last week and are the more disciplined team. SIU is small and relatively young, and I am not sure they can get the crucial stops to advance here.
Missouri Valley Conference Tournament Picks and Predictions: Wichita State will roll. It really is just that simple. Their spreads are going to be astronomical, and I'm not sure how many games they will cover. But no one in this dumpster fire of a league will beat them. Frankly, I think that -400 is a steal and would get down on that price.
Robert Ferringo keeps proving himself to be one of the best college basketball handicappers in the nation. His college basketball picks have earned $100 bettors nearly $7,000 in the last two months. And you can get his pick HERE for only $30.
Read more articles by Robert Ferringo