2015 Big 12 Predictions with College Basketball Conference Betting Odds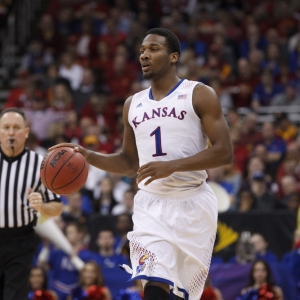 In the age of parity in sports, what Kansas has done in the Big 12 this century is astounding.
The Jayhawks are the overwhelming favorite to win their 12th straight Big 12 regular season conference title this season. That's 12 straight. Twelve. Kansas' regular-season title streak is older than YouTube. Kansas' regular season title streak is older than a fourth grader. Kansas was just two months away its first title to start this streak when Barack Obama took office…as an Illinois senator.
That title streak has occurred despite the Big 12 serving as the second-best basketball conference in college basketball over the past decade. (It is second only to the Big East, if you were wondering.) This isn't Kentucky dominating the SEC, which is a sick joke of a basketball league. No sir. Kansas has won 11 straight in a loaded league out in the Midwest.
In fact, Kentucky hasn't won back-to-back regular-season championships in that clown car conference during the time of the Kansas dynasty. How about Duke and North Carolina in the ACC? Neither has won more than two straight titles, and Duke hasn't won back-to-back regular season championships since 1999-2000.
And you know what: Kansas is going to win No. 12 this year.
Sure, there are other Top 20 teams in the Big 12 this season. Iowa State is still loaded with talent. Oklahoma has four of five starters back from last year's Sweet 16 squad. Texas is completely re-energized with Shaka Smart at the helm. And West Virginia, Baylor, and Oklahoma State all have enough talent to topple the Jayhawks on any given night. But Kansas is the cream of the crop, and they will try to extend one of the best dynasties in sports again this year.
Here are Doc's Sports 2015-16 Big 12 Conference college basketball predictions (with odds to win the conference title in parentheses):
The Favorite: Kansas (-125)
The Jayhawks had a very unique experience this summer, representing the United State in the world University Games in South Korea. The upside is that the tournament gave the Jayhawks a couple extra weeks of practice and games during the summer. The downside is that they could hit a wall and wear down late in the season because of their extended season. Regardless, this is a team without a true weakness. Frank Mason is a fearless player and one of my favorite point guards in the country. He has a lot of weapons to work with, including Wayne Selden (who I think will break out this season), Brannen Greene and Devonte Graham. Kansas is also solid in the interior, with heart-and-soul player Perry Ellis leading the way. Fellow returning starter Jamari Traylor and stud freshmen Cheick Diallo and Carlton Bragg lend support. And keep an eye on Hunter Mickelson. He is a space eater that I think will be much better in his second seasons since transferring from Arkansas.
The Challenger: Iowa State (+250)
The Mayor, Fred Hoiberg, has moved on to become coach of the Chicago Bulls, leaving behind an exciting and athletic ISU team that will again threaten Kansas as the big dogs in the Big 12. The Cyclones have four starters back from last year's 25-game winners. And they should have a relatively easy adjustment to new coach Steve Prohm's systems. Prohm, who previously coached at Murray State, employs a four-out, one-in, trap-and-run style similar to what the Cyclones thrived in under Hoiberg. Iowa State has one of the best players in the country and a future lottery pick in do-it-all forward Georges Niang. They also boast an experienced backcourt with Monte Morris, Naz Long, Marquette transfer Deonte Burton, and shooter Matt Thomas. Jameel McKay broke out last year at the center position as well. Ames is one of the most difficult places in the country for opposing teams to win, as ISU's 62-5 record at home the last four years attests. But ISU has to firm up its consistency on the road (and neutral courts) if it wants to finally overtake the Jayhawks.
The Dark Horse: Oklahoma (+300)
The Sooners starting five is the most experienced in the country. It's not "one of" the most experienced; it is the most experienced, with an amazing four three-year starters back for a final go-round. Guards Buddy Hield, Isaiah Cousins and Jordan Woodard have played in and won a ton of big games together and average nearly 40 points and 13 rebounds per game between them. Forward Ryan Spangler is a high-energy big man in the post. Fantastic coach Lon Kruger does have to replace TaShawn Thomas, the fifth starter from last year and their top post player. That is OU's weakness: the post. The Sooners need some toughness and rebounding to emerge underneath. And, frankly, OU's guards need to prove that they have that killer instinct that championship teams possess. The Sooners have been very good the past two seasons. Now they need to show some edge and elevate to great.
The X-Factor: Texas (+1200)
The Longhorns entered last season neck-and-neck with a seemingly vulnerable Kansas team as the favorites to win the Big 12. Texas flopped, and it finally cost terrible coach Rick Barnes his job. Texas lured former VCU coach Shaka Smart down to Austin, and Smart is bringing his high-energy Havoc style to the Lone Star State. Smart inherits talent. Texas has a trio of three-year starters and a fourth, Javan Felix, who has been a part-time starter the last three seasons. Smart has four veteran guards - now-healthy Isaiah Taylor, Felix, Demarcus Holland and Kendal Yancy - to work with. He also has two quality big men in Cameron Ridley and Connor Lammert, as well as bulky junior transfer Shaq Cleare from Maryland. Add in some top recruits and Smart has a solid, almost tailor-made eight-man rotation. How they take to Smart's pressing style will tell the tale for this group of underachievers, who have shown a nasty knack for either blowing or just not showing up for games.
The Disappointment: West Virginia (+650)
The Mountaineers ended last season with their tails tucked securely between their legs thanks to a brutal 78-39 beat down at the hands of Kentucky in the Sweet 16. But Bob Huggins still welcomes back a big, physical team with his patented mean streak. They have three returning starters, a potential breakout sophomore in Jevon Carter, and a couple of good-looking freshmen. But I'm not buying WVU as one of the three or four best teams in the league, as these odds suggest. They lost Juwan Staten, who was their best offensive player by a wide margin. Also, WVU broke out for 25 wins last year. But they stunk in 2012-13 (13-19) and 2013-14 (17-16), so last year looks like a bit of an aberration. WVU played the No. 255 nonconference schedule in the land last year, and in the Big 12 they showed a propensity for getting blown out, losing games by 27, 19, 18 and 20 points on the road. Good teams don't do that. I think the Mountaineers could still be a tournament team. But they aren't a real contender in the Big 12 this season.
The Rest:
Baylor (+800) - Scott Drew just continues to do amazing things in Waco. And he will have his hands full this season as Baylor, for the first time in Drew's tenure, doesn't have a single quality guard on the roster. Lester Medford will try to replace Kenny Chery, who did a great job replacing underrated Pierre Jackson before him. But I don't think Medford is up to the task, and Baylor really doesn't have any other options in the backcourt. The Bears do still have a dominating frontcourt, though. Rico Gathers is one of the best rebounders in the country and averaged 12 points and 12 rebounds per game last season. Taurean Waller-Prince is a future NBA journeyman. And John Motley and Jo Acuil have a lot of size and upside. But Baylor's season is still lower than it has been unless a guard comes out of nowhere.
Oklahoma State (+1800) - If you could combine Oklahoma State and Baylor you would have a Top 5 team. Baylor has no guards and a great frontcourt. Oklahoma State has plenty of guards and no size in the post. Travis Ford continues to barely hang onto his job in Stillwater and simply refuses to find (or develop) any decent big men despite that being a massive weakness the past several seasons. So Phil Forte will try to shoot the Cowboys into contention again this year and will try to make up for the loss of 34 points and 16 rebounds per game in departed talent. OSU's season hinges on a couple of its athletic wings - Tavarius Shine, Jeff Newberry, Leyton Hammonds or Jeff Carroll - breaking out. But unless the Cowboys magically get better in the paint - they were No. 299 in the nation in offensive rebounding and No. 300 in blocked shots - this team will continue to mire in mediocrity.
Kansas State (+3500) - These odds don't accurately reflect how bad Kansas State basketball is right now. Bruce Weber somehow managed to keep his job despite an all-out mutiny last season and back-to-back ugly seasons in Manhattan. K-State lost seven players from last year's team to dismissal, graduation or transfer. That list includes their clear-cut best player, Marcus Foster, as well as their No. 2 and No. 3 leading scorers. The Wildcats have just one returning starter, who averaged all of 5.8 points per game, and there is a dearth of both talent and experience on this roster. Basically, these guys stink, and I expect this to be Weber's last season in charge of this program.
Texas Tech (+5000) - I have to give Tubby Smith a little bit of credit here. The guy can coach just enough to stay employed. And in just two years he has turned Texas Tech into a relatively competitive group in the Big 12. He made a load of progress with this group last season; in January they lost games by 32, 20 and 45 points, and by late February they nearly knocked off Baylor (twice) as well as Oklahoma. The Red Raiders have four starters back and have some decent looking sophomores to work with going forward. Tech is still just fodder for the other top teams in the league. But they are making some improvements, and I think within a couple years they could be working their way into some tournament discussions.
TCU (+10000) - The Longhorns enjoyed one of their best overall seasons of this century, finishing over .500 on the year (18-15) for just the third time in 13 seasons and for the first time since joining the Big 12. Granted, all of TCU's success came against a comically weak schedule. But they also had two OT losses, to Baylor and West Virginia, and choked away a game against Kansas by just three points. The Horned Frogs were competitive. And with three returning starters and two top transfers they are hoping to repeat the feat. It will be tough, considering TCU lost its two best players to graduation. But the Horned Frogs don't have any senior in their main rotation, so this season could be a step back before a potential step forward next season.
Projected Big 12 Standings
1. Kansas
2. Iowa State
3. Texas
4. Oklahoma
5. Baylor
6. West Virginia
7. Oklahoma State
8. Texas Tech
9. Kansas State
10. TCU
Robert Ferringo is a member of the Basketball Writer's Association of America and a professional sports handicapper for Doc's Sports. He is considered one of the best college basketball handicappers in the country and has an unmatched streak of nine straight winning nonconference seasons and nine straight winning regular seasons. Robert's $100-per-Unit clients have banked $12,130 in profit with his sides and totals the last two years alone and he has raked in a remarkable $60,600 in the last nine years with his nonconference picks (November and December) alone. There is no better moneymaker in the nation and Robert is looking forward to another amazing season. You can sign up for his college basketball picks and get more information here.
Read more articles by Robert Ferringo
---
Most Recent College Basketball Handicapping