Top 12 Nonconference College Basketball Games 2015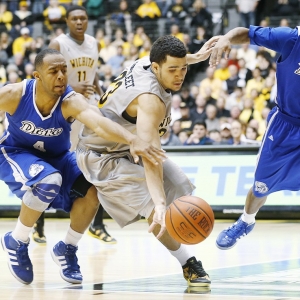 College basketball, from a purely competitive standpoint, is a vastly superior sport to college football. Top-tier college football programs each generally have one pseudo-marquee non-league game during their entire campaign. And because college football schedules are laid out years in advance, it is almost impossible to get Top 5 teams from different conferences to meet up in high-profile early-season games.
In college basketball, everybody plays everybody! The biggest and best programs in the nation actively seek one another out for games in November and December. And that creates a multitude of high-energy, high-profile nonconference games each year that are like crack to college hoops fanatics like myself. A lot of big-time nonconference college basketball games go overlooked and underappreciated because they are played at a time when football, both college and the NFL, dominate the national sports scene. But that doesn't mean that there are some amazing matchups each season that should be appointment television for gamblers and sports fans.
Free $60 in Member College Basketball Picks. No Obligation Click Here
Here is a look at 12 of the best nonconference games on the college basketball schedule for the 2015-16 season:
12. Cincinnati vs. Xavier (Saturday, Dec. 12)
This game isn't going to move the meter nationally. It is a regional clash. But the fact is that the Crosstown Classic is one of the nastiest, most vitriolic rivalries in all of college basketball. These programs, located just three miles apart, definitely hate each other, as evidenced by a bench-clearing brawl in the 2011 game. Things were so vicious that the schools thought about cancelling this annual rivalry clash and actually moved it to a neutral court for two years! These are two Top 25 teams that are also among the two or three best squads in their respective conferences. Cincinnati is as good as it gets on the defensive end, and Xavier's Trevon Bluiett ad Jalen Reynolds are two of the best young players that no one talks about. Make sure this one is on your to-do list.
11. Oklahoma vs. Villanova (Monday, Dec. 7)
The setup for this one is completely contrived: two Top-10 teams squaring off at Bloch Arena in Pearl Harbor on the 54th anniversary of the bombing that sparked United States entry into World War II. This game will be played at the navy base on the island and will be part of a doubleheader for that evening (Oregon-Navy is the matinee). I'm not sure if the organizers were trying to be cute when they tabbed Oklahoma as a participant, given that was the name of one of the battleships sunk in the 1941 attack. (A fact I'm certain the announcers will belabor during the broadcast.) Regardless, Villanova has three starters back from last year's No. 1-seeded squad. Oklahoma opens this season at No. 8 in the country. Two of the most experienced backcourts in the country will be dueling in this game, and these two squads are also known for their defensive ability. This will be a good one.
10. Utah at Wichita State (Saturday, Dec. 12)
Utah plays San Diego State, BYU and Duke in the nonconference. All three of those contests are must-see TV. But I love this matchup because it features two Elite Eight-caliber programs that don't get a lot of mainstream recognition. Ron Baker and Fred VanVleet are two of the most accomplished guards in college hoops. And this is really an important game for Wichita State because it is the biggest one on their nonconference schedule. This is 100 percent an NCAA Tournament team, so that's not an issue. But seeding is crucial in March, and if the Shockers don't win this game it could come back to haunt them come Selection Sunday. Utah has not been the same team outside of Salt Lake City the past few years. Brandon Taylor, Jordan Loveridge and Jakob Poeltl have an opportunity for a key true road win here, and this game will also serve as a solid tune-up just one week before they lock horns with Duke in Madison Square Garden.
9. California at Virginia (Tuesday, Dec. 22)
The sheer randomness of this game is what jumped out and intrigued me. These are two excellent teams, and I'm not sure that they've ever played against one another. Virginia hosts Villanova just three days before and has tilts with Ohio State and West Virginia during the month of December as well. So you could argue that this is the fourth-most appealing game the Cavaliers will play in this month. But California has been way off the national radar, and people don't realize just how good this team is. The Golden Bears have what I feel is the best backcourt in the country. The knock against this program the past few years is that they lack toughness. Virginia has a surplus in that category, and it will be great to watch the Cavaliers' defense put the clamps on Cal's talented offense.
8. Arizona vs. Gonzaga (Saturday, Dec. 5)
These are two of the top programs in the West, and the defending Pac-12 champion Wildcats will wander into Spokane for a true road game against Gonzaga. This one is the return game after last season's classic 66-63 overtime win for Arizona in Tucson. Most of the primary combatants from that game are gone. But there will be a load of talent taking the court here. Gonzaga is one of the few teams - mid-major or not - with the frontcourt size to stand up to Arizona. Przemek Karnowski, Domantas Sabonis and Kyle Wiltjer have size, skill and experience and will bang heads with Kaleb Tarczewski, Mark Tollefsen and Ryan Anderson in an outstanding matchup. (Can I buy a vowel?) The winner will have bragging rights as the Best in the West - at least at this point in the year.
7. Kentucky at UCLA (Thursday, Dec. 3)
The Bruins play at Gonzaga on Dec. 12 and face North Carolina in Brooklyn on Dec. 19. Both of those are monster games. But I think that this is UCLA's top nonconference game because they've drawn the Wildcats out to the West Coast and in front of the Bruins faithful. UCLA was humiliated 83-44 by Kentucky last year in Chicago in a December meeting. The Bruins will absolutely want revenge in this one, and this is a chance for Steve Alford to get a signature win during his third year in Pauley Pavilion.
6. Duke vs. Kentucky (Tuesday, Nov. 17)
This will not be a great game. I can tell you right now that this one, played at the United Center in Chicago, won't be played at a high level and could end up being a blowout one way or another. But this one is must-see television because it will be the first glimpse we get of the insane freshmen talent on both teams. Six of the Top 20 freshmen in the country will be squaring off, including potential one-and-done players Skal Labissiere, Isaiah Briscoe, Brandon Ingram and Chase Jeter. Again, I expect this to be kind of a sloppy affair. But there's too much talent and potential on the court for it not to be entertaining.
5. Michigan at SMU (Tuesday, Dec. 8)
SMU is one of the best teams in the country. But they have gotten absolutely screwed over by the NCAA this season and banned from the NCAA Tournament. That means that their regular-season games will be of heightened importance, and this is the best game on their card. John Beilein's Michigan teams have taken an "anyone, anywhere" approach to nonconference basketball. And in the first few week's they'll have played Xavier, Connecticut (in a Bahamas tournament) and North Carolina State (whom they play just one week before heading to Dallas to take on SMU). This one is the prototypical contrast of style games, and I expect it to be played at a very high level.
4. Indiana at Duke (Wednesday, Dec. 2)
Two traditional powers will square off in one of the marquee games of the Big Ten/ACC Challenge. There will be all kinds of NBA talent running and dunking all over this one, and I expect the total to be posted somewhere around 160. The defending national champions are nearly impossible to beat in Cameron Indoor, especially in nonconference games. Indiana freshman Thomas Bryant will get an opportunity to matchup with Duke's fearsome freshman foursome. But the real intrigue in this one will be how the Hoosiers respond to the adversity that comes from playing a titanic game like this one the road. Talent is not Indiana's problem; heart and toughness are. I think we'll get a real sense of what Indiana's true potential is this season by how they answer the bell against the Blue Devils.
3. Kansas vs. Michigan State (Tuesday, Nov. 17)
How about the fact that two of the best nonconference games of the year will be played in the same place, on the same night, less than a week into the season? This game is the nightcap of the Champions Classic, following the Duke-Kentucky opener. I think that this game could be a Final Four preview, and these are two of the five best teams in the country. While Duke vs. Kentucky is a showcase of raw talent and will give everyone a first look at a loaded deck of freshmen, Kansas vs. Michigan State will be a showdown of two veteran teams relying on upperclassmen and experience. Michigan State won the matchup between these squads in Atlanta in 2013. And the Jayhawks were laughed off the court in a 72-40 drubbing at the hands of Kentucky in last year's Champions Classic. But I don't see any scenario in which this isn't a close, well-played game with a lot of early-season intensity, and it should be a game that sets the tone for these two national title contenders this season.
2. Maryland vs. North Carolina (Tuesday, Dec. 1)
This one harkens back into the ACC glory days with former league rivals revving things up as the marquee matchup in the ACC/Big Ten Challenge. The last time the Terps were in Chapel Hill was in 2012, and the last time these two faced off as ACC foes was in the ACC Tournament in 2013. However, these two schools were intense rivals for 60 years, and fan bases on both sides are thrilled for this nostalgic matchup. Oh, yeah, and then there's the fact that these are two of the Top 3 teams in the country in preseason polls. Add in the fact that two of the best point guards in the country - Melo Trimble and Marcus Paige - will be dueling, and this game should be a back-and-forth affair that would've been befitting of any era of UNC-Maryland matchups.
1. Kentucky at Kansas (Saturday, Jan. 30)
Where the hell did this game come from? The best nonconference game of the year won't be played until January, in the middle of league play! Regardless, this one should be great. By this point Kentucky's freshmen will be acclimated to the college game, and this one should be a lot more aesthetically appealing than their game with Duke in early November. Kansas doesn't lose in Phog Allen Fieldhouse. But they also aren't used to hosting teams like this in games like this. What makes this one even more difficult for the Jayhawks is the fact that they have to go to Ames on the Monday before this game for a crucial Big 12 game with Iowa State.
Honorable Mention: Louisville vs. Michigan State (Dec. 2), Baylor vs. Vanderbilt (Dec. 6), Villanova at Virginia (Dec. 19), Indiana vs. Notre Dame (Dec. 19), Butler vs. Purdue (Dec. 19), Louisville vs. Kentucky (Dec. 26)
Robert Ferringo is a member of the Basketball Writer's Association of America and a professional sports handicapper for Doc's Sports. He is considered one of the best college basketball handicappers in the country and has an unmatched streak of nine straight winning nonconference seasons and nine straight winning regular seasons. Robert's $100-per-Unit clients have banked $12,130 in profit with his sides and totals the last two years alone and he has raked in a remarkable $60,600 in the last nine years with his nonconference picks (November and December) alone. There is no better moneymaker in the nation and Robert is looking forward to another amazing season. You can sign up for his college basketball picks and get more information here.
Read more articles by Robert Ferringo