2016 Big Ten Basketball Predictions with Expert Handicapping and Futures Odds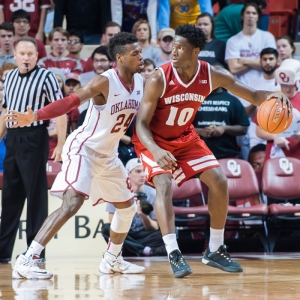 I will say that last season was a slightly disappointing one for the Big Ten. They entered the year with no fewer than four potential Final Four teams, and I projected that eight teams would make the field. But the Big Ten sent only seven to the dance, including one (Michigan) that was relegated to a First Four play-in game. The league's highest seed, No. 2 Michigan State, was embarrassed in the first round, and all three of the Big Ten's Sweet 16 participants lost in that round.
Banging on Big Ten hoops is always pretty easy. However, I don't think that last year's tournament results should in any way take away from what was one of the toughest and deepest leagues in the country. And I feel like the Big Ten doesn't get enough credit for the sheer unpredictability of its regular season race.
Six different teams have claimed at least a share of the Big Ten title over the last 10 years. The league hasn't had one team win an outright title since 2006-07 (Ohio State) and the Big Ten has had three different league champs each of the last three seasons.
Further, the Big Ten enters this winter with three teams - Wisconsin, Michigan State and Purdue - posted at less than 2-to-1 to win the conference crown. That speaks to the parity and depth of this group of schools. And it should be another great race once we get into league play.
Here are Doc's Sports 2016-17Big Ten Conference college basketball predictions (with Robert's projected odds to win the conference title in parentheses):
The Favorite: Wisconsin (+150)
Last season was supposed to be the letdown of all letdowns for the Badgers. They were coming of a gut-wrenching NCAA Championship Game loss. They had graduated all five starters, including one of the program's all-time greats (Frank Kaminsky). And their Hall of Fame coach quit before Christmas. But despite that massive baggage, the Badgers won 22 games and made it to a third consecutive Sweet 16. Now the tables have turned, with the Badgers welcoming back their top nine scorers from last season and a second-year coach with plenty of credibility. Seniors Nigel Hayes and Bronson Koenig can do it all. And if Ethan Happ has a breakout season in the post then the methodical Badgers could be geared up for another Final Four foray. Look, these guys just know how to play ball. They are great defensively and do all the little things that winning teams do. I think the Badgers could be a little overvalued by the books. But there's no doubt that this team is a force in the Big Ten.
The Challenger: Michigan State (+165)
The Spartans lost a tremendous amount of talent from last year's squad, including two first-round NBA draft picks in Denzel Valentine and Deyonta Davis. But Tom Izzo isn't feeling sorry for himself. And he isn't letting that shocking loss to Middle Tennessee linger. The Spartans have a ton of new pieces this year, including electrifying freshman Miles Bridges. Izzo has a five-man freshman class that may be the best he's ever recruited, and he will try to blend all that young talent in with several experienced role players from last year's squad. It is going to be a baptism by fire in East Lansing, though, as Michigan State takes on Top 10 staples Arizona (No. 10), Kentucky (No. 4) and Duke (No. 1) - with another potential game against No. 13 Louisville in the Battle 4 Atlantis - all within the first three weeks of the season! Don't judge this group based on what could be some erratic early results. They will be ready when league play begins. And they will be a factor.
The Dark Horse: Indiana (+650)
The Hoosiers have won the Big Ten regular-season crown twice in the last four seasons. They also have perhaps the best post player in the country in Thomas Bryant. So why aren't the Hoosiers getting more love from the sportsbooks? Indiana lost as much as anyone last year, including four-year starting point guard Yogi Ferrell. But they welcome back James Blackmon, a 16-point-per-game scorer that missed last season with a torn ACL. Former Pitt PG Josh Newkirk will try to take the reins and direct an explosive IU offense that can beat teams inside and out. The key for the Hoosiers will again be defense. Blackmon's absence last season was considered addition by subtraction in that regard. And if IU wants to claim another crown they will need to match last year's Top 60 effort on that end of the court.
The X-Factor: Purdue (+175)
The Boilermakers didn't quite live up to their potential last season. But Matt Painter was able to drag this program back into the Top 10 and back to the NCAA Tournament after a couple of down years. Now Painter will try to take the next step with a squad that suffered an ugly first-round tournament loss to end 2015-16. Purdue will again try to bludgeon opponents with a massive interior presence. Isaac Haas and Caleb Swanigan are all-league caliber players and 6-8 swingman Vincent Edwards can get it done inside and out. Purdue needs to find a reliable guard play, though. Because when they are taking care of the ball and knocking down three-pointers against sagging defenses this group is tough to stop. Will their lack of high-end talent on the perimeter catch up with them?
The Disappointment: Maryland (+1200)
I was absolutely stunned that Maryland found itself in this year's preseason Top 25 . The Terps were one of the biggest disappointments in the country last year, barely making the Sweet 16 (where they lost) after opening the season at No. 3 in the country. They went 13-22 against the spread and were a total dud. Now Maryland has lost four double-digit scorers that combined for 48 points, 21 rebounds, seven assists and four blocks per game. Point guard Melo Trimble suffered a sophomore slump and is now expected to carry a team that is short on talent and experience. I don't doubt that Trimble is one of the best PGs in the country. And the Terps have an enviable amount of size and athleticism. This team could break out and be a huge surprise. Or they could slide back to the bottom of the league's second tier. Regardless, this isn't one of the best 25 teams in the nation, so I think they are overvalued - again - entering the season.
The Rest:
Ohio State (+3000) - This is a team to keep an eye on this year. While every other team in this league was hemorrhaging talent this offseason, the Buckeyes retained just about every major player from last year's squad. It remains to be seen whether or not that is a good thing. Ohio State was really erratic last season, losing to Louisiana Tech but beating Kentucky, for example. They don't shoot all that well and they turn the ball over more than I'd like. But Jae'Sean Tate, Marc Loving and JaQuan Lyle are versatile, athletic perimeter players that haven't reached their potential yet. Thad Matta has gone 320-108 in Columbus and is as good of a coach as any in the nation. I smell a rebound season after failing to miss the tourney for the first time since 2008.
Illinois (+2000) - It is now or never for John Groce. It's been one setback after another for Groce since he's been to Champagne. But he hasn't been able to get this program settled, and I think if he misses the tournament again this year - and absolutely if he can't top last year's 15-19 mark - he will be kicked to the curb. The latest quake involving this squad was the dismissal of scorer Kendrick Nunn because of sexual assault allegations. Now everything will fall on underrated Malcolm Hill, who averaged 18 points and seven rebounds per game last year. If sixth-year senior Tracy Abrams can stay health and give the Illini anything, it would be a big boost. There is more talent here than you think. But it all comes down to Groce's ability - or lack thereof - to pull it all together.
Michigan (+800) - John Beilein has been walking the tightrope the past few seasons, with his Wolverine teams flirting with irrelevance. He was able to coax an NCAA Tournament bid out of last season. Beilein has four starters back, but he might be hard-pressed to do it again. Derrick Walton and Zak Irvin have been solid. Beilein needs them to be more. I also think that a lot depends on the development of young centers Moritz Wagner (who I like), Jon Teske and Austin Davis. If two of those guys can give Beilein a solid rotation of 6-10 players in the post then that will be a massive help. Beyond that it always comes down to how these Wolverines stroke it from the outside.
Iowa (+2000) - Just about everyone in the Big Ten lost veteran talent and leadership from last year's team. But no team in the league lost more with less ready to replace it than the Hawkeyes. A trio of three-year starters that dominated the ball and chewed up most of the minutes last year have moved on. Iowa was No. 271 in the nation in bench minutes last year, but now Fran McCaffery will need those inexperienced backups to step up. Underrated wing Peter Jok is going to have some absolutely monster games this season. But he won't be good enough to drag this roster back to the Big Dance.
Northwestern (+5000) - Maybe this is the season that Northwestern finally earns its first-ever NCAA Tournament bid! But probably not. Bryant McIntosh is one of the most underrated point guards in the country. And Chris Collins has transformed this roster from the sad sack days of Bill Carmody. They are more athletic and versatile, and the Wildcats seem more capable of playing Collins' preferred up-tempo style. But they still lost a pair of seven-footers from last year's roster, including four-year starter Alex Olah, along with clear go-to guy Tre Demps. The key is for sophomores Vic Law, Derek Pardon and Aaron Falzon to stay healthy and continue to improve after tantalizing freshmen seasons. If that's the case then next year - seriously - could be the Wildcats' breakthrough effort.
Minnesota (+5000) - Dickie Pitino continues to hump the dog up in Minneapolis. The Golden Gophers went 8-23 last season after Pitino squandered a talented 2014-15 roster. Pitino is now 15-36 in his last 51 games on the sideline, which represents half of his time at Minnesota. Pitino has three returning starters, two mid-major transfers, and the No. 1 recruit in the state. Yet to this point I haven't seen anything out of any of the guys on this roster to actually get excited about. Yes, junior Nate Mason (13.8) and sophomore Jordan Murphy (11.6) are double-digit scorers. And with just one senior on the roster there is potential for growth. But much like the players, I haven't seen anything from Pitino to make me think there is any reason to back this crop of losers.
Nebraska (+10000) - Oh, wait, so Tim Miles isn't taking the Big Ten by storm? I knew a couple years ago that the plaudits he was receiving were overblown. He is an average coach at a below-average program and Nebraska is basically Penn State of the Midwest. Tai Webster is the lone senior and top player on this group. But he couldn't even crack the starting lineup on last year's 6-12 Big Ten squad. Nebraska is young and hoping to strike gold with some freshmen and transfers. But there's not a lot here to get excited about.
Penn State (+8000) - Pat Chambers has excelled at creating the air of mediocrity around this Nittany Lions program. They play top-notch teams just close enough and pull just enough upsets to make people think there is positive momentum with this group. But there isn't. Penn State is still terrible. They have one really good player in Shep Garner. And just enough other athleticism to keep from getting consistently embarrassed by the top teams in the Big Ten. But I wouldn't expect much more than that from a team that finished .500 last year despite being outscored by four points per game and posting the No. 311 offense in the country.
Rutgers (+20000) - This program is a waste of life. Therefore I will not waste any of my life writing about what a waste they are nor will I force you to waste any of your life reading about what a waste they are. The end.
Projected Big Ten Standings:
1. Wisconsin
2. Indiana
3. Michigan State
4. Purdue
5. Ohio State
6. Michigan
7. Illinois
8. Maryland
9. Northwestern
10. Iowa
11. Penn State
12. Minnesota
13. Nebraska
14. Rutgers
Robert Ferringo is a member of the Basketball Writer's Association of America and a professional sports handicapper for Doc's Sports. He is considered one of the best college basketball handicappers in the country and has an unmatched streak of 10 straight winning nonconference seasons and 10 straight winning regular seasons. Robert's $100-per-Unit clients have banked $16,800 last year alone and $28,900 over the past three seasons. Robert has raked in a remarkable $68,200 in the last 10 years with his nonconference picks (November and December) alone. There is no better moneymaker in the nation and Robert is looking forward to another amazing season.You can sign up for his college basketball picks and get more information here.
Read more articles by Robert Ferringo
---
Most Recent College Basketball Handicapping