2016 Missouri Valley Conference Tournament Predictions and NCAA Basketball Odds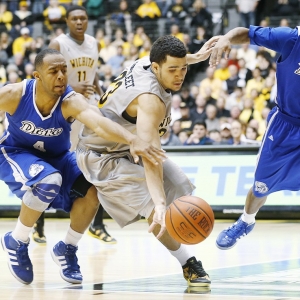 Arch Madness, also known as the Missouri Valley Conference Tournament, has become the marker that The Madness has begun. This is not the first conference tournament - the Atlantic Sun and Patriot League each begin on March 1 - but Arch Madness is the first of the recognizable, nationally-televised leagues to determine their championship.
The Missouri Valley Conference Tournament will take place from March 3-6 at the Scottrade Center in St. Louis, Mo. Northern Iowa is the defending tournament champions, and last year they became the fourth different school to win the title in the last five years and the Panthers bagged their third title since 2009.
Here is Doc's Sports Missouri Valley Conference Tournament preview and predictions (with odds courtesy of Robert Ferringo):
The Favorite: Wichita State (+120)
The Shockers are a godless killing machine. The fact that Wichita State hasn't been in the Top 25 is kind of a joke as this is easily one of the best 20 teams in the country. They have gone 21-3 in their last 24 games, and their average margin of victory during the last three months is an obscene 21 points per game. And they've been even better late in the season, winning their last five by an average of 26.7 points per game. Wichita State might have the best backcourt in the country with superb seniors Fred Van Vleet and Ron Baker. And they have been one of the best moneymakers in the country since conference season started, going 13-3 against the spread in their last 16 games. The Shockers have gone 51-3 straight up in their last 54 Missouri Valley games, and they might feel a bit of motivation going into this tournament since they were upset last year.
The Contender: Evansville (+300)
The Purple Aces have one of the best inside-out combinations of any mid-major team in the nation. D.J. Balentine is an outstanding guard and averages 20.7 points and over four rebounds per game. Center Egidijus Mockevicius is the nation's top rebounder, pulling down 13.9 boards per game, and he also chips in 16.6 points per. Evansville has several other very good role players as well, and this is the No. 2 most experienced roster in the country. This is the last chance for a very strong group to make its mark, and I think they will be a team to watch this weekend in St. Louis.
The Sleeper: Illinois State (+450)
The Redbirds nearly won three games in three days and took the tournament last year, knocking off Evansville and Wichita State before losing to Northern Iowa in the finals. They also look like they are playing their best ball of the season at just the time to make another run, winning eight of their last 11 and six of their last eight, including a "remember us?" win over Wichita State on Feb. 6. Illinois State is a very methodical team on offense, and when they are hitting shots they can be tough to stop. They are also great defensively, and this team nearly knocked off Maryland on a neutral site early in the season. They also played tough games at Kentucky, at St. Joe's and at San Diego State, so they aren't afraid of anyone.
The Spoiler: Southern Illinois (+1000)
Through the 90s and early 2000s the Salukis were a powerhouse in the Missouri Valley. But it has been a lean decade, and SIU hasn't made the NCAA Tournament since a Sweet 16 run back in 2007. The Salukis went 22-9 this year against a weak schedule and are set to go be a factor in one of the smaller conference tournaments. But they also beat Northern Iowa, beat Illinois State, and took Evansville to overtime this year, so they are capable of springing an upset.
Early Round Matchup To Watch:
No. 8 Loyola-Chicago (-9) vs. No. 9 Bradley (6 p.m., Thursday, March 3)
Loyola has been one of the bigger disappointments of any mid-major team in the nation this year. They brought back nearly every key player from the team that won 24 games and won the CBI Tournament last year. But the Ramblers have bumbled to a 14-16 mark and are just 11-18 ATS this year. And the season ended with an embarrassing loss to Drake, a team with a 7-23 mark. Fortunately for the Ramblers, Bradley is even worse. The Braves have just four D-I wins this year. One of those wins was a 54-53 win at Loyola this year, though, and if there are issues going on in the Loyola locker room (something I've asserted all season) then the Ramblers might just want to dump this game and get this season over with.
No. 7 Missouri State (-2) vs. No. 10 Drake (8:30 p.m., Thursday, March 3)
Missouri State will be trying to beat Drake for the third time this season, winning each of the regular-season meetings by nine points. Missouri State has also been a decent "bad" team in The Valley tournament, winning at least one game in Arch Madness four of the past six seasons. One thing that bears watching here is the status of Kale Abrahamson for Drake. He is one of their best players but was held out of Drake's last regular-season game. If he doesn't play here then I don't see how the Bulldogs extend their season.
No. 4 Northern Iowa (-4) vs. No. 5 Southern Illinois (2:30 p.m., Friday, March 4)
This should be the best game of the quarterfinals. Northern Iowa is a team that has had a lot of success at Arch Madness (they are the defending champs). And this is a team with wins over North Carolina and Iowa State this year. They also seem to be peaking at the right time, winning nine of their last 10 and beating Wichita State on the road. SIU played them tough this year, though, winning the first game in Carbondale and losing by just nine at UNI. This game is going to come down to essentially a one-on-one matchup between two of the best senior guards in a league stacked with them: Anthony Beane for Southern Illinois and Wes Washspun for Northern Iowa.
No. 3 Illinois State (-4) vs. No. 6 Indiana State (8:30 p.m., Friday, March 4)
These teams split their regular-season matchups, but I have a hard time picturing this one as being a close game. Illinois State beat the Sycamores by 28 back on Feb. 17 and is playing much better basketball right now. Indiana State has also been terrible on the road this year, going just 4-12 in road and neutral-site games. Indiana State can be tricky. They have some solid seniors and they have beaten three of the top four seeds in this tournament.
2016 Missouri Valley Conference Tournament Predictions: I don't see anyone stopping Wichita State. They are on a mission right now, and this team is every bit as good as what they have been packing the past two seasons. I think they will smoke either UNI or SIU. I also think that an Evansville-Illinois State semifinal will give us the game of the tournament. So good, in fact, that I don't think that whichever team survives will have enough left in the tank to go full bore at Wichita State. I think the Shockers cut down the nets.
Robert Ferringo is a member of the Basketball Writer's Association of America and a professional sports handicapper for Doc's Sports. He is considered one of the best college basketball handicappers in the country and he is about to extend his unmatched streak to 10 straight winning college basketball regular seasons. Robert's $100-per-Unit clients have banked $22,130 in profit with his sides and totals the last three seasons and have taken home over $40,000 win winnings so far this decade. There is no better moneymaker in the nation and Robert is looking forward to another amazing March Madness. Click here to get two days of college basketball picks for free - no hassle and no credit card needed.
Read more articles by Robert Ferringo
---
Most Recent College Basketball Handicapping