College Football Betting Advice: Overrated and Underrated in AP Poll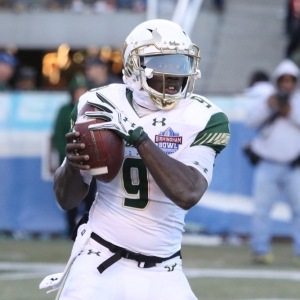 We are on the verge of the college football season. Technically it already started, but nothing that first weekend - especially that Stanford-Rice debacle in Sydney - really counted as anything more than a tease. Before we launch into a season-long debate about which teams are good, which four teams are best, and who should make the playoff, it's a good time to look at the preseason AP Poll to see which teams seems to be overrated and underrated. I do this every year at this time. Sometimes it works out great - Michigan State and Notre Dame were both on my list last year as overrated. Other times it doesn't work out so well - like when I suggested that Clemson was getting too much love last year. We'll hope to find more Spartans and Irish and fewer Tigers in this group:
Free $60 in Member MLB Picks No Obligation Click Here
Overrated
USC, No. 4: The public love for the Trojans has no limits, so it almost goes without saying that if they are ranked they are going to be overrated. There is a lot of talent on this team - there is no doubt of that. There are all sorts of reasons to put the brakes on, though. For one, Sam Darnold was very good last year, but to suggest he is the heavy Heisman favorite and a lock to be the next great Trojan QB is just a little premature. He has the pressure of being the guy through a whole offseason, and teams are going to be targeting him like they weren't last year. He may be all the hype suggests, but that is no lock. Next, and I'll say this without qualification, Clay Helton was a really bad hire. The Trojans could have hired pretty much whoever they wanted, so to name him the head coach at the start of last season displayed a lack of imagination and ambition at the school. I just don't trust him to have this team ready for each challenge this season. The schedule is manageable - though that Week 2 game against Stanford doesn't look as nice as it once did - but this ranking puts them on the inside track to the playoff, and I just don't feel like that represents where they are at right now.
Texas, No. 23: Tom Herman was absolutely the right hire, and he will get things on track in Austin. But this team has gone through a lot of changes, and they are facing a total overhaul on and off the field after the Charlie Strong era. This ranking is entirely a nod to Herman, but they face a tough schedule - at USC in Week 3, and a Big 12 that has plenty of hurdles to overcome. This ranking is a year or two premature.
West Virginia, No. 22: People in West Virginia are excited about the Will Grier era. The same Will Grier who was suspended for PED use six games into his career at Florida and who hasn't played for a year and a half. He plays behind a bad offensive line and with receivers who are, at best, a question mark. And coach Dana Holgorsen is far from the nation's most inspiring. I just plain don't understand this ranking, but at least it will go away when they lose to Virginia Tech on Sunday .
Underrated
Stanford, No. 14: This is a bit of a cheat because we have already seen them play, and they are all but certain to be higher in the next poll, but this was just too low. They are very well coached, Keller Chryst is a very good quarterback who is fully recovered from last year's injury, and the running game will be just fine without Christian McCaffrey. At USC and San Diego State the next two weeks is far from easy, but they have the firepower and the defensive strength to compete at a level higher than the typical No. 14 team.
South Florida, No. 19: This one isn't as egregious at Stanford because a Top 20 ranking for a team outside the Big 5 conferences is no joke, but this team could and should be higher. Charlie Strong is a good coach, and he's in a situation that fits him much better here than Texas did. The team has Quinton Flowers, a legitimate Heisman contender, at QB and cupboards full of talent thanks to the recruiting of new Oregon coach Willie Taggart. They have a favorable schedule that leaves 13-0 very much in play. This should be a Top 15 team.
Michigan, No. 11: Inevitably, national coverage of a team you follow closely is going to be frustrating. I follow this team closer than any other, and I can tell you with certainty that there is no one who cares deeply about this team that is nearly as concerned about the lack of returning starters as the national media is. It's an easy narrative, but what those reporters and experts miss is that the idea of a starter means less on a Harbaugh team than others, so in many cases - especially on the defensive line, which is a major strength - it's like the No. 1 is gone, but the 1A is still in town. And they have legitimate talent in spots where starters truly are gone. It's a tough three-horse race in the Big Ten East, but to suggest that the gap between the Wolverines and Penn State and Ohio State is large is just plain lazy.
Read more articles by Trevor Whenham