2017 Kentucky Derby Predictions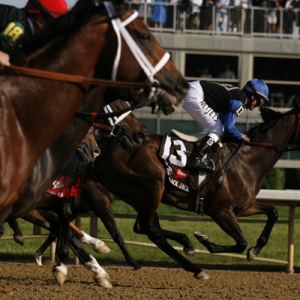 After countless hours thinking about the Kentucky Derby, and tens of thousands of words written about it , the best two minutes in sports is now just a short time away. And it promises to be a very tough race. There are a few horses that have no chance - Fast and Accurate is a bad joke, and I have no love for Untrapped or Patch (though my dislike of Patch does not mean I am discriminating against him because he only has one eye - I'm not a monster). Beyond those, and a couple more like Irap and Tapwrit that don't excite me too much, I can make a case for pretty much every horse to at least make the trifecta and for eight or 10 to win it . So, it's about as wide open as it can be this close to the race. It reminds me of the 1996 Derby won by Grindstone, which was the first Derby I was at in person. There were 14 horses in that wide-open field at 13/1 or less - and I think I bet on every one of them except the winner. Hopefully things will go better this time around.
Free $60 in Member Kentucky Derby Picks No Obligation Click Here
I haven't locked in my final picks quite yet , but I do feel ready to make three predictions about how the race will play out.
The pace won't be insane: There are a lot of horses in this field who prefer to be in the front half of the race but not a single one who is desperate for the lead. Derby pace is always a little faster early on than it probably should be. When it gets out of hand, though, is when there are two horses who both want to be first into the first turn. That's not the case here.
If I had to guess, I would say that Fast and Accurate is the most likely early leader - he's just not good enough to contend, so his connections might figure they could steal it from the front. They paid a $200,000 supplemental fee to be in this race, so they obviously aren't afraid of gambling. Another possibility is that Always Dreaming, who has had real trouble relaxing in training since arriving at Churchill, could decide for himself that he wants to run up front. If that happened it would end his chances, but John Velazquez should be smart enough to anticipate and avoid that.
What would be far more interesting, though, is if the leader were someone like Irish War Cry . He or one of the other top-caliber colts who will be near the lead - Classic Empire or Always Dreaming the most notable - might feel like they could lead through modest early fractions, widen their lead around the last turn, and hold on down the stretch. The most likely way for a faster-than-expected pace would be if two such horses locked onto each other, but I don't expect that. I look for something around 47 seconds for the opening half mile. If it's a second or more faster then everything I think about this race will mostly be wrong.
The closers are in trouble: There are some nice closers in this field. I really like McCraken, respect Gunnevera and Girvin and have a soft spot for Lookin at Lee. I just don't think things line up in their favor this year.
First, there are a lot of good horses that will be up in front of them - Always Dreaming, Classic Empire and Irish War Cry especially. There are also several of the stalker types who are better than their likely odds - Thunder Snow and State of Honor in particular. The closers are giving up a tactical advantage to all of them at the start and will have to find a way past all of them to pull off the win. That's too much to ask, I fear. And the early fractions aren't likely to be fast in my eyes, as we just discussed, so those horses up front won't be slammed into reverse down the stretch.
Some years it is the back of the field where I look first, but this is not one of those years.
Todd Pletcher is in trouble again: I write this just out of habit every year - and I don't see any reason to stop this year. Tapwrit looked awful last time out; his Tampa Bay Derby win hasn't held up super well, and I haven't loved his training. And Patch is a nice horse and a good story but just not good enough for this spot. I quite like Always Dreaming, and he's as good as anything Pletcher has brought in a few years, but I haven't liked how he has trained, and I don't trust his mental game in front of this massive crowd. And also-eligible Master Plan, if he gets in, is a non-factor. A lot of money has been made over the years betting against Pletcher, and I'll be doing so again.
Get free picks from any Doc's Sports handicapper - there is no obligation for this offer and no credit card required. Just sign up for an account, and you can use the $60 in free picks for any Doc's Sports Advisory Board handicapper and any sport. Click here to get started now .
Read more articles by Trevor Whenham