Expert Kentucky Derby Handicapping and Predictions for 2017: Pace Scenarios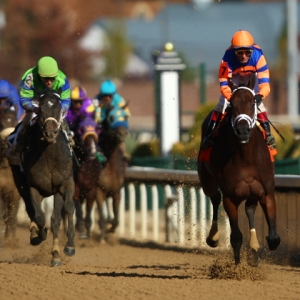 The pace makes the race. Like most good clichés it's a cliché because it's true. A horse can be by far the most talented in the race, but if he doesn't dictate the pace, and that pace sets up in a way that works against him, then he can be beaten. On the flipside, If a relatively average horse gets a perfect trip he can win a race when he is nowhere close to the best in the field. That's how Giacomo won. And Super Saver. And I'll Have Another. Mine That Bird, Sea Hero, Lil E. Tee - the list isn't a short one. So, for handicappers, understanding potential Kentucky Derby pace scenarios and how they would impact different horses is key to picking a winner . And that's what we're here for today:
Free $60 in Member Kentucky Derby Picks No Obligation Click Here
Early pace
Oftentimes in the Derby you can point out a horse or two that will be desperate for the lead, and their duel sets up frantic early fractions. Last year they ran a crazy 45.72 first half mile. In 2012 and 2013 the early fractions were even faster. In each case the eventual winner was well off the pace at that point - almost 19 lengths off it in the case of Orb in 2013. A lot of early speed, then, can cause chaos, and that can be disruptive.
What's interesting here, though, is that there isn't a ton of early speed. There are several horses that like to be on the lead - Always Dreaming , Gormley, Irish War Cry and Fast and Accurate most significant among them. None of those horses, though, are the type that is desperate for the lead at all costs. They have all run solid races while stalking the pace instead of setting it. Someone has to set the pace, and my bet would be on Fast and Accurate because he has nothing to lose, but I don't see the frantic early pace that blows things up emerging in this one.
Stalkers
There's going to be a large group of horses vying for space behind the leaders. Battle of Midway could be at the front of that group, and if things turn out as they could then he could even find the lead as he did by circumstance in the Santa Anita Derby. Also in this group are runners like Irap, Thunder Snow, and State of Honor. Most interesting, though, is potential favorite Classic Empire . He's the most talented runner in this group and likely in the field. If the early pace isn't rapid then he'll be looking to push things, and if it's too fast he'll be the one to judge the pace and determine whether to let them go or reel them in. More than any other horse, then, Classic Empire has the ability both to keep this race honest, and to control his own destiny.
Closers
There is a large group of runners that like to come from off the pace here, including Gunnevera, Tapwrit, McCraken, Lookin at Lee, Sonneteer, Hence, Patch, Untrapped, J Boys Echo, Girvin and Practical Joke. It feels unlikely, though, that all of those horses will run from the back like they prefer to. For one thing, that many horses will create a late traffic jam as horses try to move, and it could be tough for horses to find the paths they need. A horse or two, then, could look to run closer to the lead than they otherwise might to beat the rush. Second, the lack of pure speed could create slower-than-normal early fractions. Closers need fast early pace to set up their late run - they wait for the leaders to blow up and pounce. Combine that with some of the best horses in the field - Irish War Cry and Classic Empire - being near the lead, and potentially not working too hard to do it, and you have a case where strong horses like McCraken and Gunnevera might look to be much closer than they would in a perfect situation.
The scenario
I expect the early pace to be fair but far from blistering - something in the range of 47 seconds or just less for the half, and around 1:11 for six furlongs. That won't be great news for the closers. It feels like the winner of the race will be a horse that tastes the early pace, finds the room they need, and opens up a lead entering the stretch that holds. If my horse was one that was likely to be a dozen lengths off the early lead or more than I would probably be looking elsewhere. If, on the other hand, the horse I liked was a stalker or pace runner who has plenty of class and a pedigree with good amounts of stamina then I would feel pretty solid.
Doc's Sports has had a winning tradition for more than four decades. Don't believe us? Try us out for free, and we are convinced you will be a believer. Get $60 worth of free sports picks - members' picks just like our paying clients get - here .
Read more articles by Trevor Whenham